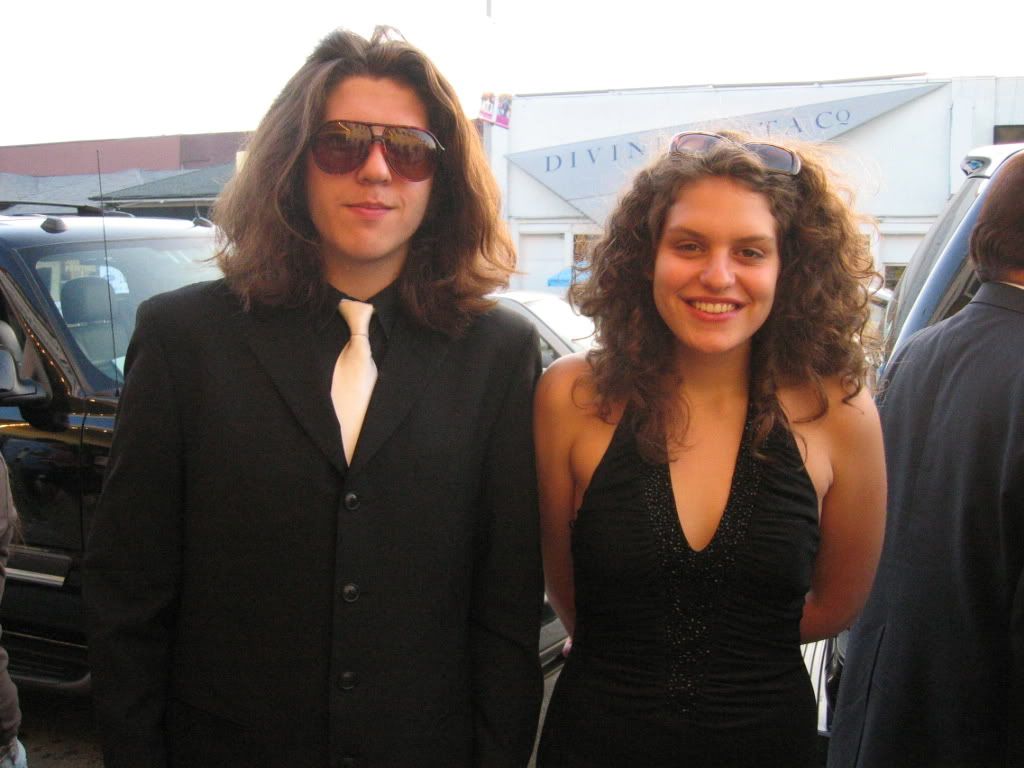 Sorry - I know I've posted this photo of Julie and Eric in Hollywood before but I will never get tired of it and can't even believe it was taken only around six-seven months ago.
So both Julie and Eric are performing for
Adrian Belew
tonight in a private showcase at the downtown Philadelphia branch of Rock School. I wish I could be there, but as previously stated, it's probably better I'm not going because I'd probably do the proud mother crying thing and act like an idiot in general.
In case you are too lazy to click on the Belew link and don't know who he is, he was the guitarist for everyone from King Crimson to Frank Zappa to David Bowie and now he's gone solo with a band of his own.
After that, we literally have to jet to the
Knitting Factory in New York
because Eric's got a gig at 10:00 p.m. with his band, Flamingo.
I'm kind of worried (wait -- when aren't I worried) that the Knitting Factory isn't exactly going to be packed on a Tuesday night at 10:00 p.m. for a relatively unknown band from Philadelphia so if you live in New York and are reading this and you're able to make it, I'll be your friend forever and buy you a beer.
Though even Eric is anxious about this show because they are missing one of their lead guitar players -- he's got to go on a Jesuit retreat as part of his senior project for St. Joe's prep.
Ah, it's not easy being a rock star but one thing Eric has is plenty of experience with adversity after touring with Rock School for years. Ha ha - who will ever forget the west coast tour of 2004. We had everything from floods in Denver (yeah, Denver) to transvestites at a condemned hotel in Las Vegas.
Man it was the best time of my life only I didn't appreciate it while it was happening.
Quick John Lennon quote: "Life is what happens while you are busy making plans".
And: "He who stands with one foot in the past and one foot in the future is pissing on the present".
Actually, regarding the west coast of 2004 tour, check that. The Seattle and LA Rock School movie tour this past summer was the best time of my life, followed by the Les Paul gig at the Roseland Ballroom in October.
Wait, no, Zappanale in Bad Doberan, East Germany, 2003 -- that was it.
Or...hmmm...England with Julie and Matt while she toured with McRad in October, 2005.
Okay, Rob, time to stop living vicariously through the kiddies. What was your best time?
Signing books at the Phaze Authors In the Pink Event at the Pink Banana in Virginia with a giant penis balloon bobbing over your head? Ha! That was way wild, as was the tour of the S&M dungeon in a residential Virginia neighborhood.
Hey, speaking of Phaze, here is how we did as a group in the 2005 Preditors and Editors Poll:
2005 Readers Poll Results
Print/Electronic Novels:
Romance
21: Dare Me, Leigh Ellwood (Phaze)
23: Apocalypse Dance, M. Barnette (Phaze)
All other
11: Three Days in New York City, Robin Slick (Phaze)
Short Stories:
Romance
16: Erotique, Alessia Brio (Phaze)
16: Jack of Hearts, Leigh Ellwood (Phaze)
17: Sweet Seductress, Mae Powers (Phaze)
All other
14: Heat Wave, Eden Bradley (Phaze)
15: Night of Inspiration, Jenna Allen (Phaze)
16: Walls, Bridget Midway (Phaze)
Authors
16: Eden Bradley
19: Emily Veinglory
20: Bridget Midway
21: Robin Slick
21: Leigh Ellwood
Pretty cool, huh. We rock! And hey, I always wanted to be 21 again.
Not really. Well, I'd like my 21 year old face and body back -- but that's it. I don't know what the hell my brain was thinking back then but trust me, it wasn't good.
Okay, gotta fly for now. Eric and I are watching 200 Motels on the Sundance Channel. I'm in a state of shock over seeing former Zappa band members Don Preston and Jimmy Carl Black as their young, hippie selves. (In Germany at Zappanale, Jimmy Carl Black and I got very, very drunk together and he's another one who told me Eric is like the best fucking drummer he's ever heard. And Jimmy's a drummer! And Eric was only 16 at the time!)
Right. Back to the movie. And oh look, there's Ringo!
Later,
xo