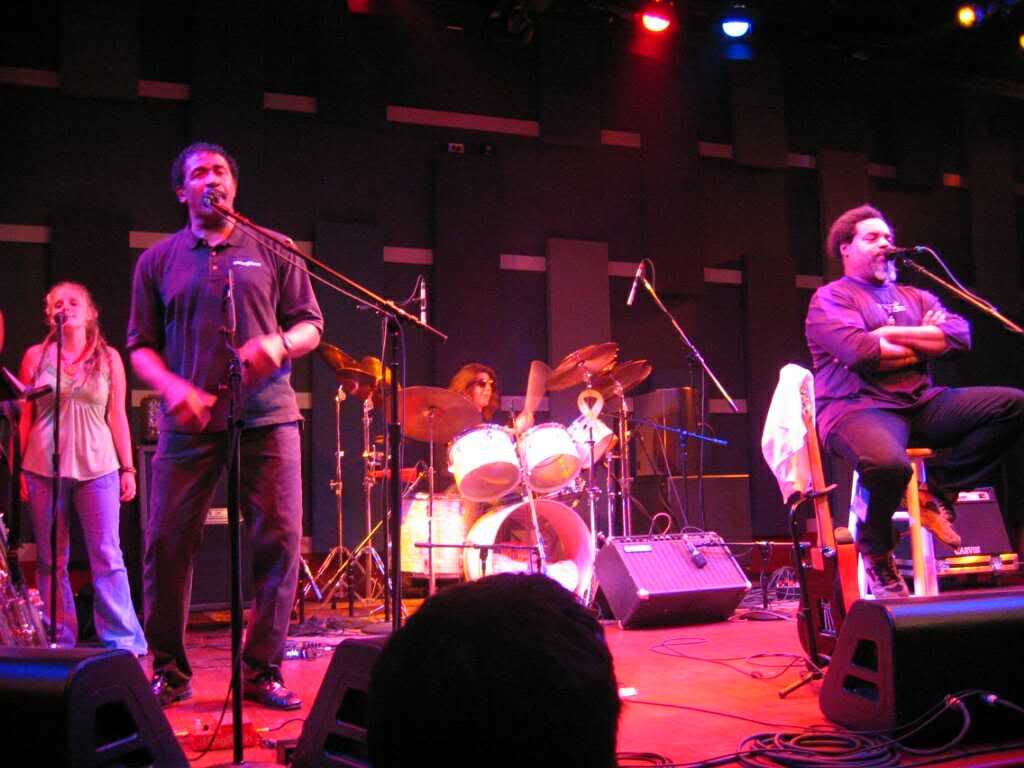 Eric Slick sitting in with Project Object during their tour last April...before he was their "official drummer". I guess he passed the audition, huh.
So the Project Object tour is shaping up nicely and Eric just got word of some venues for the first leg - the tour actually ends May 14, I believe, and you can check for updates daily at
Pollstar
, and yeah, yeah, I know...I've just introduced you all to another very cool site. Nah, you knew about Pollstar already, didn't you?
Wed 04/12/06 Philadelphia, PA World Cafe Live
Thu 04/13/06 Sayreville, NJ TBA
Fri 04/14/06 Albany, NY Valentine's
Sat 04/15/06 South Burlington, VT Higher Ground
Sun 04/16/06 Northampton, MA Iron Horse Music Hall
Mon 04/17/06 Providence, RI Century Lounge
Tue 04/18/06 Allston, MA Harpers Ferry
Wed 04/19/06 New Haven, CT Toad's Place
Fri 04/21/06 Cleveland, OH Beachland Ballroom & Tavern
Sat 04/22/06 Chicago, IL Martyrs'
Sun 04/23/06 Saint Louis, MO TBA
Mon 04/24/06 Milwaukee, WI TBA
Tue 04/25/06 Detroit, MI TBA
Wed 04/26/06 Cincinnati, OH TBA
Thu 04/27/06 Louisville, KY Headliners
Just off the top of my head, I can see a bunch of cities I've never visited, particularly those in New England, so I'm going to try and make as many of those shows as I can, and damn, I have friends in Wisconsin, Cincinatti, Detroit and Kentucky...arghh...already I want to be at every show and I don't even have the whole list yet.
Robin Slick, groupie mom. Oh right, I'm working on a novel about that as we speak. Sort of, anyway. Anyway, in truth there's no way I'll be able to make every concert, but I will try to hit as many as possible.
So I'm sure you all know about this by now:
Bush Was Unaware of Ports Deal Before Approval
.
Oh my god. I can't even comment on it.
And here's something else I just can't bear to think about...and who in their right mind would give a shit let alone want to watch something as repulsive as
this
?
For me, it would be a dietary aid. If unable to resist having a peek, I wouldn't be able to eat for a month. But there's really no danger of that. I find all parties involved repulsive, both physically and musically. In fact, just using the word music with those two is a sacrilege.
Anyway, Eric will is off to New York and Julie has class and then jets right over to work until late tonight. So in a perfect world, I can make up for a lot of lost time in the writing department today.
Later,
xo