Yeah! Ellen Meister got her ARCS (advance review copies) of her book yesterday! Aren't they gorgeous?
So also yesterday I got an e-mail from my agent, Britta Steiner Alexander, who has "decided to leave the agenting business". She wrote me a dear and generous note which made me feel really great about my writing and well, myself in general. So I'm considering other agents at the moment and wish Britta the best in her new endeavors.
Then I got the exciting news that Ellen has received her ARCS...and I'm so thrilled for her, it's almost like I wrote the book. Ha! I wish! It's an amazing novel, and though I did get a chance to read the original manuscript, it was so incredible I opted not to finish it and instead wait for the HARDCOVER -- yep, hardcover, version to come out this August. It almost killed me, it was impossible to put down, and then it got even more difficult when Ellen read a chapter I hadn't read yet at a party last June thrown in her honor by her fabulous husband Mike. I was dying to find out what happened next, but there's something about getting a brand new book...and the fact that it's written by one of my closest writer pals...well, I had to exercise uncharacteristic restraint but I managed. At least I have so far...
Well, anyway, that's all for now. I'm determined to have a productive day writing, and I'm starting out by listening to some Patti Smith on my iPod.
But I'm thinking I could also use something really pretty to look at right now, too, so I give up, I admit it, here it is -- my daily twisted tribute to Neil Gaiman: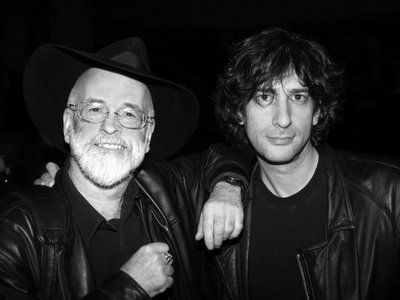 Ah, all better now.
Just kidding. But hey, he posts these photos on his blog, nine million people read it per day, so I'm guessing he won't mind if I steal them. Tsk tsk...he's trying to kill all of us poor women, isn't he?
Later,
xo