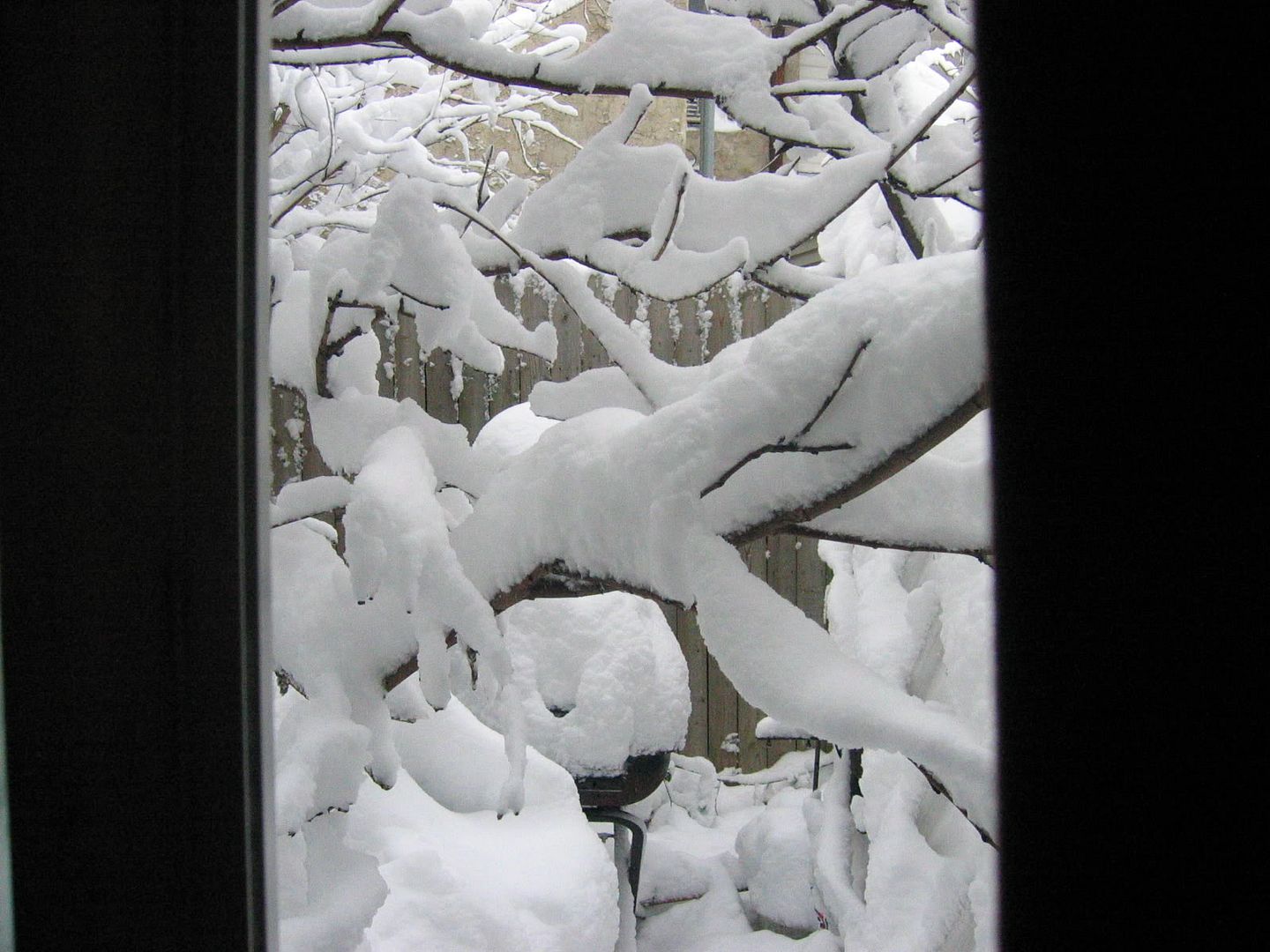 Photo taken by Eric Slick yesterday -- I still can't believe that's our backyard. I've never seen that happen before -- so much snow, the trees looking like that. It's so cool I can't stop staring out the back doors. Doesn't my snow covered smoker grill look like a snowman? I should go out there and stick on a pickle nose and maybe two tennis balls for eyes (since I took a quick look around and in the frig and am sad to report that's about it in this house right now for what I can use that no one will yell at me for putting outside in the cold and wet).
Or maybe I should just forget that plan and take the dog out for a long, long walk down by the Art Museum where I am bound to get into less trouble and have a better time.
So Julie made it back okay from Montreal. She said it was only a seven hour drive, and that was in the snow, so I can't believe I've never even attempted a Canadian visit myself before. Julie also remarked it was really, really cool -- kind of like driving to Europe -- parts reminded her of Newcastle and Manchester in the UK...and she finally got to use her eight years of French in Quebec. She brought her Dad back two really cool CDs you can't find here - Hendrix out-takes, and as for me, well, I got two dozen bagels.
Yeah, I know.
Actually, I love bagels, and who would have thought Montreal is famous for them? They are way less yeasty and therefore way less fattening than our version...when I toasted a sesame version this morning it was almost like eating a cracker. Very, very good.
But now I'm starving and could probably eat another four, but I keep thinking of the blood pressure doctor and those extra meds and I guess if I'm smart I'll do 100 jumping jacks instead and walk the dog as mentioned above.
So two very exciting announcements coming up for two friends of mine in the writing world...one who just signed a "significant" deal with Viking Press for a short story collection...yeah -- you read that right -- significant deal for short stories -- yeah!!!!...and the other who will have a story of hers appear in one of the most prestigious literary magazines in the world. But because I'm superstitious and should let my friends make their own announcements first, anyway, I'm just throwing in these teasers and don't bother writing to me, I will not spill any more details. But watch this space!
I've been on an insane submissions tear the last couple of weeks and will probably be slashing my wrists shortly. Ha ha. Just kidding. About the wrists, that is. But yeah, I've been writing and subbing like a madwoman...but mostly short stuff and one essay.
In the meantime, it's back to work on my novel. There's no new music news for either kid at the moment though things are in the works, but as for now, Julie is at Drexel through the evening with classes and a recording project; Eric teaches drums today/tonight, and tomorrow both kids are involved with Valentines Day so that means two straight days of solitude and writing for me.
Could be worse...
Later,
xo