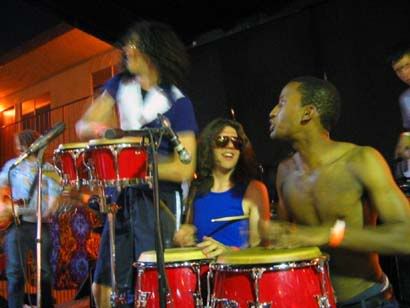 Ah, remember this one? (Blurry) Joey Randazzo, Eric Slick, and Branden King sharing percussion duties on the final evening of the west coast tour at that condemned transvestite truck stop hotel in Las Vegas -- when they played what had to be the world's greatest version of Black Magic Woman.
I'll never forget that night. For some reason, two images come to mind. Everyone jumping in the pool fully clothed after the show...and cake. Didn't we have like seventeen congratulation cakes?
Oh okay, I remember lots of alcohol, too, but I'm still pretty sure we had an excess of cake.
So Eric's show with the Shannon Penn Band this Friday night at World Cafe Live has been postponed, however, while checking out their site I discovered that Eric kicks off his U.S. tour with Project Object on April 12 at World Cafe Live, and here's the information regarding the concert and
tickets
.
Eric's in full madman musician mode right now -- tomorrow he heads to New York City for his Rock School Zappa gig -- the weekend will be spent rehearsing for the tour. Last night Eric and Julie jammed here and they sounded so tight I had the shivers -- she's also going to be recording him playing the mandolin (yeah, he plays that, too) in the next day or two so that she can add it to a track she's recording for a local band. Of course as mother hen of this family this makes me very happy. I also learned that Eric's going to be singing a couple of Zappa tunes on the Project Object tour and I'm pretty psyched about that, too. When he sang The Band's "The Weight" with Rock School I could never make it through the entire song without bursting into tears. Though singing drummers...err...Ringo and Phil Collins come to mind and I'd better quit while I'm ahead.
Just kidding, just kidding. Eric's the man.
And while I'm talking about Eric and music for a change, Eric saw
Heart of Gold
yesterday and told me I have to immediately go see it because it's incredible. So maybe I will.
Finally, it's well known that I despise the Bush Administration and basically every individual who supports him. But his latest fucked up act of dictatorship has me repeatedly banging my head on my desk. Want to know the real reason our ports are going to be managed by a Dubai company? Here ya go...
W AIDES' BIZ TIES TO ARAB FIRM

BY MICHAEL McAULIFF
DAILY NEWS WASHINGTON BUREAU

Breaking news update: Bush shrugs off objections to port deal

WASHINGTON - The Dubai firm that won Bush administration backing to run six U.S. ports has at least two ties to the White House.

One is Treasury Secretary John Snow, whose agency heads the federal panel that signed off on the $6.8 billion sale of an English company to government-owned Dubai Ports World - giving it control of Manhattan's cruise ship terminal and Newark's container port.

Snow was chairman of the CSX rail firm that sold its own international port operations to DP World for $1.15 billion in 2004, the year after Snow left for President Bush's cabinet.

The other connection is David Sanborn, who runs DP World's European and Latin American operations and was tapped by Bush last month to head the U.S. Maritime Administration.

The ties raised more concerns about the decision to give port control to a company owned by a nation linked to the 9/11 hijackers.

"The more you look at this deal, the more the deal is called into question," said Sen. Chuck Schumer (D-N.Y.), who said the deal was rubber-stamped in advance - even before DP World formally agreed to buy London's P&O port company.

Besides operations in New York and Jersey, Dubai would also run port facilities in Philadelphia, New Orleans, Baltimore and Miami.

The political fallout over the deal only grows.

"It's particularly troubling that the United States would turn over its port security not only to a foreign company, but a state-owned one," said western New York's Rep. Tom Reynolds, chairman of the National Republican Campaign Committee. Reynolds is responsible for helping Republicans keep their majority in the House.

Snow's Treasury Department runs the Committee on Foreign Investment in the U.S., which includes 11 other agencies.

"It always raises flags" when administration officials have ties to a firm, Rep. Vito Fossella (R-S.I.) said, but insisted that stopping the deal was more important.

The Daily News has learned that lawmakers also want to know if a detailed 45-day probe should have been conducted instead of one that lasted no more than 25 days.

According to a 1993 congressional measure, the longer review is mandated when the company is owned by a foreign government and the purchase "could result in control of a person engaged in interstate commerce in the U.S. that could affect the national security of the U.S."

Congressional sources said the President has until March 2 to trigger that harder look.

"The most important thing is for someone to explain how this is consistent with our national security," Fossella said.
Snort.
Oh well. Today is full of fun things like Eric and I getting our long locks trimmed (but only an inch, don't worry), a visit to the bank, druggist, etc. and then maybe a nice lunch out. We're out of here in another hour and will be gone until the afternoon so I guess writing is out the window until tomorrow but that's cool, I could use a day off.
To quote Porky Pig --
That's all, folks
xo