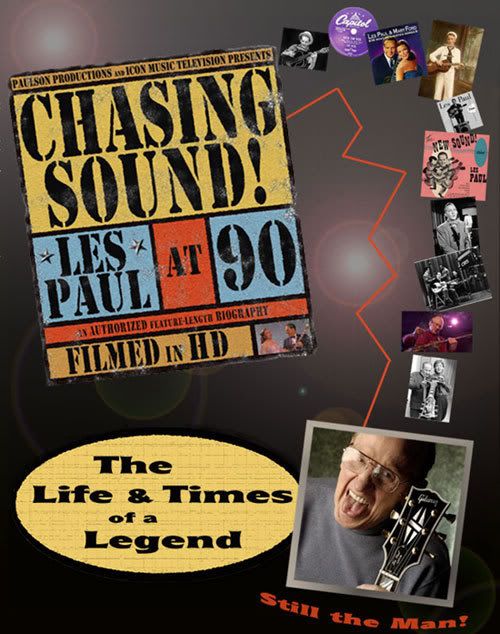 Okay, before we launch into all things weird, I have a major announcement to make.
Or not. We'll talk tomorrow and see how it all panned out.
Back in October, 2005, Paul Green invited Julie and Eric to return to
Rock School
as Hall of Famers (the first All-Stars to graduate the program) to perform at Music Player Live's Tribute to Les Paul for his 90th birthday. Playing on the same bill that night at the Roseland Ballroom in New York City was Adrian Belew, but this was before he even knew who Julie and Eric were.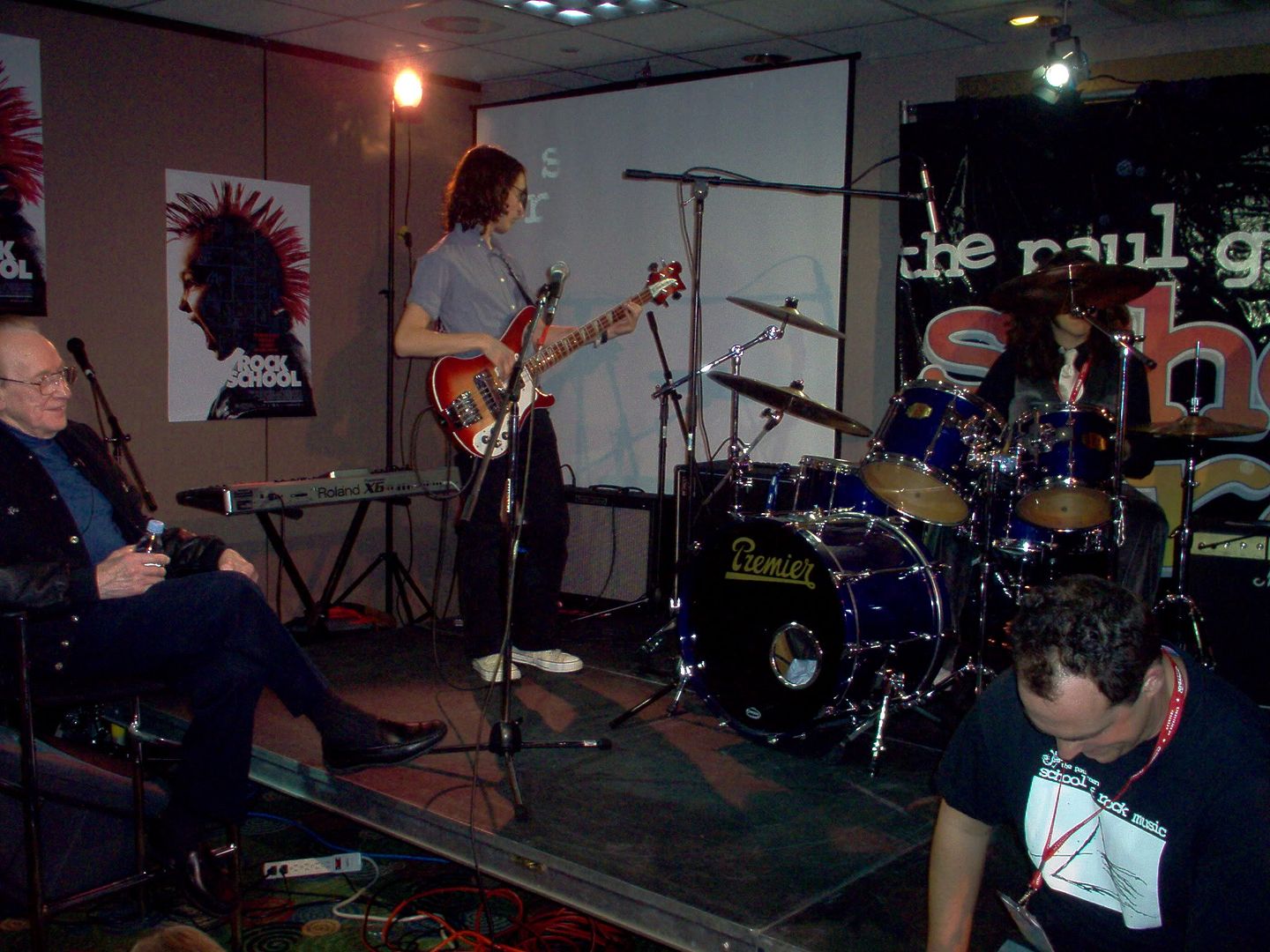 You can't see Eric exactly, but prior to the Roseland gig, Les gave a talk over at the Crowne Plaza Hotel where the Music Player Live event was held, and the Rock School Hall of Famers did two tribute songs for Les -- Eric is there on the drums performing for him along with Max DiMezza on bass and C.J. Tywoniak on guitar.
Anyway, both gigs - the Les Paul Seminar and the show at the Roseland, were filmed for the above documentary, which will be shown tonight on PBS channels across the country. In Philadelphia, it's on Channel 12 at 9:00 p.m. Here's a blurb from the show's
website
, which does in fact confirm a Rock School segment:

A 90-minute documentary on the life and work of LES PAUL

by Paulson Productions, Icon Television Music and American Masters.
"
The legendary Les Paul, father of the solid-body electric guitar, inventor of overdubbing and multi-track recording, king of the '50s pop charts, rock 'n' roll pioneer, tells his own rags-to-riches story in a performance-documentary by filmmakers John Paulson and James Arnts - with a wall-to-wall soundtrack of the greatest hits from "Hold That Tiger" to "My Generation."

A joyous 90th-birthday celebration at the Iridium Jazz Club and the accolades that follow (induction into National Inventors Hall of Fame, Grammy-winning "rock duets" album;
School of Rock tribute at Roseland
,
lifetime achievement award from Songwriters Hall of Fame) provide the verité framing device for Mr. Paul's lively recollections of his remarkable life.

An artful blend of interviews, vintage film and television clips, recordings, radio show excerpts, still photographs, advertising art, personal memorabilia and a rich variety of location B-roll illustrate Mr. Paul's narrative and examine his accomplishments in the distinctive in-depth style of American Masters.

The intricate technology and sensuous beauty of solid-body electric guitars will be of special interest to the filmmakers, who will employ computer animation and still-life artistry to examine and display the legendary Les Paul guitars and the genius of their inventor.

Les Paul has been "chasing the perfect sound" since his boyhood in Waukesha, Wisconsin, when he punched new chords into his mother's piano roll and turned his bedsprings into a radio antenna which would pull in the raucous jazz broadcasts from Chicago and the lonesome harmonica from the Grand Old Opry.

Irascible, egotistical, indefatigable, an inveterate tinkerer and practical joker, he's the last of that self-educated, brilliantly innovative generation of musicians and media pioneers who revolutionized popular music and re-invented the global culture.


AMERICAN MASTERS Les Paul - Chasing Sound! premieres nationally Wednesday, July 11 at 9pm (ET) on PBS (check local listings)"
So. Here's what I can tell you. At the Roseland Ballroom, Julie and Eric performed two songs - City of Tiny Lights and a Zep song. The Rock School Hall of Famers performed two additional songs with Branden King on drums and Max DiMezza on bass -- Sympathy for the Devil and 21st Century Schizoid Man (I know, I know). Whether this film will show snippets of all four songs; whether it will be a second of just one song; whether they will show Eric, C.J., and Max performing for Les at the Crowne Plaza; whether you will see Gary and me looking like we were having an insane religious experience in the front row at both performances...well, I guess we'll all have to wait until tonight.
All I know is, it was a magical evening. And if any of my family is in this film I may faint but even if they aren't, it was a night I'll never forget and Gary for sure won't because Les Paul signed the pickguard of Gary's vintage Les Paul guitar and you can imagine how he feels about
that
.
Alrighty then...now for the really weird stuff.
Hey, how about this?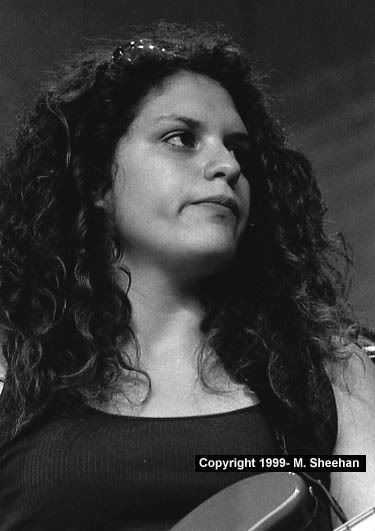 That's an interesting photo I found of Julie on line by a wonderful professional photographer named
Michael Sheehan
(click on link and watch his cool film) who also took pics of people like
Bob Dylan
and
Eric Clapton
.
And for $355.00, if you are hankering for the 16x20 version of Julie, framed, on fiber base paper, it can be yours.
Don't believe me? Here's the
link
.
Actually, you can also buy smaller, unframed versions of this photo starting at $30.00. And yes, this was extremely surreal for me to find.
Especially as he is charging more for Julie than he is for Dylan or Clapton.
Here's another oddity: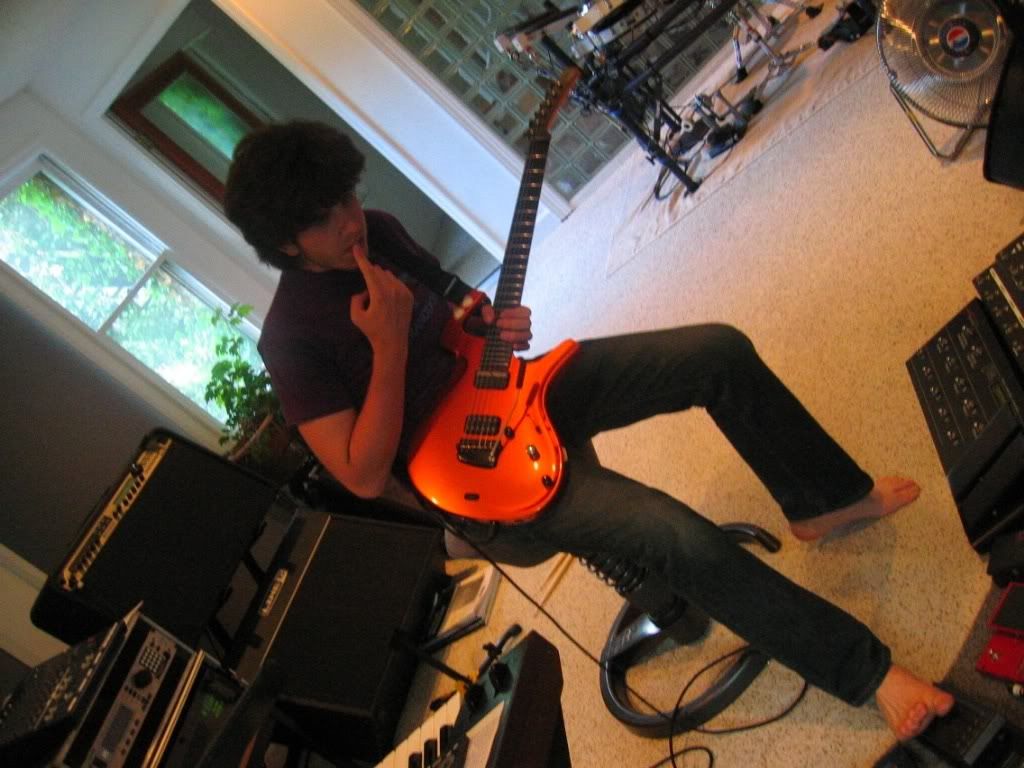 That would be Eric the drummer jamming out on Adrian's signature Parker guitar at Studio Belew, June, 2007.
And Eric is going to kill me for this, but it's just too crazy for me not to mention. Both
John Wetton
and
Asia
have Eric in their top 25 friends over at MySpace, alongside Carl Palmer and Robert Fripp, et al. That is seriously intense.
But you know, Eric and John have a history. In case you are new to my blog, you can read all about it beginning
here
and ending
here
.
More insanity - in the past few days, I've received some strange email requests and also noticed my regular website was getting hits with the search words "Robin Slick brownies" and they were coming from
the DGM Live forum
.
Why were people emailing me for my brownie recipe now? Why were they coming to my website googling "Robin Slick's brownies"? Aha. If you click on that DGM link, the answer is right there:
"
Gnomic R & D
Posted by teetotum on July 09, 2007

During all this talk of hobgoblins, the gnomes had already enacted research and development in the following:

1. minimal playing

2. slow playing

3. creating imperceptible dynamic range

4. abolishing analysis

5. the art of stopping (ref. Wire)

6. Peter Buck's butter knife plectrums

7. Robin Slick's brownie recipes.
****
I have no idea what that means. I tried skimming through the other comments and frankly, the contributors there are just too out there smart for me...I had no idea what I was reading. Just that they must want my recipe. So...here it is again, for all of you brave souls who don't mind a messy kitchen and 1,000,000 calories:
P6 - The Slick Version
:: Posted by Sid Smith on Tue., Oct 10, 2006
Writer Robin Slick was at the P6 / Porcupine Tree show at the Keswick Theatre. Robin is the mother of drummer Eric Slick and his sister, bassist Julie, both of whom play in the Adrian Belew Power Trio. You can read Robin's account of the gig here. You'll notice that Julie had baked a cake for the P6 gang to sample. Well, here's the recipe from Julie for DGMLive visitors to try at home for themselves.
Slick Brownies
One pound unsalted butter (yeah, that's right. One pound. As in four whole sticks)
28 ounces semi-sweet chocolate chips, divided
6 ounces unsweetened chocolate
6 extra large eggs
2 tablespoons pure vanilla extract
2 1/4 cups sugar
1 1/4 cups all-purpose flour, divided
1 tablespoon baking powder
3 cups chopped pecans
1. Preheat oven to 350*.
2. Butter and flour a 12x18x1 inch baking sheet.
3. Melt together the butter, 1 lb. of the chips, and the unsweetened chocolate in a medium bowl over simmering water.
4. Allow to cool slightly.
5. In a large bowl, stir but do not beat together the eggs, vanilla, and sugar.
6. Stir the warm chocolate mixture into the egg mixture and allow to cool to room temperature.
7. In a medium bowl, sift together 1 cup of flour and the baking powder.
8. Add to the cooled chocolate mixture.
9. Toss the pecans and 12 oz of chips in a medium bowl with 1/4 cup flour, then add them to the chocolate batter.
10. Pour into the baking sheet.
11. Bake for 20 minutes, then rap the baking sheet against the oven shelf to force the air to escape from between the pan and dough.
12. Bake for about 15 minutes, until a toothpick comes out clean.
13. Allow to cool thoroughly, refrigerate, and cut into squares.
****
Finally, Julie and Eric are currently in Canada for the
Quebec Summer Music Festival
, which runs July 5-15, 2007 with a different headliner each evening. Last night it was Nickelback; tonight it's the
Adrian Belew Power Trio
, and tomorrow it's Kanye West. So yeah, my kids are headlining with the "big boys" this week and it's only going to get better when they leave for Japan on Friday and headline an entire week. Getting back to Canada, though, I spoke to Eric briefly yesterday; he said all of the performers are staying at an incredible hotel; he said both he and Julie have spectacular views of Quebec with amazing rooms, restaurants, and how cool is this, an Olympic sized heated rooftop pool which remains open even in the snowy winter (I tried to post a pic from the hotel's website but it wouldn't let me.)
What a life Julie and Eric have, eh?
Later,
xo