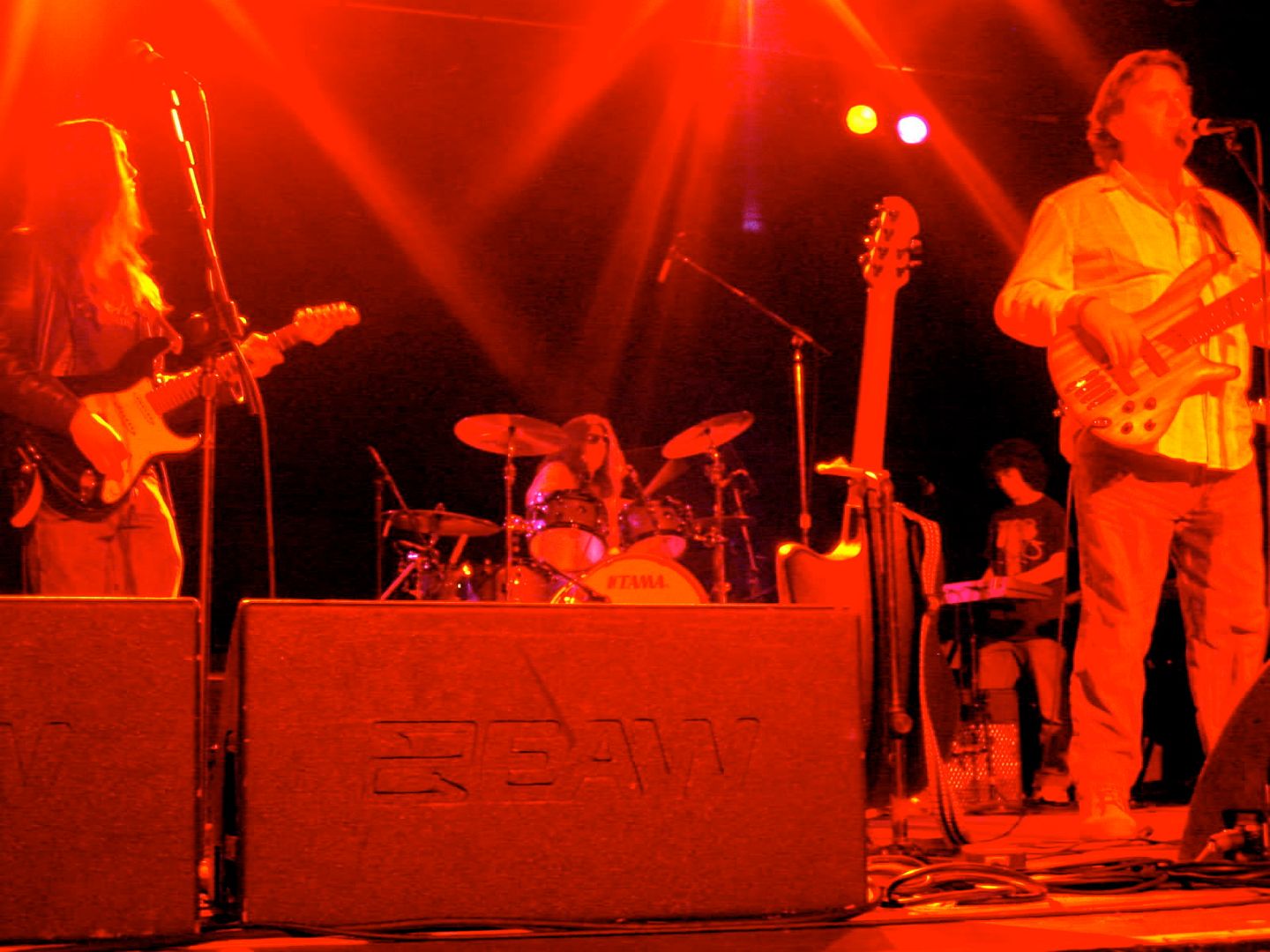 CJ Tywoniak on guitar, Eric Slick on drums, John Wetton on bass, and Zach Miller on keyboards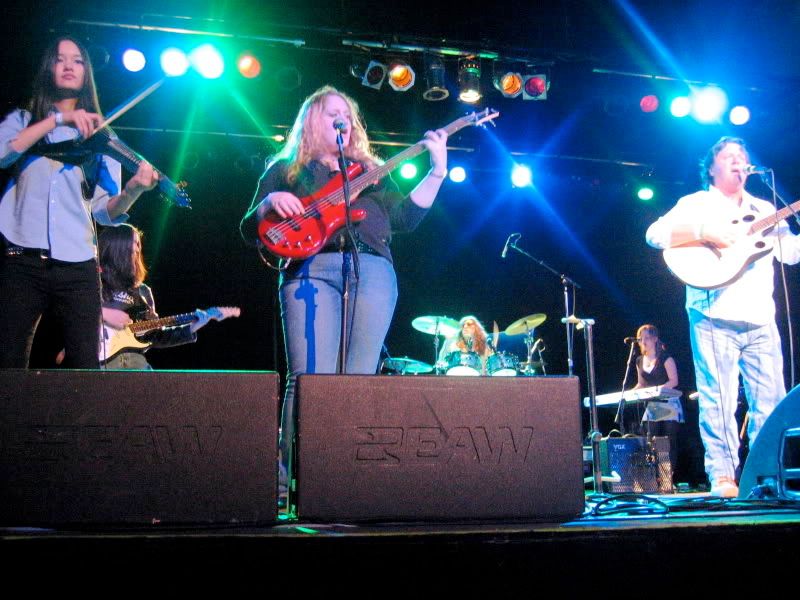 Katie Jacoby on violin, Maureen Hayes on bass, Eric Slick on drums, CJ Tywoniak on electric guitar, John Wetton on acoustic guitar, Stevie Roberts on keyboards
I'm still kind of speechless from last night's show. I have tons more photographs and my photobucket site is open to the public so you can visit directly -- I'll be uploading more throughout the day. Plus, if you do that, you'll see the photo in its actual size and you'll be able to print it out. Just to make it easy for those technology challenged, here's the
link
. If you dig into the archives, you'll find everything from photos of the All-Stars with Jon Anderson and Eddie Vedder to some stuff you're probably better off not seeing, like my sick collection of Neil Gaiman photos, but well, you know, anyone who reads this blog already knows about that, anyway. But as I said, now that I finally have figured out how to submit multiple photos at one time (thank you, Eric Slick, for showing your dumb mother that it can be done), I will upload as many photos as I can so that you can see I do take photos of Rock School All-Stars other than Julie and Eric.
Anyway...John Wetton just blew me away last night. I had the world's greatest spot...center stage almost directly in front of him but a little to the left so I could see Eric on drums. The Omega Rock School All-Stars were freaking outrageous. The song selection was amazing. The fact that a guitarist who hasn't even hit puberty named Zach Page could trade licks with John brought a smile to his face...and the general consensus was, the first night of the tour, it was a little rough because I don't think Mr. Wetton knew what he was in for and he came in all stern and reserved...and these kids whipped him into shape and made him love them! Ha!
For a detailed review of the actual music, I think
Steve Smith
of Time Out New York does an incredible job, so I refer you to him. I also put this link up on the Rock School forum board in case anyone is interested.
There were some other real highlights for me and I apologize to anyone I'm leaving out...but Stevie Roberts singing Can't Find My Way Home with Brenna Fitzgerald on acoustic guitar almost made me cry it was so beautiful...this little kid named Paco comes on stage -- he must be twelve years old -- and belted out Dazed and Confused like he was a twenty-five year old Robert Plant -- Katie Jacoby on the violin is not only an amazing musician she's almost shockingly beautiful and her stage presence is that of a superstar. Zach Miller on keyboards is a mini-Keith Emerson but better because he's got that Billy Preston soul thing going on; Mo Hayes on bass/vocals was outstanding, but I think it was Zach Bukowski who took my breath away the most because the last time I saw him play he was just starting to get chops...now he's up there with the best of them. (I just realized something. There are three boys named Zach in the All-Stars? Ha ha - the Zach tour) Oh god, I'm forgetting the drummers -- Sara Neidorf is freaking amazing and there's another twelve year old named Asher Bank who is going to be a star. Oh god, and Sara & Andy Zimmerman...holy crap...on guitar and bass respectively.
But of course for me when Paul announced he was bringing out "ringers", i.e., Eric and CJ to perform a couple songs because at the last moment, John decided he wanted to perform a few really difficult songs and he needed musicians who could learn them in like forty-five minutes, I practically burst into tears. C.J., Eric, and Zach were so amazing on Starless I was shaking. And Court of the Crimson King just about killed me.
After Eric finished playing a solo, John went up to the mic and said "Mr. Eric Slick!" and the crowd went crazy. This was especially touching for me because John didn't call out any other names though of course he spent a lot of one on one time with Eric this week but he did point and smile at the other musicians...and as I've said many times, Eric is a "graduate" and the audience was comprised of parents of the new kids....many of whom aren't familiar with Eric and also, prog rock fans, particularly ASIA fans. (Man...you should have seen all the mullets in that crowd. They were really impressive. I was going to take a photo but...nah...we all know what mullets look like...no need to torture ourselves any further)
I did get my Lark's Tongue in Aspic album signed. Look what John wrote on it: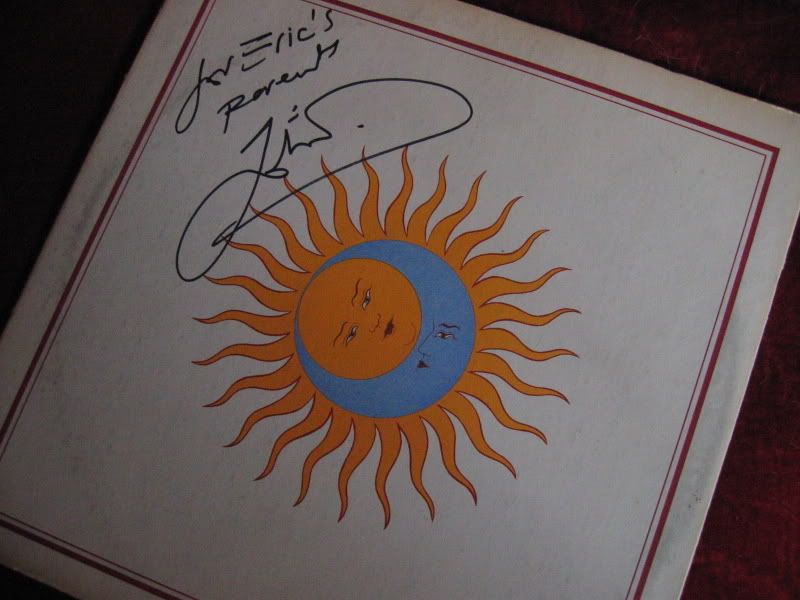 Yeah, that's me. Eric's parent. So now I'm like, why bother writing any more novels...I should just capitalize on being Eric's mom.
Oh wait. I already do that. Har har.
So yeah, it's been an incredible month for my son - what eighteen year old gets to play with both Adrian Belew and John Wetton within four weeks time and gets to hear from both of them that he's an amazing talent with hints of meeting up in the future? In fact, I can't resist this...here's part of an email I got from a "fan" who attended the show last night:
Your son is incredible. He has really good touch and control on the drums and brings out such a range of sounds like I've never heard. I am honored to know him before he becomes a superstar, which he is destined to become.
Yep, I agree.
Okay, so I do have my own life and as I mentioned last week, I agreed to do an interview and project with a writer from the Middle East and now it's up on a website which has also ignited a flame war. Great. So I'm not only going to have an even thicker FBI file, now the right wingers in America are out to get me. I hear the flame war remarks are going to be removed -- the woman who conducted the interview wrote me this strange email about it...strange because of the language/translation problems which, by the way, also occur in the interview so I'm going to post both because they're pretty insane:
The email:
the site was harmed by some new-cons.
now it should be all right.

good to know you.
So I got that email and wondered what the hell a new-con was and why the site was harmed and then I went to the
interview
and found out. Oy. Of course I had to do a bio check on that JB who thinks I'm ruining civilization or whatever she babbles about and I find out she lives in Texas and is proud to be living in the same state as our President (oh, now that's a big surprise). I like the reader who stood up to her...I was dying to respond but if the site is going to be purged of the comments I'm not going to bother. But in the event that JB's comments are not erased, if any of my pals want to speak up in my defense, cool, or at the very least, threaten JB with something painful...like messing up her countertops. (I'm guessing by the comments that she wrote a story about cleaning her countertops which is also on the site...I'll check later...I was too nauseous when I saw her comment because really, I hate all confrontation and the last thing I expected when I agreed to do this project was some right wing asshole coming after me)
Anyway, that's all for now...but here's some advance warning. Tomorrow I'm going to post the first real attack of You Tube - my personal home movies. In my first real contribution, you'll see Eric Slick and company backstage hanging out with one of the world's most famous rockstars and you're not going to believe what you see and hear. No one has seen this film yet but my immediate family. Be on high alert!
I leave you with one final John Wetton photo which I love because John kept walking up to Eric and jamming with him and he was obviously having an awesome time (John that is...well, so was Eric. For sure.)
Later,
xo