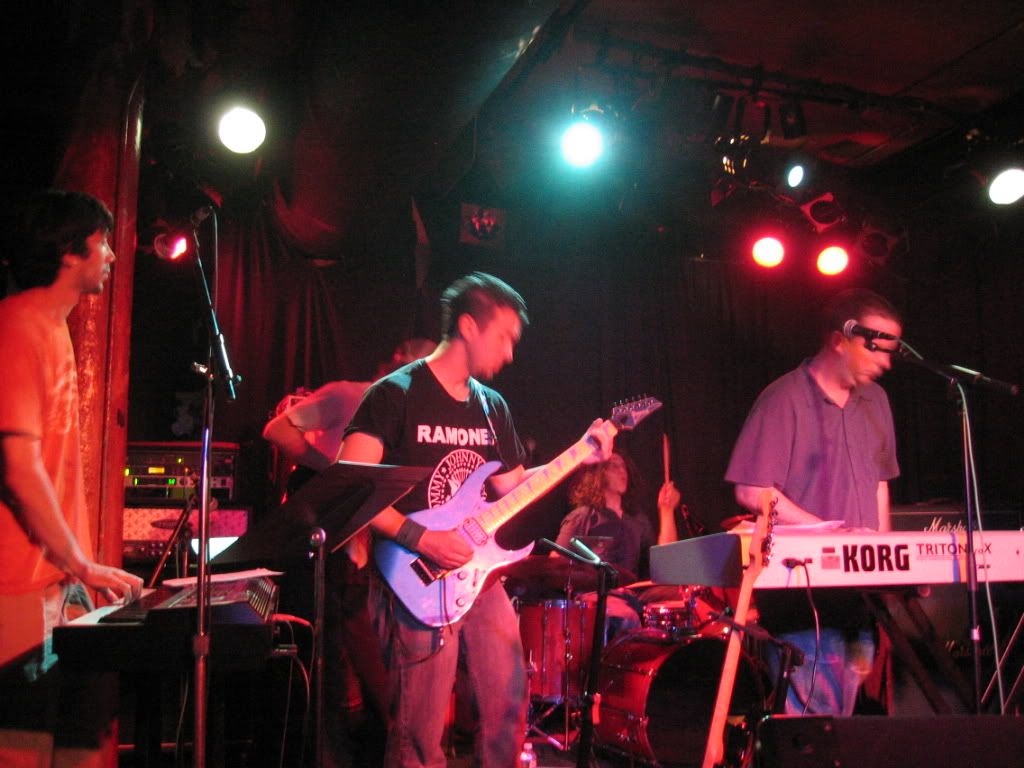 Jordan Shapiro - keys, Jeff Paitchell on guitar, Eric Slick on drums, and Chris Opperman on keyboards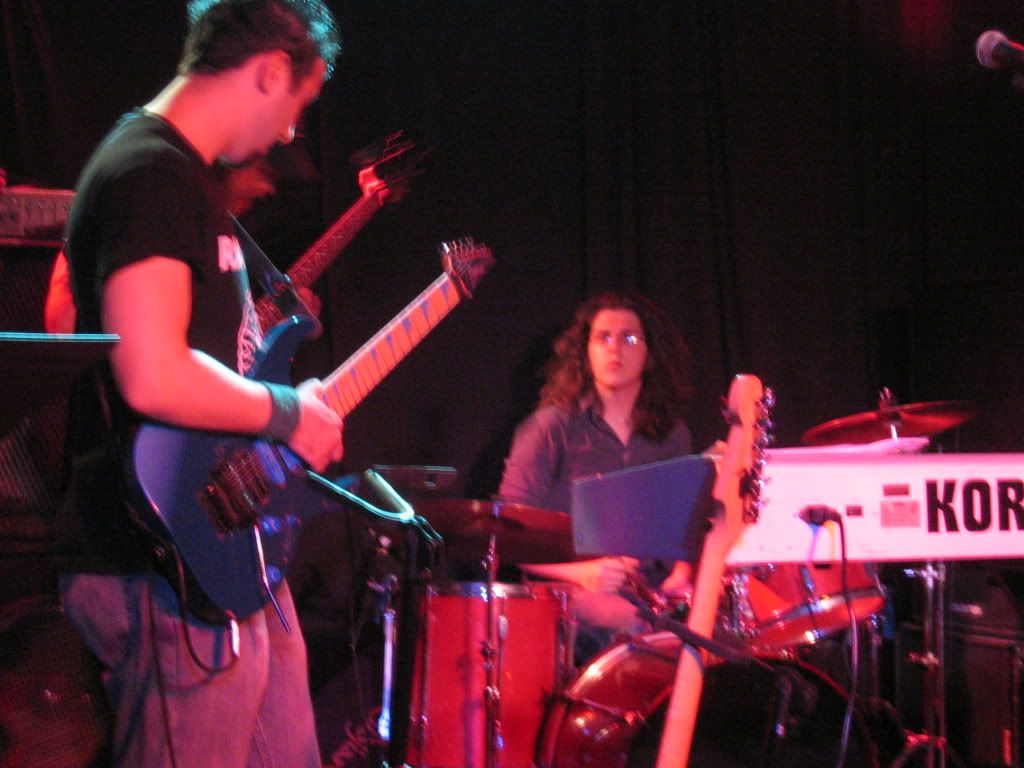 Eric looking unusually serious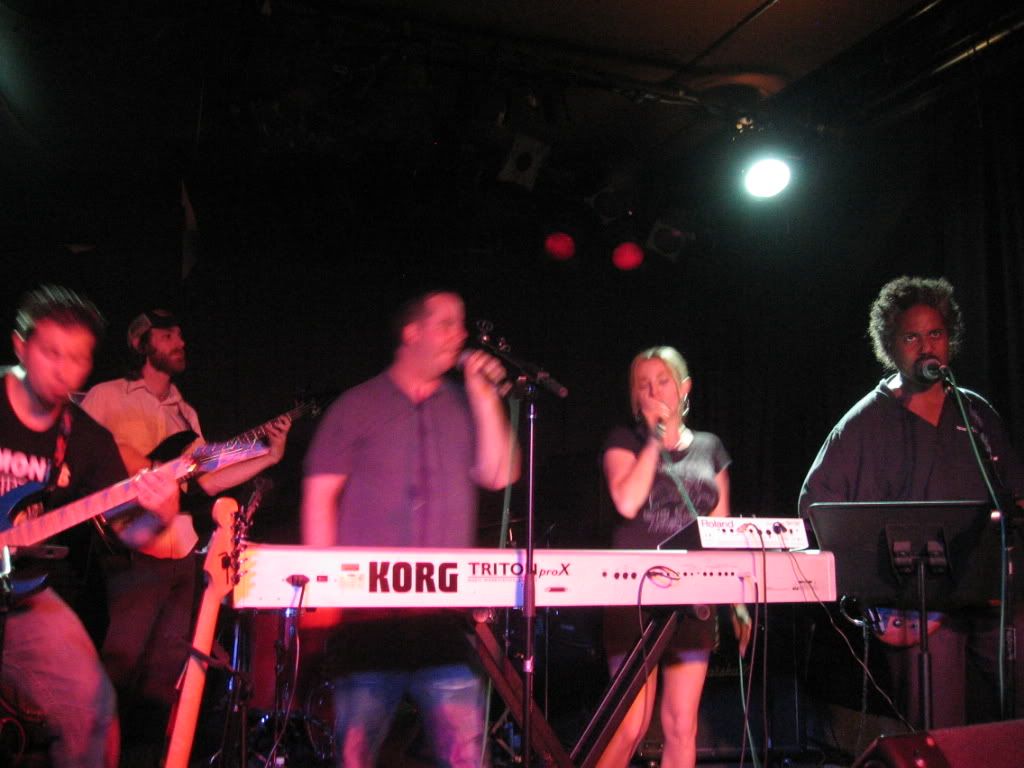 Jeff on guitar, Dave Johnsen on bass, Chris on keyboards,
Dr. Dot
doing vocals (and oh man, please go check out her website; what a character), Andre Cholmondeley on guitar, and Eric of course hidden in the back on drums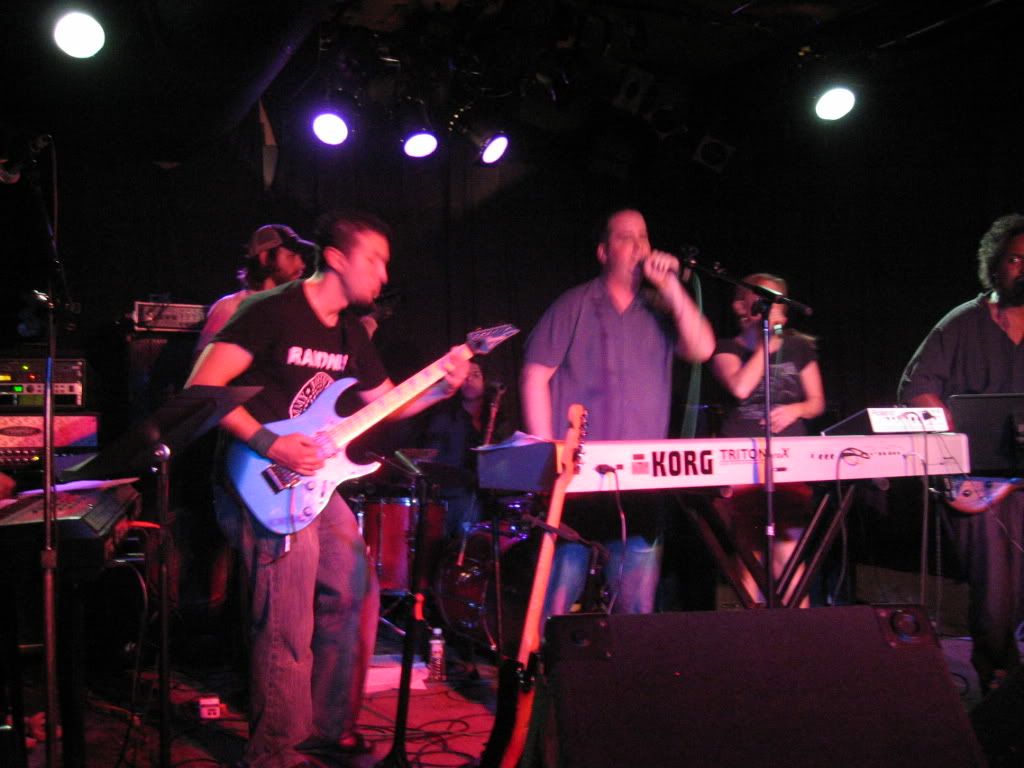 So. What can I say about the show at the Lion's Den Saturday night? It was incredible; I'm on a two day high from it; the music was awesome and I saw my son reach new levels (and I didn't think it was possible for Eric to be even better than he already is); Chris Opperman is an INSANE keyboard player, which is probably why he plays with Steve Vai and was voted LA's best keyboard player EVER, 2005. Jordan Shapiro on synth was fucking amazing; Dave Johnsen on bass guitar is so good it's scary -- right up there with my daughter Julie (ha!) -- and Jeff Paitchell and Andre Cholmondeley on guitars were fucking thrilling. They were classical, they were jazz, they were pure rock and roll. I still feel a little speechless from what I saw and heard. Best news is it's going to lead to future gigs for Eric -- Chris said he's coming back to NYC in a few months and wants Eric to tour with him for a week or so. How freaking cool is that!
I also dug the Lion's Den but must admit I felt a little old in the audience; I'm guessing since it's in the Village it's a hang-out for NYU students but the cool thing is, they got the music and really, really loved it so maybe there is hope for the future after all. People were pointing at Eric and the rest of the band members and clapping and dancing -- it was amazing.
The other really cool thing that happened is that Paul showed up and it was his birthday! He brought along Rock School kids now in their own bands -- Jeremy Blessing and Dom Malandro of Atlas and Gina Randazzo of Toxic Box. So Eric was really touched and surprised by their appearance; he didn't even go on until well after 10:00 p.m. and they stayed for most of the show which ended after midnight. Before he left, Paul said to me "Tell Eric he is really kicking ass tonight!"
Oh man, did I have a teary eyed mother moment. Because again, I know Eric was up on that stage and able to play that difficult, difficult music because of his Zappa training with Paul and all of the confidence instilled in him courtesy of his seven years at Rock School.
And now tomorrow I get to see Eric with his band, Flamingo, performing at World Cafe Live.
Ah, I'm digging life right now. If only I didn't have to go to work today...