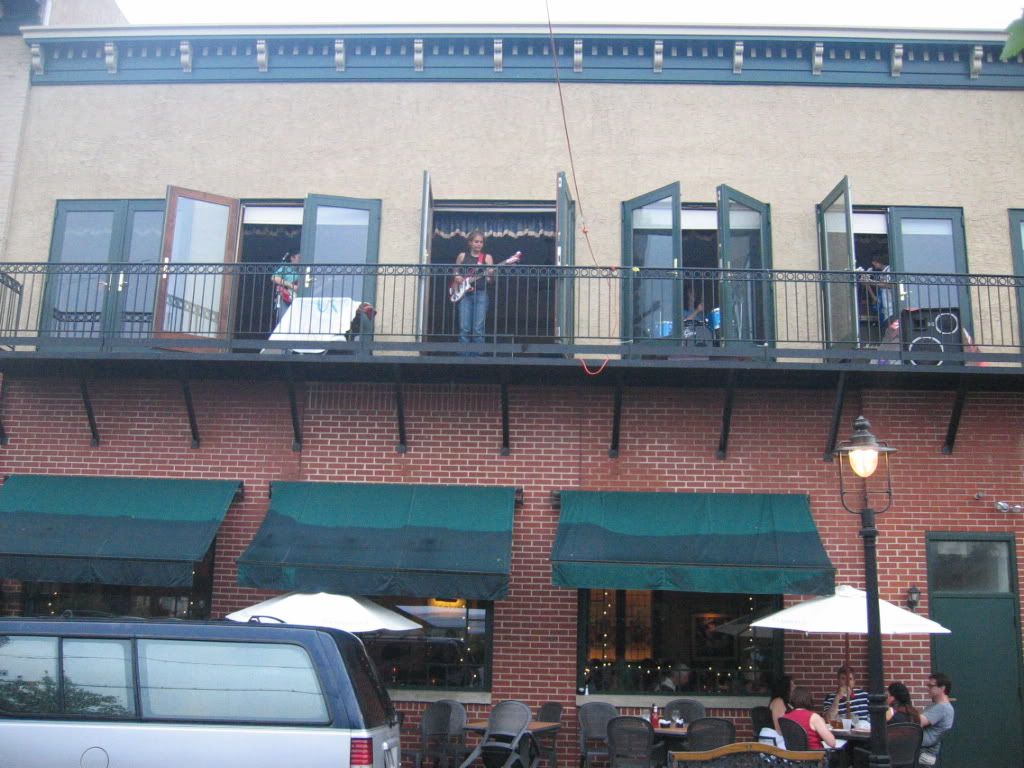 A group shot -- very cool -- as you can see, each band member appeared in their own separate window
Julie Slick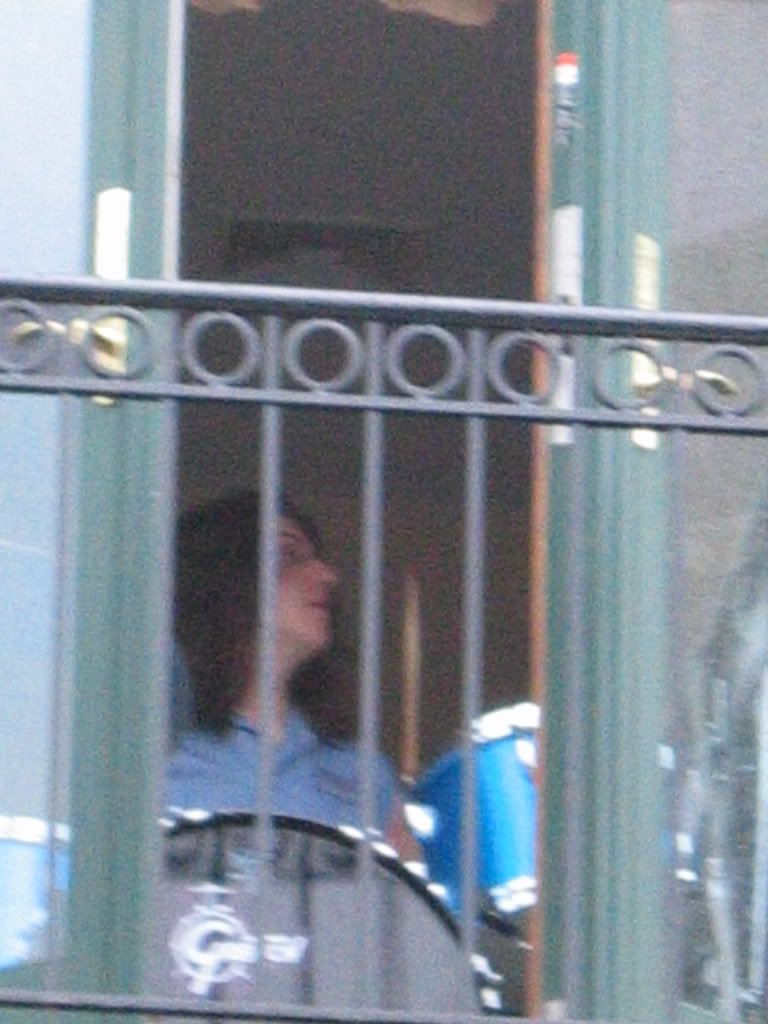 Eric Slick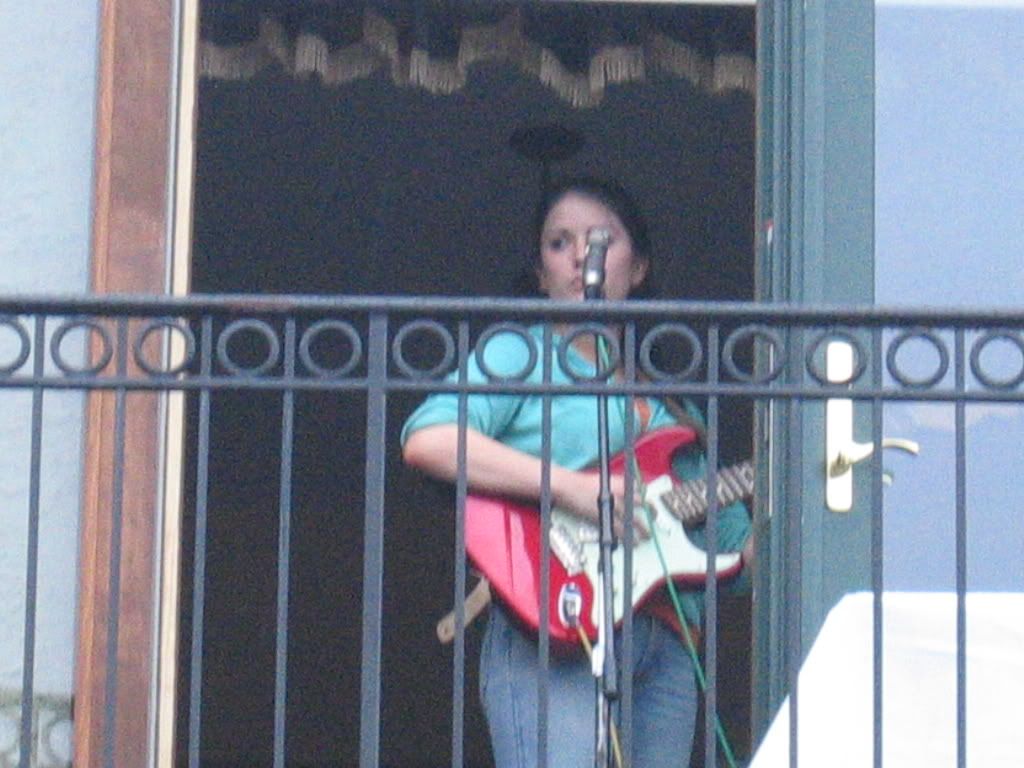 Madison Flego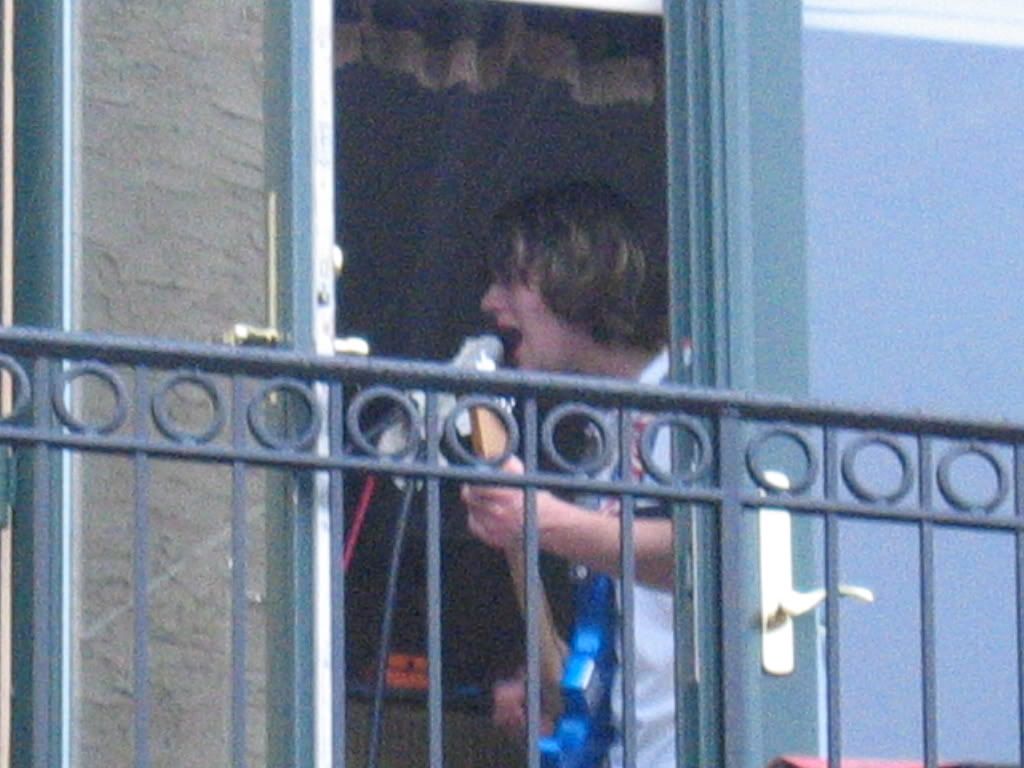 Louis Graff
Rear view from the inside -- Louie and Eric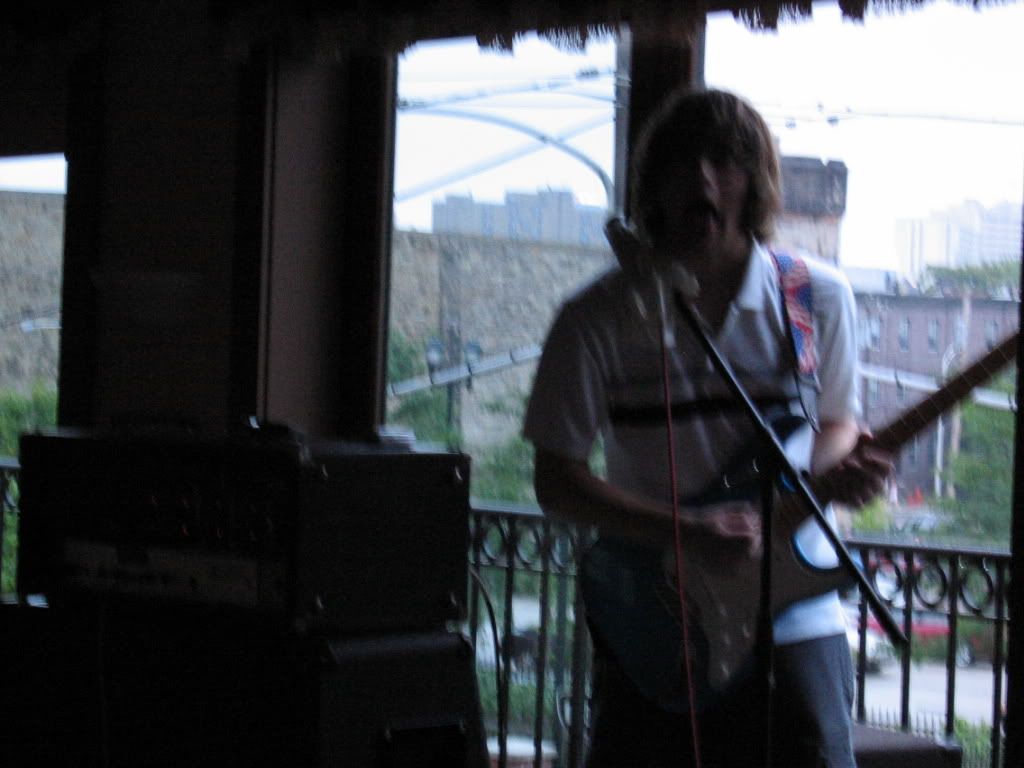 Typical Louie pose.
So Abel debuted at the Bastille Day celebration at Rembrandt's last night and for a band that's only been together for a few weeks, they were awesome! There was a gut wrenching moment when it started to pour rain right an hour before their performance; I spoke to Julie and she said that they wouldn't play at all if it kept raining so hard and we all almost died, especially in light of what we went through to get her home from Hilton Head a day early for this performance and even more so, in light of all the intense practice hours and work they've put into this.
Anyway, yeah, the rain did keep the usual huge crowds away, but about a half hour into their set, the rain stopped and people started coming and I'm out there in the audience, listening to all the praise. People were freaking out -- saying how unbelievably talented they were; a couple guys made comments about how gorgeous Madison and Julie are (duh); they were immediately offered future gigs; and even better, the crowd screamed for an encore so they did their original stuff!
My undying thanks to my son's girlfriend, Carolyn Pagnotta, who had the common sense to call me when the kids started playing a half hour before they were scheduled (they weren't supposed to start until 7:00 p.m. so I was hanging out home; anyway, I got her call, threw on my shoes and went flying down the street. God forbid my own kids called me but I think they were surprised to learn they had to go right on...I guess it was the rain thing and the threat of imminent thunder storms...but wah, I missed the first song, which I heard they absolutely nailed (Whole Lotta Love).
Then I remembered I forgot my camera.
It started tp rain again and I thought oh crap, if I go home and get it, it's bad luck, the show will end early. Plus, I didn't want to miss one song. They had the best set list ever! So even though I was sad at the thought of no photos, I stayed, and quickly downed two giant beers (beer and champagne were sold in an open canopy tent right across from where the kids were playing which was great because it encouraged people to stay and drink. A man and woman were having so much "fun" they were dancing in the street to the kids' music). I drank my beers on an empty, nervous stomach; thus I was pretty wasted. Unbelievably enough, the rain stopped, the kids played a few more songs, then Madison announced they were taking a quick break and then would be back with another set. Yay! So I ran home, got the camera, and raced back down the street.
Didn't realize how drunk I was. I am the world's most sissy drinker. Who drinks 2 beers and can't speak a coherent sentence? Me. When I took the camera out of the case, I realized I had absolutely no recollection of how to turn it on let alone take pictures. Carolyn came to my rescue and became my official photographer, and bless her because I'm a pretty demanding wench.
"Make sure you take one of each kid in each window!" "Did you get a group shot?" "How are they turning out? Can I see?"
She's such a sweetheart, she looks at me and says "Would you like me to go inside and take some pics, too?"
"Yes! I was going to ask but I was afraid I was already, you know...."(being a pushy obnoxious mother-in-law? Arghhh....)
So thanks to Carolyn, I have some pretty decent photos of the concert. Otherwise, I'd have been like, totally out of luck.
Anyway, back to Abel. They are amazing! Madison was fantastic, schmoozing with the crowd.
"This is our first gig; be nice to us; just remember we are teenagers and have tissue paper feelings."
The crowd ate it up.
She said sort of the same thing when they did their encore of original material, and the people sitting on bar stools behind me were madly in love with her. They called out "What's your name?" And she answered, told them her name, introduced the rest of the band, etc. and then the people behind me said to each other "Remember those names - we can say we saw them at their first gig. They're going to be famous."
Yeah, Madison definitely has a way cool stage persona and yep, once again I'm gonna credit Paul and Rock School, because she really worked the crowd over good, even thanking them for coming out in the rain and encouraging them to drink and have fun, just in time for the owner of Rembrandt's to hear that and he of course grinned from ear to ear --- I mean, if that isn't music to a bar owner's ears, what is.
Anyway, it was magical; everyone came back to my house afterwards and the kids stayed up all night and watched movies; I went upstairs and immediately fell asleep.
Man, did I have a great week of music. Chris Opperman last Saturday night, Flamingo Tuesday night, Abel last night...and oh my god, New York City again this Sunday with Eric and the rest of the Paul Green School of Rock All-Stars. This is a poignant show coming up - every graduating All Star got to pick their favorite two songs to perform and this is like the set list from the Gods. I CAN'T WAIT!!!
Way more details on that as well as two other All Star shows Friday and Saturday in the next few days.
Happy Sunday!