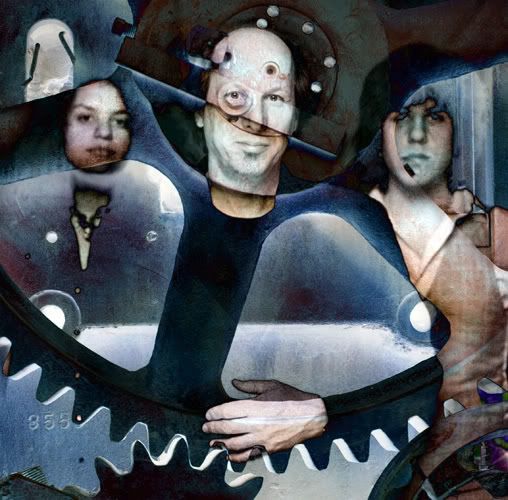 Incredible photo collage of the

Adrian Belew Power Trio

created by the insanely talented

Marc Colman

. No, it is not the cover art for Side Four Live, which is art by the multi-talented Adrian, but I seriously want to get a framed copy of this masterpiece for my wall. I believe it may be a take on a photograph Marc took of the trio which will be included inside the CD and I've seen the original - it's heart melting stuff.

Have I mentioned Side Four Live will be available for pre-order next Tuesday? Ha ha, like a million times, I know. I'm busy pasting billboards all over the internet.

You know, it's funny. I was reflecting on Adrian's recent

blog post

where he shows us a royalty check for six cents he recently received and how it made him comment:

"is this a torture device meant to remind me
of how invaluable my life's work has been
for the needy hearts of a barren culture,
or someone's poke in the eye with a sharp stick
to say pointedly, "look at you, you piece of dookie"?

Well, naturally, a bunch of fans immediately left remarks assuring him how much his music has meant to them, and it's a good thing I didn't go in there and leave my thoughts or I would have written a mini-series.

Coincidentally today, I stumbled on this, which has special meaning for me for personal reasons and I thought how cool, as it was with our family when we met Adrian and Martha Belew, it's not just his music which changes lives:

I hope this

link

works because it's from a daily newspaper, The Nevada County Local News, but if not, here is a cut and paste of the article:

He used to be a wino


Now, KVMR's Mike Thornton is just a regular guy

"

The last thing Mike Thornton heard as he was falling through the front door of a San Francisco detox center was, "Oh my God!"

Then the lights went out.

The now-very sober newsman for KVMR has since become a voice for the recovery community. But that morning 20 years ago, he had awakened in a park, awash in his
own blood, wondering what hit him.

He realized his face had been smashed with something wooden — a bat or maybe a two-by-four — because a piece of it still was stuck in his mouth.

"I had been beaten and left to die," Thornton said.

But instead, Nevada City's Chicago-born radio personality eventually found a new reason to live.

Now 53, Thornton has been gainfully employed in Nevada County since 1989, first as the leader of the Lovett Recovery Center residential drug and rehabilitation facility. For the past 13 years, he has been with KVMR as a board member and then in a job that evolved from disc jockey to news director.

It wasn't that much of a jump.

Even when he was a kid running the rough streets of Chicago around Wrigley Field and using drugs, "just about anything I could get my hands on," Thornton was educating himself, he recalled.

"I'd cut school, but I'd hang out at the Museum of Natural History, and I watched PBS all the time," Thornton said. The cultural respites were welcome in the abusive environment he was growing up in with no parental involvement.

But his lifestyle soon caught up with him.

"I was marched out of high school in handcuffs," he remembered. "I was already a drunk and a drug addict."

That led to several years with the Illinois Youth Commission, the juvenile prison system for the state.

"It was incredibly abusive," Thornton said. "They would make you duck walk around the gym, and when you fell out, they'd kick the (expletive) out of you."

When Thornton got out, he returned to Chicago, where he continued to self-medicate with other troubled people in the streets, injecting drugs almost daily.

"I was never a hard criminal, but I wasn't a model citizen, either," Thornton said. "I knew some generally bad people."

Realizing Chicago was getting him nowhere, Thornton stepped onto a bus and got off in Carson City. He worked in casinos for a while, then began wandering to Long Beach, Sacramento and back to Chicago.

"It was horrible," Thornton said.

He wound up in San Francisco, "kind of a homeless drug addict and wino," Thornton said. That's when he got into the fight that led him to the detox center.

He got sober there, then entered an alcohol program in Galt that turned his life around.

A man named Bill Smith took a liking to Thornton, and begin to teach him how to get along.

"I had no idea what it was like to lead a sober life," Thornton said.

The state Department of Rehabilitation also helped out with education services, and Thornton began attending drug counseling classes at Sacramento State.

"I've been clean and sober ever since," Thornton said.

He worked in recovery programs in Galt and Sacramento.

"I was good at it. I had a lot of practical experience," Thornton said. "I don't believe you have to be a former drug addict to be a good drug counselor, but it helps, because you know they know that you know."

After establishing himself in the drug and alcohol rehabilitation field, Thornton came to Nevada County to run the Lovett Center.

"I'm real proud of what we did, " Thornton said. "We made it a safe place for people who needed it."

But after 10 years and the death of close colleague Richard Knight, "I was getting burned out," Thornton said. "I got to a point where I was faking it, and it was stressful."

That's when Thornton turned to radio. He was playing "a weird mix of hard core punk and hip-hop, and eventually I got the midnight to 4 (a.m.) shift on Friday morning, when no one was here. I even got a 'Play Misty for Me' phone call."

He also got a chance.

He did an interview with guitarist Adrian Belew, who played with King Crimson and Frank Zappa, among other greats.



"It went fabulously well," Thornton said. "I started doing entertainment interviews, and then I got more and more involved in news and politics, and it evolved into a talk show."

It was during his talk show days that Thornton began to travel. He has done reports for a consortium of community radio stations around the country.

In 2005, he traveled to the Middle East, Syria, Lebanon. On the road one day, he realized he stuck out like a sore thumb: A six-foot-two-inch white man with his arms covered in tattoos walking.

He also visited a Palestinian refugee camp and met an official of Hezbollah, the Islamic fundamentalist militia active in Lebanon.

"He said if we attack Iran, we'll have a war we won't believe," Thornton said.

The news man is planning to return to the Middle East at the end of the month to provide coverage for the Corporation for Public Broadcasting. He'll also work on "a documentary on stories that have not been told," Thornton said.

News has also taken Thornton to South America, and, close to home, to San Quentin prison, where he witnessed an execution that moved him deeply and pushed him to take a stand against capital punishment.

"Everybody, particularly people for capital punishment, should go see one and then tell me what you think," Thornton said. "I tell people, 'You go to one, and then we'll talk.'"

Much of KVMR's audience is not mainstream, and Thornton understands that. "but we're more balanced than you think," he said. "They don't want to hear Rush Limbaugh, but we let John Doolittle have his say."

Conservative viewpoints would get on KVMR more often if those sources would speak to him, Thornton said.

"They say, no, the station's too liberal, but I think I have a reasonably good reputation as a journalist in this community, and if they want to say something, all they've got to do is call me," Thornton said.

To relax, Thornton plays cajon, a drum-like wooden box from Africa. He is single, has a girlfriend and leads a very private life.

"I'm a regular guy," Thornton said. "Put a dime in me and I start talking, and I don't know when to shut up."

Pretty cool, huh. So he did an interview with Adrian and it lead to a life changing career. See, Ade? You have left your mark in this world in more ways than one, all of them briliant.

Also cool is Sid Smith over at

DGM Live

, who gives the trio a blurb today:

"

The Adrian Belew Power Trio are back on the road again in the New Year. And if that's not enough, he's taking pre-orders for the long awaited, Side Four live album featuring

Julie and Eric Slick alongside Ade

."

Here's a little tease for those of you in the colder parts of the country, like where you ski and in the midwest - you'll notice there is a gap in the schedule between February 29 and March 8.

Err...no. Stay tuned to your computers - I do believe those dates will fill in nicely very shortly.

In other news, my son turned me on to

"The Blog Readability Test"

which tells you what level of education is required to understand your blog.

Sooo...I typed in my URL and kill me now. Please.
Next I typed in Adrian's
blog
:
Well, who didn't know that?
Then I could not resist having a go at
Robert Fripp's diary
:
Let's see what they have to say about Sue Henderson over at
Lit Park
:
Ha! Normally Sue would be gnashing her teeth over this, but I have a feeling I can make her smile.
Neil Gaiman's journal
:
Ha ha - well, Sue, at least we are in good company once again.
So you'll see that I've titled this post life changing experiences. I kind of had one myself today and as I type this, I'm debating as to how much detail I want to go into but here goes...we'll see how it pans out.
I have high blood pressure and high cholesterol and all of the things that are very scary to a woman my age. I'm intelligent, I want to live to at least see Side Four Live win a Grammy (heh), and yet I do not take care of myself. I eat whatever I want and other than walking, I despise all forms of exercise. I thought I was controlling my health issues with regular trips to an internist and three different types of meds, which, I have to admit, make me forgetful and dizzy and definitely not the woman I once was but it's kind of subtle...I don't walk around moaning and complaining; I just feel "off" and I'm frequently doing stuff like walking upstairs and forgetting why I went there, opening the refrigerator and totally spacing out as to what I meant to take out of there, or my personal favorite, picking up the television remote and holding to my ear shouting "Hello? Hello?" when my cell phone rang. But a couple of weeks ago, I bent down and almost couldn't get back up. I was so freaking dizzy and I don't know how else to describe this, but I had sparkly things shooting in front of my eyes...so much so that for a minute, I was afraid I was losing the vision in my right eye. I couldn't focus and it scared the crap out of me.
God forbid I would have taken this as a sign to give up the Pad Thai and Bassets Ice Cream bars but no, I will just pop my meds and assure myself I'm okay and protected.
The last week, though, has been horrible. I haven't wanted to alarm my family, but I have barely been able to catch my breath. But I'm really stressed out right now. I discussed the office thing here last week. Yeah, all kinds of cool things are happening with my books and film option discussions but it takes time and now there is a writer strike which I am sure is going to have an effect on me as well. So as suspected, my blood pressure was really high...frighteningly so. I knew it before I even went to the doctor today because I felt like crap when I started walking to his office...at which time it began to rain. Now I'm sure anyone with a family can relate to this. There are four of us. How is it that in a family of four, there is not one umbrella in this house? Okay, one is my fault, I know I left it at the office. But we had like six others. Oh well, it wasn't raining that bad out, but by the time I walked several blocks, it started to pour so I had to duck inside a CVS Pharmacy to buy an umbrella. In a weird twist of fate, the bin of umbrellas was directly across from a do-it-yourself blood pressure cuff.
I never should have done it but I did.
So I pretty much knew I was in trouble even before I saw the doctor. In fact, I began to cry as soon as I sat down on the examining table. He was pretty upset as well and immediately prescribed something called a Beta Blocker. Naturally I made things worse by reading the pamphlet that came along with it.
If only I had watched my diet and exercised.
So now I'm dizzy and stressed and I take a pill which says right on the package "will cause dizziness until your body becomes accustomed to it".
I was so out of it I had to go straight home - it was only like 9:30 a.m. and this you can't believe - I walk in the door and smell natural gas. And I mean I smell it strong. I check the stove - the pilot is on - so this means it could be coming from the basement - the gas heater or the hot water heater, I don't know from these things but luckily Gary does. I called him at work, so freaking emotional, that he came straight home.
Good thing he did. Somehow the gas connector to the hot water heater rotted away or broke away...I don't remember what Gary told me, only that it was hissing gas.
I have been so full of "what ifs" today. What if I didn't come home early and Julie, Eric and the dog were asleep and didn't wake up...oh god, I can't even type any more about that...I just can't do it.
So right now I am so dizzy it's insane; Gary needs to do major work in the basement and is bringing home supplies, and I have all the windows open.
But I've been thinking all day how in one instant your life can totally change...and how we need to take care of ourselves and live each day totally to the fullest...and try and make a difference in this world.
And with that, assuming I can sit up straight for more than a short period of time, I'm going to attempt a bit more of my
excerpt
for National Novel Writing month.
At least in theory.
Later,
xo