Too funny - even though it was Gary's birthday, Eric, who always creates the absolute best greeting cards, felt compelled to make me an un-birthday card, and before I even read it, I burst out laughing as soon as I saw what I think is an incredibly great drawing of Neil Gaiman and immediately reached for my camera...then I read what the card actually said and broke up giggling altogether.
So yeah, as I pointed out in yesterday's post, Gary is now officially middle-aged (ha ha) and maybe it's just me, but on a scale of one to ten, his birthday was like off the charts. First, as I showed via the photographs I put up in my aforesaid blog entry of November 28, he got to finally hold Side Four Live in his hands (we only listened to it like a thousand more times last night, nothing too extreme) and then we (all of us, even Monty dog) walked over to boyfriend Matt's house where Julie prepared probably the best dinner ever, and even though I had my new camera phone with me, I regret to say that I was so busy stuffing my face, I forgot to take photos of the meal, which is really regrettable since as delicious as it was (details to follow), the presentation was magnificent. However, I did finally remember to take photos of some of Julie's artwork hanging on the walls at Matt's place, and I was so preoccupied with that I totally forgot to take food pics.
Here's a portrait she did of one of my heroes, Kurt Vonnegut, and Julie, I know you don't read my blog but Eric, tell your sister I want one of these for Christmas!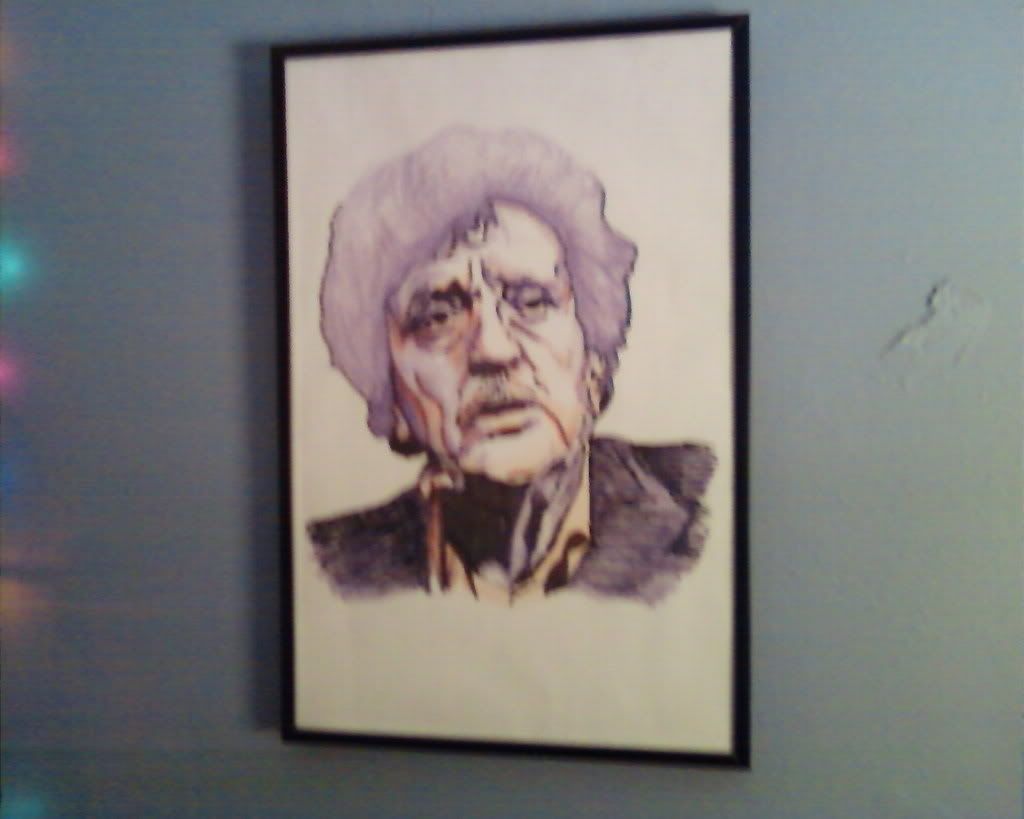 Next, we have her amazing sketch of Nietzsche;
How about a little Camus...
And finally, last but not least, from Terry Gilliam's brilliant Brazil: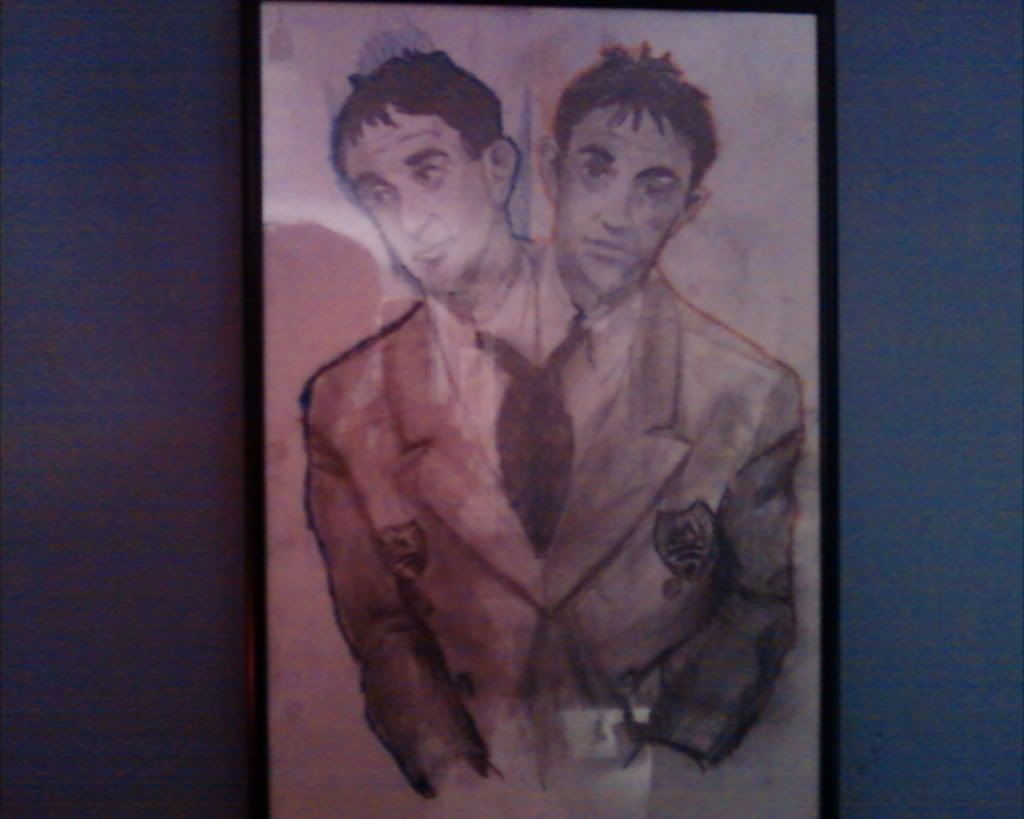 Julie and Eric do not have too much talent, huh. But all kidding aside, if you look at some of the great musicians out there, many of them are/were great artists as well...Lennon, Clapton, Ron Wood, Bowie, Belew...the list is endless. I honestly thought Julie would go to art school; Eric was drumming at age two and Julie didn't seem interested in music until one day at age eleven she idly picked up one of Gary's basses and then asked for a mega-expensive Fender for Christmas, which I said we'd buy her if she would agree to take actual music lessons...and that's how we met
Paul Green
and the rest is history...
Okay, so what did Julie prepare for Gary's birthday dinner?
She made four different meals, which is mind blowing in itself - one for vegetarian Eric, one for carnivores Matt and Gary, seafood for Julie and me, and then she actually made me a separate lunch to have for today.
For Eric, she stuffed huge portobello mushrooms with roasted artichokes, spinach, tomatoes, and cheese and a side of those sick mashed potatoes she also made at Thanksgiving. For Gary and Matt, braised short ribs which sat in a puddle of horseradish cream served over mashed potatoes, topped with a stuffed portobello mushroom ala Eric's platter, and for the two of us, the same dish, minus the cheese and short ribs, but with seared scallops instead. For my noon meal today, she made brown rice which she tossed with all kinds of veggies, more seared scallops, and topped with a honey mustard shallot dressing.
Is it lunchtime yet?
Dessert was a cream cheese pound cake with a fresh blackberry compote - she found berries the size of softballs...it was truly one of those meals where you let out sensual sighs with every bite.
Life is so, so good right now...
Later,
xo