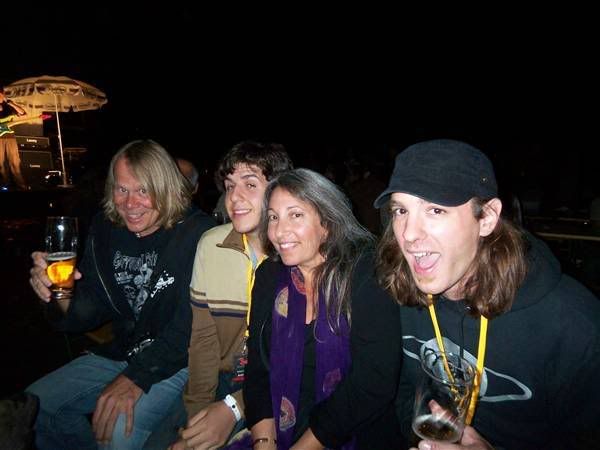 So there we have Eric Svalgard, Eric Slick, "another Robin", and Dave Johnsen of
Project Object
, hanging out at Zappanale in Bad Doberan, Germany - August 3, 2007
Eric returns home today after a week in Germany and oh boy, I cannot wait. Many more pics, some You Tubes, and reviews to follow...
Here's the news I have so far.
Ike Willis
, Zappa alumni and an integral part of the band, missed his plane and the show went on without him. I love Ike to death but that might be a horrible phrase for me to use in light of the circumstances...Project Object has a huge tour planned for October and November of this year, nationwide, and Ike needs to take that first step toward recovery if he wants to be a part of said tour. Sigh...that's all I want to say at this point, other than Project Object put on a magnificent show at
Zappanale
despite his sad, unexpected absence...in fact, you can read some reviews right here on the
Zappa forum board.
Here's another photo from Zappanale, and you will notice the sexy woman in black on the far left. That would be
Dr. Dot
, who is a professional masseuse and has given Eric much pleasure and relief.
You really need to click on that Dr. Dot link. Trust me, you will thank me later...or not, because if you are like me, you will literally spend an hour on her site. The same hands that took care of my son's aches and pains have massaged everyone from Eric Clapton (heh) to Charlie Watts. It's just a matter of time until my son's photo is also up on her "wall of fame". She also maintains a blog, which you can find right
here
. Here is her official photo - she's had such an interesting life and look how drop dead beautiful she is - and she is a good friend to my son. Normal parents might be freaking out over this, but Gary and I are as proud of Eric as if he won the Nobel Peace Prize.
Speaking of beautiful women, in other rather monumental news, Julie has moved back home at least temporarily. No, no, she isn't having problems with boyfriend Matt - I think it's more like we have air conditioning and he does not and the weather here has been in the nineties with it approaching one hundred degrees this week. She also loves to cook and has been unable to do it at Matt's with the kitchen so hot so I guess our kitchen is now her kitchen again, which does not upset me at all since she is a wonderful cook, a healthy eater, and will be a good influence on me, who ate two cheese danish and a cinnamon roll for dinner last night.
Why did I do that? Well, because when Julie moved back in over the weekend, she wanted to know if we could all spend Sunday at the beach in Ocean City. Gary and I didn't want to tell her no, despite the fact that I have an incredible amount of work in both the writing and editing department, because it was always tradition that our whole family went down for Memorial Day and Fourth of July weekends in addition to spending two weeks at our beach house in September...and because of touring and other obligations, neither Julie nor Eric have been down the shore all summer and by the time we vacation at the end of September, a lot of the places they love will already be closed for the season.
So we woke up at 5:00 a.m. yesterday, drove to the beach, ordered a dozen cinnamon donuts from Brown's (the best in the universe, made hot and fresh before your eyes), rode a surrey up and down the boardwalk for four miles to work off said donuts -- and by this time Gary and I were both ready for a nap -- but Julie wanted to play mini golf - kids vs parents -- so we did that, and Gary and Matt both had the best scores but Julie and I brought them both down with our crappy scores so it ended up being a tie...but okay, Matt actually golfed a 40 on a course with a par of 44 so he did good...though Julie of course then insisted on a couple games of air hockey because she beats everyone at that...so after surrey riding, golf, and much walking, we played a few sweaty, maniacal rounds at an arcade.
By that time, Gary and I were ready for oxygen and I was ready for an extended inpatient hospitalization stay, but we went to another bakery, bought more cake, a tomato pie, then went to
Mack and Manco's
and ate an entire pizza from there.
And then we drove home...all this before 12:30 p.m.
Julie and Matt slept the whole way back to Philadelphia in the car; when we arrived at our house at 2:00 p.m., they were cheery and well rested and wondering what to do next. Gary and I limped upstairs totally brain dead, put on the Phillies game, we were losing 6-0 by the second inning or something so I spooned Gary, the dog spooned me, and the next thing I know it's 6:00 p.m., I woke up bleary eyed and the Phillies had somehow tied the game, scored two runs in the top of the 11th, and I was able to catch them winning after retiring the Milwaukee Brewers in the bottom of the llth. I woke Gary, we went downstairs, and Julie and Matt were still wide awake and wondering what our dinner plans were.
Gary and I both dove into the cake box and raced back upstairs.
I'm telling you, we can't go on vacation fast enough. By the way, here's a photo of our beach house, which is directly across a tiny street from the beach - I will also post a photo of the view from our bedroom as well as the living room: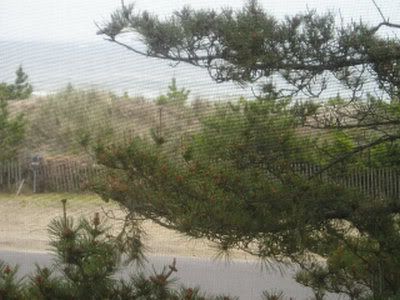 Now you know why we're so anxious for vacation.
But there's so many exciting things happening before we take off that we're kind of glad the summer is moving so slowly. I think I'll post more on all that tomorrow...if I don't do some "real work" right now I'm going to have an extremely puzzled prospective agent and a very pissed off publisher (I'm editing an anthology; the deadline for submissions has passed, and I got a ton of stories in under the wire which I haven't even read yet.)
Okay, much, much more...
Later,
xo