Okay, how do I top Monday's post?
Face it, I can't. Deal with it. Oh alright. Back by popular demand, and I cannot believe how many emails I got on the subject, here is one more shot of the lovely
Dr. Dot
.
Now try not to get too excited about this, but the good doctor and I have been corresponding and I may be enlisting her for a very special project and she in turn may be enlisting Eric for an even more special project and that's all I'm saying on the subject for now. Stay tuned? Hahahaha - this is the one time I'm pretty sure you will.
So anyway, I have all kinds of cool links today. Zappanale, the upcoming Belew tour, and Eric's plans for this evening. Wait. Let's get that out of the way first.
Rick Slick? Ha ha - do they think it's

this guy

? Too, too funny. Yo,

Court Tavern!

Fix that, will you?

All kidding aside, this is going to be an awesome show...you can read all about it on the

Ween Forum Board

. It's the third item down, and sob..you also get to see a photo of Eric before he cut his hair.

(I'm with you,

Daryl

)

So a bunch more blurbs about

Zappanale

are starting to pop up, with the star of the show being the annual review of the event brought to us each year by the

Idiot Bastard's Diary

, which says, in part:

"

I'm looking forward to Project Object; it's obvious to everyone, they should be headlining tonight. They open with a cracking Big Swifty and just steam through a hastily-revised-in-the-absence-of-Ike set. All wonderful musicians, with the added bonus of both Napi and Don. And how marvellous to see Dr Dot play the part of Mary during Wet T-Shirt Nite. She sounds just right.

PO: all great musicians, but it's young Eric Slick who stands out. The big debate backstage is: was he awesome, or merely phenomenal?"

Pete Brunelli of

Doot

does a nice job on his blog as well, and here's a quote:

"

Project/Object followed. In my humble opinion: The Ike no-show, combined with following the ultra-tight Godin/Moreglbl and Pianeta sets, and the huge amount of pride that P/O has in their work, all combined to set the stage for what I think is the best P/O set I have ever heard. Don Preston sitting in on keys was an amazing experience, no less so because Eric Svalgard was having keyboard issues so Don covered a LOT of ground.



The core rhythm section of Eric Slick, Dave Johnsen, Eric Svalgard and Andre Cholmondeley have been together for a few years now and it showed

. Napoleon Murphy Brock fronted more songs that he had planned on, which really helped take the burden off of Andre... who was the only guitarist on stage, by the way. As if that weren't enough, Dr. Dot (1988 FZ tour masseuse and all around eye-popper) guested on Wet T-Shirt Night as Mary.. from the bus. When she got the pitcher of water across that white, ugly, man-kinda T-shirt.. well the place went OFF."

Ha ha - we know, we know.

Pete's blog also contains a lot more info,

brilliant pics of Project Object

, and many cool links, one of which is some commentary and awesome photos by

Bazbo

, who says:


"I'm very impressed by P/O. Andre is doing a terrific job, the young Eric Slick is very talented on drums

and keyboard player Eric Svalgard sounds very fine."

Finally, the

Zappateers

have amazing commentary and photographs on their site - check out their

forum

and

extraordinary photos

.

Whew, that was a lot of linkage, eh? And if you click on most of them, woo hoo, you'll get to see even more great pics of Dr. Dot.

So yeah, Eric has that amazing show with

Dave Dreiwitz

tonight, then tomorrow morning Eric and Julie take off for Nashville to begin preparation for their week long southern tour which kicks off Sunday night, August 19, at

Stella Blue

, and how cool is this, one of the members of Adrian Belew's Yahoo Group, the fabulously talented Mike Inman, will be seeing the trio for the first time and is so excited that he created this poster for the event, which the trio will most definitely autograph for him:
Isn't that fantastic? Hey Mike! If you are reading this, print out an extra copy for me, will you? And I know, I know, I'm overly sentimental, but if you would get the trio to autograph my copy as well and then give it to Eric or Julie with instructions to return it to me as wrinkle free as possible, I will forever be indebted to you.
Ah, I love when the trio tours, because all kinds of cool newspaper articles start popping up, like this one from
The Independent Weekly
:
"
AUGUST 15, 2007
Adrian Belew
Power sound

BY CHRIS PARKER

Adrian Belew was playing in a costumed cover band in Nashville when Frank Zappa discovered him in 1977. He'd never played odd time signatures and couldn't read music, but according to Belew, "[Zappa] wanted to be able to do some of the funnier music and wanted somebody there who wouldn't object to wearing a dress or a helmet or whatever it took."

Over the next four years, Belew would not only play with Zappa. He would also tour the world as David Bowie's sideman, collaborating with the Talking Heads and Robert Fripp along the way. The latter proved the partnership that would make him famous: In 1981, Belew joined Fripp in the reformed King Crimson. Belew began to forge his idiosyncratic guitar sound with their debut, Discipline.

"I was the first guy I ever knew with a guitar synthesizer, and Robert was the second," Belew says, laughing. "You had these two guys who could suddenly sound like trumpets and violins and things, which was totally strange. Then, in the air, there was a very adventurous kind of creativity that a lot of people [Talking Heads, Brian Eno, Peter Gabriel] were exploring, especially with African rhythms and Balinese music."

Between periodic King Crimson and Bears albums, solo work and guest spots, Belew spawned two power trios of his own. He recently recorded two albums with Tool drummer Danny Carey and Primus bassist Les Claypool. He later discovered Eric and Julie Slick—20- and 21-year-old sibling graduates of Paul Green's School of Rock—to bring the music to life on stage.

"They're young, gifted and so focused," beams Belew of drummer Eric and bassist Julie. "They don't have any jadedness. They don't have any vices. They don't even have a driver's license yet. Because of that, their focus is so incredible and their energy level is what amazes me. The show is like electricity."

Adrian Belew plays with the Slick siblings as the Adrian Belew Power Trio at Cat's Cradle Tuesday, Aug. 21, at 8:30 p.m. Tickets are $18-$20. Saul Zonana opens."
Creative Loafing
gives their "picks for the week's best shows" and they write:
"
WED/22

ADRIAN BELEW The sometime-King Crimson guitarist and ace session guy behind Zappa, the Talking Heads and Laurie Anderson tours behind a trilogy of terrific interconnected albums, all released within about a year. They perfectly display his amazingly elastic guitar prowess combined with compositional skills that range from experimental to freewheeling. This "power trio" show will likely feature music from those discs, as well as incorporate nuggets from his extensive and always innovative career. $20. 7 p.m. Smiths Olde Bar"
.
Hey, here's the poster for the
"Oh my god, three members of King Crimson on the same stage on the same date
" event on September 15, 2007 in Washington: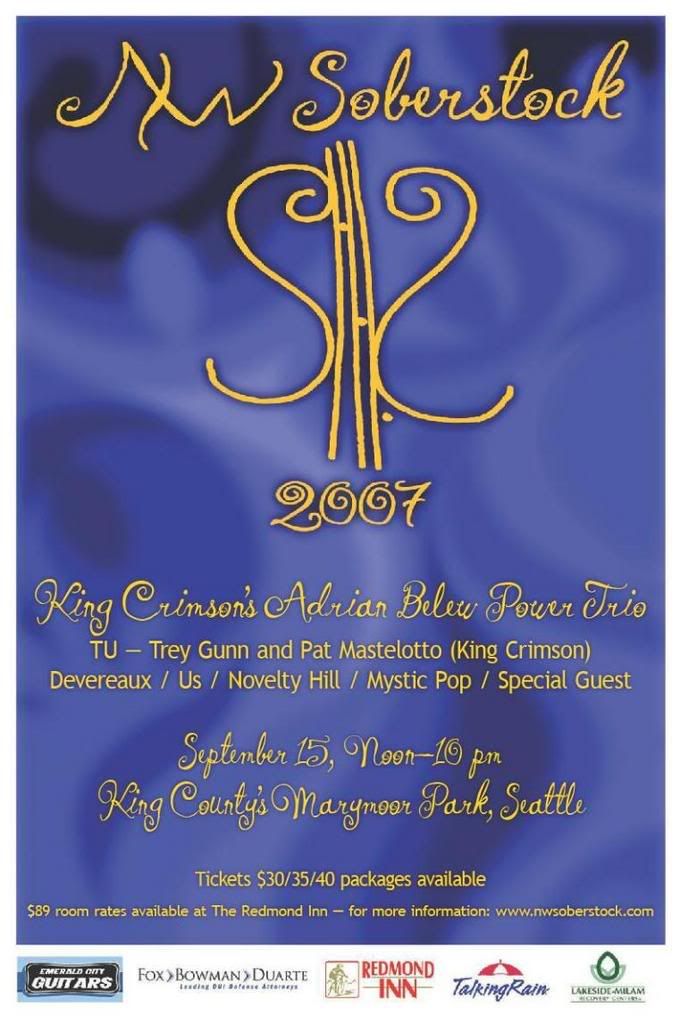 Man, that is one event I am heartbroken to be missing, but Gary and I will be at our beach house on that date and while we talked about the possibility, there's just no way we can swing it. Sigh...
So I think that may be it for now. I hope that some of you can attend Eric's show tonight at
The Court Tavern
. I will not be there - tomorrow is my birthday and I'm starting the celebration early, even though it appears I'm spending the day alone with Julie and Eric headed to Nashville at dawn and Gary at work. Ugh, I have the television on in the background right now and they just announced today marks the 30th anniversary of Elvis Presley's death. Oh how well I remember. My alarm clock was always set to "radio" so the morning of my birthday, August 17, 1977, I woke up to the news that Elvis was dead. Even though I was a baby hippie back then who only loved musicians like The Who and other British rock bands, I was like "Nooo....not on my birthday...oh man..." Meanwhile, the same exact thing happened to Gary six years ago -- George Harrison died sometime during the night on his birthday as well and that one hit us both really hard, though I don't think anything outside of our immediate family will ever affect us like
December 8, 1980
.
Bleh. This getting older stuff really sucks but it sure beats the alternative.
Getting back to my birthday, ha ha - I know that this will impress you all but go click on my
MySpace page
where you will see I got a shout out from Dr. Dot which I know many of you will appreciate. Hey, she got Frank Zappa to return to the planet just for me!
Finally, in case I don't make it back here tomorrow and decide to either spend the day blissfully eating and reading and/or assuming the fetal position, as a special gift to me you can head over to
Media Predict
, register, and buy shares of stock with the $5,000.00 play money they give you.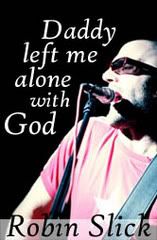 The way it works is easy -- on the link I provided, once you register, and it's really easy to do that - you just have to give them an email address - something like this will appear on the page with a link for you to buy shares:
"Chances are higher than 84.08%"
"Chances are lower than 84.08%"
You want to click on "chances are higher" and that will give you the option to buy stock in my book. Don't spend the whole $5,000.00 at once. Someone who already bought shares at a lower price may use the new higher price to sell and earn a "profit". It's better to have my figures inch up slowly.
I so totally appreciate this - it would be the best birthday gift ever to be one of the five finalists though just having my proposal selected automatically made me a semi-finalist. If you have any questions as to how this works, you can email me directly or leave a comment here and I'll give you a hand.
It's easy, though. Trust me.
Later,
xo