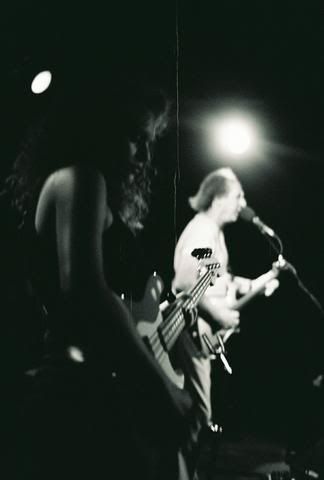 Julie Slick and Adrian Belew on stage this summer in Chicago
ETA: This just in -- Eric will be interviewed on the radio this afternoon at 1:30 p.m. eastern time with Mike Keneally and Bryan Beller right here...it's a live stream!

ETA 2: Well, apparently Eric's plane didn't make it to St. Louis in time enough for him to get to the radio station, but I heard Mike and Bryan interviewed and they said Eric's name more than once and used the word "phenomenal" when describing his drumming. Anyway, these shows are archived right here every week, so check back tomorrow or next week and the interview will be up then.
So many thanks to Sid Smith over at
DGM Live
, who sent his many readers over to me as concerns my review of the Projekct 6 show Saturday night and also published the recipe for Julie's fabulous brownies -- you know, the ones she baked for Adrian Belew and Robert Fripp Saturday night (ha ha - while you are over at DGM checking it out, click on "Forum" and read some of the remarks about
that
. Anyway, one of Sid's readers commented on my blog that he'd also like the recipe for our family's peach cobbler (which Julie baked for Adrian during the summer tour)...so if you look in the comments section
here
, you'll see how she put that together as well. But yeah, if you want the brownie recipe, you'll have to click on the DGM link...normally I'd cut and paste it here but I really want you guys to visit Sid and say hello. He's a very cool guy and it was very kind of him to humor me when I was bugging him about what to bake for Mr. Fripp.
Yeah, yeah, Julie and me...domestic goddesses.
So this is also kind of cool -- when I was doing my usual google stalking this morning I stumbled on the
Projekction Forum Board
(and I hope that link works for you...I had to join the site to be able to read the whole thing)...but in case it doesn't, here's what it says as concerns the aforesaid Projekct 6 show we attended Saturday night:
Posted: Wed Oct 11, 2006 1:00 am

"Holy shit! I was sitting directly behind (2 rows) the Slicks at the show. I thought it was them, but I wasn't sure, so I didn't say anything. Now there's no mistaking that haircut.

Damn, I wish I had taken the opportunity to congratulate them on the show back in August."
So yeah, it was neat to read that...and crazy that someone was sitting two rows behind us wondering if we were the "ones". Ha! Yep, it was, and sorry if Eric's new Gaiman haircut threw you off.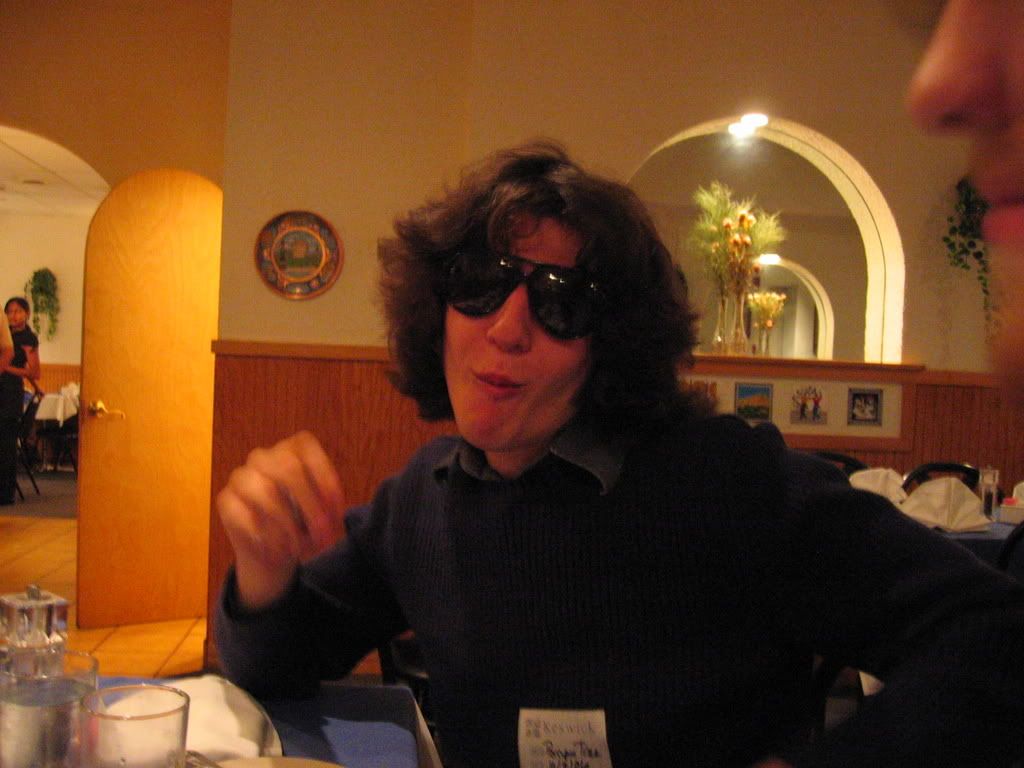 Eric left this morning for St. Louis for the gig with Mike Keneally and Bryan Beller and he had a layover in Chicago...he just called me from the airport to let me know that it's snowing there! Julie in the meantime is busy recording Sweatheart for their new CD so I'm actually home alone and I should be working on what I hope is the final draft of my novel but I had an epiphany of sorts the other night and now I want to delete a 5,000 word passage which means...oh god...I need to write 5,000 new ones.
Oh well, a piece o'cake, right? (Cake seems to be the theme here today, huh)
I'm already getting submissions for the 39 and Holding Anthology (sex after age forty...it does happen and it's good, trust me har har) so if you are thinking about it, even though the deadline isn't until next year, send me your finest. Actually, no, you need to send it to Phaze as per their
guidelines
. I'm trying to snag a major, well known writer to contribute to this book as soon as I work up the guts to write to that person and flat out ask (or drink enough alcohol, whichever comes first) and I'll keep you posted as to how it pans out. What's the worst that can happen? I'll get a no and lose the remaining shreds of dignity I have left. No biggie. I've been down that road before.
But hey, Another Bite of the Apple is up for an award, is still rated #2 in erotica over at Fictionwise, and sales of all three of my books seem to be brisk so I really can't complain.
I don't have any other news at the moment and really want to work on those 5,000 words, so I leave you today with something you may have seen on the Daily Show the other night; if not, you MUST watch it now in its entirety...one of the funniest skits ever about our illustrious and not so funny fearless leader:

What exactly is the President's job?
Later,
xo