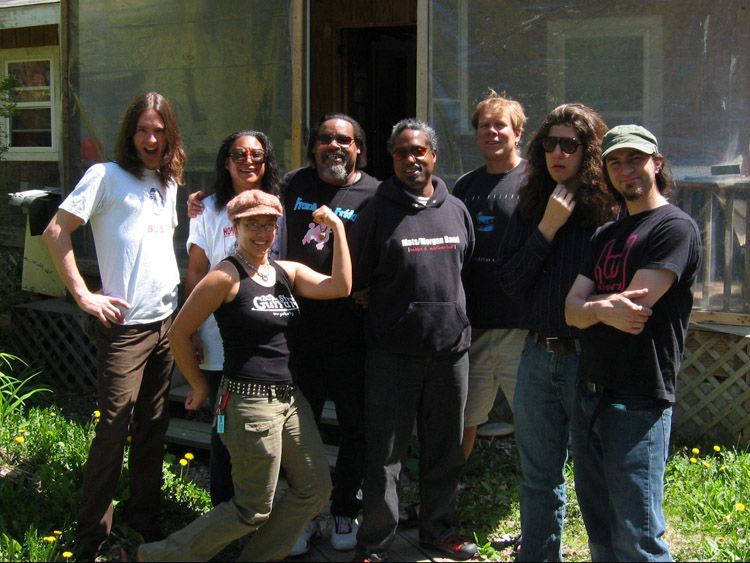 So what a great shot -- a band photo of Project Object taken sometime during the tour, which I can't believe ended a week ago already. Eric is doing some serious chin stroking there, huh...it looks like he's got something major on his mind. Well, yeah, he does. Look what's happened since then...Julie and Eric down in Nashville for five days (they're coming home tomorrow night...at least I think so) and the start of something so cool I can't bear it.
But bear it I must, and while keeping quiet has never been one of my virtues, I've got to at least make a half-hearted attempt now. Suffice it to say that the two of them will be touring the U.S. and Europe this summer and possibly beyond as part of an incredible power trio featuring a rock and roll legend. Oh, right. I hinted at that in my prior post. Sorry.
So. What to talk about, what to talk about.
Ack, I have no idea. I'm feeling kind of out of it today, half-heartedly working on my novel in between trying to stay out of the kitchen/refrigerator.
All I know is: I pick Julie and Eric up at the airport tomorrow night and Eric has to hightail it to New York City for this -- which I received via e-mail newsletter from Project Object's own Andre C.
it's project/object keyboard player JORDAN SHAPIRO's 29th birthday bash - with LOTS of p/o content....!!
29 times around the sun.. cool

Wed. May 24

at the Parkside Lounge.. 314 E. Houston St., @ Attorney, btw Ave. A
and Ave. B

8:00 PROJECT/REJECT.... (ex-Project/Object members)
9:00 Two Man Gentelman Band ... (busking duo)
10:00 Cold River ... (my alt.country/folk/prog-grass group)
11:00 Mangano, Passatino and Balls (seahag's side project)

some words from JORDAN SHAPIRO about the perfomances:

PROJECT/REJECT
This is the 1st gig EVER by this group, consisting of members and crew of Project/Object from the pre-2003 years. Rick Bartow, Mumbo, Boxy, Wes, Spackle and myself. For 3+ years we have met at Wes' studio infrequently, jammed and created songs spontaneously. There are over 200 Reject songs. For our debut peformance, we have checked out the archives and picked 10 songs to 're-learn' and perform.

Two Man Gentleman Band
http://www.two-man-gentlemen-band.com/
These guys played before me at a solo gig I did at the Postcrypt Coffehouse up at Columbia. They were the only people in the audience who were willing to sing along with me on my newest kids song, "Let Me Stay Up All Night". I didn't even get to hear them play, but I believe they're very musical and will give us all a good laugh.

Cold River
This will the 3rd gig ever by this group, and it's been a different lineup every time. As I type this, I know it will definately include myself on mandolin and guitars, J.Y.Jelly on drums, Adam Armstrong on bass, Paul Cox on keys, Jen Milich providing background vox and possibly Alan Grubner on fiddle. We will be performing original material originally intended for a rock-opera that never got off the ground...and also some very old traditional songs.

Mangano, Passatino and Balls.
Robbie "Seahag" Mangano along with his sidekick Elliot Passatino recorded some pretty twisted music 5-6 years ago and called the tape"mangano, passatino and balls". ('Balls' was the name for the drum machine they used) They've since recorded more songs and even played a couple of gigs. On Wednesday, their spectacular rhythm section will include Project/Object bass player Dave Johnsen and 19 year old Project/Object drummer Eric Slick (who has recently been drafted by Adrian Belew to play drums for his upcoming European tour!!! Congrats Slick!!)
Later,
xo