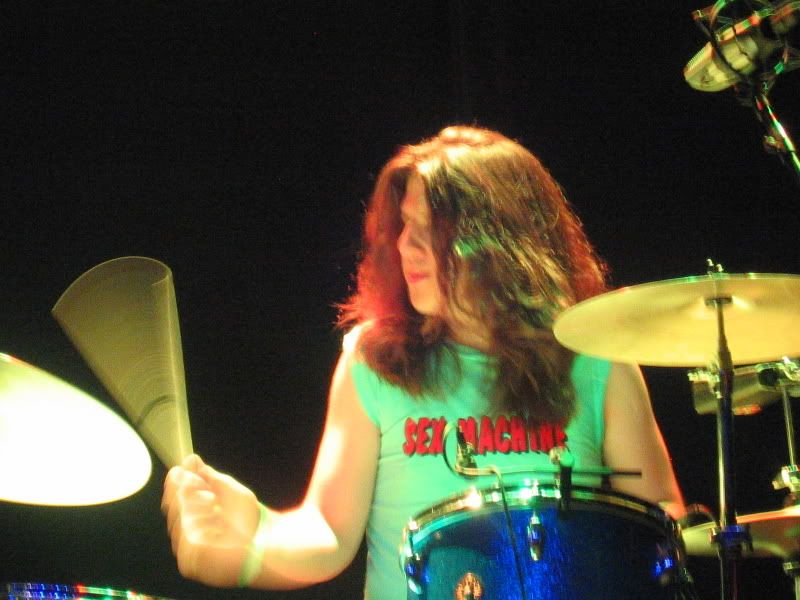 Eric Slick with the flying sticks
So only four shows left on the
Project Object
tour -- tonight they'll be at
The River Street Cafe
near Wilkes-Barre, Pennsylvania. I hear that's a very cool venue (big surprise) and wish I could make it but it's a bit far...and of course I'll be there for the grand finale Sunday night (Happy Mothers Day to me!) in Bergen County, New Jersey where some special guests will be popping up to sit in with the band. More on that later...
I'm still surfing the web for reviews and found a couple brief blurbs -- both from My Space or Live Journals:
1. Got a wee bit drunk with my Momski at a [monthlate] birthday dinner.
2. Flirted with a cute Irish guy.
3. Went to the Rongo with Rob & Garth-icus to see Igor's Eye [Rob's friend's band] open for Project/Object, a Frank Zappa cover/tribute band which includes Ike Willis [Frank Zappa's lead singer & guitarist for 15ish years]. They also had a killer [18 year old] drummer, Eric Slick. It wouldn't surprise me if he became big shit in a few years.
*****
Project Object = best band i've ever seen

I went to a Project Object show here in PA. They play jazz mixed with rock, soul, humour and general madness. Whats cool about them is they do zappa songs. The lead singer was a member in Frank Zappa's old band, and he is continuing the legend, which is even more awesome (ike willis)

Half the band couldnt have been over 22, and they all rocked really hard. Awesome musicians. They had moments which had every element of music you could ask for.

Was blown off my metal feet.

Just shows ye.
*****
And finally, here's a link to photos from several nights of shows -- very, very insane stuff:
Mustaches and Hats
!
*****
In writing news, Susan Henderson interviews our way cool friend, author Jordan Rosenfeld, right
here.
A new, indie print publisher has accepted one of my short stories for its collection and there will be more news on who, what, when, where as soon as I get the okay to blab but from what I hear, I'm in some incredible company so I'm more than a little bit psyched about that.
And finally, the banging next door is so horrible it sounds like it's my house that's being rehabbed -- and don't think I'm not scared as hell that my house will require rehab by the time they're finished. So I'm off to the park with the dog until it rains or the workers leave, whichever happens first, and when I come back if there's anything interesting that occurs in the meantime I'll edit this post to include it.
Later,
xo