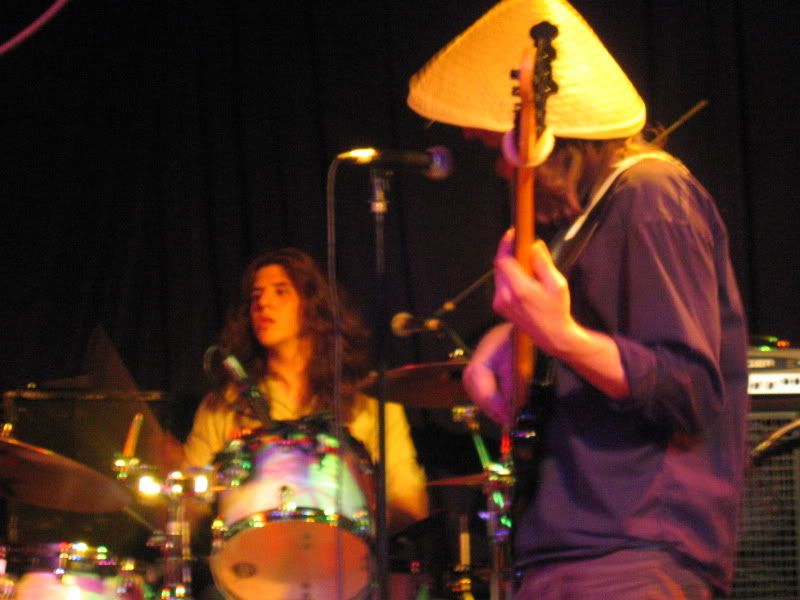 Eric Slick and Dave Johnsen two weeks ago on the final night of the Project Object Tour
After all of the excitement of the past couple of months and the incredible things to come this summer, I needed a couple of days just to chill. So I did that and yesterday I went to the beach with Julie and Eric and their significant others, Matt and Carolyn. We stuffed our faces and then decided to do an outrageous cheesy tourist thing mostly because we were so full of food -- we rented a surrey that could hold up to nine people and pedaled that thing up and down the boardwalk laughing like idiots and beeping our horn at everyone to get out of our way. Carolyn had her camera and we got an unsuspecting real tourist to snap us all together so as soon as she sends me the photo, I'll post it here.
Here's sort of what it looked like:
Anyway, after that wild and crazy fun (hey, it was!) I came home to this really great e-mail from Thomas Dippel, President of the
Arf Society
:
Dear Robin,

I'm Thomas one of the organizers from Zappanale. For years now I'm reading your blog and enjoy it very much how enthousiastic you are writing about your kids and the festival.

Right at the moment I read your article about Julie and Eric beeing the new power-trio with Adrian, I had the idea to tell it to our fans here in europe and packed it in a little interview with Adrian for my last Zappanale-newsletter. This newsletter has a huge number of readers, you can find it at the following homepages from germanies biggest newspapers and TV/Radio-stations:

kulturkurier.de: 520.000
DeutschlandRadio: 12,0 Mio
DIE ZEIT: 10,5 Mio
ARTE-TV: 3,3 Mio
FAZ.NET: 37,0 Mio
FOCUS Online: 132 Mio
Brigitte: 14,0 Mio
Perlentaucher: 1,2 Mio
Handelsblatt: 12,5 Mio
Telepolis: 9,2 Mio

Take care! Music is the best!
So naturally, as soon as I read Thomas' email, I raced over to read the interview...an excerpt of which I'm posting here:
Arf:
As we heard you changed your power-trio to include Eric and Julie Slick as drummer and bassist for your upcoming tours. We all know these two young and high talented musicians from earlier Zappanale-Festivals. Why did you choose especially these two for the future?

Adrian:
Eric and Julie played "city of tiny lights" with me during a school of rock show. They are such eager bright young people but mature and mindful. Secretly I am drawn to the role of teacher but likely they'll end up teaching me more than I'll teach them.

I needed a clean slate, to start fresh with players who aren't "jaded" to the oppressing music business, people who respect my work and are willing to put as much into it as I do. Many of the "virtuoso" players I have known have too many outside entangle-ments (wives, kids, car payments, mortgages, etc.) and can't surrender themselves to the music like we did when we were younger. That's what I hope to find with Eric and Julie: not just the joy of playing great music together but the ability to ignore everything else.

Arf:
What can your fans exspect from your show at Zappanale? Will it be a mix of Adrian Belew and King Crimson? Should there be the chance to listen to some Frank Zappa tunes? For example "City of tiny lights", a song all fans are waiting for, or is it still a secret?

Adrian:
It's a secret whether or not we'll play something of Frank's. But certainly we will play a challenging dose of Crimson/Belew.

Arf:
What are your next plans for 2006?

Adrian:
Following last week's rehearsals with Eric and Julie I am now writing the last two songs for the next Bear's record. It's perhaps the best Bear's record yet and these two songs will complete it. I hope it can be released early this fall. Following that the power trio will play shows throughout the U.S. and parts of europe. Then I have plans to work with Robert Fripp in the guise of project six (fripp n' adrian) a two man group aimed at improvising live material to become the building blocks for the next generation of King Crimson material. Robert and I hope to have something to present Tony Levin and Pat Mastelotto by the end of 2007 to get the ball rolling towards a new King Crimson record. Somewhere along the way I want to record my first-ever live record with the trio, to be called "Side Four".
You can read the rest of the interview -- which is very, very cool, on
Adrian Belew's website
.
And um, you had to see my face when I read that last line:
"Somewhere along the way I want to record my first-ever live record with the trio, to be called "Side Four".
While Julie and Eric did mention the possibility when they came home from Nashville last week, to see it confirmed in print made me almost swallow my tongue.
I do have writing news and I think I'll make a separate post for that this afternoon or tomorrow..but in the meantime, I'm totally stoked. As I wrote here a few months ago, I was bored one day and took one of those
Quizzilla things to see which Endless I am
(Endless being characters from Neil Gaiman's Sandman series), and found that
I am Death, the second of The Endless, responsible for ending all lives and taking them to my realm, from which no one ever returns. I am bright, positive, happy, optimistic and enjoy everything about life, but that does not mean I am silly or stupid. I can lay the smack down when I have to! Everyone loves me, and they don't know why.
Well, it sounded good to me and oh god, a few days ago I found the t-shirt for sale, bought it, and sadly am wearing it right now. If I can get one of the family to snap my pic later, I'll post it but I'm not sure if I'm willing to take the verbal abuse (ha) that will follow, so for now how about if I just post a photo of the shirt itself: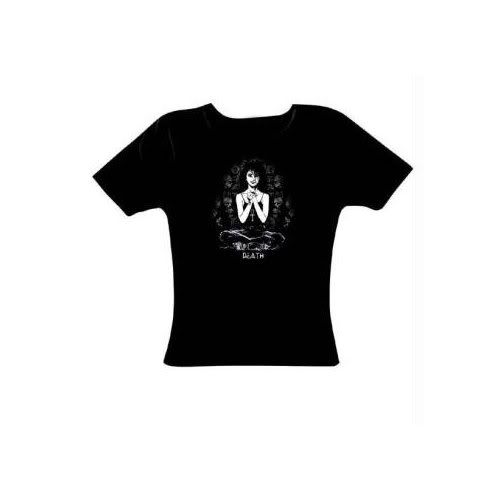 Later,
xo