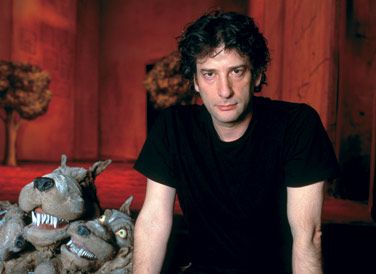 Sigh...it's been a while since I posted a new Neil Gaiman photo so I figured, what the hell, I could use a thrill today.
(This is because I have no new Eric/Project Object photos but I intend to remedy that shortly -- either tonight or tomorrow)
ETA: The band will be playing in North Carolina tonight at
Stella Blue
with special guest
Denny Walley!
For those of you not familiar with Denny, he is an unbelievable slide guitarist who played with Frank Zappa for many years and oh man, do I wish I could be there this evening.
So Eric Slick continues on tour with Project Object to rave reviews; the movie Rock School is in heavy rotation on A&E network and I'm hearing from lots of people how cool the movie is and how gorgeous and talented my kids are (d'oh)...and now I think I should get to some writing news.
First, someone we all know and love has just signed a lucrative, two book deal and I will be blabbing more on that very shortly...I'm just so thrilled for "her" I can't even tell you.
Second, my great friend Jordan Rosenfeld has an amazing story up today -- The Change -- at
Juked
. Seriously, click on that link and have a read. Jordan tackles sci fi for the first time (at least I think so and I'm pretty sure I've read all of her stuff but I could be wrong) and like everything else she writes, she's aced it. Jordan also recently signed a contract with Writers Digest for a hardcover non-fiction book due out next year so great things are happening for her at last. I've been a big fan since I read a draft of one of her early novels four years ago...a novel I know which will be published some day because it's just so damn good and four years later I can still remember it verbatim, which is saying a lot considering the fact I can't remember what I had for dinner last night.
Third, the banging and construction next door continues so I am out of here for now with the dog, my pen, and my lucky journal (ha ha -- autographed by the aforesaid Neil Gaiman and I swear to God, it's almost full now so I hope he inadvertently passed me some of his mojo).
Be back later to see if there are any new Project Object reviews or if I hear from Eric...if so...I will post again; if not, hey, happy Friday!
Later,
xo