John Wetton and Eric Slick
So thank you Dave Neidorf for sending me all those great photos from the John Wetton/Rock School shows. These are stills from the DVD? They came out fantastic! And the DVD is where? Ha! Just kidding...Dave has been incredibly generous sharing DVDs he's filmed of the All-Star concerts and he just wrote to me that said DVD is on its way.
Dave's daughter Sara is one of Eric's students and she is an amazing drummer in her own right. Here's a photo of Sara with John Wetton at the New York Knitting Factory last month:
I have a bunch more photos in my photobucket site and a lot more I'll be adding (I promise...I will make that a priority) but I'll also post them here one by one during the week. If you don't want to wait, go visit yourself and take what you want. I provided the link last week but all you have to do is right click on one of the above photos and get the properties and that'll give you the address.
Meanwhile I can't believe Eric is leaving for what amounts to a five week tour next Wednesday. Man, I'm really going to miss him but I guess I'd better get used to it, huh. So far I'm definitely making his shows in Vermont, Massachusetts, and Maryland but I'm still trying to decide if I should book flights to venues in places like Illinois and Wisconsin. The thing is -- I really love this band and I can't get enough of seeing/hearing my son on the drums. It's about the music! But I know I can't show up at every gig like some crazed stage mother so I guess I'd better control myself and limit the amount of cities I visit this month and next.
Maybe.
It's only 8:00 a.m. right now and Eric is already out the door to hop a train to the
recording studio
with the Shannon Penn Band until tonight when he heads almost to New York City for a rehearsal with Project Object from 10:00 p.m. to 1:00 a.m. for the tour. Ditto tomorrow. He may catch a break on Wednesday but Thursday it's all day/night in New York teaching drums and rehearsing. And then next week the great tour begins at
World Cafe Live!
So what a nutty couple of days. First there was the wicked April Fools joke that
Sue Henderson
and I fell for. Apparently Neil did not -- by the title of his post
"Poisson d'Avril, and other interesting dishes on the subject"
and the fact that he mentions a "herring" in his computer...well, let's just say he's the brains in the bunch but he did link Sue in his blog and since he previously commented in mine, Sue and I have decided to get "I'm Neil Gaiman's Bitch" t-shirts printed up for ourselves. Poisson d'Avril means April fishes and if you don't know what that means, use Google.
Then, Julie and I decided to have breakfast the following morning at a place we heard was totally wild but wild is a word which just barely scratches the surface. Let's see. Where do I start. Okay. The outside has an old fashioned Coca Cola sign which looks like this: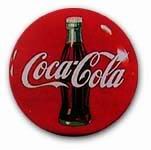 Inside, there are just four tables. And there's only four things on the menu. And it's only open four days a week.
But I digress.
The restaurant is called Carman's Country Kitchen and it's at 11th and Wharton Streets, a few blocks south of the Italian Market and maybe ten blocks south of City Hall. When Julie and I walked in, I immediately loved the vibes in the place -- in fact, it reminded me of my house. Colored lights, mardi gras beads hanging from the tin ceiling, plants, mismatched furniture and dishes, etc. I saw the four specials on the blackboard and was instantly intrigued:
Orange pumpkin carrot poppyseed pancakes with black walnut sweetened cream cheese -- stuff like that.
The restaurant is owned by Carman, a fifty/sixty something diva who wears a bandana and hippie clothes and stiletto heels. Her assistant is Dan, an aspiring jazz musician who cut fresh strawberries the whole time we were there. Okay, first odd thing. I looked up at a shelf and squinted and then asked Julie:
"Is that a ceramic statue of a boy with a huge penis?"
"Mom?"
"Yeah? What, it's not a penis? I'm whispering, nobody hears..." (God forbid I embarrass her.)
"It's a penis Mom," she giggled. Whew. Julie can be a prude, but she's being really cool about this. Still, there's something else, I can tell. Why did she say "Mom?" like that. What's up with her big assed grin?
"Why are you laughing, Julie?"
"I can't believe you didn't notice. Look around, Mom. We're surrounded."
And oh my God, she was right. There were penises everywhere. Even the spout on the teapot was a penis. But you'd never know it. It wasn't pornography, there were just cute little penis egg cups, salt and pepper shakers...I mean, basically penis knick knacks.
I'm dying here. How did I, the Queen of Smut, miss something like that? Now I had to look in every nook and cranny where I found things with penises I didn't even know could have a penis. I tried to make conversation with Dan, but that proved difficult. Dan doesn't like to talk to strangers. They have regulars who have been coming in every day they are open for the past god knows how many years. I got paranoid that he thought Julie and I were obnoxious downtown yuppies so of course my next move was to start babbling because for some strange reason it was important for me to prove to him that we're not yuppies, we're hipsters. Oy. What can I say, once a neurotic, always a neurotic. Anyway, I started by asking sbout their odd hours.
Dan handed me their business card which spelled it all out without speaking. But we couldn't help but notice the large red lettering at the bottom:
"CARMAN'S COUNTRY KITCHEN. SHE PUT THE CUNT BACK INTO COUNTRY"
Naturally Julie and I really lost it. I realized we're acting like tourists. So what did I say next:
"Dan, I see you have CDs on sale here. You're a musician? Julie's a musician. My son is a musician..." Yes. It is somehow important to me to convince Dan and Carman that we are cool.
Now Julie was no longer smiling.
"Here. You need to taste this," she said, putting such a huge piece of pancake on a fork that even Homer Simpson wouldn't be able to handle it but I had no choice, she was dripping syrup all over my eggplant potato spinach omelet (yeah, don't ask, but it was really good) so I had to take it all in my mouth, every bit of it, which was pretty funny considering all the erect penises everywhere and of course that thought occurred to me while I was, um, trying to swallow which didn't help things.
I had syrup coming out of my nose trying not to laugh.
Anyway, how weird is this. Not only does this place have the strangest hours, Friday through Monday, 8:00 a.m. to 2:00 p.m., the four items do not change throughout the day...they change on Saturdays only.
Julie and I tried to figure that out. If you are open Friday through Monday, wouldn't it make sense to run your specials Friday through Monday? But no. They serve the same thing Saturday, Sunday, Monday....and Friday. Then change up on Saturday.
I was wondering about those strawberries...how they'd hold up and all, but Julie reminded me that I am an idiot and while the menu stays the same, new strawberries would of course be used.
Anyway, bottom line -- the food in this place is fabulous, the atmosphere insane....the owner and her assistant prima donnas -- Julie and I can't wait to go back.
I ended up spending the rest of the weekend contemplating the state of my new novel (much better), the state of my diet (I'm determined to lose another ten pounds by the end of this month), and I also managed a lot of time outdoors in that gorgeous spring weather.
Today of course it is pitch black in here and we're expecting vicious thunderstorms on and off throughout the day.
Yay! Just the kind of atmosphere for me to write! I'm serious. I love it in here right now. Dark and quiet -- except for a
Nick Lowe Tribute
I downloaded or is that uploaded on my iPod...I'm listening to Cracking Up performed by Tom Petty which is strangely very good as is the cover of Cruel to be Kind by Marshall Crenshaw -- Julie is back in school as her spring break is now history, and Eric is at the aforesaid recording studio.
Time to get busy with the pen and journal. Maybe this month will finally see the completion of my book?
Later,
xo