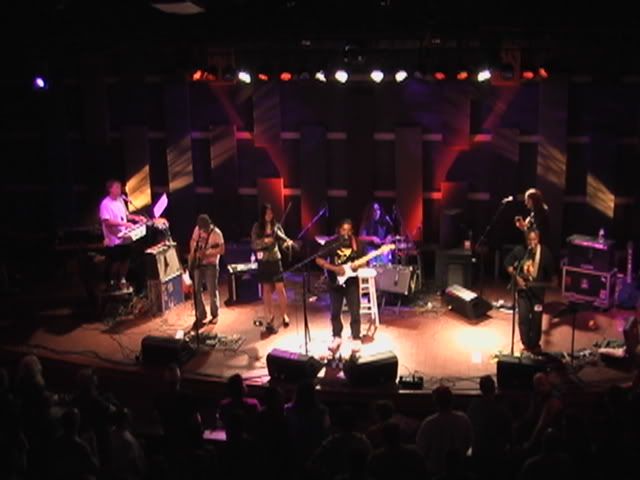 The entire band in Boston with special guest star Katie Jacoby on violin
Eric Slick on drums and Ike Willis on guitar and vocals
Morning, morning:
I'm just hopping from forum board to forum board, email account to email account, Google and Yahoo news, etc. picking up blurbs about the Cleveland and Chicago Project Object shows which I unfortunately could not attend. I just want you to know that I'm not leaving out any negative reviews because: THERE ARE NONE! Oh man, this is such a joy; not only are the fans ecstatic over this tour but every single one mentions my son the drummer and well, to say I've been on a ten day high since the tour started would be putting it mildly. So I've done some cutting and pasting here so I can gather up all of said reviews and put them in one place. And thank you very much to Katie Jacoby and her mom, Esther, who provided me with the above photos from the Boston show. As always, you can visit this
link
which will take you to my photobucket site where there are tons more photos that haven't been shrunk to accomodate this blog size..and if you go deep into it, you'll see photos of Eric with some other faces you just might recognize.
Okay, here's a blurb which followed P/O's show in Rhode Island on Monday:
Saturday, April 22, 2006

Project/Object 4/17/06
Category: Music

Stellar performance Monday 4/17!!! Outstanding performances by all members, especially bass wizard Dave Johnson, and the 18 year old drummer Eric Slick...If he's this good now, wait 10 years.... If you missed this show, well... you suck!

Here is the set list:

Set 1 :
The Little House I Used To Live In
Mud Shark
Dirty Love
Titties & Beer
Flakes
Broken Hearts are for Assholes
Filthy Habits
Token of My Extreme
Crusin' for Burgers
Big Swifty
Pick me I'm Clean
Advance Romance
"Ike Willis Tune" Business as Usual - Ikes wife sang backup.

Set 2:
Mammy Anthem
Montana
Stick it Out
Packard Goose
Uncle Remus
City of Tiny Lights
Idiot Bastard Son
T'Mershi Duween
Dog Breath ,Uncle Meat,Pound For A Brown
Jones Crusher

Encore:
Andy
Inca Roads
*****
And then I got the following email that morning from Andre' Cholmondeley, P/O's founder, guitarist, vocalist, and my favorite Bush whacker!
Hello hello

We are in Cleveland, the heart of rock n roll... myself and Eric 'n Eric just returned from a morning walk thru the HALL of FAME. Yeah, that was cool. It's easy to be real hip and shun the whole Academy/Hall thing...but... personally, I'm a sucker for the artifacts and actual instruments from amazing sessions etc that they have. A couple dumb exhibits, but all in all a blast of 100 years of incredible music & history. There's something special about seeing all the cool letters, guitars, amps, boots and other stuff from this mad pile of energy called rock n roll.

The Project/Object Tour continues into the Midwest -- c'mon out, and help us spread the word , if you have friends in the upcoming towns!!

And -this just in- the mighty SEAHAG (Roberto Mangano) will be along until ATLANTA 4/29, at least!

In the Hag's own words:" I've been touring for the past week around the northeast. I originally tried to play only a week at first, but the oceans have swept the hag into 10 more days of sailing the seas of fabreeze........I'll be selling Sound of Urchin cds at the merch booth!

See you there,

Thanks, Seahag"
*****
Wow, I was really glad to hear that Seahag has decided to stay on with the tour. He is just an amazing, amazing guitarist and the dynamics of the current line-up is so outstanding I'd hate to see it altered in any way...well, except for the guest stars lined up, like
Denny Walley!
And Eric called me from the Rock and Roll Hall of Fame (which of course should have been in Philadelphia, not Cleveland, but we had a very, very stupid Mayor at the time who really fucked things up) and was so excited...because just like Andre said, it may be corny or whatever, but it's still awesome and Eric had a blast. I'd love to have a visit myself. Listen, ten years ago when Hard Rock Cafe opened up in Philly, I admit it, I went; and then when Eric participated at the Great Guitar Smash for the grand opening of Hard Rock Cafe at Times Square, NY in August, if you think I didn't get a thrill out of seeing what they had there:
The Beatles
Trademark collarless suits custom tailored by D.A. Millings and Son.
John Bonham - Led Zeppelin
A suit ordered by John at "Granny Takes A Trip" in London on November 28, 1979. John wore the suit on stage. Also displayed is the original receipt from Granny's with all of the measurements and directions to make the suit.
The Ramones
A black leather motorcycle jacket autographed by the band and donated to the HRC New York, 1988.
James Brown
A two-piece gold satin stage suit worn by the "Godfather of Soul" at the Apollo Theater New York in 1964.
John Entwistle - The Who
John's "Lightning" Bass used in his self portrait drawing that was shown on the cover of the 1975 LP "Who By Numbers".
Bo Diddley
A guitar handmade by Bo Diddley in 1945.
Jack Bruce - Cream
Jack's 1962 Fender Bass VI Guitar hand painted by "The Fool". It was later given to Leslie West while rehearsing for West, Bruce and Laing. Jack wrote the song "Strange Brew" on this guitar.
Oh, speaking of the said Guitar Smash, that reminds me: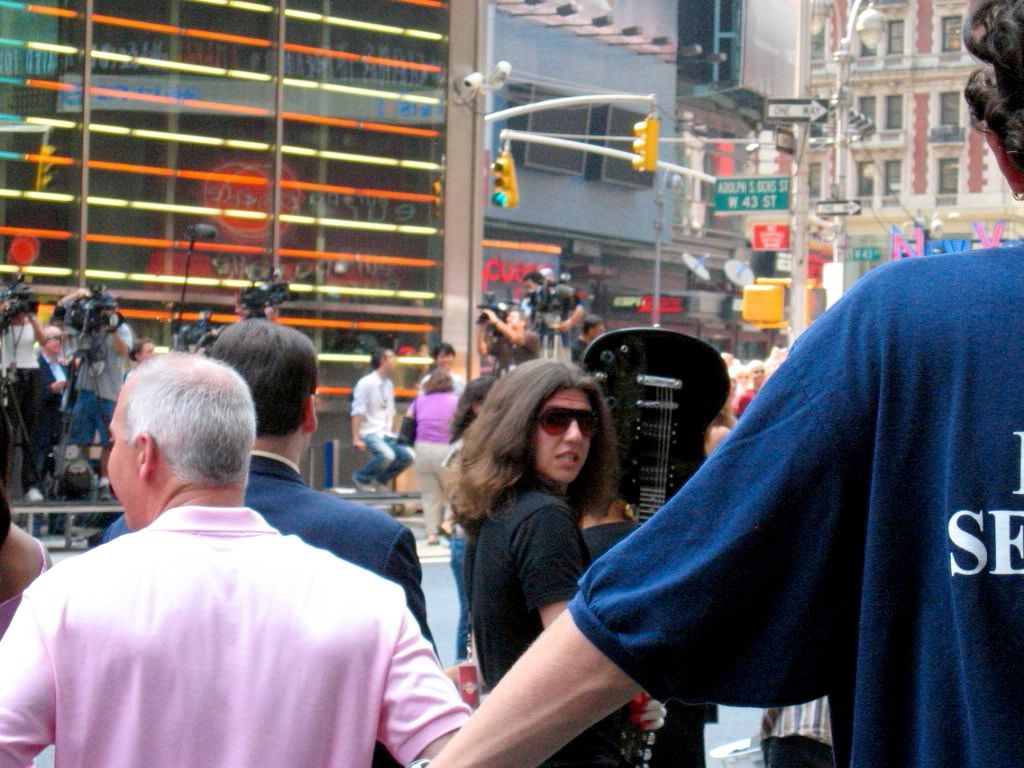 Hi, Eric if you are reading this! Miss you!
*****
"BatchainPartIV" posted some photos on the
Frank Zappa forum
and inquired as to the violinist. He got a reply which kindly mentioned my blog!
musicwriter wrote:
The crazy violin chick is Katie Jacoby - a Rock School All-Star. Their new drummer is a Rock School grad named Eric Slick who is phenomenal.

There are more P/O blurbs and reviews/photos here:

http://www.inherownwrite.blogspot.com
Then BatchainPartIV replied:
I was nearly 100% sure she was a Rock School grad 'cause she was so damn fucking good. I knew Eric Slick was a new face and I was nothing less than astonished at what he did with basically an 8 pc. drum kit.
Then he did in fact visit my blog and left this comment which is pretty much what he said above but even better:
BatchainPartIV (George) said...

I suddenly knew Project/Object had a new face at the drums in Boston on 4/18(Harper's Ferry)he was wickid fuckin the balls!!! Yes, how true I never expected that kind of drumming from one drummer with an 8 pc. drum kit. I tried to get a clear shot of him but, well, you know those cell phone cams. They sure do blur a whole lot. Too daym bad my sis's friend wasn't around or she'd have shot out to the "Beantown" suburbs and we'd have gone to the Iron Horse in Northampton, MA a few nights ago. (She'll drive long distances and not think anything's unusual about that.)

But incredible Eric is! A rare "two-fer-one" in drummer is he!

Yours,
Batchain (BatchainPartIV in the Zappa-dot-com fo-rum.)
P.S. to Batchain: I never really visited the Zappa forum board before and notice some moron named Trendmonger who is not only a pompous uninformed know-it-all, he has the audacity to crit Rock School Uberlord Paul Green for having his kids perform Zappa music. Shall I kill him or would you like the honors? Well, having some time on my hands and reading over the forum board further, I see that Paul has taken care of him in the past and expect he will have more to say in the future and doesn't need my help. But people like Trendmonger are the very reason I avoid forum boards these days, including the writerly ones I always frequented as a novelist. He has no idea what Paul has done and is doing for these kids...do you think any of them even knew who Frank Zappa was before entering Rock School? He's keeping the music alive! If you go by Trendmonger's reasoning, then no classical music student should ever dare to perform the music of Bach or Beethoven.
But I have to wonder if that knucklehead Trendmonger ever saw the kids perform at Zappanale 14 and 16? Or talked personally with Adrian Belew and/or Mike Keneally after they performed with Eric and the Rock School All-Stars a few months ago? If he can still make those comments after that, then I respectfully suggest he invest in a good hearing aid and well, if they're available, a brain transplant. If he did not attend or speak personally with Adrian or Mike, he should shut the fuck up.
And I'm sure I'm not the first person who suggested that.
*****
Finally, from last night's show in Chicago:
sabrinaIII
joined: 29 Dec 2005
Posts: 207
Location: ill of noise
Posted: Sun Apr 23, 2006 12:52 am

Just got back from the P/O show at Martyrs in Chicago. What a fantastic show! Some pics may be coming here from Arkay. What a great band, in top form. I could close my eyes and imagine myself at a Zappa concert. The new drummer is a real find and only 18 yrs old. Those Rock School grads make fine muscians.........Must try to crash, but my head is a buzzin. Great to finally meet the Dr Ronnys and Arkay as well. It so nice to be able to hang with other forum members.
*****
Anyway, tonight's show is in University City, MO...and for ticket information, you can click right
here
.
That's it for now. I expect more reviews will come in once some people in Chicago wake up ha ha - don't forget, P/O shows go well after midnight and Chicago is an hour behind the east coast time wise...so if anything interesting comes across the wire, I'll come in and edit or get to it tomorrow.
When I'll also hopefully get to announce some exciting writing news as well...
Later,
xo