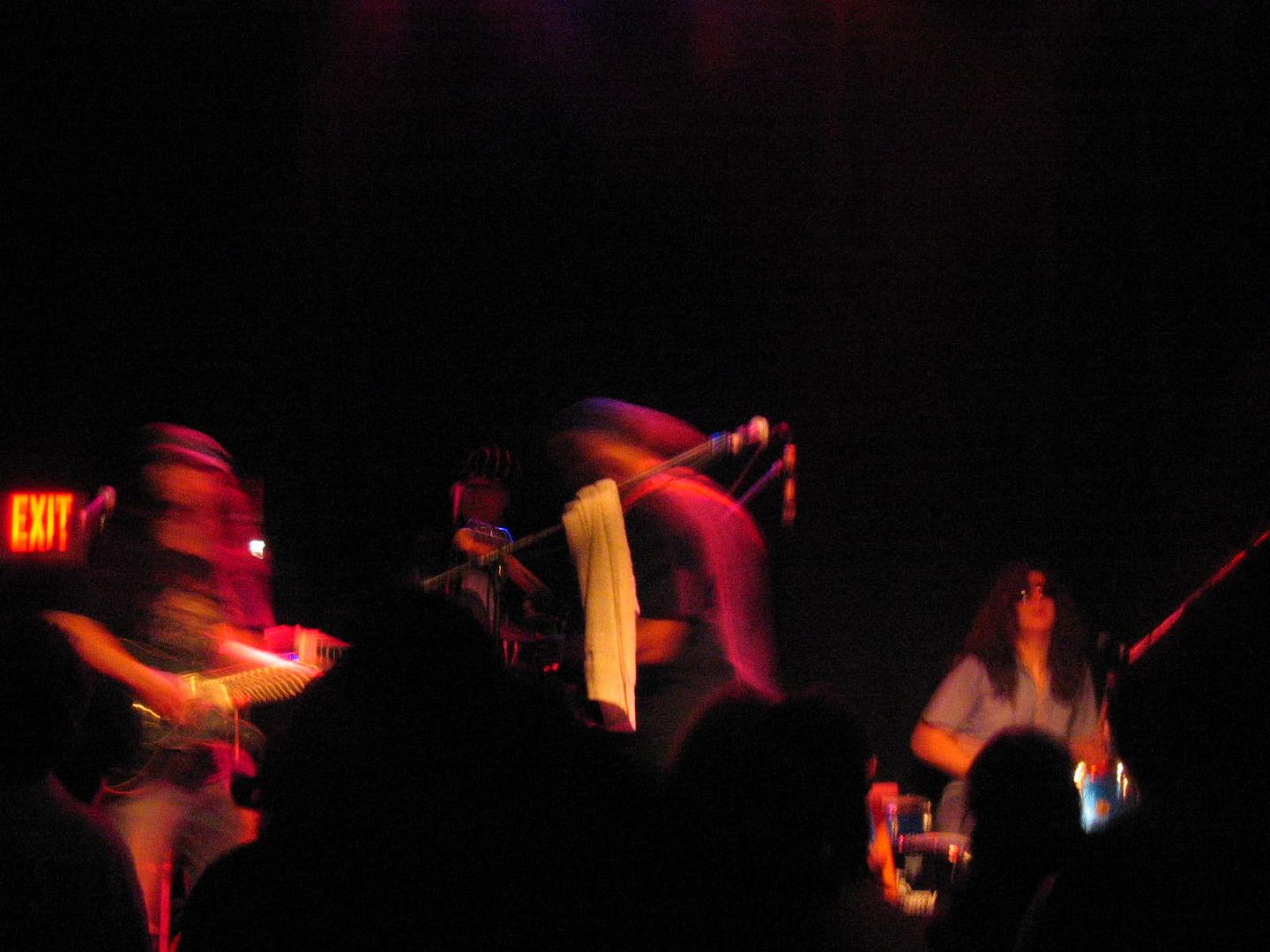 Okay, so last night Project Object played Boston.
Here's something I read on the
Project Object Forum Board
this morning which of course, as Eric's mother and biggest fan, turned me into a blubbering mess before I even had my first sip of coffee:
"I saw Zappa in the 80's and was blown away by the level of musicianship. What was cool about popping in on this show was the playing was in that Zappa tradition, and they also played some more obscure stuff. I enjoyed some of the political commentary on the state of our "moronic leaders", and I am pleased they have the guts to speak out. As I said, the musicianship was terrific, and I feel like Frank would have been smiling. The guitars, the vocals, the keyboards, the bass, and drums were all top notch. These are some serious players whose can't possibly be getting paid what they are worth-so a big thanks to them for enduring the road.

The bass solo was truly inspiring, and the fact that the drummer could not only keep up, but was complimentry was a high. Speaking of the drummer, I have seen Terry Bozzio, Carl Palmer, Bill Bruford, Stewart Copeland, etc. These are all really great players, and there were times I felt this kid not only played in that league, but had moments way beyond. His energy,timing, and heartbeat were incredible. The band members were all amazing, and really complimentry to each other.

I am also pretty certain I will get a good chuckle when I hear a Michael McDonald song on-you had to be at the show for that. Catch this band-this is a not to be missed event. If you loved a Zappa show, you will really love these guys. They can play Zappa, or whatever they want. That is talent!"
And to make my day altogteher, someone put up
a clip of the band performing "Stick it Out"
a couple of nights ago. Make sure you let it buffer all the way through or whatever before hitting "play" so it doesn't keep pausing and when the little movie screen comes up you should immediately hit the green button and maximize it because it will fill the entire monitor screen and you will see amazing solos by Eric Slick and the rest of the band -- and okay, I gotta admit it, there's a lot of Eric Slick footage close-up. And notice Eric singing harmonies which he is doing throughout the show and is incredible! So whoever you are who filmed and posted this clip - thank you, thank you, thank you!
Hey, I also wanted to add that Eric Svalgard does amazing vocals on Village of the Sun, and here's an excerpt from his tour blog:
So, now we are in Providence which makes it night six. So far there has not been a bad night in the bunch. Slick is a great addition to the band, we keep getting tighter, every night it sounds better. Crowds have been great, even on Easter Sunday. I am looking forward to seeing Madi in Boston tommarow. This line up is more hard rock and less jazz than the previous P/Os I have been in. The crowds seem to like it. I have been singing Village and so far haven't fucked it up too bad. This is the forget stuff tour. Napi is usually the one that idiot checks the green rooms at the end of the night. Since he is not here Laura left her bag with her computer in the Starland, Seahag left his guitars at Valentines, Dave left his toiletries at the hotel in Burlington and then his bag with clothes in it at the Iron Horse. I have only lost a can of shaving cream at the Motel 6 in Brunswick. I am knocking on wood that I don't lose something worse.
Eric Slick, however, is still having password problems with his journal (I'm getting these right off the Project Object website) but told me he's writing in MS word and will copy all of his entries to the blog as soon as it's up and running.
Tonight's show is at
Toad's Place
in Connecticut and unless I'm mistaken and I don't know how the hell he's going to do it in a million years, Eric will also be drummer for the opening act,
Doctor Dark
because he's their drummer, too -- oh my god, this could mean five hours of intense, complex drumming.
Ha ha - it's what he lives for, the lucky dude. I wish I could make the CT show tonight in the worst way but I'm still fried from the weekend and Gary can't really take any more time off from work to drive me, anyway. It's about eight hours round trip from here and he has to be at work by 7:30 a.m. so considering that P/O shows can go to 2:00 a.m., you do the math.
But sob...I wish I were going. Right now it looks as if I'm not going to make another show until May 6 in Baltimore unless I get some strange urge to fly out to Kentucky or Wisconsin next week.
Oh, two final things: (1) here's a twisted Neil Gaiman moment for my brilliant friend
Susan Henderson
(and I gave you that link because it's Pasha Malla day on her blog and I finally realized who Pasha reminds me of -- David Sedaris. I mean, that's the reaction he elicits out of me -- laugh out loud funny and so, so smart.)
Oh Sue...sigh...how do we bear it? But let me guess. We now have matching screen savers. You can thank me later ha ha. (in New York at the end of the month maybe? When are you reading?)
And (2) just in case you think I've forgotten about her, nope, Ms. Julie Slick will be performing at Abilene's on South Street this Thursday night playing bass with McRad -- more info on that with linkage and photos tomorrow.
So that's it for now though I haven't heard from Eric yet today obviously (I think they sleep until noon cos' like I said, by the time the show ends...and these guys have no roadies...it's 3:00 a.m. or later before they get to crash) so I may come in and edit this post if he tells me anything cool or if...gasp....I get any writing news of my own. I've got a lot of stuff out there in submission land again and in the hands of an agent but you know, I'm too superstitious to say much more other than fingers crossed, candles lit, etc.
Later,
xo