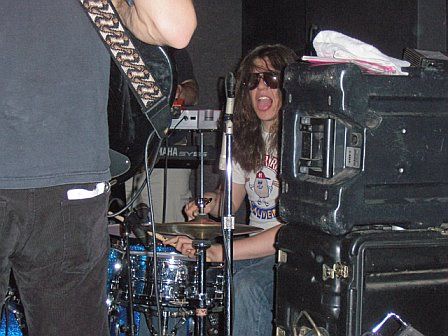 Eric Slick on drums at the Iron Horse (thanks to my brother David and sister-in-law Staci for sending me this great photo today and double thanks to them for surprising Eric at the Show in Massachusetts as they live in CT an hour and a half away and have two very young children)
ETA: TONIGHT'S SHOW, IF YOU ARE IN THE WISCONSIN AREA, IS AT SHANK HALL.ETA: Oh god, follow this link to a review of the show too lengthy to post here but here come the tears again...
So...you wanna talk proud mother moment? My son, the writer! Yep, he has kept his promise and is blogging the tour after all. Here are the excerpts from the first week:
Wednesday, April 12 World Cafe Live
The first day of the Project/Object 2006 Spring Tour. I can honestly say that this was the first time in 3 years that I was nervous before a show. I woke up on Wednesday morning with that certain adrenaline rush - an unhealthy feeling. Knowing that we were going to be in Philadelphia, my hometown, I felt an indescribable dose of pressure. People were going to be critical, myself included, and playing Frank Zappa's music is a daunting task. Sure, this is the music I have been analyzing and picking apart since I was 11 years old. I can remember the day I bought my first Frank Zappa record, 'Sheik Yerbouti'. I went to the orthodontist and he accidentally broke off one of those 'vital' braces sending my mouth into shock as he responded by nonchalantly shooting a needle of anesthetics into the back of my throat (without my consent, nonetheless). My mother felt bad for me and took me to the record store immediately afterwards. My face completely numb with a nice pool of drool forming until my tongue she asked me what record I wanted and I replied by drawing out the letter 'Z' with my finger. 'Zappa?' she replied, and I shook my head repeatedly. I went home and ran up to bedroom and threw on the sprawling 79 minute record - and I was floored. So floored, that I put it on loop and listened to it until my face had feeling again. I believe that something inside me changed that day, maybe something broke, who knows. One thing I knew at least as a drummer, this was going to be the music that I obsessed over from that point forward. Anyway, back to the pre-show. The ability to focus was perhaps my biggest flaw on Wednesday. Certainly there was a lot on my mind! Not seeing my friends for a month, what to eat and not eat before the show, when I could warm up my hands, making sure the 50 year old hardware on my drum kit wasn't going to break (which it did), etc. I get nervous just reminiscing about the pre-show! The School of Rock All-Stars opened up for us, and they did a fine job. I had to chance to play on a laid back version of 'Take a Chance on Me' by ABBA with Terry, Carolyn, and Bosco. Foster and Hannah dancing during Yes' version of 'America' always makes me smile, it's one of those genuine stage moments that is hard to recapture. At this point though, I was freaking out in my own idiotic fashion, trying to memorize sh*t before the show that was practically muscle memory to me. Still, I walked on stage with my heart in my mouth and we tore through the '71 version of 'Little House I Used to Live In'. Not the best version we've done for sure, but I think we absolutely surprised the crowd. Being the wreck that I was, I can't recall the rest of the show. I don't remember what I did, when I may have dropped the best, if my electronics were working, or especially if the cinderblock was the doing it's hefty last minute job in front of my bass drum. What I can remember was the unbelievable support that everyone gave us, and I would like to thank my parents for being the best, Andre for providing me for this opportunity, the rest of the band members for being incredible musicians, Carolyn for calming me down, Paul Green for showing and staying for as along as he did, and all the fine freaks of Philadelphia for telling us that we didn't suck too bad for our first night. After the show we packed up and headed to the world's greatest Motel 6 in Sayreville, New Jersey.
Thursday, April 13 Starland Ballroom
We spent most of the morning at the Motel 6. By this point I was starting to love the Motel 6 atmosphere, but not the whole 'you have to steal some angry dude's wireless connection by sitting outside in the grass'. Andre and I went to Guitar Center because I had to pick up a new bass drum beater. Somehow the indestructible metal beater I had decided to snap right in half during 'Packard Goose'. Andre picked up a nasty little machine called the Korg Pandora's Box. I've played with those things forever so I know the virtues of owning one. The weather was particularly good on Thursday, and this put me in a more relaxed mindset. Still, I always understood that the first couple nights were going to rough. We drove a quick 15 minutes to the Starland Ballroom and I was baffled. This room is the perfect venue! I think we all enjoyed the arguing sound guys. They should have their own sitcom on HBO or something. Props to the chef for making a portabello mushroom so good that I might have a hard time eating one anywhere else. Other props to the Dr. Dot massage therapist for getting that nasty lump out of my rotator cuff! This night was going to be special from the get-go because the Mahavishnu Project was opening and Glenn Alexander and GREGG BENDIAN are sick individuals. They did a fantastic job, and Dave really held it down. The violinist and keyboardist were also quite fantastic. Talk about a band that made the Mahavishnu '72 live tapes sound sloppy! They left the stage and I went in the crowd for a bit to see how many people were there. What an enthusiastic group of people...they looked psyched. We went on and did our typical first couple of songs (Little House, Dirty Love, Titties n Beer, Flakes, Broken Hearts) and the crowd went wild. Surprisingly there weren't too many drum problems because the bass drum anchor seemed to have tightened itself? Bendian played Filthy Habits and King Kong and I felt a tad overwhelmed - he's one of the best live drummers I have ever seen. As Svalgard wonderfully puts it, 'His press rolls are so perfect that they sound like white noise'. Highlights of the night for me: Ike Willis singing 'Outside Now' with such pure emotion (his voice and guitar playing are even more insanely exceptional this tour), Svalgard's 'Inca Roads' keyboard solo that put George Duke in his place, Andre's amazing improvisations and inventive soloing and his duo soloing with the monstrous Seahag in 'Zomby Woof', Seahag in general, and Dave's jaw-dropping 'Apostrophe' bass solo. It's a joy to play with Dave - he is one of the few bass players who understands what a rhythm section is supposed to do. Back to the same Motel 6.....
Friday, April 14 Valentines
This tour is particularly new and exciting because there are so many places on the East Coast I haven't been to yet. Albany is a strange place, particularly because it's architecture is so similar to San Francisco. Big hills, parks, and row houses everywhere. Ed Mann was supposed to show up but unfortunately his back went out. I was looking forward to it, as a marimba player and because he would certainly help fill out the sound. Valentine's is a bizarre room to play music in - the ceilings are made of some type of metal, the stage is not present until you walk up a big flight of stairs...very different. We didn't have an awesome chef this night so we kind of had what felt like a family dinner at a Mexican place called Loco. How creative! Just kidding, the food was great and we had a good time discussing the finer points in life, like quesadillas and Eddie Money concerts in Chile. Also, the merits of 'I'm the Juggernaut, Bitch' were discussed by Seahag and I. Do yourself a favor and watch that video. Went back to venue and there was a rabid group of Zappa people ready for some music. I think our sets were strong in Albany, and the crowd seemed to enjoy it. Highlight of the night for me: Our premiere performance of Village/Echidna/Wash..WAIT FOR IT....

Everyone was hilarious after the show, doing our best 'I Need a Miracle Bra'.

Dragging equipment down a flight of stairs = kinda lame, but the fine stage hands at Valentine's helped us out completely.

Motel 6 in Albany, with no Pop Tarts in the vending machine...
Saturday, April 15 Higher Ground
Ah yes, a venue named after a Stevie Wonder song. I immediately fell in love with the place almost just because Mr. Bungle played there. My parents decided to spend the weekend on tour and they came to Vermont with a gigantic Target bag full of pre-toasted Pop Tarts and 3 boxes of Honey Bunches of Oats. Thank you Mom and Dad for saving my life in the food department. Surprise of the day: The Disco Biscuits were playing in the larger room next to us. A little wookied out? Absolutely. I guess the secret word for that night was not Mud Shark, but indeed the Chewbacca Groan. The one thing that sucked about this show was my inevitable bass drum problems. We had to put another last minute cinderblock in front of it. It's funny that I didn't know how old my hardware was until I started beating the sh*t out of it on this tour. U-Melt opened up for us this night and I would like to thank them for being so into it. It's obvious that they love Frank Zappa music. The show was pretty good, the sound on stage was nice and clear. Highlights: Crusin' for Burgers...

A Best Western with WIRELESS. That's what I am talking about.
Sunday, April 16 Iron Horse Music Hall
The first thing I found out about Northampton was that it was the um....female partners capital of the world? Andre and I discussed the craziness of Easter Sunday. My parents again really going overboard in the food department...they arrived with many chocolate easter bunnies. Dave and Seahag were convinced that there should be manufactured Chocolate Jesus Bunnies. Tonight's secret word/every sentence we uttered was our collective Michael McDonald impersonation. The crowd for a Sunday was ridiculous, absolutely screaming and helpful with our equipment. I snagged a wireless connection for 5 minutes from a Police Station across the street. Svalgard really killed it tonight, he's been consistent and as one fan described it, 'fluid', which may be the hardest thing to achieve playing this music. Rooming with him is a ball and it makes staying at a cheesy motel that much more interesting. Seahag again was self-deprecating and I can never tell if he's being serious, because he's probably the best living guitarist besides Adrian Belew. Dave as always killed it, I don't know if he understands how good he is...Andre, of course being innovative and amazing as usual, his playing speaks for itself...Ike delivering a knockout 'woo woo woo' Micheal McDonald cry throughout the night helped me laugh. Good times!

Motel 6 with Strawberry Frosted Pop Tarts...
Monday, April 17 The Century Lounge
BONEYAHD! The cries of PRAAAvidence, Rhode Island. I was impressed as I walked in, as there was drum kit already set up for me. How excellent. There was a sweet ass golf video game too. I didn't eat dinner that night, which can be extremely difficult because these shows are like marathon runs. By the end of the 4 hour run, I'm usually drenched in body fluids (I forgot to mention that I played so hard in Albany that I started bleeding all over my drums, and there's still blood that won't comne off my hi-hat). My performance tonight wasn't so good, a blister popped open during the last 4 songs and I rushed everything in pain. I was so pissed at myself for doing that, but I literally couldn't play right, so I stole duct tape from my floor tom and in a hurry a wrapped it around my throbbing finger. My voice was also killing me this night because I had sore throat and a bit of a head cold. Props to Brian who took me to the Brooks pharmacy to get Cold and Sinus medicine.

I would certainly like to forget this gig although the fans really seemed to enjoy it (headbanging dude ruled and the guy who yelled 'NOICE!') and one guy compared me to Will Kennedy...you sir, are way too kind...Will Kennedy is about 1,000 levels above me, but thank you nonetheless. It was cold and rainy after the show and that probably didn't help my attitude. Oh well, you win some, you lose some.

Motel 6 on the way to Hahpahs Ferryyy...
*****
Okay, I admit it, I'm dying here. I told you all my son could write! I can hardly talk right now I'm so choked up.
Which is good, because it's 8:00 a.m. and the workmen next door have been pounding away for the past hour but I don't care, I'm out of here for sure today to go to scenic Baltimore (where believe it or not I have never been) on some writing business and won't be back until tomorrow afternoon. Yep, a whole day away from the madness.
But one final reminder: A&E Network is premiering Rock School tonight and not only will you see Julie and Eric Slick as young teenagers throughout, toward the end of the movie I'm quite prominently featured (ha) on the plane to Germany sleeping with my mouth wide open (lovely) and when the kids perform the final concert in said Germany, you can see me run over to Julie as she leaves the stage...and wasted on err, beer, at the front of the stage while they perform.
I'm just kidding, if you blink you will miss me on all three occasions but who cares anyway, this movie is about Paul and the kids and if you haven't seen it yet, you should!
Okay...no reviews are in yet for last night's Project Object show but I'll watch the usual sources until I leave for my trip today and if I find anything interesting, you know, the usual...I'll be back to edit.
P.S. Julie's lasagna was sick. If she continues to cook vegetarian like that for me, I just might...
Nah.
Later,
xo