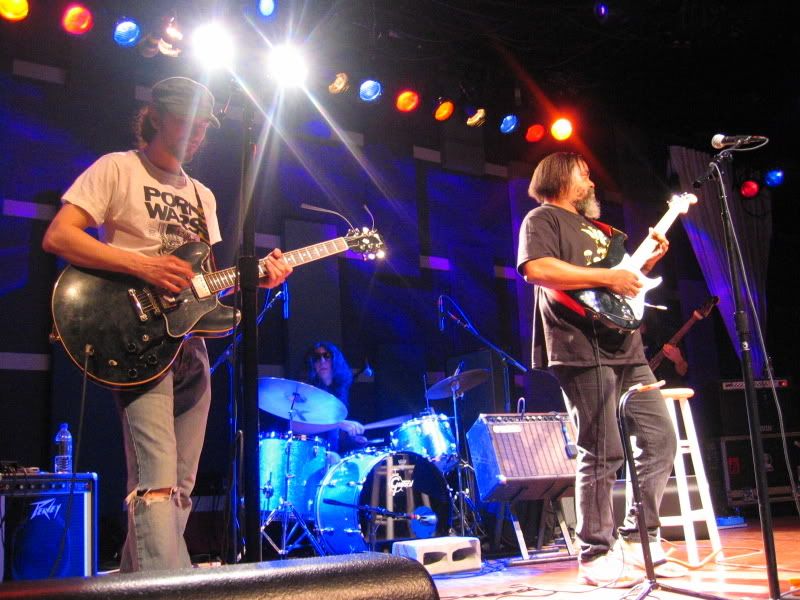 Robbie "Sea Hag" Mangano on guitar, Eric Slick on drums, Ike Willis on guitars/vocals
Robbie, Eric, Ike, and André Cholmondeley- guitar, vocals, samples
Katie Jacoby - "The Blue Viper" - on electric violin
Max Svalgard, son of keyboardist Eric Svalgard (whose photo I neglected somehow to take last night but will certainly make up for it this weekend!), joins the band on bass for Peaches and Regalia
Ms. Julie Slick, joining the band on bass for "City of Tiny Lights"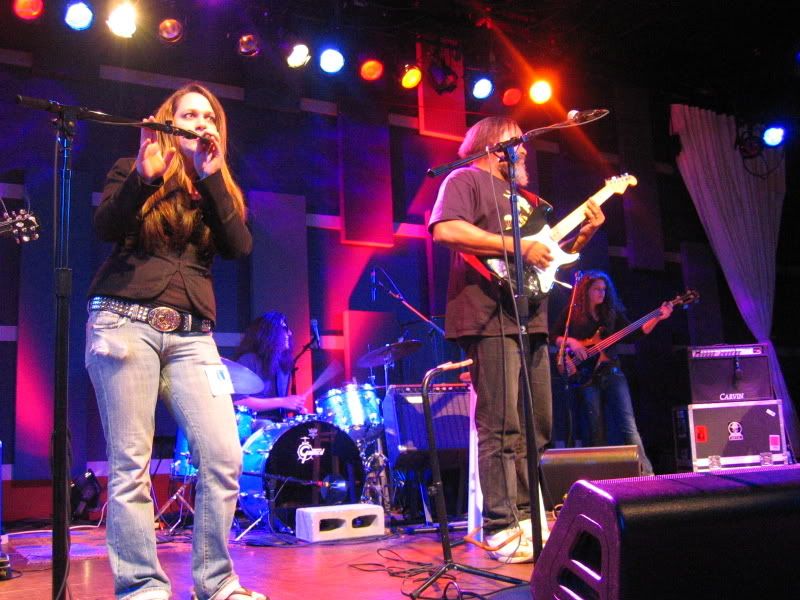 The oh my god I think I'm back at Zappanale 14 in Bad Doberan, East Germany photo - Teddi Tarnoff on vocals and Julie Slick on bass (City of Tiny Lights)
Seriously, apologies for being a really crappy photographer and missing photos of Eric Svalgard on keyboards and Dave Johnsen on bass (huge stage and I was right in front so getting group shots was impossible and I was on the other side of the world from Dave and blocked by monitors for Eric Svalgard) but I will be at two more shows this weekend and promise to take tons of photos. Last night, I basically put the camera away for most of the evening so I could just enjoy the incredible, mind-boggling music.
I'm still speechless. Really. The musicianship, the comradery of the band, the way the standing room only packed audience accepted Eric as the new drummer and then treated his Dad and me like we were royalty for giving birth to "a genius"...their generosity in allowing Rock School kids to join in on some songs like Max Svalgard (Eric Svalgard, P/O keyboard player's son) on bass (he did great!), Teddi Tarnoff on as usual incredible vocals, daughter Julie on bass, and the absolute brilliance of Katie Jacoby on electric violin. I know I brag about Katie a lot, but to see her live is really something special - she's not only a prodigy she's so beautiful and has such stage presence you just know she's going to be mega-famous some day.
I'm still waiting for everyone to post on the Project Object forum board -- there are fans who traveled from Washington, D.C. and upstate New York -- P/O has a fiercely devoted fan base -- but there was one dude who checked in on the board in the wee hours and he admits it, he was at the bar, so take his post with a grain of whatever:
Johnny_K
YaBB Newbie
Gender: male
Posts: 17
Tonight's Show 4/12
Today at 2:57am »
Well folks, the tour started tonight in Philly at World Cafe Live.

What can I say? AWESOME!!!!

For those that crave the set list, sorry I don't have it. I was too busy jamming out at the bar. But it's safe to say the if you don't like Shiek Your Booty, Joe's Garage, Thing Fish and other Zappa classics you will be disappointed.

Andre, Ike, Seahag, Dave, and Erik's (drums and keyboards). Excellent job!!!(as always) Including the newbe drummer. As was all the extras that played with you. I think you should add the violinst to the band. (Shes hot, and can play the violen too.)

Hopefully some one will post the songs that you played tonight and add more comment. I'm tired and am going to sleep. But it was an awesome f*cking show!!!!
***
Ha ha - I didn't edit his post for spelling but to check it yourself and see if anyone adds anything else today, here's the
link
-- just click on "forum" and then "Tonight's Show 4/12".
Like I said, Project Object fans are very dedicated so expect the forum to fill up as the tour progresses. But don't worry if you forget to check (ha) because I will be providing direct posts and links as I find them, and because I am OCD as concerns my kids, I will be checking hourly.
Anyway, not to be all mushy or anything, but what can I say? Last night was all because of
Paul Green
, and if you have kids who show any interest in playing guitar, drums, etc. and are in a city where there's a Rock School, SIGN THEM UP IMMEDIATELY! And if there isn't a Rock School in your city, write to Paul and find out how you can get involved in getting that accomplished. I can't even type right now without getting choked up over Eric's eight years at Rock School. Paul's love of these kids, his taste in music, and his whole teaching philosophy, really, enabled Eric, four weeks shy of his 19th birthday, to be on that stage last night with highly talented experienced musicians -- some twice his age -- playing extremely difficult/complex music previously played by greats like
this guy
with confidence. To see his glowing smile after he aced one of his many solos...oh god...hear come the tears again.
I also do not want to leave out mentioning the awesome job the Rock School All-Stars did as the opening act for Project Object last night. One really touching moment was when my son's girlfriend Carolyn came out to do her song, which, I cannot believe, was Abba's Take a Chance on Me, and Paul brought Eric out of Rock School retirement so he could back up his woman on drums. It was so good! Carolyn has got a hell of a voice and she wailed on it! I was skeptical when I heard Paul had added an Abba song of all bands when he's so into Zappa and Pink Floyd, but I should know by now never to doubt his instincts. Anyway, Carolyn is probably going to kill me for this but I could not get the camera off of "video" when I took this shot, but I'm posting it anyway: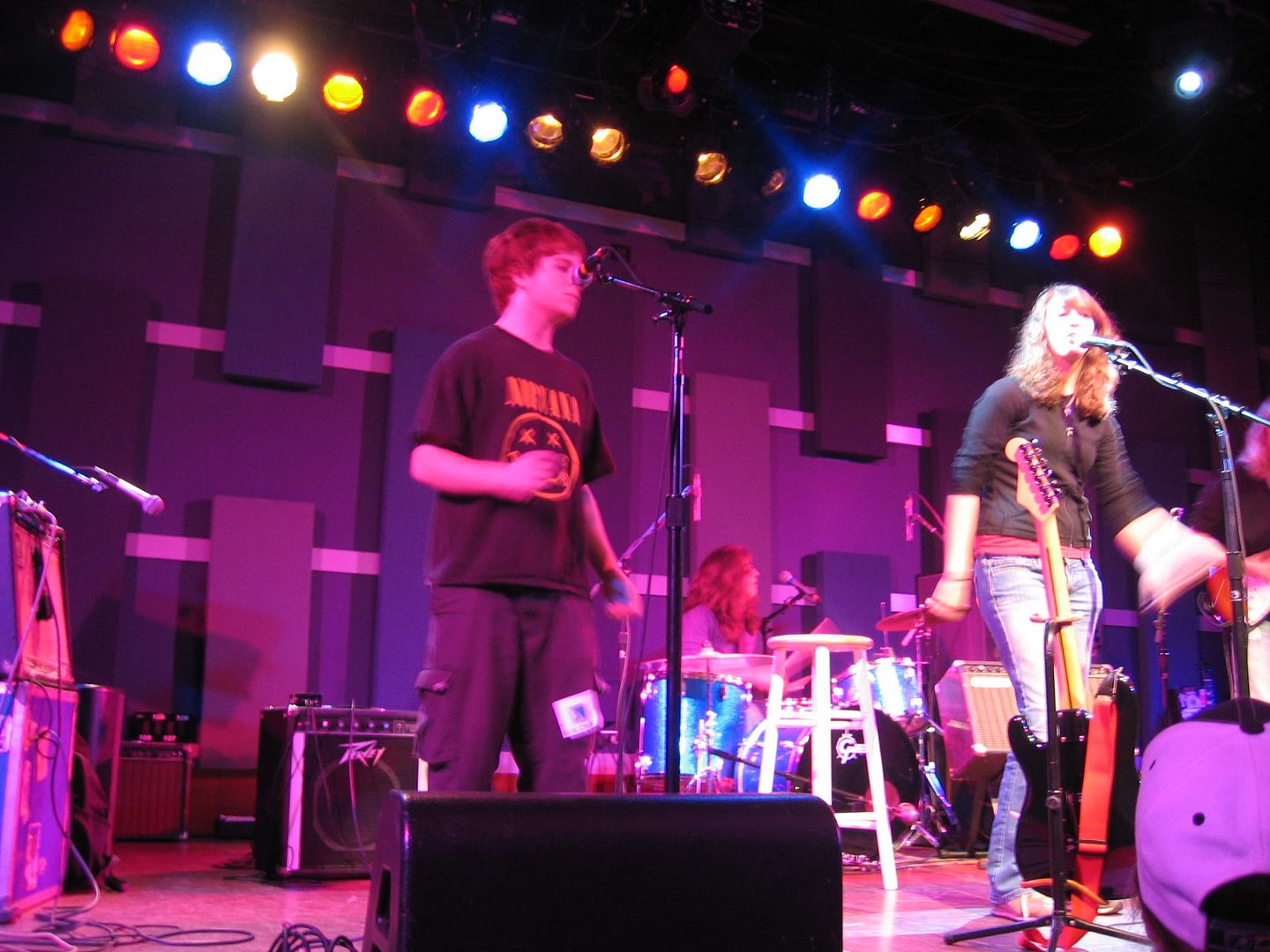 So that's all I can manage right now...I'm still all sobby looking around my living room, which, as I mentioned yesterday, for the first time in fifteen years is missing a set of drums and I keep staring at the empty space in disbelief.
But I'm so thrilled for Eric...oh my god, he's the luckiest kid in the universe right now.
Later,
xo