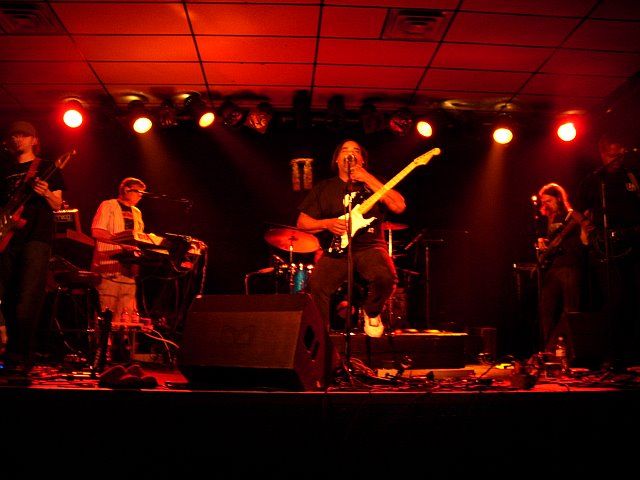 Project Object performing at Shank Hall in Milwaukee, WI
And their drummer, Eric Slick
No new info yet on last night's Project Object show in North Carolina with Denny Walley but as usual, I will come in here with my ETAs if some pop up later. (By the way, ETA means "edited to add" in case there's someone out there who gets confused when I do that). Just know that the tour continues down south with a show tonight (again with Denny Walley) in Atlanta, Georgia at
The Five Spot
- doors at 8:00 p.m.; show at 9:00 p.m. Upcoming shows, after a much needed day off on Sunday, include Monday night in Charleston, South Carolina; Tuesday night in Carreboro, North Carolina, and Wednesday night in Charlotte, North Carolina...and then they head for West Virginia. I wonder if Eric is going to come back with a drawl...
In fact, ETA right now. This just off the Frank Zappa Forum Board:
Sheik Oyura Beeg 1
Joined: 05 Sep 2002
Posts: 62
Location: Charlotte, NC
Posted: Sat Apr 29, 2006 6:19 am

"Maybe it was because it was a beautiful Carolina evening, maybe it was the venue- Stella Blue - filled with FZ and P/O fans, maybe it was the huge tribal drum circle going for hours in downtown Asheville, but what resulted was a fantastic concert last night by Project/Object. The band was tight, opening with "Little House I Used to Live In" and ending the night with "San Berdino" at 3 am.

The new drummer Eric Slick was very impressive. Eric S. kicked ass on the Moog, Dave played some exceptional bass, Seahag was phenomenal,and Denny Walley(and grandson) were a special treat...and of course Ike and Andre were great. When they cranked out "The Mammy Anthem" to start the second set, chills went up my spine..."Lawd hab murky."

I was introduced to the lovely Duchess of Prunes a.k.a. XYQA from our forum, a true SUPERFAN, who will help feed our favorite band in Atlanta this evening. It was a pleasure meeting you my dear.

Run to see and hear this band on tour.I'm going to catch another show in Charlotte this Wednesday...I can't wait."
Sigh...I so, so love this.
Of course I'll be posting links to the venues each day and reminders...ha ha just call me their unofficial P.R. person.
So as you can obviously tell, I've been completely OCD while Eric's been on tour searching out reviews, blogs, etc. on the subject, and it was while doing this I encountered Andrew Greenway, best known to music fans around the world as
The Idiot Bastard
.
After visiting his website and reading a bunch of cool stuff...and I'm not sure how the sequence went...I think he was googling as well and found me...we started corresponding. Ha ha - what can I say, he lives in the UK and is a music freak/historian/writer. Do I need to add anything else?
Hmmm...how about this review he has posted of the Zappanale 16 CD?
"...And as for Eric Slick's drums on the rock band version of Approximate - killer!"
Then Andrew made the mistake of writing me an e-mail asking me for any info I had on Neil Gaiman. Andrew is a huge fan of Tori Amos but knew very little about Neil and Tori is contributing Sister Named Desire to an imminent tribute album, Where's Neil When You Need Him (itself a line from her song, Space Dog), and he asked that I fill him in.
Who, me?
Nah, I behaved, and rather than write back with a mini-series, I simply directed him to
Neil's website
and told him about his blog with five years of archives.
"Just go to the search feature and type in Tori Amos or whatever else you're looking for as concerns Neil and you'll find more info than you can possibly use," I replied.
Apparently that's what he did, and then Andrew visited my blog yesterday and actually took the quiz "Which Neil Gaiman Book Are You" and I got this email back, which merely said...
"I'm Coraline".
I laughingly replied that somehow I doubted he was a children's book.
But I'm kind of embarrassed about the other stuff he read in my post of yesterday along with the ensuing comments --
Susan Henderson
and I were just messing around.
Okay, so it was just Sue who was messing around. I was dead serious. Ha!
And while I'm on the subject of Sue, she's taking part in an amazing event scheduled on May 15 (Eric's 19th birthday!) at 7:30 p.m. at
The Back Room
, 102 Norfolk Street, New York, NY where she'll be be reading with Pasha Malla, Roy Kesey, Pia Z. Ehrhardt, Todd Zuniga, Jeff Landon, Claudia Smith, Kim Chinquee, John Leary, Darlin' Neal, Gail Siegel, Grant Bailie, Lindsay Hunter, Jim Nichols and Kevin Dolgin. That's one hell of a line-up, and since I'm predicting right now that Eric is going to want to spend his birthday with his girlfriend that evening since it's also the day after the tour ends and he hasn't seen her for a month, I'm going to do everything possible to be there -- unless, of course, Eric wants me around to sing Happy Birthday and watch him blow out candles.
Sigh...probably not. So yeah, I'm guessing there's a 99% chance I will in fact be able to attend, because normally I would not miss this reading for the world.
And while I'm on the subject of boasting about my wonderful friends, look who is scheduled for a review at
Kirkus Reviews
on May 15! There she is, right there with illustrious authors such as T.C. Boyle...
Ellen Meister!
May 15 is obviously a very, very special day.
Okay, believe it or not, and maybe you will after reading it, this blogpost was done on only one cup of coffee. I'm off to make an entire pot now.
I'm not responsible for what happens next...
Later,
xo