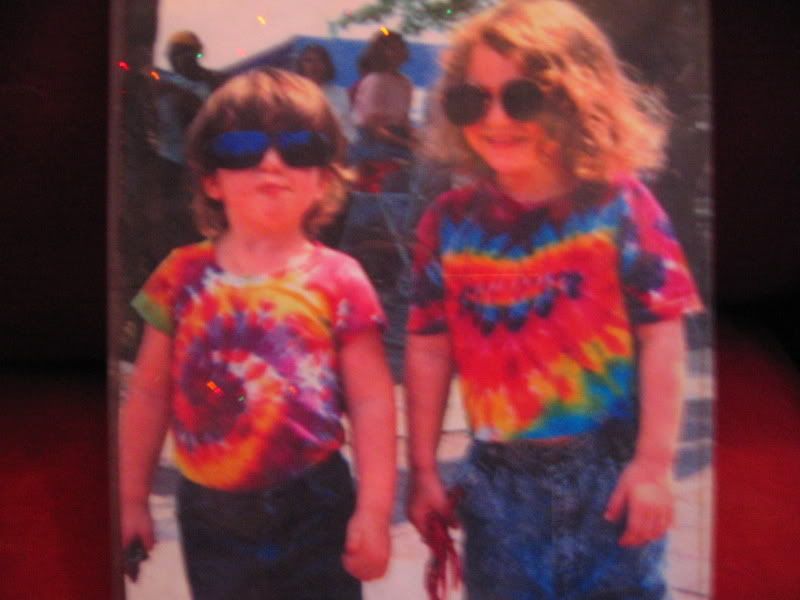 Eric and Julie Slick when they were baby rock stars. And believe it or not, this photo was taken at the late and lamented yearly Philadelphia Blues Festival which was held outdoors and where we bought Eric a handmade wooden drum. When
Stephen Stills
took the stage, five year old Eric started drumming along with him and within ten minutes had 20,000 people standing around him in a circle with their mouths wide open as opposed to watching Mr. Stills.
Julie is holding a red rubber lobster which is what she insisted we buy her after Eric got the drum. We never did find out why it was so important to her.
Now I know you are all probably shocked to see that photo instead of this one, which of course I lifted off of his website yesterday in a fit of total glee:
But when I went to
Susan Henderson's blog
today, she'd already posted it but you must go visit Sue anyway because while I reported that
Howard Glassman
was currently eating the entire works of
Neil Gaiman
, Sue saw it, got in touch with Howard, and interviewed him! Makes for one hell of a read. Hey Howard! I bet Sue and I get you on the Daily Show! You and your power walkers are gonna owe us!
So Julie forced me into doing the tax/college paperwork extravaganza yesterday which is really a good thing because this means I don't have to spend the next two weeks waking up at 2:00 a.m. and not being able to fall back asleep due to worrying about it. In honor of all that we went out to lunch at a really cool restaurant called
Matyson
. This place definitely makes it into our top ten, maybe even our top five. I'm not sure if what we had is on this menu - Julie had a really sick version of a Salad Nicoise which had roasted potatoes, about a pound of fresh tuna, imported olives, etc. and I had an even sicker salad - filet mignon, fresh mozzarella cheese, roasted tomatoes, assorted really fresh greens and croutons made from black bread all tossed together with a champagne dressing. We shared dessert of what's listed as coconut cream pie but was really coconut mousse atop a layer of chocolate ganache in a macadamia nut crust...topped with incredible toasted coconut whipped cream. Needless to say, we walked to and from the restaurant which is about four miles for damage control. And I did not eat dinner last night in penance.
Eric came home with the head cold from hell but he's still hanging tough in the studio all day and rehearsals for the
Project Object
tour all night. Meanwhile, from lurking on the
John Wetton
website I learned that
Steve Howe
is doing a tour and he's hitting many of the same venues Eric is playing...most interesting that he's playing at the
Iron Horse
in Northampton, MA on April 17 which is one night after Eric following a concert in New York and then a three day layover. Um, what I'm trying to say here is, Steve Howe has three days off after his New York show before playing the show in MA and maybe he'll be there a day early and see Eric's show? Hahahaha - I really do live in fantasy world, don't I? But I mean, Eric's hung out with
Adrian Belew
and John Wetton this month and last and
Tony Levin
in January, why not Howe, too? (Eric already met
Carl Palmer
-- Palmer taught him a stick trick and after much begging, Eric got him to autograph my Brain Salad Surgery album for me. I mean, I had to beg Eric; Eric didn't have to beg Carl...just so we're clear on that. And I really didn't have to beg Eric, I'm just kidding). And in case anyone out there reading this has no fucking idea what I'm talking about and what the connection is, prog rockers John Wetton, Steve Howe, Tony Levin, Adrian Belew, Carl Palmer...and Eric Slick...have all played together in various projects at different points in their careers.
Anyway, I'm really psyched. I've booked my hotels for a Project Object tour weekend in Vermont and MA and can't wait to put on my groupie mom cape again and fight for truth, justice, and the American way.
Hang on - truth, justice...and American way? That's kind of an oxymoron in the Bush administration, isn't it?
I really meant I can't wait to put my magic groupie mom cape on and be rock and roll crazy girl again. Now if I could only invent a time machine.
So I believe that's it for today. I'm still recovering from all of yesterday's paperwork...my brain is hurting...and I think I'll spend today writing a few hours then reading outdoors in the park with the dog for a bit. Err..I don't read to the dog, he just sits next to me and makes me feel good. It's just a magnificent spring day out there with trees in bloom and temperatures in the sixties. I'm still slowly savoring The Hummingbird's Daughter (Amazon link at right) but I'm almost at the end, darn it. What a book!
Oh, one more thing. Pearl Jam fans looking for the video clip I posted with Eddie Vedder and my son Eric singing The Who's A Quick One can find it right
here
.
Later,
xo