Sigh...so much to write about and so little time.
Okay, first things first. Tonight, on Bravo TV, at 10:00 p.m. please watch Queer Eye! Rock School All-Stars/Hall of Famers Julie Slick, Eric Slick, Teddi Tarnoff, C.J. Tywoniak, Madison Flego, and Stevie Roberts were part of the taping of the show and performed two songs at the end. Here's the details and when you read them, you'll understand why Rock School was chosen to be a part of the program:
Name: Danny K.
Age: 39
Height: 6'3"
Weight: 190 lbs
Status: Single
Occupation: Business Owner
Category: Apprentice Castaway Straight Guy
Location: Chelsea, New York
Event: Cocktail Gala Charity Event
Danny was thrust into the national limelight as a candidate for The Apprentice. Though, lasting only for three tasks, you may remember him as the guitar playing, polyster suit wearing, on-the-spot singing entrepreneur. You would think the criticisms he received from "The Donald" and others would be enough for him to change his look, it wasn't because he's the same disheveled, hapless self.
Even though the mainstream corporate world may not be ready for Danny, he's certainly ready for the corporate world as he is the founder and owner of two successful businesses. Not only that, he's trying to get funding for a charity he's started, "School Bus Rocks," a subsidiary of the Big brother/Big sister program aimed at finding adult mentors that are musicians who can bring the joy of music to children/inner-city schools. The Fab Five's mission: Give Danny a look that will "wow" the donors as well as Donald Trump.
***********
If for some reason you can't stay up that late tonight, check the schedule at www.bravotv.com because it will rerun all week.
***********
Anyway, I've been sort of putting off writing about Saturday night's final show for this current batch of All-Stars because it's been difficult for me to do without getting all teary eyed. First of all, what a send off! I know last year's All-Stars got to end their Rock School tenure by jumping into a pool at a condemned trucker's hotel in Las Vegas and it's pretty hard to beat that, but the music this year at the World Cafe made it a tie for sure. Everyone was at the very top of their game for both the 7:00 p.m. and the 10:00 p.m. shows; there were no glitches, no awkward moments...it was about as perfect a concert Rock School has ever performed. I seriously wondered how the All-Star program was going to get on without Eric Slick, Brian Purcell, Jeremy Blessing, Max DiMezza, Dan Nitz, Fil Smith, Larry Allen, Lauren Pollock, Madison Flego, Liam McGlynn, and Chris Gargano and the impending departures of Andrew Haff, Julia Ranier, Matt Manser, Joe Randazzo, and Dom Malandro but I saw first hand Saturday night that the batons are being passed to some very capable hands. Dave Maruzella on drums blew me away and he's like, what, 14? Sarah Zimmerman is freaking amazing on slide guitar...she's a young Bonnie Raitt...Kenny Luu and Bosco...I may have to come to future shows anyway, even though my son is retired...the music is that mind blowing.
I watched the kids on stage with such pride Saturday night. Besides the incredible musical talent Paul has nurtured, it was amazing to see how far these kids have come confidence wise; style wise (oh my god, they look so freaking good up on that stage as you will see in a moment...I'm only posting some pics because grrr...I still need help uploading and Julie and Eric only did a few photos for me but I swear to God, I am pinning them down this week and making them show me how to do it myself once and for all so I don't have to keep asking them and getting their empty promises!) and as I always stress, the unique comradery this group of kids has courtesy of their years with Mr. Green. Ten years from now some of these kids will meet up at rock festivals where they'll be performing with their own bands in like, the UK or Italy...they'll be megastars and they'll sit backstage with each other, talking old times...Rolling Stone will come interview them and they'll talk about the old days and how they came to meet and Paul's name will come up and...
Okay. I'll stop.
But I really don't know how to thank Paul. When I think of the past seven years and the effect he's had on both Julie and Eric I can barely get my thoughts together. Those kids have been featured in Spin Magazine, the New York Times, the London Observer....gah...I can't even name all the pubs. They've played on stage with Eddie Vedder, Stewart Copeland, Ann Wilson, Jon Anderson, Marky Ramone, Carlos Alomar, Chris Opperman, Alice Cooper, Napoleon Murphy Brock, Ike Willis, Mike Keneally...my mind is still boggled. Both Julie and Eric are well on their way to some pretty thrilling careers in music...both have a few secrets up their sleeves right now which I will reveal when the time is right, but for now, it's not goodbye, they are both still active at Rock School -- Eric teaches drums and is assisting in the production of future shows like Devo and Jethro Tull; Julie does recording and administrative work; even their dad is helping out with the Rockabilly show, but yep, it's true, their RS performing days are over because they are adults now. (choke, gasp, sob...)
I wouldn't have traded the past seven years for anything in the world. What an amazing time it's been for our entire family. Life changing for sure.
If I had one wish, it would be to have last summer back, so that I could go on that 17 day Rock School All-Star bus tour across America with a different attitude. Because of course now when I think of it, I remember only the good stuff, the music, the kids, and what a great time it really was. I guess there should be a rule, though, that no one over 25 should have to sleep on a bus and not take showers and eat at McDonalds because it does tend to make a person of that age or over cranky...but hey, it was an experience I will never, ever forget and I think even I learned a lot from it and have made adjustments in my own character...i.e., I'm still working out some pretty awful flaws like negativity and always expecting doom and gloom when I should be looking at the cliched half full glass instead.
And as I've said here on a few occasions, the mini-tour of Hollywood and Seattle in May and June of this year in which I accompanied Julie, Eric and other Rock School All-Stars for the premier of the movie still leaves me speechless and I will never, ever be able to thank Paul enough for that, either. Oh, and Zappanale...the trips to Germany...both Gary and I, though we went separately, me to Zappanale 14 in 2003, Gary to Zappanale 16 in 2005, were probably the highlight of our lives. I just remarked to Gary yesterday: "Who the hell would ever think you and I would have passports?" (Gary was adamant he would never, ever get on a plane in his lifetime; I just never thought I'd have the time or a reason to leave the U.S. but of course now I not only want to leave, I want to leave permanently with Commander Half a Brain in charge)
Anyway, without further ado, here are some pics from Saturday night. I think once I get the kids to upload all of my pics to my photobucket site, I will make the site available to all of you because I have hundreds of pics from all of the shows in there and obviously I haven't been able to post them all here.
Mr. Jeremy Blessing: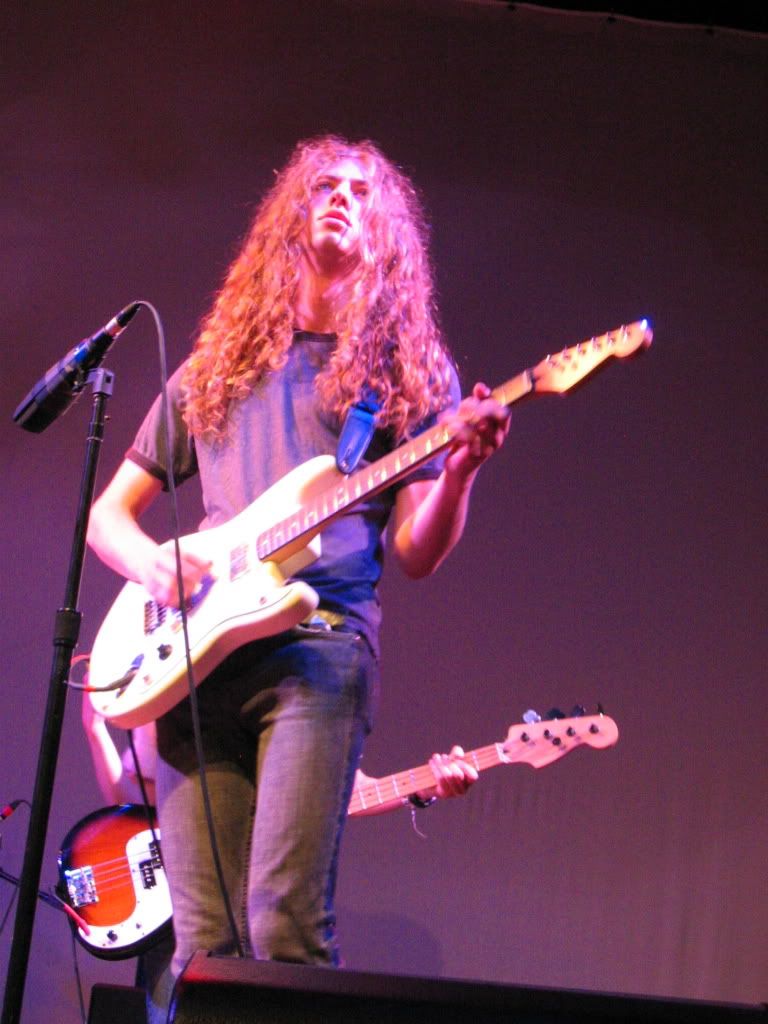 Ms. Madison Flego getting a goodbye hug from Paul Green: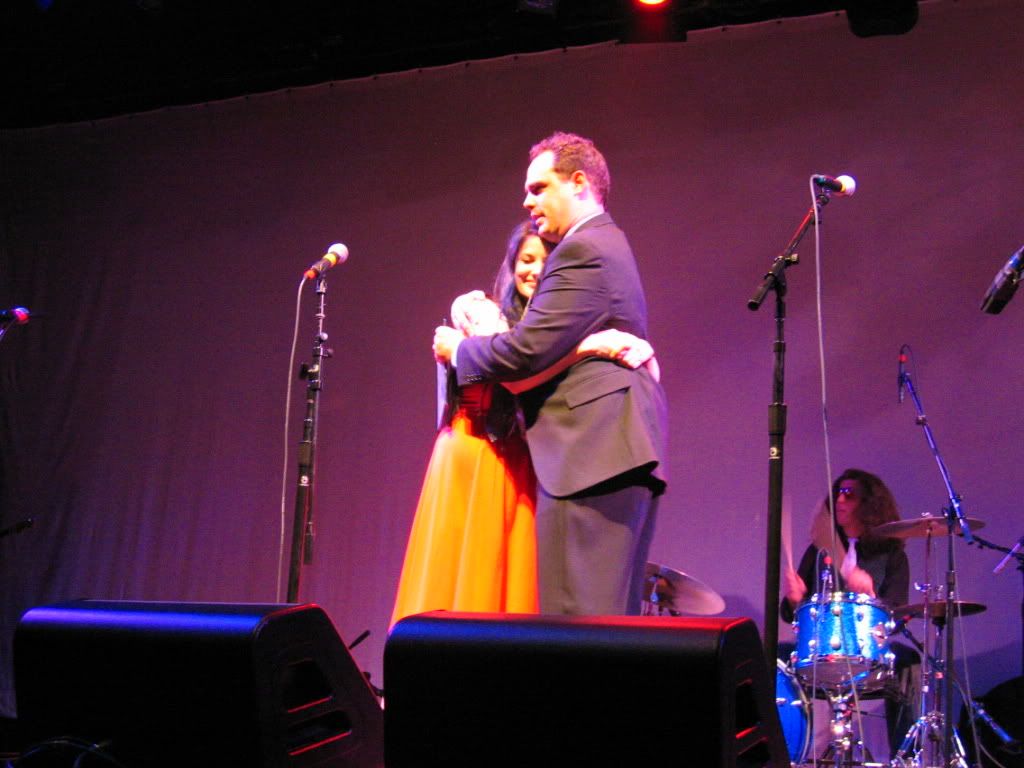 Mr. Max DiMezza singing Young Lust, with Matt Manser and Julia Rainer:
Eric Slick standing with his official and amazing Thom Lessner portrait, which will be autographed and placed on the Rock School Hall of Fame Wall:
One of my favorite moments of the show, Joe "Reno" Randazzo, saying his own special goodbye to fellow drummer Eric Slick: