So tonight is very bittersweet for me. My son Eric will be on drums for his final Rock School show ever when the All-Stars perform the music of Pink Floyd at the World Cafe. There are two shows, one at 7:00 p.m. and one at 10:00 p.m. and they are two distinct sets. You can purchase tickets at the door or order them online
here
.
A couple of things. First of all, Paul could not have said it better when he posted the following on the Rock School forum board:
"I am already getting a little sad about Saturday. This group has meant the world to me, and to see you go is very difficult. The only thing that tempers it is the knowledge that great things lay ahead for each of you. So to Slick, J-Bless, Gargano, Madison, Lauren Polley, Liam, Max DiMezza, Fil, Nitz, and Larry Allen...THANK YOU FOR EVERYTHING."
For those who don't know, the above eight kids are now over 18 years of age and tonight marks "graduation"...99% of them have their own bands now; my son Eric is involved in four different projects and will be touring very shortly -- his drumming with other established bands may take him all over the world this year but I'm sure he's going to have tears in his eyes tonight when the last song is played. Unlike other Rock School All-Stars who have "retired" in the past only to come back and perform at special events on Paul's behalf, Eric is steadfast that tonight is his last show; he is moving on.
Jeremy Blessing
I've witnessed incredible changes in a lot of these kids. Jeremy Blessing I remember as a young 14 year old with short hair and braces...but you could see he was a rising star even back then. Yesterday in New York City at the Hard Rock Cafe opening, people were staring at him, like, WHO IS THAT? And the infamous Naked Cowboy, there himself for the guitar smash, brought along his teenaged daughter who shyly came up behind Dad when he tapped Jeremy on the shoulder and said "My daughter thinks you are cute and would love to have her picture taken with you."
And she hasn't heard him play! Remember his name. He's going to be a superstar.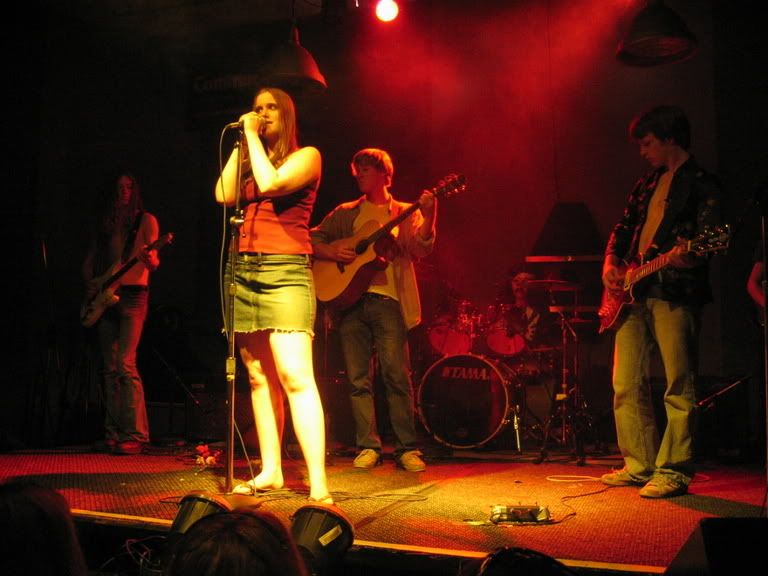 Lauren Pollock with Jeremy, Chris Gargano, and Fil Smith in the background
Lauren Pollock. I first heard her sing about three years ago and I was like Holy shit, this girl is 15? She has such soul in her voice, such incredible range...there is no way she isn't going to be major league famous. The fact that she is drop dead gorgeous won't hurt her cause, either, and she's one of the sweetest girls you'll ever meet.
Madison Flego
Madison Flego. I don't think even I was aware of the vastness of her guitar playing talent until I heard the opening solo in Shine On You Crazy Diamond in Germany last weekend. I had goosebumps just from watching the webcast and from what I hear from those in the audience live, 5,000 people were brought to their knees. I cannot wait to own the DVD of this show (should be ready in about 3 weeks I hear). I was always aware that this chick could sing. Again, her vocals in "Summertime" give me the shivers.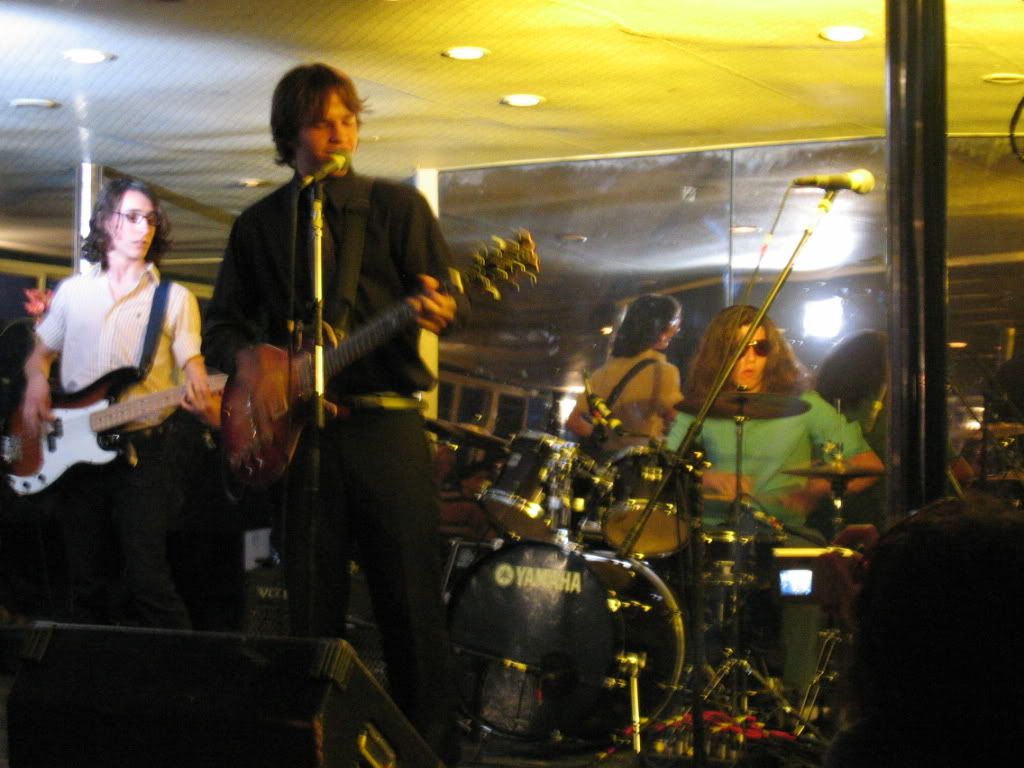 Max DiMezza, Fil Smith, and Eric Slick
Max DiMezza - I literally watched him grow up before my eyes. He is one of the best bass players (well, besides my daughter Julie and her boyfriend Matt) to ever come out of Rock School. He's got a unique jazzy talent; you can tell he's in love with the blues and has awesome taste because he brings a certain class to his playing which distinquishes him from everyone else. I'm not sure if Max plans a career in music or will end up a brain surgeon, but whatever he does, he's going to rule.
Fil Smith has always been a favorite of mine. I think he's got an amazing singing voice; he's probably Rock School's best rhythm and acoustic guitarist ever, and I think he brings a quiet dignity to his leads as well. He's off to Oberlin College and he's another kid who is going to be a success in whatever field he ultimately decides to pursue.
Larry Allen in the forefront
Larry Allen is a fucking awesome keyboard player. I know Larry is going away to college and it's my guess he's going to end up an attorney, but this kid could play the keys with any major rock or jazz band, he's that good. And he's smart and nice, too, and though I've known him only a couple of years, I've really enjoyed any interaction I've had with him. Last year on the bus tour he remained good natured and stoic even when a lot of us were losing our minds.
Nitz I'm pissed at because he is playing bass in my son's band, Flamingo, instead of my daughter, when bass is not his instrument. Hahahahaha - but what can you do, there's a whole story there but I still say he's a nice kid and a great, great
guitarist
. Nah, really, I'm cool...just can't find his photo anywhere but I will continue to look. He recently brought out his trumpet on a couple of songs and really impressed me.
Liam and Chris Gargano I really never got a chance to know because they were just added as All-Stars this year but I've enjoyed watching and listening to them and they were great additions to the program.
So that's all for now -- please try and make it to the show tonight and I'll be back tomorrow with a review of the show and a formal goodbye and thank you to Paul.