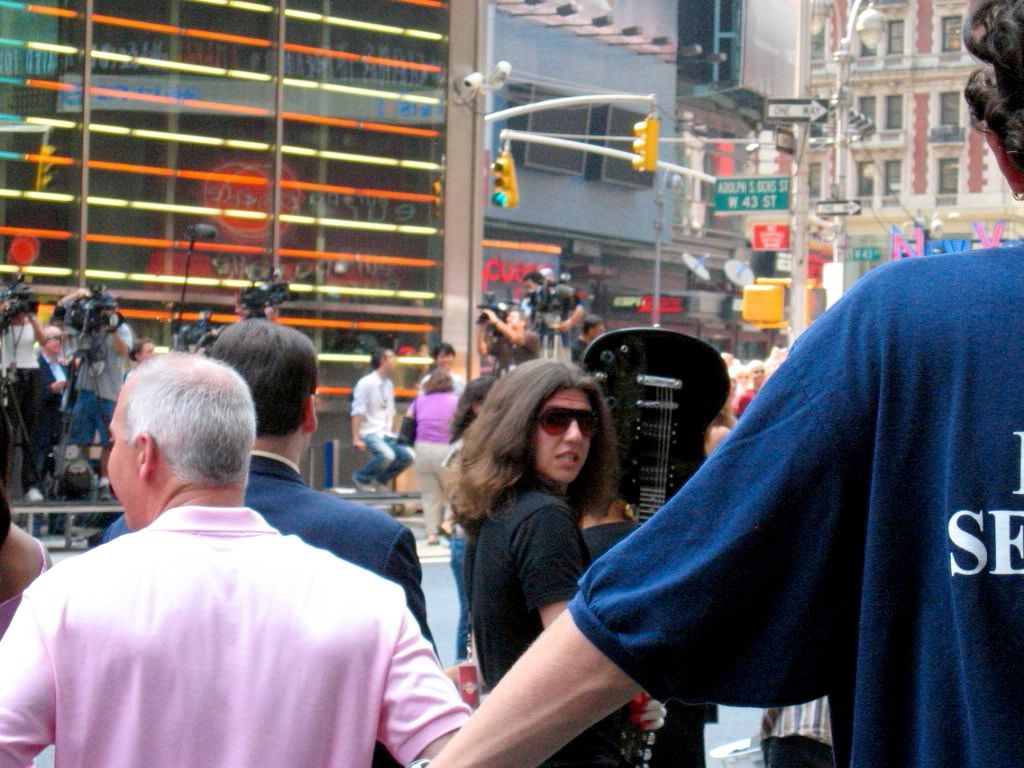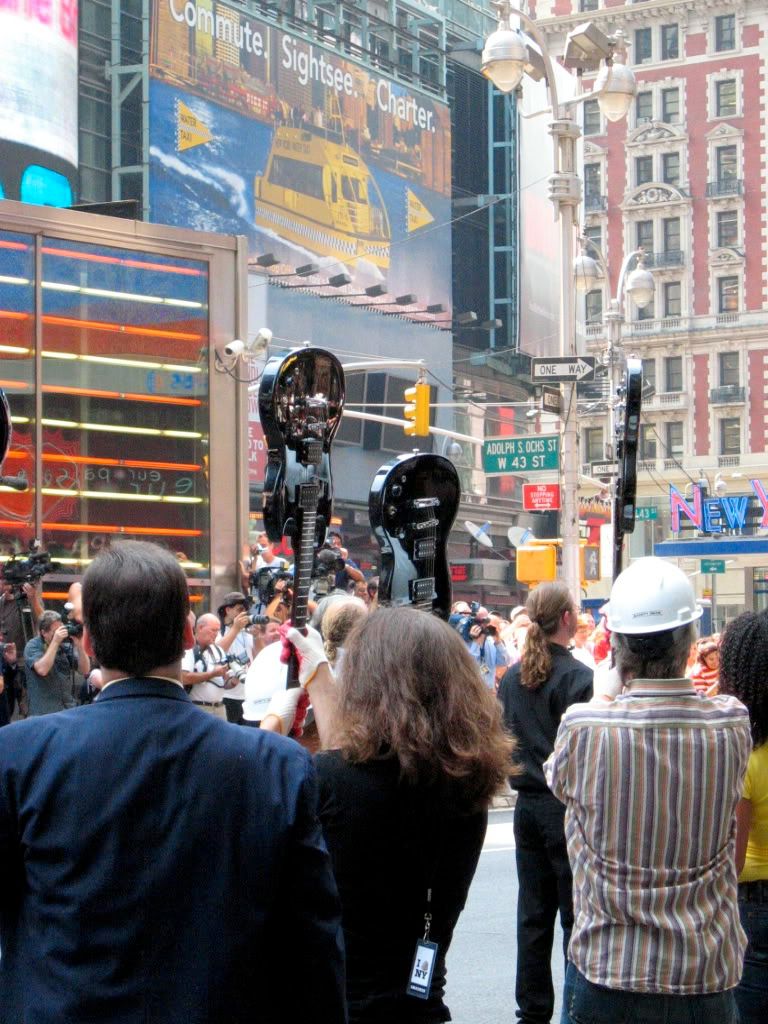 So yeah, today my son, Eric, featured front and back above, along with Paul Green and a small group of All-Stars -- Madison Flego, Lauren Pollock, C.J. Tywoniak, Jeremy Blessing, Joe Randazzo, and Sarah Zimmerman were part of group of 100 celebrities smashing guitars to celebrate the grand opening of the Hard Rock Cafe in Times Square. They got to smash axes with Brian Wilson of the Beach Boys and Little Steven of Bruce Springsteen/Soprano's fame.
Brian Wilson
Little Steven
Brian Wilson and Little Steven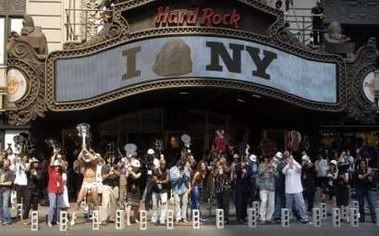 Group shot
Here's a portion of the press release:
HARD ROCK ROCKS TIMES SQUARE
Hard Rock Cafe Opens at Historic 1501 Broadway Building
Opening Day August 12 to Be Celebrated with the World's Largest Guitar Smash
New York, NY, August 11, 2005 - New York City will be rocking on August 12 when Hard Rock International opens its flagship cafe in the center of Times Square. Hard Rock International will be moving from its original location on 57th Street to occupy the former site of the historic Paramount Theater. As part of the move, Hard Rock will be transferring music memorabilia from its unparalleled collection, including priceless pieces from The Beatles, Led Zeppelin, Nirvana, Billy Joel, The Ramones and Elvis Presley.
The new Hard Rock Cafe New York will officially open at its new location at 1501 Broadway upon the smashing of more than 100 Gibson guitars, branding the moment as the World's Largest Guitar Smash. The historic guitar smash and opening of the Times Square cafe will kick off a month-long celebration, which will include rockin' concerts and special events, as well as a grand opening party, featuring a live performance by super group Velvet Revolver. The grand opening celebration will benefit Peace Games, a non-profit organization dedicated to ending the trend of violence in the U.S. by teaching children to become peacemakers in their schools and communities...
The memorabilia being featured in the new Hard Rock Cafe New York includes some of the most valued and treasured pieces of rock history," adds Dodds. "The doors to the Beatles' Abbey Road Studios, Elvis' tuxedo, hand-written lyrics by Jimi Hendrix, guitars cherished by legends, including Bob Dylan and Eric Clapton, and more contemporary items, including stage costumes worn by Madonna and Gwen Stefani -- the rock artifacts that can be seen in this space are truly breathtaking for music fans.
Even Pete Townshend Will Be Impressed by This Guitar Smash! Traditionally, Hard Rock executives smash a guitar or two at the opening of a cafe. However, Hard Rock has decided to make its grand entrance by smashing 100 guitars, creating the World's Largest Guitar Smash on the world's greatest stage Times Square.
On Friday, August 12, more than 100 Gibson guitars will be smashed simultaneously outside the new home of Hard Rock Cafe New York, signaling its official opening. Members of the Hard Rock family will be joined by several New York notables and celebrities, including Steven Van Zandt and Brian Wilson, for the guitar smash, a moment that will go down in rock history. For each guitar smashed, Hard Rock will donate a new guitar to Peace Games, extending the influence of music to the masses. Rita Gilligan, one of the original servers from the 1971 opening of the first Hard Rock Cafe in London, will be leading this historic smash.