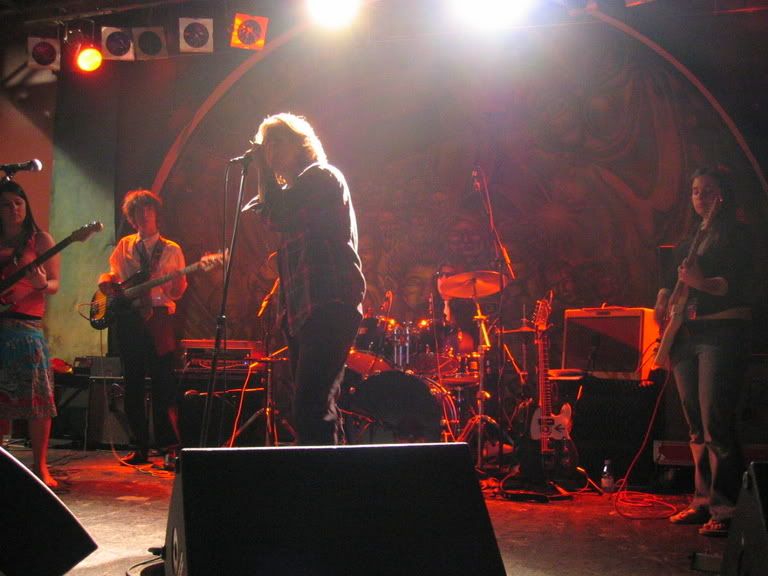 IMPORTANT - ALTHOUGH I'VE PASTED LeANN'S REVIEW HERE, PLEASE CLICK ON THE LINK DIRECTLY BELOW AND GO STRAIGHT TO HER ARTICLE AS IT NOT ONLY CONTAINS SOME COOL PHOTOS, IT INCLUDES TWO MP3S OF THE SHOW WHEN ED JOINED THE ROCK SCHOOL KIDS! WE REALLY WANT TO THANK LEANN FOR A GREAT AND THOROUGH REVIEW. SHE'S AWESOME.
Two Feet Thick, Pearl Jam for the Impassioned Fan
by LeAnn Mercer
The event: "Rock School Jam"
When: Wednesday, May 27, 2005
Where: Neumo's, Seattle, WA
Why: Showcase for Rock School Jam, a 90 minute live concert in conjunction the documentary Rock School being shown at the Seattle International Film Festival.
Who: School of Rock Music performers: Teddi Tarnoff, Julia Rainer, Madison Flego, Julie Slick, Eric Slick, CJ Tywoniak, Louis Graff, Larry Allen, Bryan Purcell, Joe Randazzo. Special guest Eddie Vedder on a couple of songs.
Setlist: Black Magic Woman, Rebel Yell, City of Tiny Lites, Pigs, Radiohead, Barracuda, Eruption/You Really Got Me, White Lines, Heart of the Sunrise, I Wanna Be Sedated (featuring Eddie), Corduroy (featuring Eddie), Rock Lobster, Lose Yourself.
Santana. Billy Idol. Grandmaster Flash. Pearl Jam. What do these artists have in common? The kids from The Paul Green School of Rock Music can cover them all.
It's Wednesday night at one of Seattle's cornerstone music venues, Neumo's - formerly ARO.space, formerly Moe's Mo' Rockin' Cafe: the same place where Neil Young rocked with PJ as his backing band in 1995 and where Matt Cameron debuted as Pearl Jam's drummer in 1998. A group of students from the Philadelphia-based school took the stage to headline Rock School Jam, a concert affiliated with the Seattle International Film Festival. The live show accompanied a pair of screenings of Rock School, a documentary about classes held at the Paul Green School of Rock Music.
Opening with a cover of Santana's "Black Magic Woman," the band quickly shifted members, instruments, and tempo to follow with the Billy Idol anthem, "Rebel Yell." An abrupt style change brought "City of Tiny Lites" to life, showing the intricate fusion of rock, jazz and classical kitchen sink of Frank Zappa. While performances like these were proof enough of the group's collective and individual talents, their rock savvy was put to the test with guest appearances during the set by two of Seattle's Hall of Fame caliber rock royalty: Ann Wilson of Heart and Eddie Vedder. The hometown artists were warmly received by the sold-out, 21-and-over crowd, but it was the ten "underage" performers from Philly who stole the show. In an enthusiastic balance of talent and bravado, in groups of 5 or 6 at a time, the kids tore through songs that explored every genre of rock music, from Eminem to the B-52's. Siblings Julie and Eric Slick provided a tight, polished rhythm section on bass and drums (respectively) throughout the show. Louis Graff and virtuoso-in-training CJ Tywoniak (a crowd favorite) took turns handling lead guitar duties, with Tywoniak pulling off an exceptionally flawless rendition of Eddie Van Halen's "Eruption," before leading the band into "You Really Got Me," which also featured lead vocals by Madison Flego. Teddie Tarnoff proved to be an accomplished vocalist, turning out sultry performances well beyond her years, particularly on the Yes's song, "Heart of the Sunrise." Julia Rainer showed her considerable guitar and lead vocal abilities during a show-defining version of Pink Floyd's "Pigs," which included a scorching talk box guitar solo during the 10-plus minute song. Lanky Joe Randazzo strutted the stage during "White Lines," a Grandmaster Flash tune most likely written before anyone in this band drew their first breath of air.
Six songs deep into the evening, Paul Green - who spent the evening as the band's equipment tech, stage director, musical conductor, and emcee - introduced Ann Wilson, who joined the band for a hard edged, fast paced version of the Heart classic, "Barracuda." A few songs later, Green once again took the mic to present a man "as synonymous with Seattle as 'coffee'" Eddie Vedder of Pearl Jam. An appreciative audience member called out Ed as "the Bob Dylan of Seattle," and Ed mused that he'd recently seen Dylan live but realized the moniker was "meant as a compliment," stirring the crowd to a ripple of laughter. Ed's wardrobe choice of a Johnny Ramone T-shirt telegraphed the first collaborative effort of Ed and the rock school musicians, pounding through "I Wanna Be Sedated," in perfect three-chord strokes. Ed introduced the next song, mentioning that he said he wasn't going to play it, but was told in no uncertain terms that he was going to play it and play it better than he ever had before. Ed promptly led the band into a skillful performance of "Corduroy," to close the main set of the show. At the end of the song, Ed eagerly exchanged high fives and hugs with the musicians, and remained onstage for a somewhat subdued but solid cowbell performance during "Rock Lobster." Will Ferrell ain't got nothin' on him. Afterwards, Ed sprang offstage and all 10 members of the school assembled to perform Eminem's "Lose Yourself," to close out the evening.
On Thursday morning, after the show, a publicist representing the school of rock musicians described Ed as being "very generous" with the students, making himself available to them offstage as well as on. As they departed for their flight home, the rockers in training enthused that Wednesday night's show was "one of their best performances," which I believe would be echoed by every audience member in attendance.
**************
And a very cool review of the soundtrack posted today right
here
**************
Just a reminder: GO SEE THE MOVIE! PHILLY PREMIERE THIS FRIDAY! YOU CAN CATCH IT AT THE RITZ BOURSE, NESHAMINY AMC, AND NJ LOEWS AS WELL AS ALL OVER NYC AND LA!