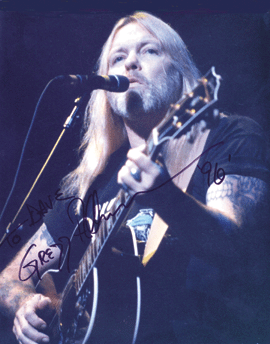 So. What do Gregg Allman, Brian May (Queen), and Billy Idol all have in common?
Holy cow, they're going to be recording in a few weeks with my kids. Rumor has it that Robert Plant is in negotiations as well.
Update: Eric just woke up and gave me the news. In addition to the above, he's drumming with Billy Idol on Rebel Yell; he's playing Black Magic Woman with Carlos Santana on guitar and the guy who sang with Journey doing the vocals; and Jon Anderson is doing Heart of the Sunrise with both Julie on bass and Eric on drums. They go into the studio December 27-30.
Excuse me while I have a heart attack.
Okay, I'll be calm now.
In other news, I've managed to generate some interest with my latest book, The Tour, but I'm superstitious so I'm keeping quiet about it until I have something concrete.
Let's see. What else, besides the fact that I'm extremely hung over from my office Christmas party yesterday, where I was turned on to something called Lemon Drops, which are shots of vodka, licks of sugar, bite of a lemon. Only of course me being me, I forgot to take the sugar lick and almost died from the lemon bite...okay, I didn't almost die, I made a horrible face...but um, I could learn to love those things.
Other than that, tame party, which is good...I was home early and still coherent though I haven't checked my outgoing emails yet.
Tomorrow Julie and I are doing our yearly Let's Kill Ourselves Right Before Christmas and Shop in New York City day. Nah, seriously, I'm really looking forward to it other than the fact that Julie's cheap when it comes to stuff like this and she's making me take the bus instead of Amtrak. I see her point -- I mean, Amtrak round trip for one person is $100.00 and the bus is $24.00, but oh god, Amtrak is quick and you don't worry about traffic and we're in NYC in an hour and fifteen minutes. The bus...well, it takes over two hours and the people...err, okay, 'nuff said, but the cool thing is that it runs from Chinatown, Philly to Chinatown, NYC, which is basically where we want to be. Julie's into thrift and vintage stores and funky warehouse places...oh, and of course vintage music instrument shops...and that's where they all are and she's got a whole route mapped out. We're having brunch at a restaurant which features a home made bread basket with orange sour cream donuts, pear pecan crumb cake, and fresh buttermilk biscuits. That's worth the bus ride alone. Then we're going to be real...gasp...tourists and go to Rockefeller Plaza and ice skate. Okay, Julie will ice skate and I'll watch. Nah, I'll ice skate too, but if I break my arm, she's in serious trouble. And then we're going to ride the ferris wheel at ToysRUs, which, even though it is an in store ferris wheel with Barbie and Ninja Turtle cars and therefore for babies, I am still scared as hell to go on it but I've promised Julie I'll do it and she's going to take my picture which I will post here assuming I don't think it will turn anyone to stone. ToysRUs New York not only has the ferris wheel, they have a two story human sized Barbie House and yeah, yeah, I love it. Even better, they have a candy carousel which dispenses M&Ms in every color of the rainbow including copper and silver. That thing fascinates me. Why? Because I'm a sick broad.
Anyway, I'm working on a sequel to Three Days in New York City which I can't post here or my publisher will have a stroke, but I've decided that blogging a novel was so much fun that I'm going to pull out an old one I wrote two years ago and never edited. I figure what the fuck, I'm gonna edit it here daily and post it like I did The Tour. It's called The Addicts and it's about a twenty year relationship between an alcohol addicted man and his sex addicted significant other. So stay tuned for that, starting probably right after Christmas. Or maybe before, depending on my mood.
Okay, time to eat some cookies for breakfast. I mean, what else does one eat as a first meal of the day during the holidays when one has a hangover?
Bleh, will I be sorry later.