Yay! I'm finally vertical again, and about to run around like a crazy lady doing last minute shopping.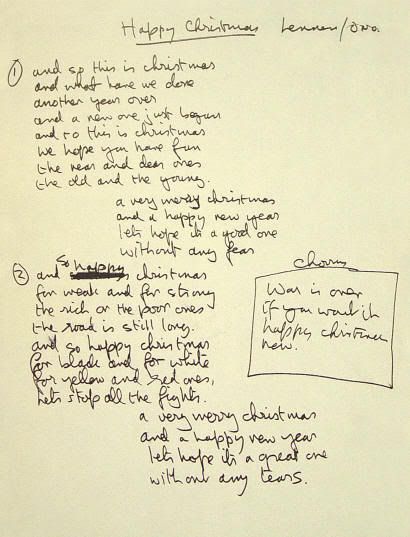 Okay, maybe the "war is over" part of those wonderful Lennon lyrics are premature, but I have a lot of hope for 2009.
So far, other than last week's unfortunate Robin Threw Her Back Out and Almost Died Like Elvis incident, this has been a wonderful holiday season which is kind of nice after the year of hell. I tend to talk about only the good stuff here or make the bad stuff funny, but man, another repeat of a year like this one and I'll be in a straight jacket. But the year also had some wonderful moments -- the Adrian Belew Power Trio soared to new heights both musically and professionally and personally; I signed with a new publisher; and finally, I've made some wonderful new friends in another totally unexpected "venture" I've taken on and adore. Anyway, this is the fifth year of the blog now and most of the time I do a year end recap before December 31 but whether I will have the stomach to do it this year remains to be seen. Though it would be nice to revisit the Canada and Russia experiences, and even the Bates Motel in Ohio...
Anyway, one thing I did do last week while I was flat on my back was order presents like crazy via my laptop, and they've all arrived - there are boxes stacked everywhere and I can't even remember what I got and who it's for. All I know is, I will probably be up all night wrapping them...but first Ms. Julie and I are going out this morning on a massive shopping trip for some last minute items, food for our Christmas feast tomorrow (don't worry - I'll spare no detail and post many photos Friday morning)...and as I mentioned, Julie is moving into her new apartment next weekend so we're going to look for some cool furniture, dishes, etc., too.
And we're having lunch at a fabulous new vegetarian restaurant...I don't want to talk anymore about that now because I'm afraid to jinx it...i.e., I'm afraid they might have taken today off since it's Christmas Eve day and if we arrive and they are closed, we're going to be aggravated.
Tonight Julie is working at "her" restaurant for a few hours so the whole family is going out to eat there to keep her company, then we'll head back to our house for the said gift wrapping marathon...and then...and this makes me really happy...everyone is sleeping over here for probably the last time (sob) so that they can wake up and open their presents as they've done for the past 22 years. But yeah, with Julie and Matt in their own place and Eric and Katy in their own place, I sorta think this is probably the last Slick family Christmas morning...oh God...here come the tears...
Nah, it's all good. Life moves on and so must I. Wait. Where did I hear that before? Ha ha - most of you will know.
Anyway, let me end this before I get any more sappy...
Garry Crimble
to all, which will take care of all religions and non-religions...and I'll be back on Friday morning with the full "what we got for Christmas and more importantly what we ate" report then.
Here's to Peace on Earth...
xo