On Saturday Julie and Eric hopped a plane from Philadelphia to Chicago (2.5 hours); following a couple hour layover a plan from Chicago to LA (6 hours I think)...another layover (2 hours more)...then 18 hours to Australia. I would have needed to be heavily sedated. In fact, I need to be heavily sedated just thinking about it. Pass the wine, please.
Julie has uploaded a gazillion pics to my Photobucket site and I'm sure she's going to be using them for her own blog but I have to nick this one and post it, even though I have absolutely no explanation for it...other than it was taken in Melbourne, Australia, where, as Julie just advised me by email five minutes ago, they are about to go on
stage
! (I guess it's 8:00 p.m. there right now, huh - they are literally 14 time zones away)
This one totally cracked me up. Eric Slick or
Neil Gaiman
? You tell me!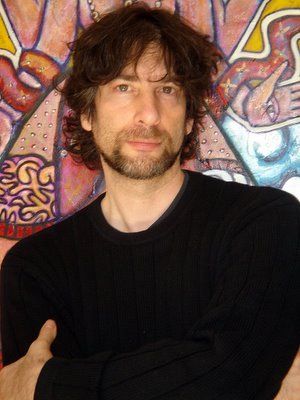 Actually, had that photo been taken next week instead of yesterday, it would be even more similar as it's usually Eric's custom not to shave on tour.
Speaking of Julie, we are cross-blogginating again. I posted the photos from our Thanksgiving dinner; Ms. Julie went ahead and put up more pics and the actual recipes today...here's the
link
.
Also, J&E are mentioned in an
article
syndicated all over the web and in print -
The School of Rock
is celebrating their 10th anniversary this year, and as most of you know, Julie and Eric were the original 14 (or is that 17...I can never remember)...anyway...here's a cut and paste:

School of Rock Anniversary

12/02/2008

"The Paul Green School of Rock All-Stars will be heading on a 10th anniversary victory lap this holiday season, personifying the revolution in music education launched a decade ago in a Philadelphia garage by mounting a 14-city, 17-show tour through the Northeast and Midwest between Christmas and New Year's.

That garage is where one man's dream became a national phenomenon. Green's vision has since produced 45 schools nationwide and an explosion of future rock stars, many of whom have traveled quite far along the trail he blazed when he took music instruction out of the classroom and onto the live rock stage by founding the original and premier performance-based rock music school in the country for kids 8-17 in 1998.

The celebration kicks off in grand style Dec. 26 in New York City, when, for the first time ever, all three touring squads of School of Rock All-Stars converge on B.B. Kings for three classic rock shows in one day – each headlined by a different group – before dispersing on their separate routes for the final week of the year. All touring School of Rock Stars – the "best and brightest" embodiment of Green's philosophy that hard work leads directly to applause – will reconvene for a New Year's Eve blowout in Asbury Park, NJ, capping a week in which they'll play the Rock and Roll Hall of Fame in Cleveland, as well as top clubs in Chicago, Detroit, Boston, Baltimore, Washington DC, Philadelphia (two shows), Burlington VT and more cities with School of Rock branches. Throughout the tour, the School of Rock All-Stars will be playing classic rock from the 1960s to 1990s, ABBA to Zappa.

"Even after all this time, all our expansion, and everything we have achieved," says Green, "the best way to teach kids to play music remains the same: load a bunch of them on a bus and take them out on the road to PLAY music."

The Paul Green School of Rock is well on its way to producing the next generation of rock stars. Among its alumni, drummer Eric Slick became a sought after touring drummer immediately upon graduation, playing shows with Zappa Alumni band Project/Object, Steve Vai bandleader Mike Keneally, and various WEEN side projects. Together with his bassist sister, Julie Slick, they currently tour with guitar legend Adrian Belew (David Bowie, King Crimson)as the Adrian Belew Power Trio. Drummer Branden King, is not only Philly legend Chuck Treece's go-to drummer, but also played with three bands at last year's SXSW, and has done two tours of Europe with various projects. Slide guitar phenom Sarah Zimmerman recently signed a management deal with Tor Hyams (Joan Osborne, Perry Farrell, Deborah Harry) and is working with top writers and producers on her debut album. Shredmaster CJ Tywoniak, star of the acclaimed 2005 documentary Rock School, is being courted by record labels eager to release his debut EP. He recently sat in with Steve Miller, and dazzled all of those in attendence. Many former School of Rock students also are attending top music colleges such as Berklee and the University of Miami, as well as working their own bands with dreams of stardom..."
And in probably one of the weirdest things I've found on line in my hunt for all things Belew, is this post on
The Stranger Forum Board
, which asks the question: Did Robert Fripp murder Frank Zappa?
Erm...no. But just for the bizarre hilarity of it all, it's worth clicking on.
I did get some brief gossip from Eric, though. It's Ade's plan that the trio spend 2009 doing a little less touring and a lot more rehearsing/recording. As I've mentioned here probably ad nauseam, they will be recording their new studio CD next year and when they do go back out on the road, it will be with a brand new set list with all new material...though of course I'm sure they'll throw in some past hits from Side Four Live because, well, you can never have too many songs from Side Four Live, especially now that all of the songs have taken on completely new lives as the trio continues to get better and better (how is that possible?) and every song is never played the same twice. Eric has the new version of Young Lions recorded last month in Switzerland up on his
My Space site
and it is really freaking awesome. But yes, 2009 is officially The Year of the Adrian Belew Power Trio though way cool side stuff will always pop up - Eric already has a two week
Project Object
tour in the works with some very exciting special guests who will also be joining special guests Ed Mann and Ike Willis...I think that takes place in February...after the ABPT plays a V.I.P. show in January out west...more on that in a future post!
Anyway, this is my favorite time of the year but the trick is to stay as stress free as possible. That means putting up lots of pretty lights indoors for atmosphere (which, if you must know, I leave up most of the year because they make me happy and I just got a whole new stash of LED lights that are freaking awesome!)..eating Gary's cookies but trying to practice moderation (freaking impossible)...and trying to buy as many gifts sooner rather than later as possible (ultra-freaking impossible because I am my most creative under pressure).
I have learned not to leave on-line shopping for the last minute, though, as I get screwed every year by late arrivals so yes, family, if you are reading this, I promise there will be no I.O.U.s under the tree this year.
Well, at least that's the theory.
Anyway, I better end this post now because I received a very cool email from my new editor and I have some hard work ahead of me editing wise but the bottom line is, she is in love with my book! This is pretty special to me because it's my first "mainstream" novel and it's all about rock music and family dynamics and yes, yes, yes, I am excited. I'd post her actual email to me here but, um, I'm shy.
Right. And if you believe that...
So let's see. It's currently 8:30 p.m. in Melbourne, Australia. That means the trio should be launching into "E" about now? I'm not sure...they've tinkered with the set list a few times lately but oh how I wish I were there.
Stay tuned for more photos from down under and hopefully, someone will post a review of the show...I've been following some rock forum boards and apparently there are whole groups of people who are going to travel from show to show...Australia is pretty big...it will be like flying from Philly to LA and yeah, the trio is in fact taking a lot of planes on this run as opposed to driving...though last month in Europe, they didn't do half bad in their luxury Mercedes rental. Ah, what a life... But tell me my soul didn't rise a little high when I read about said fans who are going to hit 3-4 shows in a group because wow, that means the buzz surrounding the trio and their fan base is growing, growing, growing.
As well it should. As Ade said succinctly in his blog: What's done is done; time moves on and so must I.
And woo hoo, he's moving on with my two offspring firmly attached to his hip. How freaking cool is that!
Later,
xo