Why is
Julie Slick
smiling with that pretty self-satisfied, smug grin and a little blush included? Wait...what's that in her hand?
It's a bass - a well-played one at that. Whose is it? What's that, you say? It belonged to WHO? WHO? Are you kidding me?
Yep, you guessed it. Julie is holding a bass owned and played by
John Entwistle
, a/k/a "The Ox", the late, great bassist for
The Who
and one of Julie's musical heroes and biggest influences along with
Jack Bruce
, whom Julie was lucky enough to meet in person in
October, 2005
, and in a totally bizarre coincidence, if you will click on that link, you will see the very first photograph of Julie Slick and Adrian Belew, almost a full year before she would join Ade's band and the Adrian Belew Power Trio would begin traveling the world. And yeah, standing next to Jack Bruce in that shot is Julie's boyfriend and fellow bassist, Matt Rothstein of
Cheers Elephant
fame -- those two have been together close to five years now.
True story. Back in 2002, when Julie and Eric were the original six or so
School of Rock
All-Stars, founder Paul Green had the wild idea of taking this group of special musicians out on the road and the very first ever All-Star tour was born at the
Wildflower Music Festival
in Richardson, Texas. Headlining the festival were
Wilson Pickett
,
Colin Hay
of Men at Work, and, don't laugh, but
Doctor Hook and the Medicine Show
(they sang "Cover of the Rolling Stone" and actually did make the cover). Anyway, the whole idea of 16 year old Julie and 15 year old Eric traveling to Texas without me was just not happening (then again, I'm the mom who wouldn't let them cross the street by themselves until they were 13) so I tagged along as an alleged chaperone. Wow! First of all, the kids stole the show. It was an outdoor festival and people were just standing around the stage with their jaws on the ground. No one believed what they were hearing. (Side note: Matt would join the School of Rock a year later and that's when Julie and Matt first fell in love)
Back to the Wildflower Music Festival-- we were all on such a high after watching the kids perform that I think I knew right then and there that Julie and Eric were going to be "famous" rock stars some day. So imagine the horrible bummer to return to our hotel room, turn on the television, and learn that "The Ox" had
gone to that great gig in the sky
whilst on tour with the Who down in Las Vegas. We were all stunned...and I was also the proud possessor of four Who tickets for a concert in Philly two weeks later...it was supposed to be the first time Julie saw him play live. The show went on with
Pino Palladino
on bass and yeah, yeah, it was a great show but no, it was not the same by a longshot. I'm not saying Pino isn't a wonderful bassist, but there was only one John Entwistle and it must have been an amazing, amazing thrill for Julie to hold that bass in her hands the other day.
Oh, and where did she get the bass from? Ha ha, her new bff,
Guy Pratt
, and Guy? I'm still waiting for you to update your blog and talk about the trio! Guy bought the bass from John Entwistle, in case you were wondering.
Continuing on,
Andre Cholmondeley
was kind enough to forward me all the photos in today's post, and here's one of Eric, post-show, sipping a soy latte in typical Eric fashion: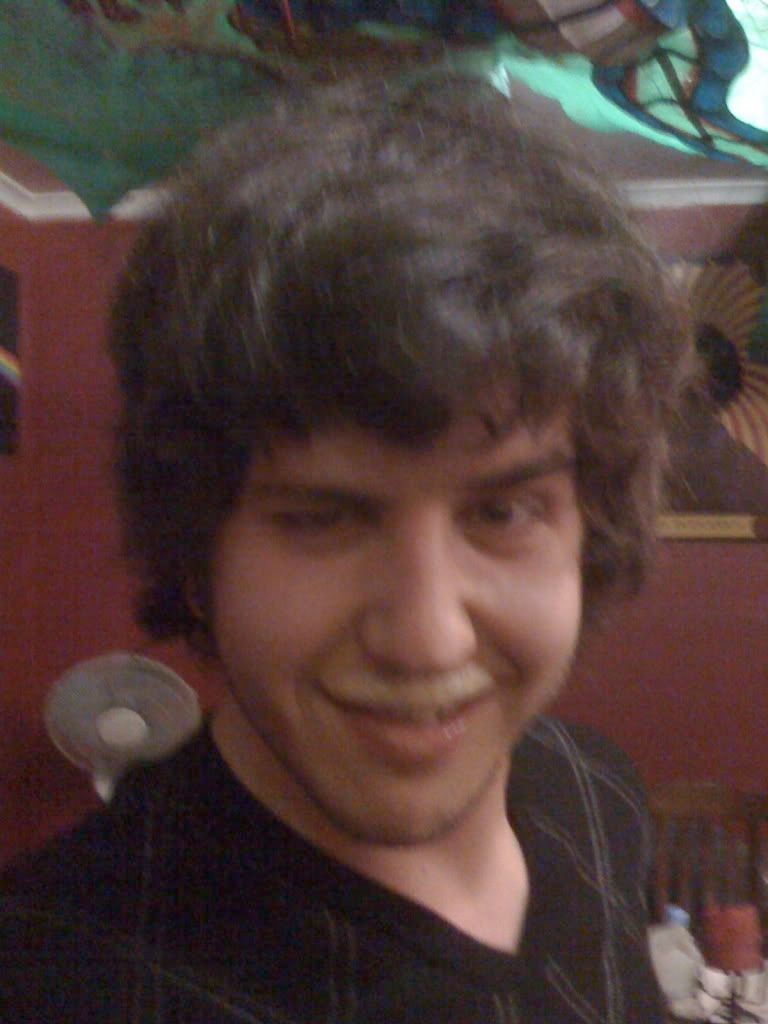 Here's the trio during soundcheck: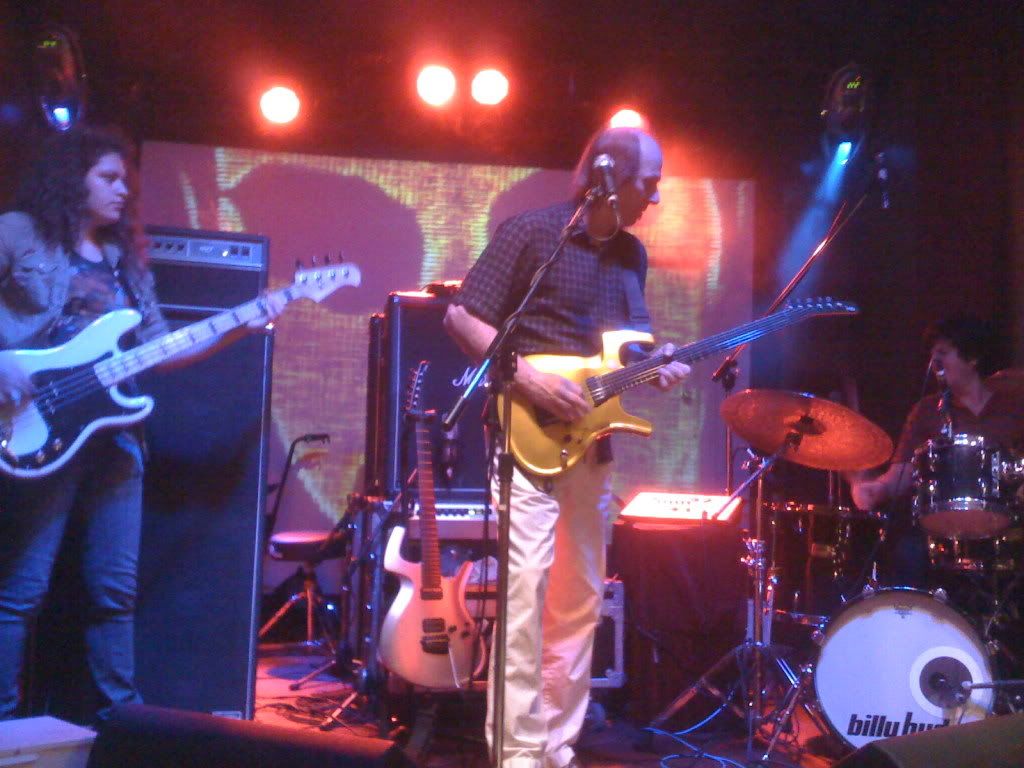 Here they are on stage:
And here's Andre with...oh my god...
Dave Evans
at the Adelaide Guitar Festival a couple of days ago:
In Andre's own words to me via email --
"This guy was soooooo rock n roll, you don't know.

I mean - he calls himself THE KING OF ALL BAD-ASSES.

I rode from the hotel to gig with him, very cool

He did "CAN I SIT NEXT TO YOU GIRL" -- which was the ONE song that got released with him - their first single!! and it FIRST charted , right where we met and I saw him perform - Adelaide Australia. You may know the killer BON SCOTT version from "High Voltage"

In typical rock style, I made a nasty little bootleg on my iPhone, it's great!! Dave Rocks!!

Look at how his right hand CANNOT stop making the "rock on" !! fist."
Ha ha - gotta love that and Andre's emails. Always a great, interesting treat and if you click on his name above, it will take you to his latest blog post, which made me smile this morning because it's just so, so Andre.
Anyway, let me end this post with something I just heard on the television blasting its usual ridiculous morning news behind me and I absolutely cannot believe this in light of the fact that the trio is currently there and everyone knows Ade's nickname is "Lone Rhino".
"
Zoo Chaos as Sex Crazed Rhino Goes on Ramaage"
* December 9, 2008 - 11:08AM

A rhinoceros embroiled in a love triangle caused chaos at a zoo when he went looking for his wayward mate.

In a case of raging teenage hormones, the sex-crazed rhino named Satara went on a rampage after another bull started getting friendly with his girlfriend.

Staff at South Australia's Monarto Zoo are now working hard to try to securely contain the two-tonne rhino, who broke loose from his enclosure and sparked a wide-scale search yesterday.

The 18-year-old, who smashed through the steel bars of his pen in search of female company on Sunday night, had to be shot with a tranquillising dart to keep him within the bounds of the open-range zoo.

"He's a teenager who can't control himself and in the grip of testosterone, he had to get out and try to sow his wild oats," Zoos SA chief executive Chris West said.

"He pushed a section of fence over, and we've been going through some fence replacement and enforcement work."

Mr West said keepers used a helicopter to locate the white rhino, while visitors were kept out of the zoo.

But despite the rhino's sex-fuelled rage, Satara was not lucky enough to "have a go", Mr West said.

He suspects the great escape was brought about by jealousy.

Mr West said zoo staff would be looking into the events which lead up to Satara's escape, adding that he suspected another bull may have been in with the female, Yhura, the day before.

With Satara fathering two calves already, Ms West said the other male was the preferred breeding option.

"Clearly we think (his escape) is to do with the sexual urges," he said.

"We can say what we think it is, but of course getting into a rhino's brain and understanding what level of emotion is there is quite difficult, they're not hugely intellectual."

Satara was captured in Africa's Kruger National Park and brought to Australia six years ago as part of a captive breeding program.
And on that note, I really have nothing more to add.
But as usual, if any reviews pop up from last night's show in Sydney, I'll be back...
Later,
xo