It's been a brilliant two days (Thanksgiving followed by Slick Daddy's birthday) and in other absolutely fabulous news, Julie and Eric are leaving in a few hours for
Australia!
Ade is already doing a ton of interviews for radio, television, and newspapers and
here's one of the first to appear
, where he discusses his love of writing new music and touring with J&E. As the reporter notes
"He is very excited about the Adrian Belew Power Trio and if he had been in the room with me and not on the phone, I think he would have been jumping up and down on the couch."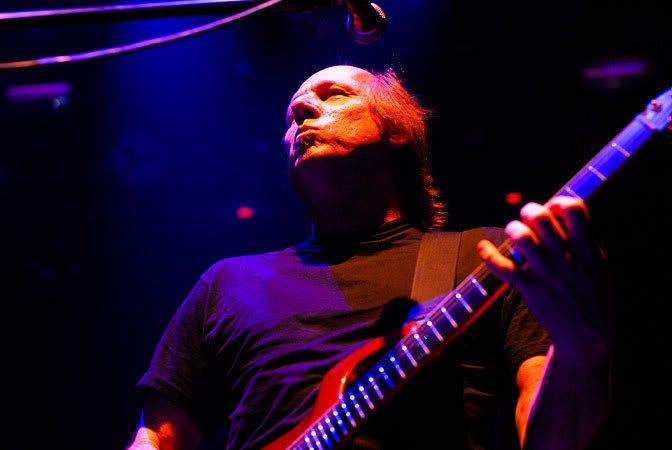 ADRIAN BELEW
Written by Paul Busch

"You may know him from King Crimson. Or you may have stumbled upon him while he was wailing away with the Talking Heads during the Remain In Light sessions and tour. Or maybe you tripped over one of his many solo records like Lone Rhino or Mr. Music Head or the underrated Op Zop Too Wah from 1996. Wherever you found him, once you have heard him, you know the distinct sound of one Adrian Belew.

Adrian Belew was once a struggling guitarist in Nashville, Tennessee, until a bit of luck found him. Luck in the form of the genius-composer, Frank Zappa. Let Adrian tell the tale in his words.

"It seemed like out of the blue when I was at my lowest point and was thinking that maybe I won't have a place in the music business. I really was a starving artist, as they call them. Frank called me and asked me if I could audition. He had heard me play in a little night club and then months went by and he never called, so I figured it was just a fluke. Then one day, he suddenly called again," recalled Adrian.

"It changed my life on a dime. It put me into hyper-professional mode, where I suddenly had to play catch-up. I had to be in a touring band, playing Frank Zappa's music, going around the world. Can you imagine that? From being in a band where you are playing to 15 bikers swilling beer in Nashville to being onstage with a hugely complex operation called Frank Zappa," laughed Adrian.

Not that Adrian has any regrets about the way this changed his plan on becoming a professional musician, it was just not the way he envisioned it. But is there really a blueprint?

Adrian continues, "And it seemed from that point on that all the dots fell into place. Brian Eno heard me and he called *David Bowi*e and he asked me to play with him and the Talking Heads hear me with Bowie and they ask me to play with them and then Robert Fripp hears me along the way and he asks me to form the new King Crimson with him. It was just head spinning for me. I had no idea what to do. I was there hanging on tight."

"It was certainly not the plan that I had. I had thought that eventually I would get recognized by a record label for the songs that I was writing and maybe get a record deal. It never happened that way for me. I came in through the backdoor. But very happily for me, cause as you say, when I look back on it, it is almost a story you would not even write it sounds too fantastic," recalls Adrian.

Today at the age of 59, Adrian Belew is still creating and will be bringing his latest musical project to Australia for the Adelaide International Guitar Festival which runs from November 29th until the 7th of December. He is very excited about the Adrian Belew Power Trio and if he had been in the room with me and not on the phone, I think he would have been jumping up and down on the couch.

Adrian said, "I am having such a great time with them and they are fresh breath of air for me as. They are young and they are inspired and their energy level is off the charts and they happen to be able to play the music very well. In many ways it has rejuvenated my whole catalogue and what I am doing now. I have begun writing new music for this trio and we have had a lot of experiences in two years. We have been around the world."

And the next part of the world for them to visit is Australia. The Power Trio is Adrian Belew on guitar and 2 former students of The School Of Rock in Philadelphia. The rest of the trio is Julie Slick on bass and Earl Slick on drums. Earl is no relation to the other Earl Slick who I think took Belew's place in Bowie's band if my memory is working. (Note from our author: SIGH.......IT'S ERIC! ERIC! NOT EARL, NOT EARL'S SON, NOT EVEN EARL'S GRANDSON OR NEPHEW! ERIC SLICK, SON OF GARY SLICK AND ROBIN SLICK, NOT GRACE SLICK, NOT GRACE SLICK'S GRANDSON OR NEPHEW...NOT THE SPAWN OF EARL AND GRACE...SIGH...)(Oh, I'm kidding when I use all caps...I think the whole Earl/Grace things pretty funny, actually)

So what can we expect from the Power Trio in Adelaide and their other shows in Australia?

"Well we play different things from some of my various solo records. We play six pieces from King Crimson and I might even throw in a Bears (another of Adrian's bands) song. We also play some new pieces I have written for the band specifically. They are quite energetic and nice and long pieces with improvising sections built into the middle of them. I think the nice thing about the band is their energy and their power. The name Power Trio really does suit us and it is one of those trios that nightly sounds different. We don't sound the same ever. It has been one great wonderful ride so far. Eric and Julie never cease to amaze me and audiences have been very impressed," gushed Adrian.

The pedigree of Adrian Belew and his amazing ride through the music industry seems to have been given a jolt of adrenalin with the addition of these two young players. Adrian has spent quite a bit of time making records and he loves that process and the creativity, but it appears that the bug of playing live is what drives him today.

"You know I feel like the thing that is more important then ever right now is live music and that just suits me fine. Live music is the one thing that they can't download, they can't burn and they can't get it for free and can't steal it from you. If you want to see Adrian Belew's Power Trio you come to see us play. My strong point right now is playing live with this band. Of course I can make records all day long and I love that creative process, but right now it is an age where people want to come out and actually hear people who can actually play again. That is a real turn of events. It seemed to me that there was a real glut of bands that really weren't very good for so many years, but they were very popular. But now we may be getting back to a time where you can be popular and be GOOD ", said Adrian.

So it will be well worth your while to see Adrian and his Power Trio when they play at the Adelaide International Guitar Festival in a fairly intimate environment. This is someone who has been fortunate enough to tour with Zappa, Bowie, The Talking Heads and King Crimson and you will be lucky enough to experience his playing in the lovely and intimate environs of this fantastic festival."

So that's what's popped up so far on ye olde internet and I'll be posting these interviews as I find them...check back as I'll probably just add them to this post.
And now for the moment you've all been waiting for. What did we have for our Thanksgiving feast?
Julie actually had to sit here with me and dictate the various descriptions. I apologize that I do not have a photograph of our dessert but I think Julie wants to use some of the pics for her own blog. And truth to tell, the one photo I do have needs some serious photoshopping as it includes things like a balled up napkin sitting next to the plate and some spilled gravy on the table no one noticed. Anyway, without further ado, our meal:
Bruschetta infused with walnut oil; Spanish spring olive mix; sweet paprika and cumin spiced almonds; Cheeses: Uniekaas reserve from Holland (aged gouda) and Campo De Montalban from Spain (sheep and goat milk cheese)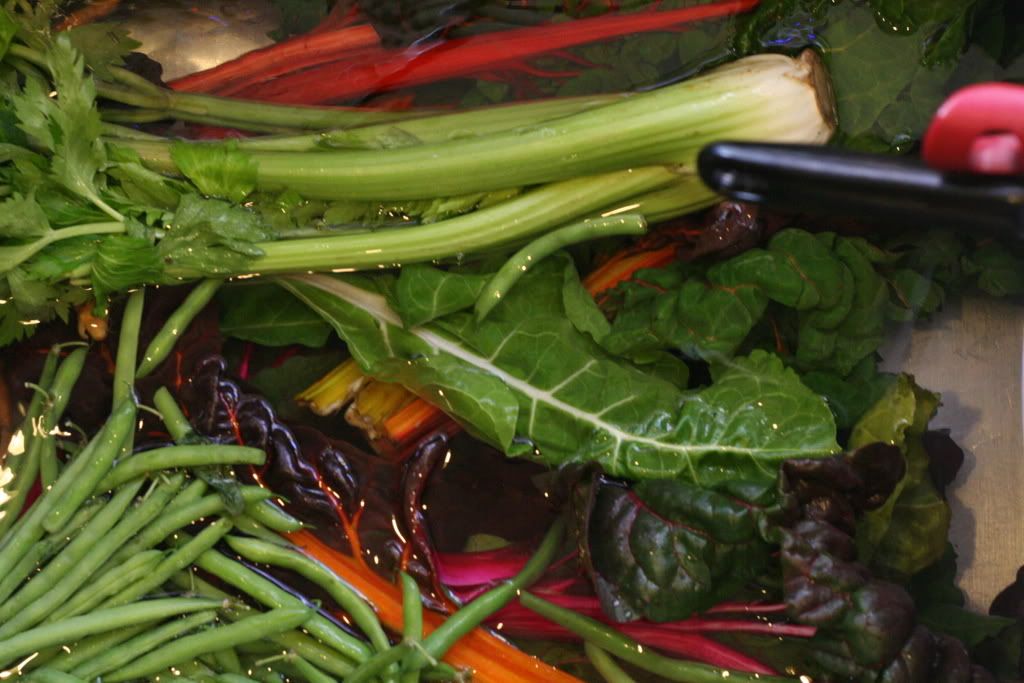 Bounty of fresh and local produce - heirloom carrots, rainbow chard, green beans, celery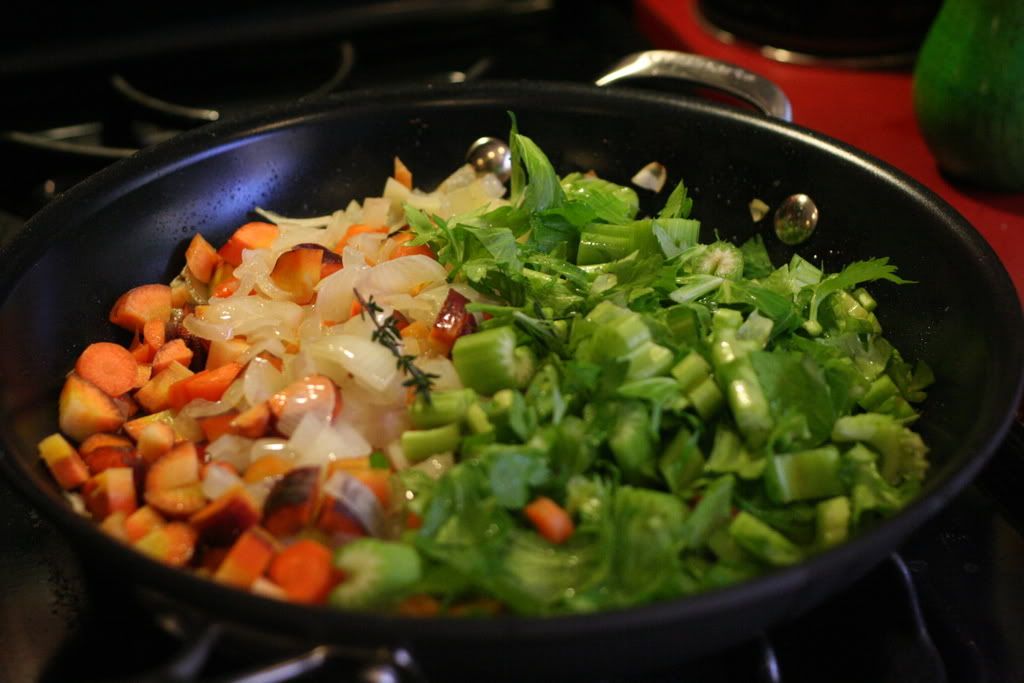 Preparing the stuffing: Mirapoix sauteing in locally cultured butter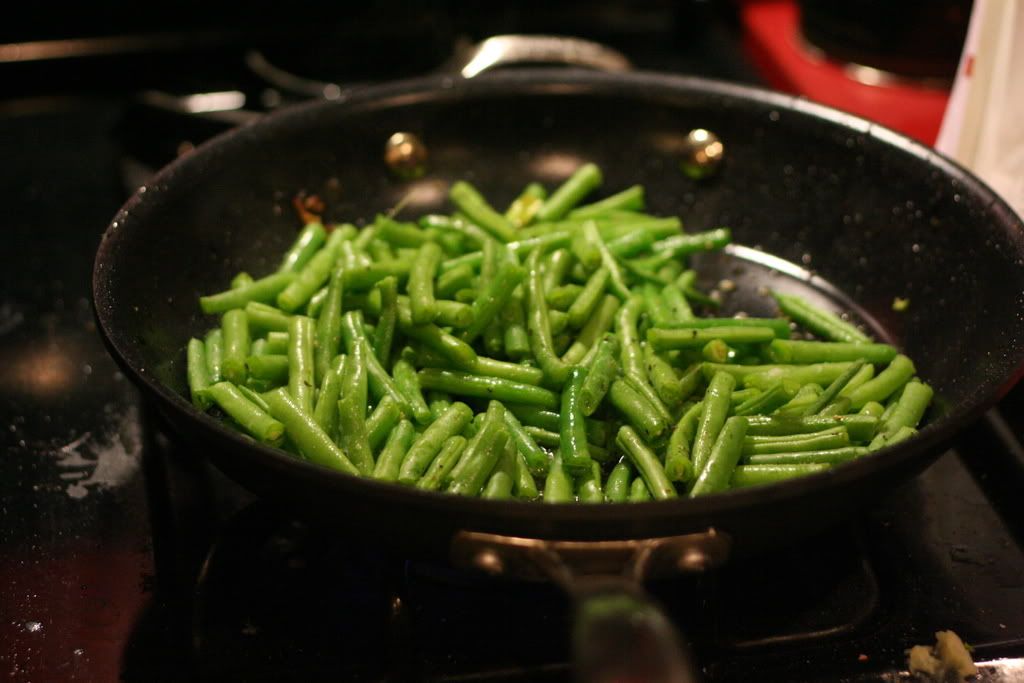 String beans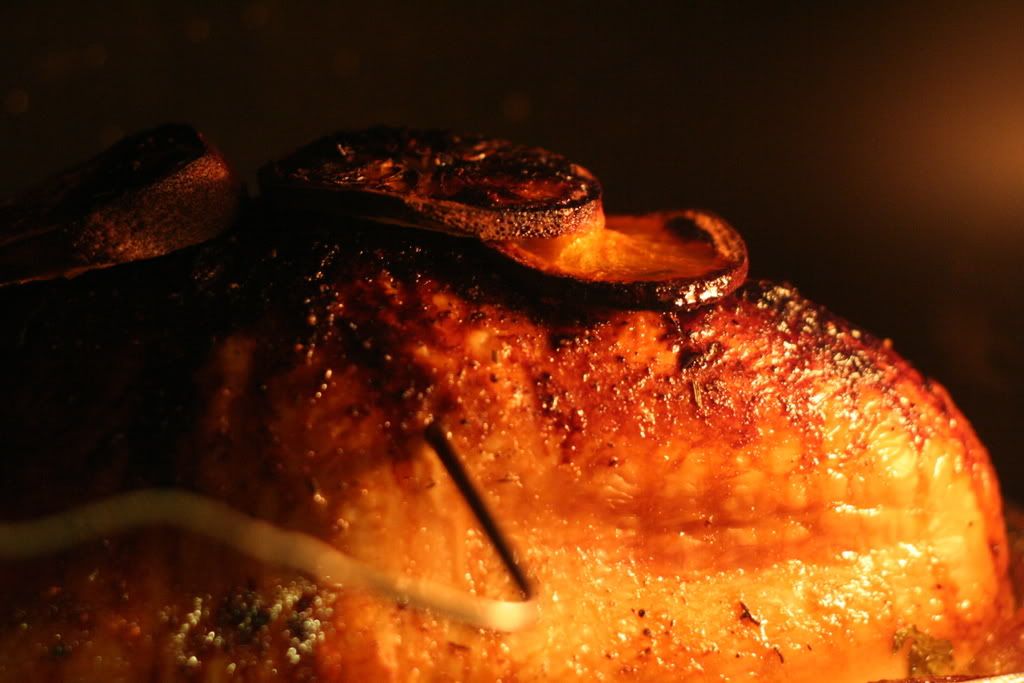 Brined free range turkey breast basted with orange rosemary butter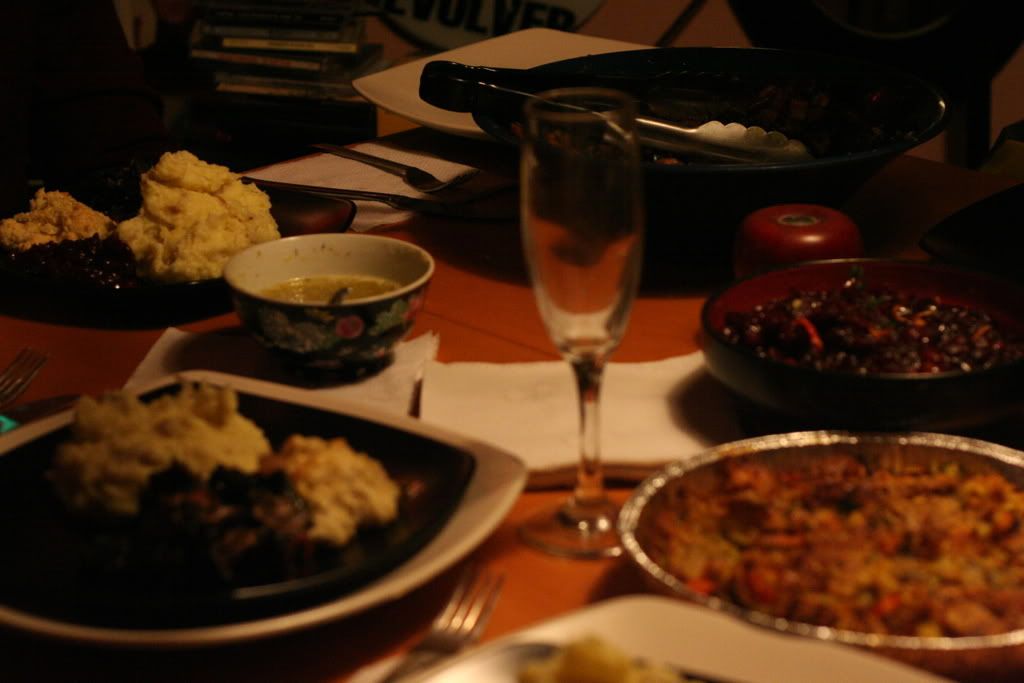 Final plating - including fresh cranberry sauce with dijon and thyme, roasted garlic Yukon gold mashed potatoes, medley of truffled Swiss chard and crimini mushrooms, green beans with black walnuts and caramelized shallots, toasted baguette, potato, and vegetable stuffing, and of course the turkey with orange rosemary gravy.
For dessert - homemade apple streusel pie topped with pistachio gelato from Capigiro and Chilly Philly vanilla ice cream.
All ingredients, except for the cheese, were local.
And of course an assortment of wine and champagne - Julie found me the Cava I enjoyed so much at
Tria Wine Bar
.
Anyway, what a freaking outrageous meal that was. The best Thanksgiving ever, I think, though a tad bittersweet. It's probably the last one here...Julie is about to get her own place and is already making plans to be the official hostess in 2009.
The following day was Gary's birthday. We low-keyed it and Gary did what he loves best - he started in earnest the annual baking of Christmas cookies and yes, Ade, some are headed to you in Australia provided Julie and Eric can make room in their suitcases so if for some reason those cookies don't make it, they'll be waiting for you in Nashville when you arrive home.
We always have a bon voyage dinner prior to Julie and Eric leaving on tour so to combine it with Gary's birthday was way cool but even cooler was the restaurant we chose,
Joe's Peking Duck
at its new location at 108 Chestnut Street. Hands down the best dinner out we've had as a family in all of 2008 and we are a family who eats out a lot and in Philadelphia's best restaurants. Sadly, I did not have the camera with me but next time...which will probably be next week because I can't wait to go back again...I will bring it because every dish is a work of art - for example, my main course contained a piece of melon carved into a dragon. And it truly vegetarian heaven for the non-meat eaters in our group as well (though Gary completely "ducked out"...more on that in a minute). First, here's a little about Joe:

"Meet Master Chef Joseph Poon - Nutritionist, culinary instructor, and creator of the famous Wok 'N Walk Chinatown tour. Chef Joe welcomes you to savor a unique selection of duck, lobster, and seafood specialties. From your first bite to your last, this "Outstanding World of Tastes" will refresh and excite your palate. Authentic Asian-Fusion Cuisine created by our favorite Celebrity Chef will keep you coming back time and again for exquisite culinary fare.

Your creative and philanthropic host, Chef Joe, offers dining designed for you. If you prefer to order from the lunch menu during dinner hours, you are welcome to do so. Each item you order from the lunch menu at dinner time will cost an extra .38 cents. This spare change for you will mean survival for others because it is donated on an ongoing basis, to cancer organizations and the Joseph Poon Scholarship Foundation at SUNY in Oneonta. You enjoy the food you like when you like it, while helping others in need. It's a winning program for everyone!"
How freaking cool is that?
When we -- and we included Julie and Matt, Eric and Katy, and Gary and I -- sat down and ordered, we were immediately offered complimentary wine and beer (right now the restaurant is a BYOB but they do have a fully stocked bar so I'm guessing they are awaiting a liquor license.) Matt had a lovely Chinese beer; Eric and I had white wine, and Julie had Shiraz.
Our appetizers were amazing. We ordered a round of vegetable spring rolls for the table - they came in martini glasses with various dipping sauces...mmmm. Gary had roasted duck and wonton noodle soup in such a huge bowl he gladly dished out tastes for Matt and me in the extra bowls astutely offered by our charming waiter.
Joe himself visited our table at that point, and recognized us from years past - when we brought Julie and Eric as babies to his former restaurant on Race Street and as young teenagers to his place across the street from
The Troc
when they frequently played said Troc whilst still students at the School of Rock. So that was way cool and naturally I had to tell him all about J&E's travels with Adrian and that they were leaving for Australia the following day.
"You have to go play in China," he advised them. And he was dead serious. Apparently China would be an absolutely awesome "venue" for the trio so Ade and Andre, if you are reading this, talk to Julie and Eric!
Moving on, I decided to forego my own vegetarian leanings for the moment because I could not resist Joe's fantastic Malaysian skewers - salmon, duck, pork, and chicken - again served with absolutely fabulous dipping sauces. And Matt ordered a small plate of Crispy Coconut Shrimp Puff in Thai Coconut Curry Essence - Julie and I are exremely grateful that Matt was in sharing mode because ooh baby, did we lunge his plate for that one!
As usual, Julie behaved and ordered a salad as her main course, but what a salad it was: Artichoke, Asparagus, Black Bean and Jicama with Vietnamese Nuoc Cham Spicy Vinaigrette. I didn't realize it until Thanksgiving but Katy is now a vegetarian, too, so both Eric and Katy ordered my personal favorite of the night...though it's really hard to say that because every single item was spectacular...anyway, they had a Paella "Clay Pot" which featured saffron rice and Wok Toasted Tofu with Artichokes, Leek, Asparagus, Shitake and Okra in Thai Curry Sauce. Matt ordered a truly wonderful poultry dish - Marinated Chicken with Japanese Eggplant in Spicy Demi Soy Wine Essence - and Gary went the poultry route as well - Joe's famous Peking Duck with pancakes, hoisin sauce, and scallion. I saw a handsome fellow standing near the bar and was advised he was the sushi chef and a true artist. That was all I needed to hear. I ordered a barbecued eel and avocado roll which was unlike any traditional "dragon roll" I've ever had...and it came with wasabi cream dipping sauce artfully drizzled on my plate along with the aforesaid carved melon dragon.
Without even ordering it, dessert arrived on long rectangular individual platters - strawberries, a miniature slice of pumpkin ginger cake, and Joe's famous almond shortbread cookies...oh, and each plate was decorated with a hand drawn chocolate animal. I had a panda and Katy had the pig...ha ha...I think they meant to serve that the other way around. Oh, I'm kidding...but our absolutely fabulous waiter (yes, I know I already told you that but it bears repeating...best waiter ever) overheard it was Gary's birthday and then presented him with his own WHOLE pumpkin cake decorated with icing and strawberries - he then sang Happy Birthday to him -- and realizing we were stuffed beyond belief, told us he would wrap the cake for us so we could enjoy it at home without our even asking.
What an amazing, amazing meal. Run, do not walk, to this restaurant. I do not know if this link will work because it's a PDF file, but here's the
complete menu
. If not, just go to the main
website
and download it yourselves. I am salivating just reading about what Joe has in store for the holidays...
After dinner, Eric told us about an awesome music store two blocks over called
A.K.A.
. How is it that I never heard of it before? Especially as they carry Side Four Live! Well, $220.00 later, Gary walked out of there with CDs for which he's literally been searching for years and we barely dented the surface. You should have seen their prog section! Ha ha - they had three shelves devoted to King Crimson, and one whole shelf filled with recordings by David Sylvan. It was astonishing. They have blues, jazz, vinyl...basically everything you could ever want and for really reasonable prices, even the imports.
Yes, we still love CDs and vinyl. That will never change. I feel bad for people who are so into downloading they don't get that thrill going into a music store and finding that rare CD you never knew existed...one of my life's pleasures for sure.
So that's basically it. It's 8:15 a.m. and I am waiting for the mad rush of J&E packing and running about the house making sure they have everything they need for Australia, where it is currently summer...sigh...anyway, they need to be at the airport in about four hours and I'm hoping one of them connects my new wireless router before they leave because guess what, yesterday I treated myself to an absolutely fabulous brand new mac laptop! Yay me!
Let me give you fair warning now. I'm gonna be dangerous with that webcam.
Later,
xo