Julie
and
Eric
are doing such fabulous blogging while on tour that I'm thinking I should actually do some writing posts but strangely enough, I'm not in the mood. However, my free and usually 100% inaccurate Yahoo horoscope for today says: "You will have a good combination of positive energy and free time, today! Have fun. You're more in touch with your feelings than you have been in quite some time and you can communicate them as clearly as possible. It's a good day to sit down with your sweetie and do just that!" so okay, okay, let's break the Yahoo curse -- it sounds good to me. Onward and upward! This is going to be a journal entry containing all kinds of flotsam and jetsam...should be fun.
First let me post some photos which Julie didn't nick for her own blog har har. I have absolutely no explanation or stories to go with any of these pics though both Julie and Eric do kind of touch on some in their respective blogs. I kind of think they speak for themselves, anyway: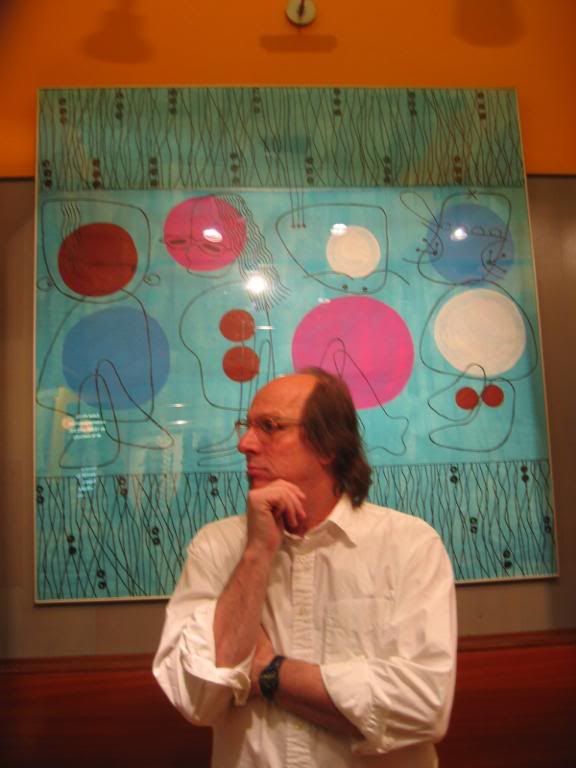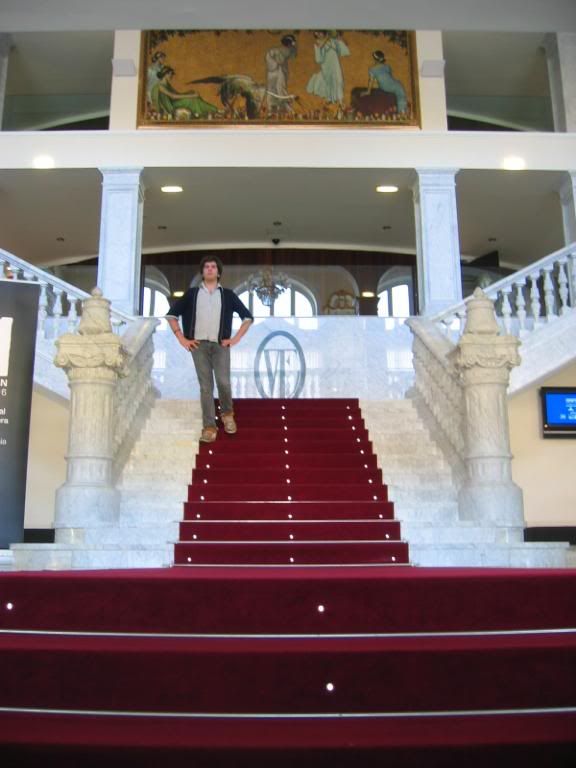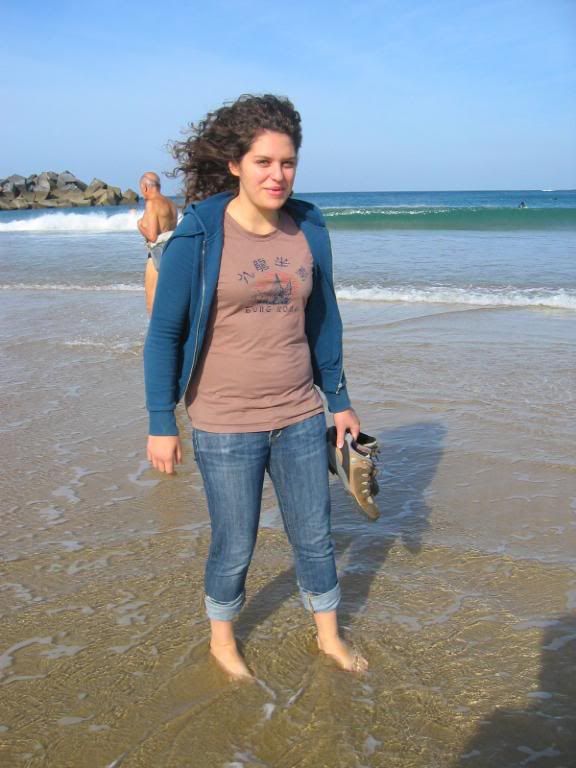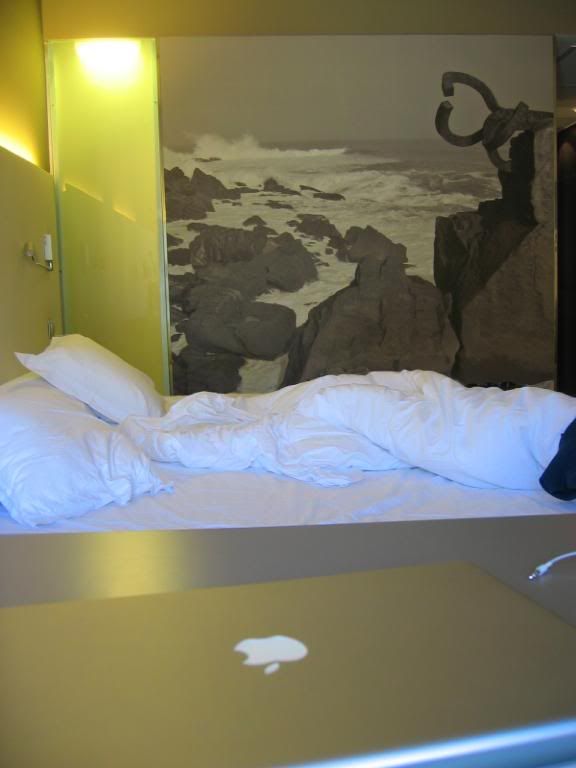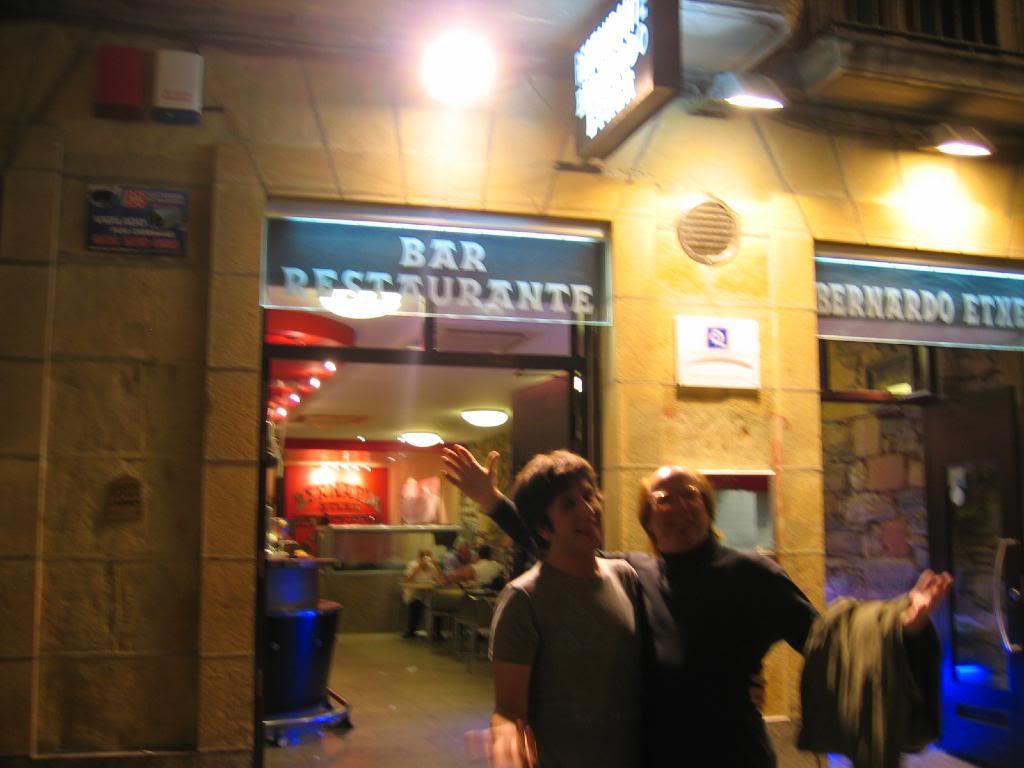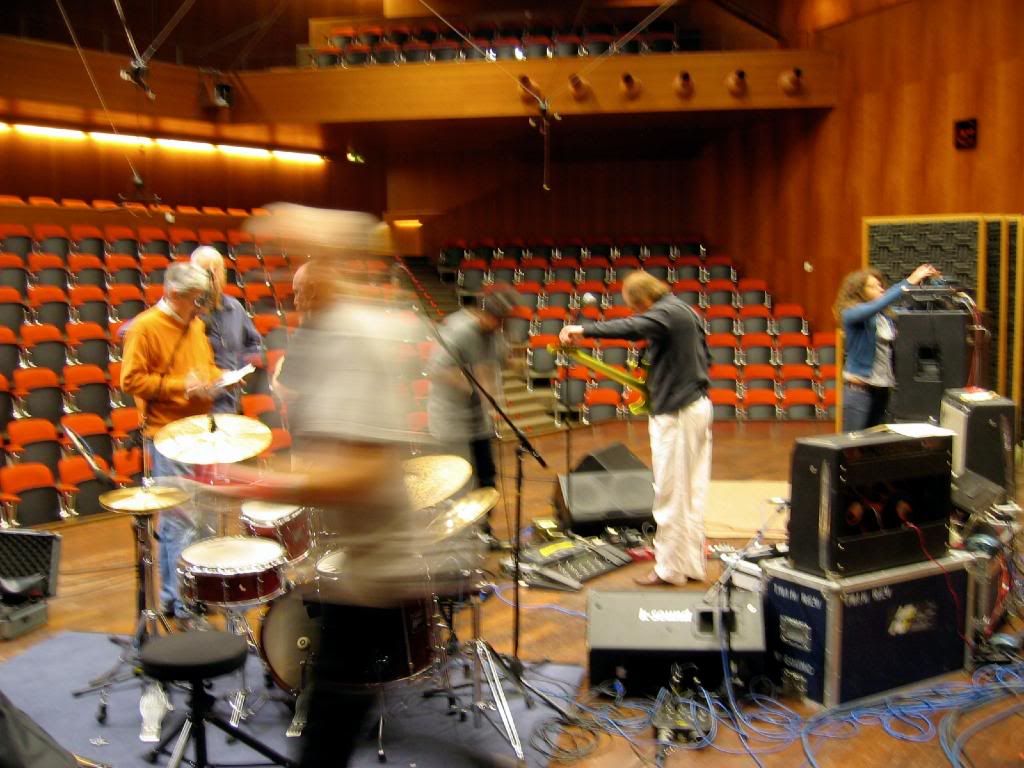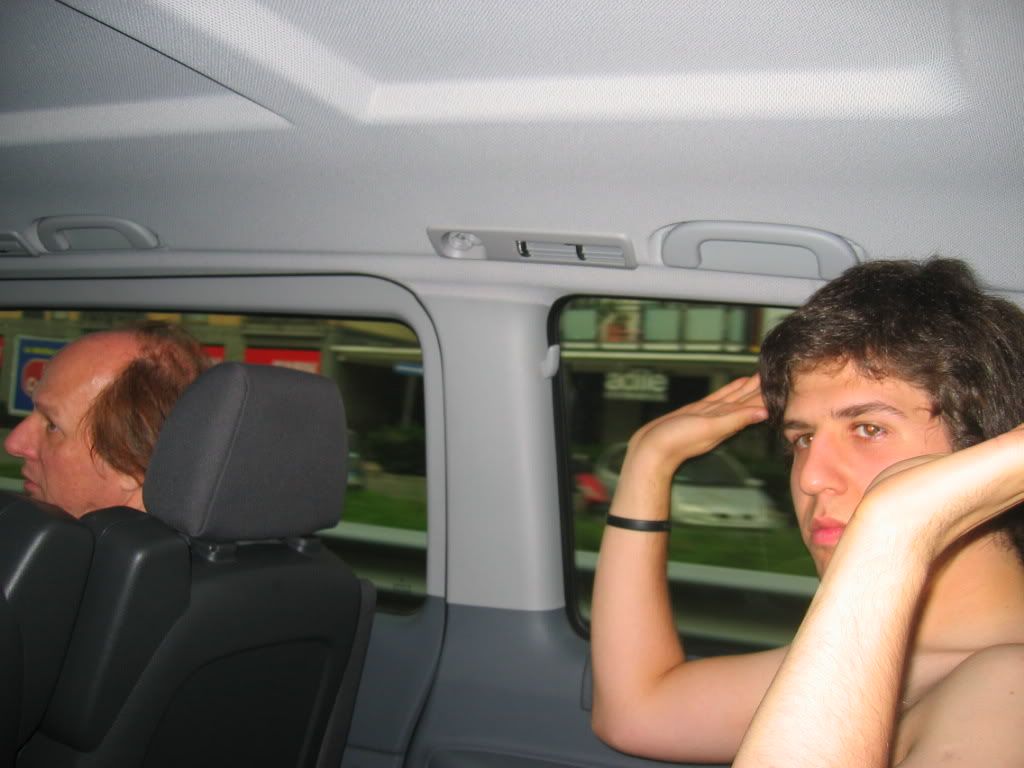 I'm really wondering about that hotel room photo which appears that they are inches away from the ocean. Or is that an optical illusion? I can't tell! Man, if that was their actual room, how awesome. And um, no comment as to the topless photo but let me just say they are part of a hilarious series and as much as I would love to post the photo of Ade and Eric inexplicably eating dinner in suchlike fashion...something tells me I'd better not.
An incredible photographer,
Beana Bern
took some amazing, amazing shots of the trio a few days ago in Austria, and here is the direct
link
.
Here's a You Tube of "Matchless Man" from a recent show but warning, it's a tease and not the whole song and you can't see Julie but you sure can hear her...damn!
Finally, tomorrow night ABPT will be performing in Aschaffenburg, Germany. I google imaged that city...have a look: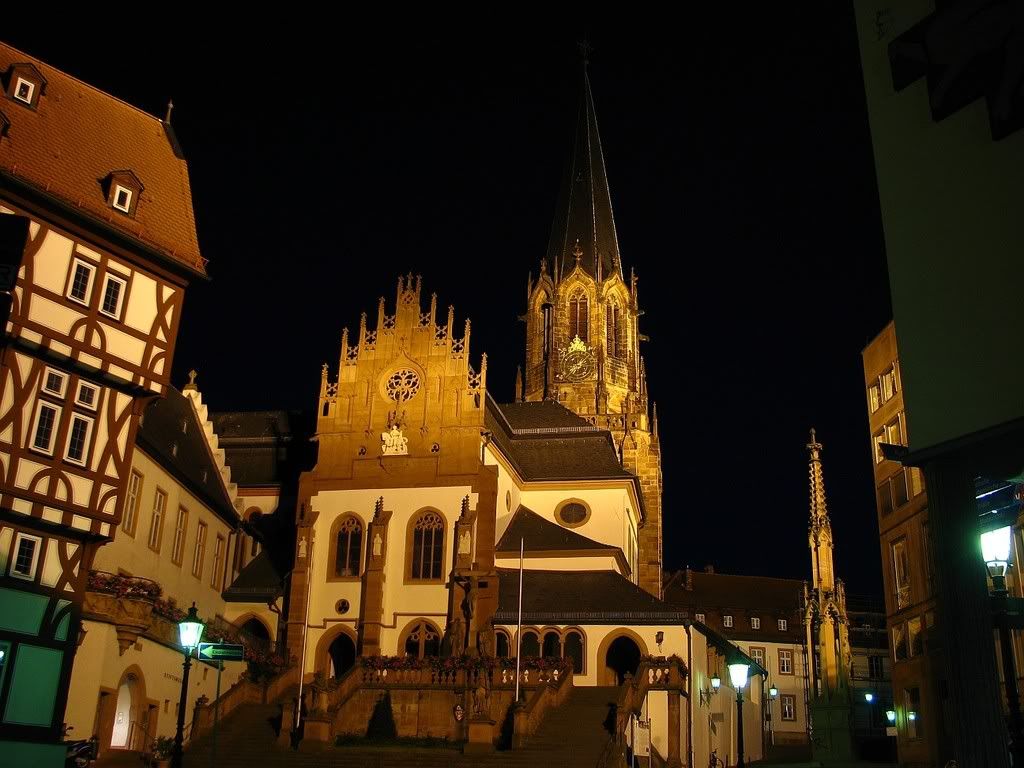 Gah! I repeat, why am I not on this tour?
In Belew-related news, kind of, the engineer for the trio's new studio album will be none other than
Saul Zonana
, and there's a way cool article about Saul and one of his new endeavors right
here
.
If I may take a minute to write about my own life, last Friday night I read from one of my novels at
Bluestockings
in New York City.
I had a lot of fun doing that and it was way cool meeting fellow author
Donna George Storey
in person as our paths have crossed many times in on line world, both at Zoetrope Studios and via weirdly parallel writing careers. We've appeared several times together in the same magazines and she also wrote an erotica novel with an actual plot and intelligent, thoughtful characters. Her book,
Amorous Woman
is brilliant. Simply brilliant.
After the reading, we ate at a really great Japanese restaurant called
Hasaki
in the East Village. I had grilled wild salmon with basil miso. It was to die for. And speaking of food, and speaking of basil, as you also may know, Julie got her food porn ideas from me -- and Gary and I are the one who nurtured that palate, damn it, so here's a few food porn shots of my own -- it's what Gary made me for dinner tonight and I'll post the recipe beneath it...but first, we had an appetizer of a salad made with red lettuce, (marinated/prepared by Gary) fresh mozzarella, tomato and basil, imported olives, sliced portabello mushrooms sauteed in a bit of teryaki sauce and all tossed together in a roasted garlic dressing:
Our main course was this: Sweet Potato Ravioli with Basil-Brown Butter
Serves 6 as an appetizer, 4 as an entree (makes about 20 ravioli)
2 large sweet potatoes, baked through in oven wrapped in foil, scooped out hot
1 teaspoon five spice powder
1 bunch chives, chopped
2 tablespoons honey
1/2 package wonton skins
Egg wash (1 egg mixed with 2 tablespoons water)
8 tablespoons butter, divided
1 tablespoon canola oil
1/4 cup packed Thai basil leaves, plus extra for garnish
1 tablespoon Chinese black vinegar
1 tablespoon balsamic vinegar
Kosher salt and freshly ground black pepper
To make the ravioli filling: in a bowl, combine the sweet potato, five spice, chives and honey. Check for flavor and season with salt and pepper. When filling has cooled, form ravioli: place wonton skin down, lay one large Thai basil leaf in center, top with puree and another basil leaf. Brush egg wash around edges and top with second wonton skin. Seal tight and repeat with remaining filling and wonton skins. In a sauté pan over high heat, melt 4 tablespoons of butter and add canola oil. Sear the ravioli until crisp, then turn and sear second side until crisp. Remove ravioli to a paper towel-lined plate. Position 3-5 ravioli per pasta plate on top of puree. Add remaining butter to pan and brown. When butter is browned, add basil, taking care to stand back because the natural moisture in the basil will cause the oil to pop. Add vinegars and stir to combine. Drizzle sauce over ravioli and serve.
You wanna talk about sick? That was one of the sickest dinners ever. And I didn't even have to go to Europe. (Ha ha - sour grapes, sour grapes...but seriously, I've eaten all over the world, too, and not too many chefs rival my husband or my daughter and I understand Eric is also rapidly becoming "one of them", too.)
Speaking of food yet again, tomorrow I am having lunch with
Joan Baez
. No, really, I am. Details will follow.
No one can ever say my life is boring.
Later,
xo
P.S. There is a chink in the photo posting tonight in blogspot - hence the gigantic pics I am totally powerless to shrink. I'll try playing with them again tomorrow...