Okay, stop the presses. Julie Slick has started an online journal called
Having My Bass and Eating It, Too
and she starts it off "The Final Slick Gives In..." It's a must read. I'm dying here right now. And when you are done reading that, Mr. Eric Slick has also updated his
blog
, too.
Here's a pic sent to me by a fan, Diana, following the first show of the tour in Budapest on Wednesday night.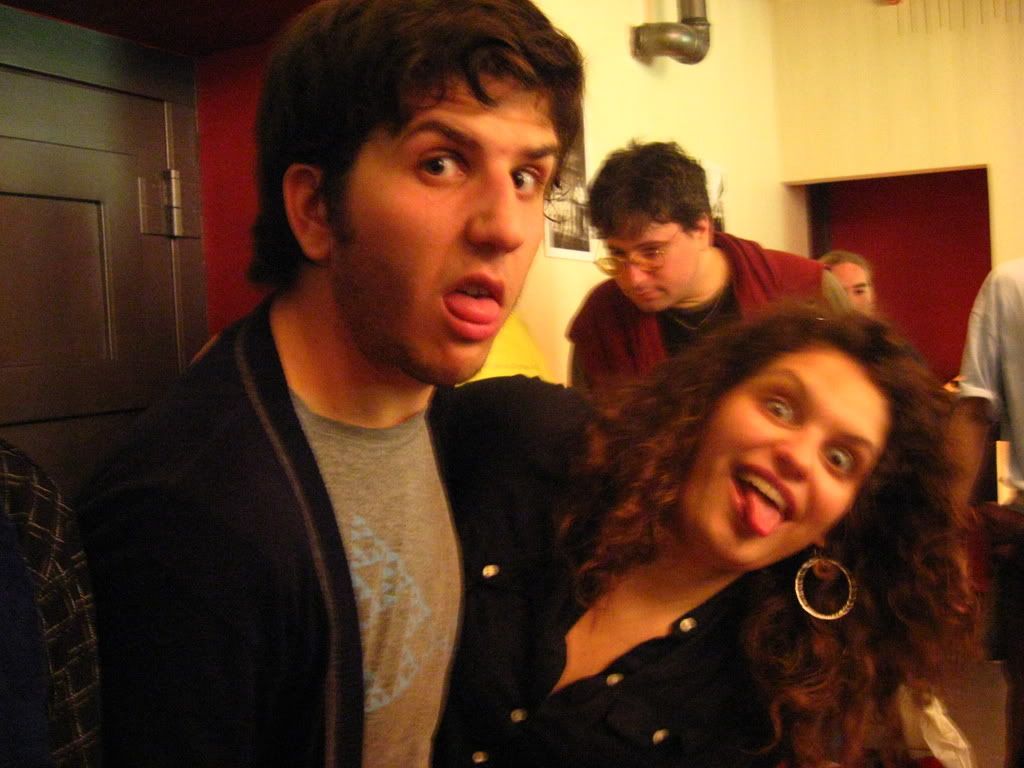 And as usual,
Andre Cholmondeley
comes through again and sends me a whole slew of pics as well, which I'll post intermittently within the next few days as they cover both Budapest and Lugano, Switzerland, where they play their second show tonight.
Finally, a sign at an airport which makes sense: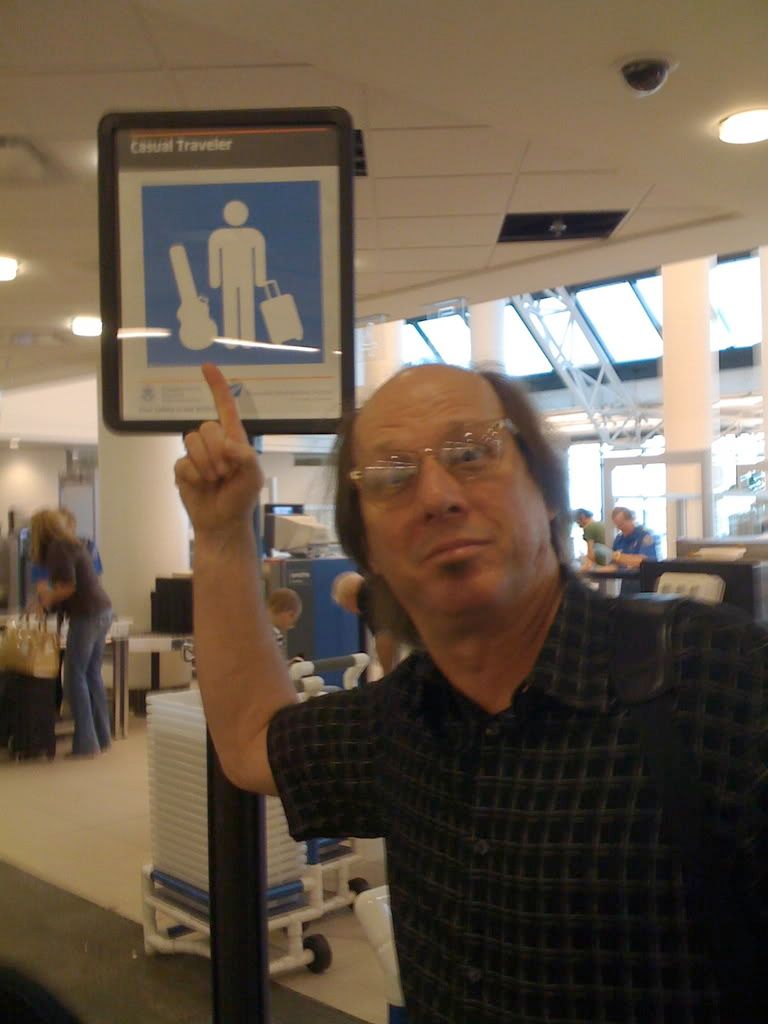 Here's the trio posing under their own poster at the club in Budapest..
And a slightly off but at least mostly understandable English translation of an interview Adrian did with the
Mike Oldfield
blog a few weeks ago...and as usual, he's got some very cool things to say:


Mike Oldfield Blog interview with Adrian Belew
Written by Miguel Fernandez

While we are working with all the material we have gathered in the afternoon we spent with Tim Cross, and that little by little we will be publishing, as we said, I'd like to share with you a little chat that I was able to convert in an interview with Adrian Belew, Oldfield collaborator on the topics and Holy Far Country, Earth moving album (1989). Everything came a couple of weeks ago, when we send an e-mail to your personal web and we commented that Adrian happy and we would respond to our questions by phone. Shortly afterwards took place here will see what we transcribed it as closely as possible.

I would like to thank from here to own Adrian Belew for his kindness, his sincerity and patience during the 20-minute telephone interview and Renee (his secretary) for the speed of response and facilities provided to us all safe arrival. Thank you so much!

Mike Oldfield Blog (MOB): How did the collaboration with Mike Oldfield on Earth moving?

Adrian Belew (AB): I imagine it would be his producer that she would say that I was the appropriate voice for a couple of songs on the album.. I liked the idea and I accepted, and the truth is that I was surprised that anyone would like me to record voice and no guitars, which is almost always called me.

MOB: Mike chose what item (s) was going to work or you chose?

AB: Well, at first I was going to sing another song, I do not remember the title now, but it would not be Holy. Mike thought that my voice was not right for this subject, but I told him that I no longer try Holy, I did the best I could, and the result left him impressed.

MOB: Tell us about Far Country, the other issue on which we can enjoy their collaboration.

AB: (Laughs) Far country was a song in which I did not plan to burn, but as I had finished my shots vocal (I'm pretty fast in the study), asked me to record a guitar for that song and I thought " Oh, you know, another guitar that I asked to write! Really improvised, there was nothing formal for my part of the solo, because I had not brought my own guitar, because it did not have that! (laughs).

MOB: How were the recording sessions for those two items? Was Mike did this or distance?

AB: I traveled to England to record in the studio that Mike had in his house. There was a couple of weeks. And yes, Mike was always present with everything perfectly planned and the recording was like silk.

MOB: How was the experience of working with Mike in the studio?

AB: I liked the experience. Mike was a man with great sense of humor. It also coincided with several musicians who were recording with him for the disc, and sometimes we met to take some Guinness, tell stories ... it was fun.

MOB: Have you kept in touch with him since?

AB: Ya know ... with the passage of time, it becomes difficult to maintain contact with everyone, unless you call to do more things (laughs).

MOB: Let's talk now of Adrian Belew Power Trio, your current project. What criteria used to select the two musicians who accompany you?

AB: I already knew Eric and Julie Slick before starting this project (they were 19 and 20 years when we started, now are 21 and 22 years). They are incredible musicians: young, but very focused. I needed a change in my career and I thought they were the perfect musicians to join me in this change.

MOB: What are the main influences of the Power Trio?

AB: I really can not be said to have an influence, because by touching items that I have composed or helped compose throughout my career, because there is no common denominator in influence. However, the father of Eric and Julie always put them in touch with lots of music similar to what I've always played, thus greatly helped them to understand the songs.

MOB: What is taking place this tour?, Is the response of the audience you expected?

AB: Really great how the public is reacting to our concerts. We have played in Russia (it was the first time I did) recently and there were about 150,000 people, something unbelievable. We have also stayed in Japan and Canada and the response has been very good to the public. Now we will make a tour of Europe and Australia...hopefully everything continues this good.

MOB: Tell us how it is a concert of the Power Trio: Is everything planned millimeter or there is room for improvisation on the part of all three?.

AB: A concert with the Power Trio, it's a very energetic concert, the people like us as much to be engaged on stage and they love to see us on stage doing what we really like. There's always room for improvisation, both for me as for them. Eric and Julie carry a lifetime playing together, so it complete perfection, there is a lot of complicity between them, musically speaking and I can really party because I know that they will do so perfectly, and so I also have a small hole for my own improvisations.

MOB: Are there any reviews and funny anecdote that has happened on the tour?.

AB: If you enjoy the anecdotes I recommend that you visit Elephant Blog. I write a sort of diary of the tour and you'll find many fun things. I like to write it so that everybody can read it.

MOB: Recently on our blog, we had an interesting discussion about the term "progressive rock" with many differences of opinion. How would you define the progressive rock someone like you, that has formed (and is) part of it?

AB: Hmmm ... I would describe as an Rock complicated, with many changes of meter and key, as ... epic film, I do not know if I explain. In the beginning, the bands that were better represented as King Crimson and Yes, but now that has changed, and I do not know how to define it (laughs).

The truth is that many people are bent on labels, and progressive rock was much more than a label ... it's like jazz. Over the years there have been jazz, but is that of the 20s, that of the 50s, etc ... I think that would define the progressive rock as intelligent rock.

MOB: So, as you could ... classify any work by Mike Oldfield as progressive rock?

AB: Without a doubt. It was a complete novelty, and honestly had all the components that I mentioned earlier: it has that air all those changes and epic compass and key.

MOB: After so many concerts, albums, collaborations and different projects ... What are your future plans in the world of music?

AB: Right now I'm completely focused on the Power Trio. The truth is that in addition to the great happenings on the stage, we are doing wonderfully. With the whole issue of the Internet, anyone can download the discs for free, free to copy, share songs with other people ... So I think that what you cut the cake are the concerts live, and I am lucky to be with a great band, probably the best band I've played with, even better than King Crimson. And between concerts, I'm composing new items for what will be our next studio album with the Power Trio ... in fact will be the first album proper for the Power Trio.

It is also possible that rather than do anything with King Crimson for its 40th anniversary... someone will end up calling....

MOB: Is there or is there someone with whom you'd like to collaborate? Highlight some of those with whom you have collaborated?

AB: (Laughs) Not really ... I think that when you are young idols are just that ... you know, idols, people you never end up playing. The Beatles are gone. Jimi Hendrix, either. The truth is that I am very proud to have worked with all the people with whom I have done: Nine Inch Nails, Talking Heads, David Bowie, Frank Zappa, King Crimson, including Eric and Julie! ... I think we all are to same height, and they are all about great artists.

MOB: It was a pleasure, sir. Belew. Belew. We stand expectantly waiting to this new album. Thanks for taking this small interval of time over the telephone and good luck with all your projects.

AB: Sure, the pleasure has been mine ... Oh, and tell your readers that if they have the opportunity to attend one of our concerts, they do so. Worth it and a unique opportunity in life!.

MOB: This will be done ... We are sure of that.
So that was very enjoyable.
There's a lot more, but I am truly wiped out from my New York experience last night, and I'll devote a separate post to that shortly. It was truly a blast and not without some laugh out loud moments...stay tuned.
Let me end this post with a fantastic photograph of the trio touring Budapest. It's just so Abbey Road, isn't it? God I love me some ABPT.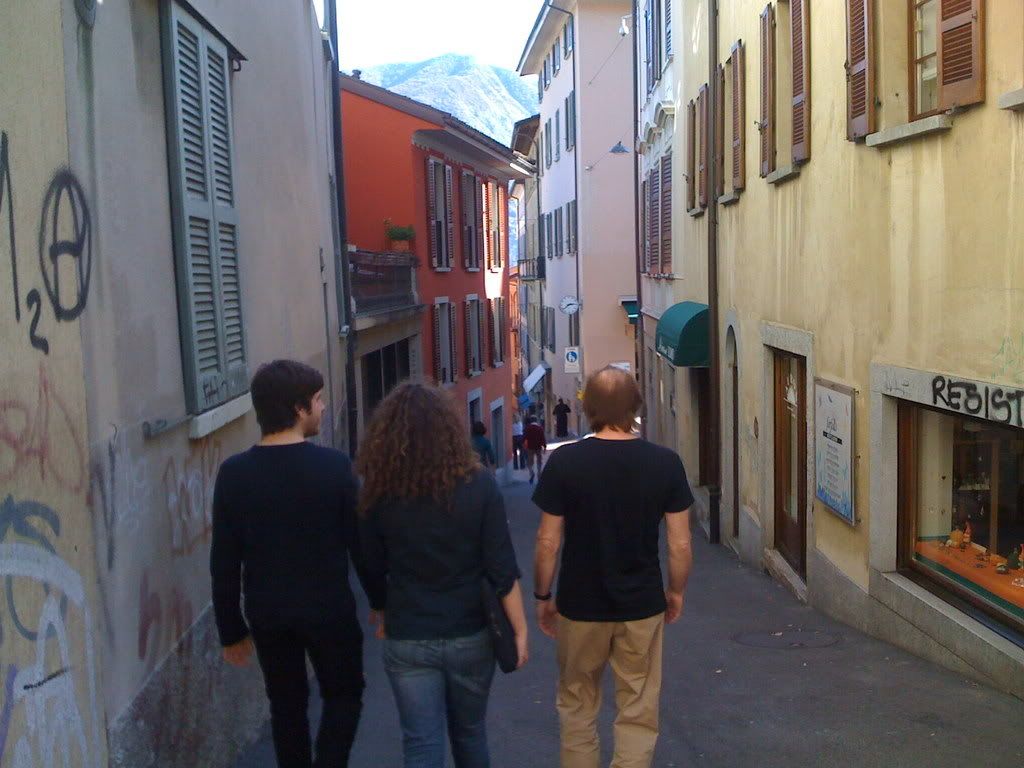 Later,
xo