Okay, sorry to break hearts around the world, but today I'm outta here and at the beach until September 28. I may blog while I'm on vacation, I may not...I'm kinda leaning toward "not" but we'll see.
So here's where I'll be in a few hours:
The view from the balcony above our living room:
The view from both our bedroom and living room window: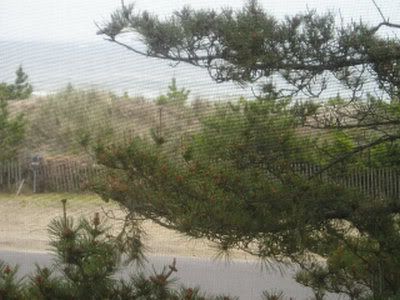 I am so freaking psyched.
I really do not have much more to report, other than, woo hoo, a photograph of Gary and me made it onto a very famous
website
and we are both really grinning over that (you'll have to scroll down but you can't miss us), Julie and Eric are set to fly down to Nashville on John Lennon's birthday - that's October 9 to you - rehearse for several days then take off for Europe...again...what a life...and I got the following very cool email yesterday to which I totally forgot to respond so I'll do it here, publicly: THANK YOU, PHILLIP!!!! And I will write back as soon as I come up for air again.

"Robin,

Greetings from Helsinki. I manage KTU and was on the Russian dates with them and ABPT. Very enjoyed their music and getting to know the three ABPT members. (I have already ordered the Side 4 from the website). Have been a huge AB fan for years and now thrilled to see and hear that Julie and Eric are also amazing musicians. As well as delightful people.

Also very delighted to read your (or Mark Bastable's?) comments about the Fabs on your blog page. Hear here!! I am always happy to meet like minded souls and discuss this true but rarely recognized fact. Even more important, I enjoy turning others onto mind-blowing Fabs-related / Fabs-inspired / Fabs-connected music, of which there is an in incredible amount, much of it very rare and little known.

So thanks for flying the Fabs flag and if you want to discuss further, please let me know.

Check my sphere of interest and activity:
www.myspace.com/ktuband
www.myspace.com/kimmopohjonen
www.kimmopohjonen.com
www.hoedown.com

Best regards
Phillip Page
I will definitely take him up on that. I am always, always, always up for talking about "The Fabs".
So I think that's it for now but should anything occur between now and the time I take off for the beach, I'll be back...
Later,
xo