ETA: Well, here's the first You Tube of the show in Moscow last night. Oh my God. This totally rocks. Watch the part during the break in the middle of the song, before the last chorus, where Julie and Ade interact. Wow. And listen to the crowd go nuts when they do that dual lead.
ETA 2: Well, they just added another You Tube of the same song - and while the sound quality is not nearly as good as the first, this one features the incredible Eric Slick:
So right now the
Adrian Belew Power Trio
are on a plane, heading back to America, after spending ten days in Kazan/Moscow, and as Eric told me, this trip was "freaking ridiculous!" meaning, it was unbelievably fantastic.
I got to email with him at 3:00 a.m. last night and I asked him how the show went.
"F*O*C*K*ing Amazing!" he replied.
Ze set list: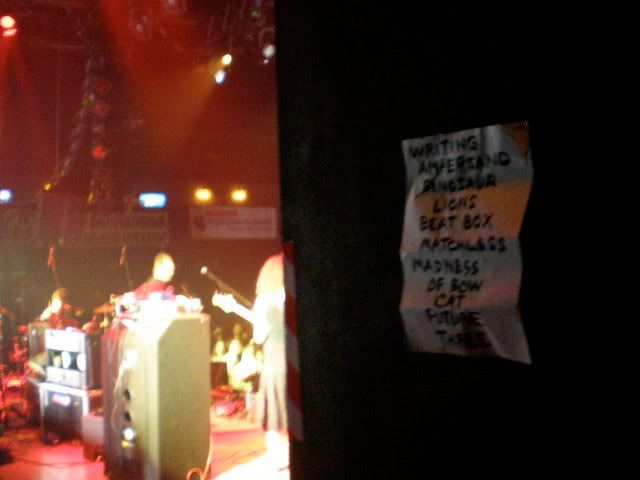 Here's Eric, getting his traditional pre-concert haircut, but this one was courtesy of Deborah,
Pat Mastelotto's
significant other: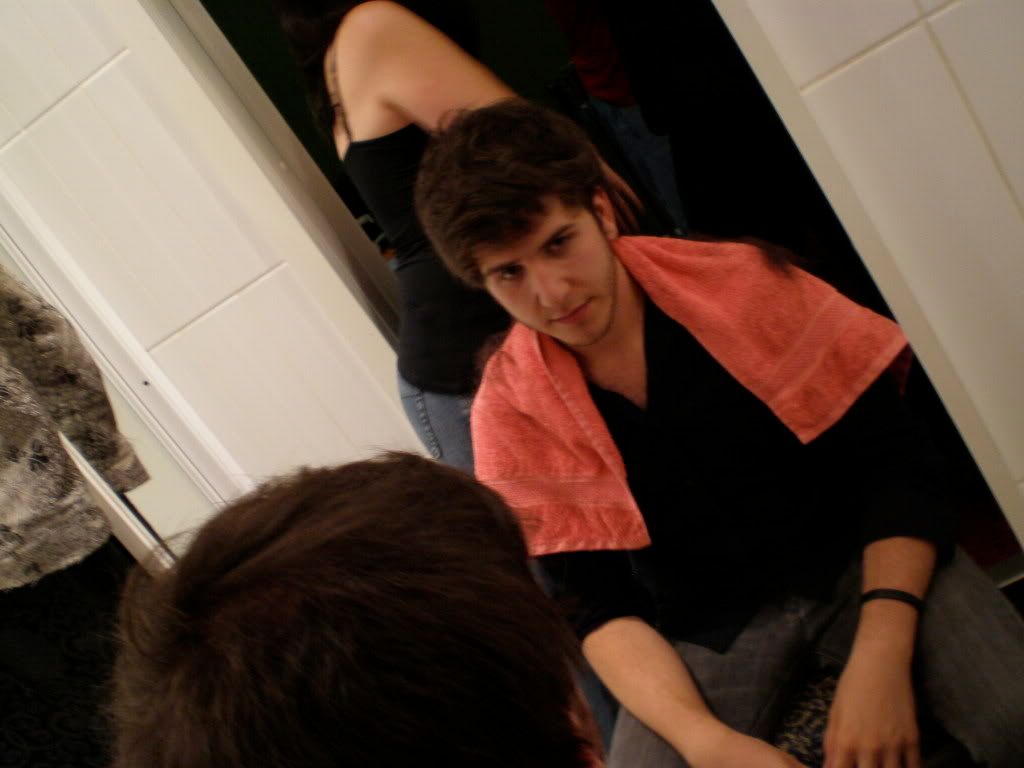 Apparently, the huge, sold-out audience who witnessed this show felt the same (focking amazing!) but oh my God, Google translate gave me fits this morning though it is kind of funny:
First
review
:
"Genius one of the best guitars peace Adriana Balu (King Crimson with 80 - x to the present day) could not usidet on the ground and in the U.S. to dig out two young guys - brothers (Erik Slik-drums) and sister (Julie Slik - bass guitar) ( them all the way to 21 and 22 years respectively =). and where he found a Christmas tree-sticks? at first I thought that the children untold lucky. but was lucky not only them - Balu also received from the maximum. game these guys can not leave indifferent - because they are really masters. playing style, close to King Crimson, but quite another to arrange and play, they really create an impression of continuity of generations. Incidentally, Julie struck twice. if the world has at least one basistka still the same, let me look at the eyes!

"
)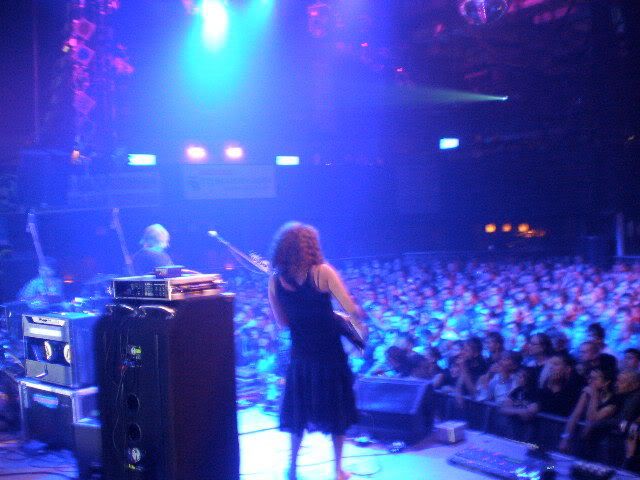 Number
Two
:
"
That group King Crimson has changed the whole course of rock music back in 70 - e, moving at an unprecedented level of the last composers' thinking, depth and stylistic synthesis of different strata, is beyond question. It turned out that even if today to collect half of the group King Crimson, repeatedly breaks, at one stage (yes, and even with the attendant every musical projects), it will turn out a huge King Crimson Festival, which took place on September 3 in the Club B-1. Maximum , Becoming a real parade of the most resourceful instrumentalists world. Drummer Pat Mastelotto and bass guitarist Trey Gunn, united with the Finnish "dzhimmi hendriksom bayan" Kimmo Pohonenom in the draft KTU, opened the concert hall immerse themselves in diverse polyphony at the junction of avant-garde, progressive-rock and meaningful ethno not trivial. The legendary violinist and pianist Eddie Dzhobson who is not on the scene within a 27 (!) Years, interrupted the silence on this concert by making a long solo network and colleagues in the group. Adrian White, one of the best guitarists of peace, made a solo project Adrian Belew Power Trio (apart from him in the band is composed virtuoso basistka and drummer, brother and sister, very young, but amazingly talented). Well, and finally the final chord, already deeply after midnight, 4 songs were performed gold composition of the actual repertoire King Crimson, including the title song from the album Red (1974) and insturmental from album Lark `s Tongues In Aspic. Here musicians joined by no less than landmark people - bassist Tony Levin, playing on the unique instrument chapman stick (symbiosis guitars and bass). Among the participants were not only the founder and ideologue Frippa Robert King Crimson, which according to organisers, at all invitations politely refused and not chosen from the USA on tour, even in Europe. But even despite this past King Crimson Festival has become one of those concerts that are really can not miss
!" (Note from our author: Adrian "White" is interesting...it's the Russian to American translation of Belew, obviously...)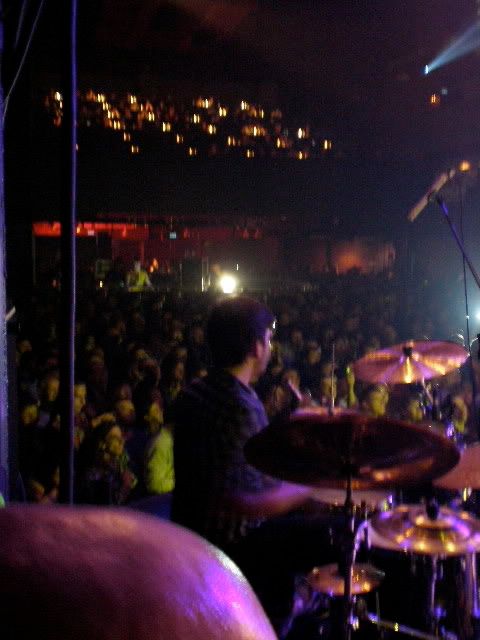 Review
Three
:
"
Then followed composition with the best guitarist the world - Adrian Balu. Satriani rest. Add to that he had a beautiful voice, akin vocalist Dream Theatre) At bass they had 21 - year old girl, a second drummer was her 20 - year old brother. Along with the legendary violinist, who after 27 years, held off the stage, and since December, began his tour, joined in this coherent improvisation - the words here do not hel

p ...
"
So yes, a very nice way to end an absolutely incredible tour...and to think that the trio heads to Europe for over three weeks next month...sigh...yet another trip I'll be missing but again, huge thanks to Andre Cholmondeley for keeping me in the loop and sending me the above photos...I'm sure I'll have many more courtesy of Julie and Eric once they return home tonight (where we are planning a huge pizza party...we figure they'll be in the mood for that big time)...anyway, I leave you with one last photo of those wacky kids in Moscow...I dub this photo
"City of Tiny Lights"...
Later,
xo
P.S. Gary has updated his
blog!