Today's photo from Russia comes to us courtesy of
Sergofan's Live Journal: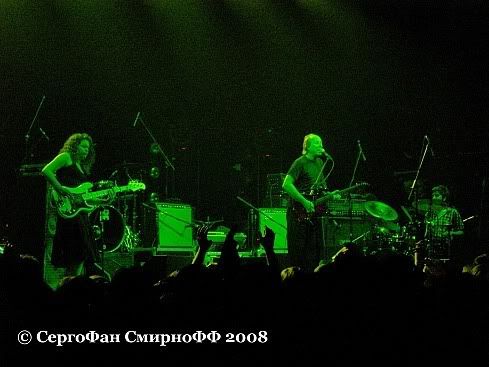 So I can now officially announce the
Adrian Belew Power Trio
tour in Australia and here are the dates and venues:
WED 3rd DEC - THE CORNER HOTEL - MELBOURNE
57 Swan St, Richmond VICTORIA

THU 4th DEC - THE BASEMENT - SYDNEY
29 Reiby Place, Circular Quay, SYDNEY, NEW SOUTH WALES

FRI 5TH DEC - SUN 7th DEC - ADELAIDE INTERNATIONAL GUITAR FESTIVAL
Adelaide Festival Centre - ADELAIDE, SOUTH AUSTRALIA

MON 8TH DEC – VANGAURD – NEWTOWN, NEW SOUTH WALES
42 King Street, Newtown

TUES 9TH DEC – VANGUARD – NEWTOWN, NEW SOUTH WALES
42 King Street, Newtown

WED 10TH DEC – BRASS MONKEY – CRONULLA, NEW SOUTH WALES
115a Cronulla Street, Cronulla

THU 11TH DEC – HERITAGE HOTEL - BULLI, NEW SOUTH WALES
240 Princes Highway, Bulli
Performance times and further information TBA.
How freaking cool is that?
And here's one more interesting
review
from the King Crimson Festival - again, blame Google translate, not me:
"King Crimson Festival Musicians played perfectly without King In Moscow club "B1. Maximum" met former and current participants in the group King Crimson and sympathy for them musicians hold a joint concert.

Robert Frippa was not, who is the leader of King Crimson, thus, perhaps, the festival has become a real event. The concert lasted nearly five hours and somewhere in the middle of the evening, going on stage, promoter Alexander Cheparuhin reported that quite forgot to announce the demands of musicians to viewers. According to the audience to run grumble, all at once remembered not come this time in Moscow King Crimson leader Robert Fripp, with its elaborate system of prohibitions: no photographs, no smoking, no cough, no sneezes… But as it turned out, Cheparuhin just played skillfully assembled nerve -substantive "requirement" was the musicians - you can do what want!

Set the tone of the draft statement KTU, which includes two party King Crimson Trey Gunn and Pat Mastelotto, as well as Finnish accordionist Kimmo Pohonen. In the music KTU tangibly poubavilos grace, but arrived strength and brutal. Nails programme was instrumental motifs saga entitled "Absent", dive under zavyazku scored hall in natural trans.

After a short break on the stage appeared keyboard and violinist Eddie Dzhobson, and it became clear that quality will not decline. Hard to say who had more to worry - Dzhobson himself, 27 years not playing on stage, or spectators, afraid to see the full rastrenirovannogo virtuoso. Musician began with the theme song from "Metamorphosis" now forgotten order semidesyatnicheskoy art fateful group Curved Air. Then the singer was replaced at the piano violin, played for ten minutes and it was so.

Seth vocalist and guitarist Adrian Belew, the surest companion Frippa, playing in King Crimson since 1981 and to this day, interrupted abruptly. Already on the second song from Belyu burst string. Fixing inventory eventually spread to twenty minutes. However, his colleagues on Adrian Belew Power Trio, the young brother and sister Slick, playing, respectively, on drums and bass guitar, in this situation does not stushevalis and gave inspired jam. As a result, neither for a second concert is not "provis", and final "Three Of A Perfect Pair" with a chorus Adrian Belew and his associates served the entire hall.

Finally stores was the main thing. White, Dzhobson, Mastelotto primknuvshy to them and bass guitarist Tony Levin performed four tracks from the golden fund groups: the crown "Thela Hun Ginjeet", "Elephant Talk" with a wonderful fankovym bass, enormous "Larks Tongues In Aspic Part 2" and Danube instrumental "Red". This number was the absolute culmination of the festival. Even those who came to a concert just acquainted with the history of rock music, has received from happening now living pleasure."
I am hoping I haven't posted that review before. It just popped up today but it looks familiar. I did a quick read of my blog and didn't see it, but just in case, I apologize if this is a duplicate.
Damn I wish I could do a better job of translation. It should really be interesting when the trio tours Europe next month - I'll have to find translations for Hungarian, Spanish, German...oy...but what fun!
Okay, obviously I do not have much to talk about today other than a reminder for those in the Philadelphia area to catch Eric tonight jamming at The Fire - details in the post below.
I am just so, so exhausted. Three more days and I'll be at the beach for two weeks. Ah.....
Later,
xo