These amazing photos are from
Lana Mayakovskaya's photostream
and if you are a fan of the musicians performing in Moscow last week, you should click on that link...she's a fabulous photographer and there are some really beautiful shots. Like these...
Julie Slick: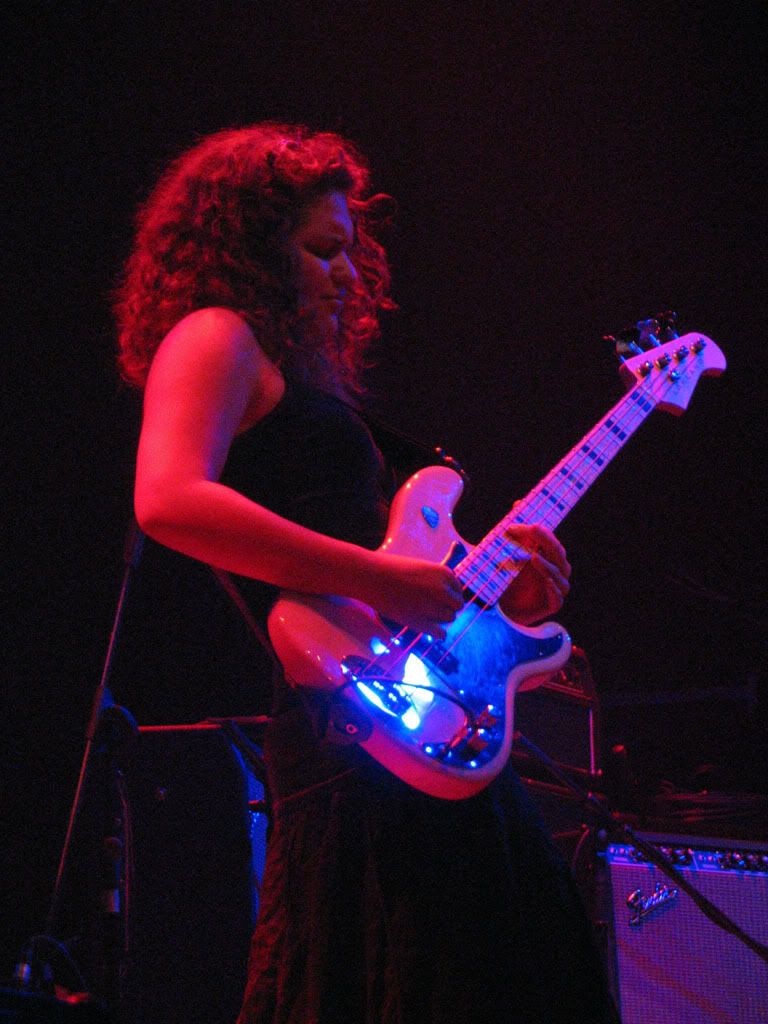 Eric Slick: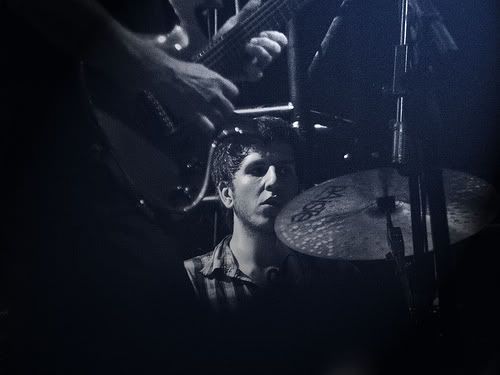 Adrian Belew and Eric Slick:
Eddie Jobson: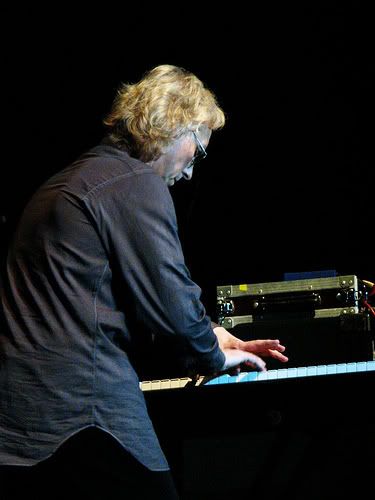 Pretty sweet, huh?
So as I am sure you all know, I am a total music nerd and in my spare time I hang out on rock forum boards where I just met
Lev Gankine
who had this to say:
"
I've been on the Moscow show. In short - fantastic. KTU performed first, and while I don't welcome their parting ways with Samuli Kosminen (IMO, a very talented musician), it sure sounded rawer and all the more intense this way. Eddie Jobson came up next and did some 20 minutes of piano and violin improvisations (incorporating a theme which I consider the best one he has ever written, that is, one from Curved Air's "Metamorphosis" track - sublime!). Then Adrian Belew stepped up - Robin, you should be really proud of your kids! Awesome musicianship at such a young age, and they suit Belew's style of playing totally well. At one point Adrian has torn one of the strings on his guitar, so the Slicks had to do a 15-minute bass/drums jam while he was replacing the torn string with another one - and they did it alright, the crowd was extremely welcoming. And finally, they played four KC songs ("Thela Hun Ginjeet", "Elephant Talk", "Larks Tongues In Aspic Part 2" and "Red"), which was probably an ultimate highlight of this long, excellent concert. Jobson did really well on violin and the rest of the band played tight although as far as I could figure, they haven't been rehearsing these songs too much. Julie played bass on "Thela Hun Ginjeet" together with Tony Levin, and Eric was sitting behind the drum kit throughout the whole set, sharing the drumming duties with Pat Mastelotto (who was earlier onstage with KTU).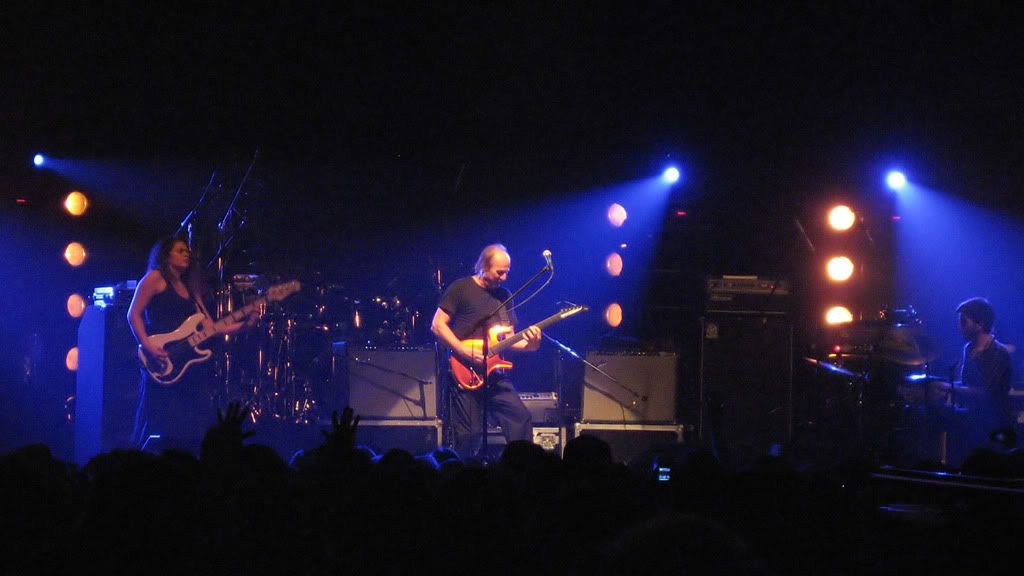 There was another really special moment too - the day before the performance Adrian, Tony and Eddie guested on my radio show, we had a really nice hour-long talk with them, and

Tony said that Julie Slick is one of the few players whom he has to learn something from!

And Adrian said that it's super-nice to play with people who were growing up listening to King Crimson and other forward-thinking music of the past. Eddie seemed a very intelligent and clever person too, giving some recollections about his days in Curved Air, Jethro Tull and UK, as well as announcing the UKZ project - seems it will be a kind of mix of classic prog and more modern sounds a-la Nine Inch Nails. Anyway, I'm really eager to hear what materializes out of this idea! They've got Jobson, Trey Gunn, plus a singer from Belgium, a guitar player from Austria and a drummer from Germany, so it's quite an international line-up. They've only all got to meet each other a couple of weeks ago, before that they used to exchange sound files via internet.

A nice bit of trivia: both Jobson's sisters were on Moscow show to see their brother play onstage for the first time in 27 years! One is currently living in UK, another one in Germany.

A kind of a prog in-joke - when promoter Sasha Cheparukhin (who made this festival) was announcing Jobson's set, he turned to the backstage at some point and said: "Are you ready, Eddy"?

*****
Needless to say, I got the joke.
But I did tell Lev that Julie was completely freaked out by Tony's comment on the radio. "Can you imagine hearing one of your idols say that about you?" she asked. Her face turned pink, she smiled that beautiful ear to ear smile, and told me Ade was so moved when Tony said that he had to restrain himself from jumping out of his chair and hugging him.
Pretty damn cool.
And oh God, how amazing is the internet. I am interacting with people living in Russia. It still blows me away...
From
Trey Gunn's diary
:
"Then came the Belew Power Trio. I went up in the balcony to hear the second half of their set. We were crazy tired and the stress of dealing the complications of having so many musicians to deal with at all of the sound checks left us wiped. So I took a good hours worth of break after our set before going out to hear Adrian. They sounded fantastic. Way, way, way, way better than when Pat and I played with them in Seattle last year. It was a really fun show.
"
Coming from Trey, very high praise.
So really, things are quiet for now. I should warn you in advance, should you care, that I am leaving Saturday for a two week vacation at the beach, assuming Hurricane Ike doesn't screw things up. Whether I'll be blogging is debatable. Yes, we have wireless there now...but I dunno. I need some rest and relaxation. Just a heads up that this journal may be on hiatus until September 28.
But there's still the rest of this week. Maybe I'll even talk some writing news.
Later,
xo