So I'm back. And I even have a Neil Gaiman alert but I'll get to that in a minute.
We had an incredibly wonderful, laid back vacation totally based around this guy:
I'm serious. Maybe you have to be a dog lover, I dunno, but Monty is brilliant. He understands body language and about 200 human words but our baby is now ten and a half and we just wanted to spend every minute with him. He's like a little kid on vacation jumping around like a maniac and he knows when we are about to go out to the beach or out for donuts, etc....when he let us leave, that is. He has a problem with separation anxiety and we ended up taking him in the car on jaunts for food/fun with us every day which may not seem unusual to you but up until now, it was his only flaw. Mont Man gets deathly car sick and I always have to sit in the back seat with him with a roll of paper towels and a barf bag. We've tried everything since he was a puppy - not feeding him the day we know we're taking him in the car; Dramamine; stuff prescribed by the vet...none of it worked, in fact, he just got sicker. And he knew it because trying to get him into a car was like trying to get him into the vet's office...freaking impossible. He makes himself a dead weight and cries like a baby. I don't know what the hell happened but suddenly, this year, he stopped freaking out and he now rides in a car like a normal
person
dog. So yeah, we took him everywhere with us and had a blast.
Excitement for the whole two weeks included seeing an oriole perched on a tree branch outside our bedroom window one morning and a cardinal the next. The cardinal blew me away - it was just so incredibly...red. Truly beautiful. You just don't see stuff like that in Philadelphia.
And then there was a rabbit in our driveway and while walking on the beach, we saw a school of dolphins really close to shore. Breathtaking.
As was the storm that appeared out of nowhere, with dire warnings that we'd be flooded and power would go out in fifty mile per hour winds, and we wondered if we were sitting ducks with our house literally beachfront and the waves so insane I felt like I could touch them from the front porch. The local news said "Move your car to higher ground." I looked at Gary. "Do you know where higher ground is around here?"
"Nope."
"Oh well."
Ha ha. That's kind of how we felt. We were so relaxed we just had a very cavalier attitude about the whole thing...until it started happening, that is. Gary remained normal but naturally I had to keep looking outside, my blood pressure rising by the minute and freaking myself out. The storm itself was too intense to go out in but here are some pics Gary took of the beginning and end...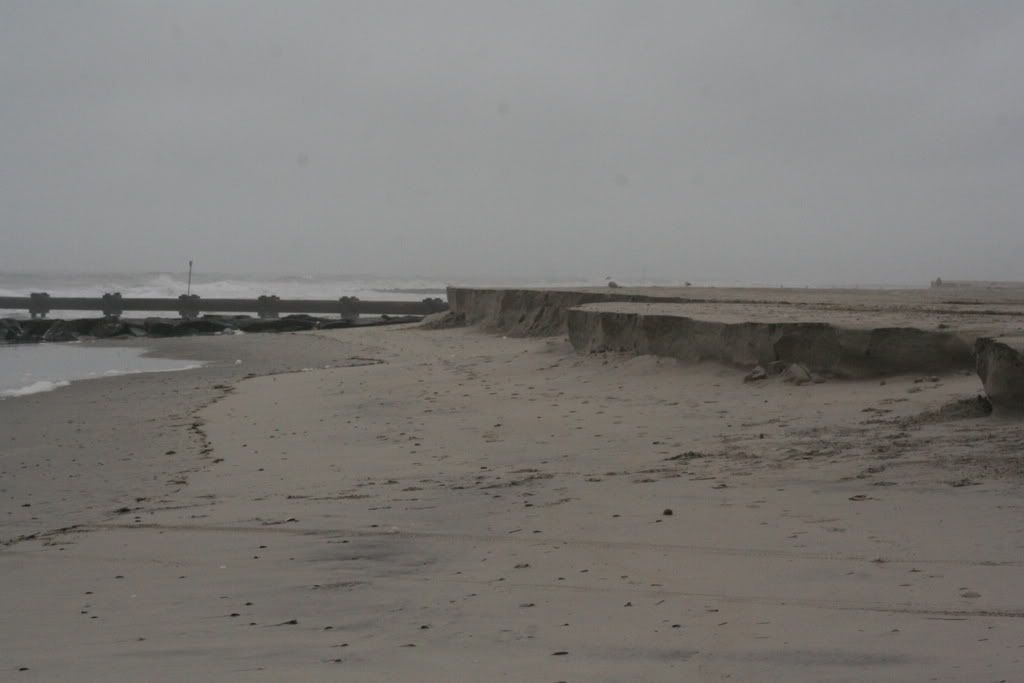 It was also way strange that for the first time, we saw very little of Eric and Julie on vacation. Eric had a ton of gigs lined up while we were away but he made it down for two day trips; Julie also had a gig with a band called
New Connection
and she had a bunch of songs to learn - she was sitting in for their regular bass player and they really liked her so it looks like she has a future gig with them again in November...anyway, she made it down one Sunday night with Matt but was already back on the road for rehearsals by Tuesday. So it was just Gary, Monty and me kicking around in a big beachfront house. Poor, poor us.
So while I was away, some new dates were added to the
Adrian Belew Power Trio
European tour. Here's the total list...I cannot believe Julie and Eric leave next week for Nashville for several days of rehearsal for the new setlist/studio album before leaving for their first show in Budapest. And oh my God, I know I shouldn't say anything but Ade sent them all of the new music to scope out before arriving in Nashville and there it was on my desktop when I got home. We listened to the whole thing last night (Gary and I, that is) and had goosebumps. It's so amazing it's ridiculous...Adrian Belew is the most brilliant composer out there right now, hands down. People are going to be mesmerized by this material - it's unlike anything you've ever heard and as I said, literally gives you the chills. Anyway, here's the complete list of dates and venues:
Tour Dates:
Adrian Belew Power Trio (USA)
Fall 2008 - Europe
OCTOBER
15 WED Budapest Hungary >> Trafo
18 SAT Lugano Switzerland >> Auditorium Radio Svizzera
20 MON San Sebastien Spain >> Teatro Victoria Eugenia
21 TUES Barcelona Spain >> Forum Bikini
23 THU Milano Italia >> Blue Note
24 FRI Woergl Austria >> Komma
25 SAT Vevey Switzerland >> Rocking-Chair
27 MON Aschaffenburg Germany >> Colos-Saal
28 TUES Groningen Netherlands >> De Oosterpoort
29 WED Den Haag Netherlands >> Paard Van Troje
30 THU Eindhoven Netherlands >> Effenaar
31 FRI Zurich Switzerland >> Moods Im Schiffbau
NOVEMBER
01 SAT Schwerin Germany >> Der Speicher
02 SUN Muenster Germany >> Hotjazzclub
03 MON Leverkusen Germany >> Forum Leverkusen, Jazztage
05 WED Vilnius Lithunia >> Forum Palace
Oh, speaking of J&E, here's a great pic I found on a website belonging to
Mikki Kunttu
(hope I got that right)...and that would be Eric Slick, Julie Slick, Mikki,
Keith Emerson
and
Eddie Jobson
.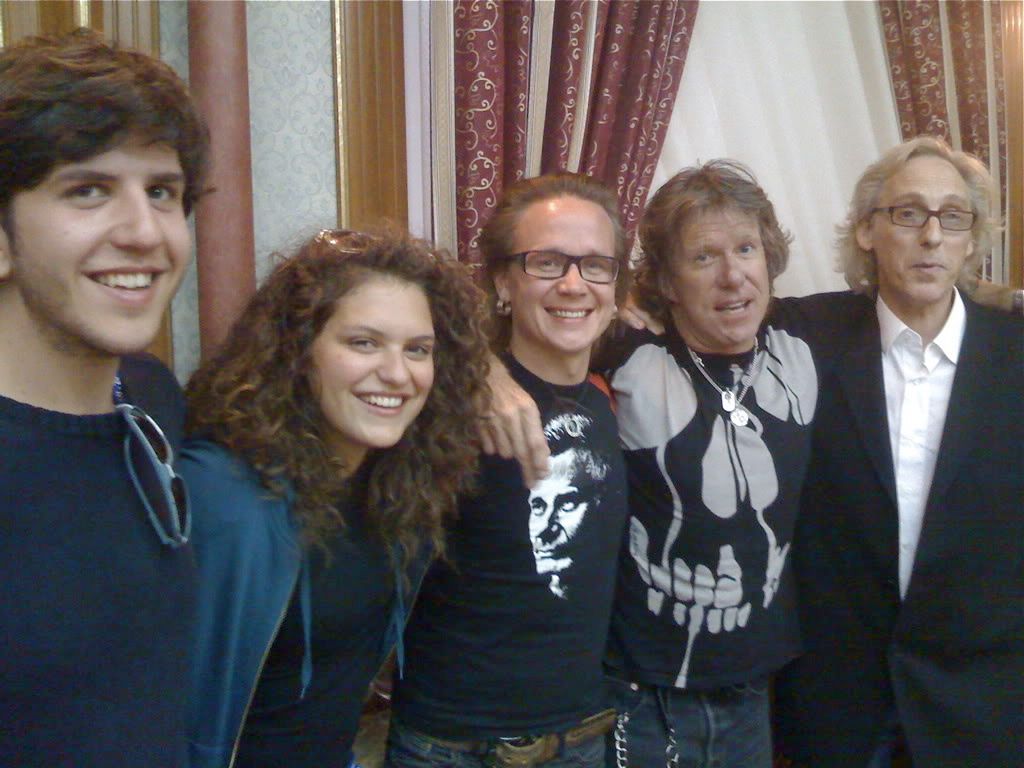 Also, it was very cool of Eddie to give me a shout out on his
website
:

"Hi everyone...

I am now back in Los Angeles, and still pretty wiped out from the 21-hour journey and the 11-hour time change. But what a great experience! I couldn't have designed a better return to the stage, or thought of a better group of people to share the experience with. Frankly, I'm still not quite sure how it all came together, or how I ended up in the middle of the stage performing two of Crimson's greatest pieces with three-quarters of the current KC lineup in front of more than 100,000 people (some are saying there were 210,000 present by the evening)! The Universe will do that to you sometimes.

I wasn't able to visit the forum, but Raquel and Christopher were following the excitement daily (and following the links to Tony's diary and Robin Slick's blog) and giving me reports every night. I was particularly amused that Tony used his 10-beat break in "Red" to grab a camera and snap the shot of me in Kazan in the middle of the song. He had it posted online within minutes of us leaving the stage... unbelievable.

Everyone treated me like a long-lost brother, or with a level of respect that I am truly not used to from the past 12 years of dealing with 'Hollywood people.' So many musicians from other bands came up to me and said what fans of UK they were—some talked about Curved Air and "Metamorphosis" or the "Green Album." Wow! The Patti Smith walk-on happened as they were walking to the stage; the bass player, Tony Shanahan, passed me in the corridor and said "Eddie Jobson!... Hey man, it'd be great if you came on and played with us" - just like that.

The first band I played with was Fairport Convention. I cannot tell you what a great bunch of guys they all are... the sweetest group of musicians on the planet. I couldn't have been more embraced (figuratively and literally). And what a thrill for me to play music from "Full House"—the first album (of three particular albums) to pull me from classical music into electric music when I was 15!

After the Fairport appearance, I walked off stage... right into Keith Emerson, whom I have met only twice before. Keith then went onstage and played music from the second album that changed my life at the age of 15... the first ELP album (the third album was 'Airconditioning' by Curved Air—and we all know what happened from that). It felt like I was on "This is your Life." And I didn't arrange any of it. The promoter asked me to join in on the end jam (and solo on 'Whole Lotta Love"), so next thing, I was standing back on stage trying to figure out the string lines for "All You Need is Love," when Keith walks onstage and starts playing keys, then theremin, right next to me. At the end of the song, I was just thinking "wow, I've now played onstage with all three of my boyhood hero artists - Fairport, Curved Air, and Emerson" when Keith (maybe sensing it?) came over and gave me a big hug in front of everyone. What a kind reception from all involved. Tremendous.

Thank you to all the musicians and support teams in Russia, and a special thank you, as always, to everyone on this forum. You are the ones who have encouraged me to return, and you are the ones who provide the fundamental support that allows me to put myself back out there. You are the best.

Eddie"
So obviously that was all about last month's fabulous trip to Russia from which I still have not recovered.
Anyway, I gave you the European dates...then basically as soon as they return to the States, Eric and Andre go back out on the road with
Project Object
and here are the dates and venues for that:
15 SAT Wilkes Barre PA Jazz Cafe'
16 SUN Annapolis MD Ram's Head
17 MON New York NY BB King's
18 TUE Troy NY Revolution Hall
19 WED Northampton MA Iron Horse
20 THU New Haven CT Toad's Place
23 SUN Phila PA World Cafe' Live
Oh man, I cannot wait for that!
After which Eric comes home, has a tofu turkey (he'll be home just in time for Thanksgiving), and then the Adrian Belew Power Trio takes off for Australia. Here's a cool article which popped up about that in
Gigs, Vids, & Tunes
:
ADRIAN BELEW POWER TRIO COMING TO OZ!
September 19, 2008
Enterprise Entertainment present
Adrian Belew Power Trio
"Adrian is the most awesome musician in the world. I've never seen anybody play guitar like that." – Trent Reznor (Nine Inch Nails)

Adrian Belew will return to Australia in December for the Adelaide Guitar Festival as well as a few East Coast shows. The live show features King Crimson favourites, classics from Adrian's many solo albums, spirited improvisation, and special solo moments by Adrian.

The self-proclaimed 'stunt guitarist' Adrian Belew was famously discovered by Frank Zappa and performed on Zappa's controversial mega-seller, Sheik Yerbouti. He then quickly developed a reputation as a guitar wizard and the 'the weapon of choice' for the likes of David Bowie on Lodger, Talking Heads Remain In Light, Tom Tom Club Tom Tom Club, Paul Simon's landmark album Graceland, Laurie Anderson Mister Heartbreak, Jean Michel Jarre Zoolook amongst many others. More recently he has contributed to three Nine Inch Nails album's The Downward Spiral, The Fragile and the instrumental Ghosts I – IV, as well as Tori Amos "Strange Little Girls".

King Crimson fans however know Adrian Belew as the principle architect (vocals and lead guitar) of the bands sound since he joined them in 1981 and they recorded what many fans (and indeed Robert Fripp himself) consider their finest record, Discipline. The new line-up of Kind Crimson, which transformed a 70's prog-rock artifact to a blueprint for brilliant guitar-based avant-garde music, continued to live up to the legacy of its namesake with Beat (the follow-up to Discipline). The album contained the minor crossover hit Heartbeat. The subsequent 1984 album Three of a Pair featured Sleepless which most Australian's will be familiar with as providing the distinctive bass line which intro's the long running ABC music program Rage.

More than any other musician, Adrian has tirelessly explored the sonic possibilities of the electric guitar. Some of the various awards he has received include 'Best New Talent Award' in the Readers' Poll from Guitar Player Magazine (1982) , 'Best Experimental Guitarist' award Guitar Player Magazine (1989 – 1993) and 'Guitar Innovator Award' from the Music For Life Alliance (2004). In 2005 he was nominated for a Grammy in the category Best Rock Instrumental Performance.

This tour will be the influential musical chameleon's first ever with his own band in Australia following his tour two years ago with local players to ecstatic reviews and packed rooms. The Adrian Belew Power Trio also consists of Julie Slick (bass) and Eric Slick (drums). The Slicks are a brother and sister duo whom he met at the famous School of Rock (yes, the same one immortalized for the silver screen by Jack Black) when he was there instructing a class of musical whiz kids on how to play and survive in the music business. From there he quickly invited the two most talented kids in the room to join him on tour and they have been touring since 2006, playing together all over the world.

Australian Tour. December 2008.
Wednesday 3rd
MELBOURNE. The Corner Hotel. 57 Swan Street, Richmond.
Tickets from www.cornerhotel.com
Thursday 4th
SYDNEY. The Basement. 29 Reiby Place, Circular Quay.
Tickets from www.moshtix.com.au
Friday 5th – Sunday 7th
ADELAIDE. Adelaide Guitar Fest. Adelaide Festival Centre.
Tickets from www.adelaidefestivalcentre.com.au
Monday 8th
SYDNEY. The Vanguard. 42 King Street, Newtown.
Tickets from www.moshtix.com.au
Tuesday 9th
SYDNEY. The Vanguard. 42 King Street, Newtown.
Tickets from www.moshtix.com.au
Wednesday 10th
SYDNEY. The Brass Monkey. 115a Cronulla Street, Cronulla.
Tickets from www.moshtix.com.au
Thursday 11th
BULLI. The Heritage Hotel. 240 Princess Highway, Bulli.
Tickets from www.heritagehotel.com.au
Further information, interviews, publicity etc:
Karen Conrad (kcpublicity@optusnet.com.au) or 0400 527 365
Same mention in
Bowie Down Under
which is way cool, too.
But my favorite is this
one
from Budapest:
"Adrian Belew Power Trio [USA]
2008.10.15 20:00
TRAFÓ – House of Contemporary Arts
9.00 pm Adrian Belew Power Trio > Side Four [live]
With:
Adrian Belew [voice | guitar]
Eric Slick [percussion]
Julie Slick [bass]
"Many of the former big names in rock and pop are but pitiful shadows of themselves often driven to continued concert engagements by the sheer need to earn money. However, Adrian Belew, the man who once revived King Crimson and worked with Frank Zappa and David Bowie is an entirely different category. The role he had played in the history of his field of music has certainly made his one of the big names of the past, yet, he might be envied by the youngest generation for his new and fresh approach to music. The Adrian Belew Power Trio in which twenty-one year old Julie Licks [bass guitar] and her brother, just one year her senior, Erick Licks [drums] play with the front man without any apparent generation problems is a shining example to prove the point. The group Adrian had formed with his two former pupils incorporates in its style all Belew's musical experiences from progressive rock to experimental jazz."
Ha ha - Julie and Eric "Licks"?
And there was also this great
review
of Side Four Live coming out of Poland! Again, I am relying on Google translate but it worked pretty well for me today:
"
Gem for fans of King Crimson and Belew solo. Koncertówka includes tracks from the tracks Trillogy Side, and the repertoire of King Crimson. You can enjoy an excellent ear music at the highest level. Characteristic guitar and read all known timbre. The circle of this album can not simply ignore. Although I am not a supporter of live CDs, I think that is unmatched, and each item is respecting fan of classical progressive rock should be familiar with it."
Yep, I agree. Unmatched indeed.
So how funny is this. I know I went through my
Neil Gaiman
period but I've moved on and now I'm a HUGE
Jane Smiley
groupie..oh my God, that's what else I did on my vacation...read five books in two weeks. I read two books by Jane which are so brilliant I am going to have to devote a separate post to review them here. I also read three books by another author whose name I am not going to mention as he/she is a New York Times best selling novelist and all I can say is, I was never so underwhelmed in my life. I was taught that a great book should leave you with something, even if it's merely an escape from reality. This writer's books were predictable, bleak, and more like character sketches of people you would never like very much in the real world. No lessons learned at the end, no voices haunting you, no moral to the story, no uplifting tales of the human experience...just unhappy people living unhappy lives with half-assed happy endings. And this person sells millions of books. Bleh. Give me Jane Smiley, who had me unable to put down a book about a woman living on a farm in the midwest in 1979!
So anyway, I've been not exactly off Neil Gaiman but I've read everything he's written and I think he went to China or something and stopped blogging so I stopped stalking his website...anyway, a friend of mine wrote to me and said "Oh, I bet you're going to see Neil in Philly on Wednesday night" and I was like "Huh? Are you serious? Where is he going to be?" So then of course I had to check and yeah, once again he's like ten minutes from my house so just for the hell of it, because he was over here for Unemployed Shepherd's Pie (more on that in a minute), I said to Eric "Hey, Er, are you doing anything Wednesday night?"
"No," he answered, and then, as soon as he saw my face, had an expression a la Larry of the Three Stooges when he tells Moe and Curly "We're trapped like rats!" But he recovered nicely.
"Why?" he added quickly, looking at me with narrowed eyes.
"Oh, I was just wondering if you'd want to reprise the great debacle of 2006 and go with me to see Neil Gaiman read at the Y."
Eric looked at me and smirked and then immediately launched into the best imitation of me anyone has ever done.
"Oh Neil, look what I brought for you. Side Four Live, the CD with both of my kids and Adrian Belew...isn't it just so cool."
Damn kid - I should have whacked him with a pillow but he was so fucking funny I broke up.
"So you'll go with me?" I asked hopefully.
"Hell, no."
"But Eric...we make you great vegetarian food..."
"We? Who is we? Dad is the cook and you know it. Don't even try, Mom. You got me once; it's not happening twice."
"Even if I leave my camera home?"
"Oh God. You were going to bring the camera again?"
"No."
"Ha! You're so totally lying, Mom. You are so lying..."
"Okay, fine. We won't go."
"Fine."
"Fine." I make my best huffy face...which isn't very huffy at all.
But I can't help it - he's so freaking handsome and sweet.
"I love you, Mom."
"I love you, too, Er."
Now see, I know better than to ask Julie. First of all, she's probably working, and if she wasn't, it would probably cost me a $300.00 dinner out afterward.
Sigh...I guess it's worth a shot.
(As Gary reads this and cringes, let me add "Don't worry, sweetie, I'll just take her out for sushi.")
(Heh..at
Raw
, that is)
Oh, I'm kidding.
But I did want to pause a minute and talk about Unemployed Shepherds Pie. Yes, Gary is the chef around here, even though he is a carnivore, and he probably made the best veggie meal ever Sunday night - the above mentioned "pie". It's sauteed eggplant, tomatoes, and onions mixed with bread crumbs and parmesan cheese, topped with mashed potatoes and thinly sliced zucchini and green pepper drizzled with olive oil and baked in the oven. Eric and I were absolutely swooning with every bite, and if this post wasn't already as long as the Declaration of Independence, I'd give you all the recipe...hell, if anyone wants it, just write to me or leave me a comment and I'll type it out.
Erm, speaking of the Declaration of Independence...wtf is going on in this country? You already know I despise the Bush administration and all Republicans, really, so I have a few things to post right now that have been making the rounds on the internet...I know I've been offline for a few weeks so you may have seen these already but they were new to me and blew me away. The first is pretty funny; the item underneath, which I just received, is not.
"Let me see if I have this straight . . .

If you grow up in Hawaii, raised by your grandparents, you're "exotic, different."

Grow up in Alaska eating moose burgers, a quintessential American story.

If your name is Barack you're a radical, unpatriotic Muslim.

Name your kids Willow, Trig and Track, you're a maverick.

Graduate from Harvard law School and you are unstable.

Attend five different small colleges before graduating, you're well grounded.

If you spend three years as a brilliant community organizer, become the first black editor of the Harvard Law Review, create a voter registration drive that registers 150,000 new voters, spend twelve years as a constitutional Law professor, spend eight years as a state senator representing a district with over 750,000 people, become chairman of the state senate's Health and Human Services committee, spend four years in the United States Senate representing a state of 13 million people while sponsoring 131 bills and serving on the Foreign Affairs, Environment and Public Works and Veteran's Affairs committees, you don't have any real leadership experience.

If your total resume is: local weather girl, four years on the city council and six years as the mayor of a town with less than 7,000 people, twenty months as the governor of a state with only 650,000 people, then you're qualified to become the country's highest ranking executive.

If you have been married to the same woman for nineteen years while raising two beautiful daughters, all within Protestant churches, you're not a real Christian.

If you cheated on your first wife with a rich heiress, and left your disfigured wife and married the heiress the next month, you're a Christian.

If you teach responsible, age appropriate sex education, including the proper use of birth control, you are eroding the fiber of society.

If, while governor, you staunchly advocate abstinence only, with no other option in sex education in your state's school system while your unwed teen daughter ends up pregnant, you're very responsible.

If your wife is a Harvard graduate lawyer who gave up a position in a prestigious law firm to work for the betterment of her inner city community, then gave that up to raise a family, your family's values don't represent America's.

If you're husband is nicknamed "First Dude", with at least one DWI conviction and no college education, who didn't register to vote until age 25 and once was a member of a group that advocated the secession of Alaska from the USA, your family is extremely admirable.

OK, much clearer now."
Sad but true, huh? I for one can't wait for the debate Thursday night but I do not know if I can take two hours of that "voice".
"Right back at ya, Robin"
Gah!
More importantly, below is something way serious, and I urge you to take action today:
"On Mon, 9/29/08, Michael Moore wrote:

From: Michael Moore
Subject: The Rich Are Staging a Coup This Morning ...a message from Michael Moore
Date: Monday, September 29, 2008, 12:01 AM

Friends,
Let me cut to the chase. The biggest robbery in the history of this country is taking place as you read this. Though no guns are being used, 300 million hostages are being taken. Make no mistake about it: After stealing a half trillion dollars to line the pockets of their war-profiteering backers for the past five years, after lining the pockets of their fellow oilmen to the tune of over a hundred billion dollars in just the last two years, Bush and his cronies -- who must soon vacate the White House -- are looting the U.S. Treasury of every dollar they can grab. They are swiping as much of the silverware as they can on their way out the door.

No matter what they say, no matter how many scare words they use, they are up to their old tricks of creating fear and confusion in order to make and keep themselves and the upper one percent filthy rich. Just read the first four paragraphs of the lead story in last Monday's New York Times and you can see what the real deal is:

"Even as policy makers worked on details of a $700 billion bailout of the financial industry, Wall Street began looking for ways to profit from it.

Financial firms were lobbying to have all manner of troubled investments covered, not just those related to mortgages.

At the same time, investment firms were jockeying to oversee all the assets that Treasury plans to take off the books of financial institutions, a role that could earn them hundreds of millions of dollars a year in fees.

Nobody wants to be left out of Treasury's proposal to buy up bad assets of financial institutions."

Unbelievable. Wall Street and its backers created this mess and now they are going to clean up like bandits. Even Rudy Giuliani is lobbying for his firm to be hired (and paid) to "consult" in the bailout.

The problem is, nobody truly knows what this "collapse" is all about. Even Treasury Secretary Paulson admitted he doesn't know the exact amount that is needed (he just picked the $700 billion number out of his head!). The head of the congressional budget office said he can't figure it out nor can he explain it to anyone.

And yet, they are screeching about how the end is near! Panic! Recession! The Great Depression! Y2K! Bird flu! Killer bees! We must pass the bailout bill today!! The sky is falling! The sky is falling!

Falling for whom? NOTHING in this "bailout" package will lower the price of the gas you have to put in your car to get to work. NOTHING in this bill will protect you from losing your home. NOTHING in this bill will give you health insurance.

Health insurance? Mike, why are you bringing this up? What's this got to do with the Wall Street collapse?

It has everything to do with it. This so-called "collapse" was triggered by the massive defaulting and foreclosures going on with people's home mortgages. Do you know why so many Americans are losing their homes? To hear the Republicans describe it, it's because too many working class idiots were given mortgages that they really couldn't afford. Here's the truth: The number one cause of people declaring bankruptcy is because of medical bills. Let me state this simply: If we had had universal health coverage, this mortgage "crisis" may never have happened.

This bailout's mission is to protect the obscene amount of wealth that has been accumulated in the last eight years. It's to protect the top shareholders who own and control corporate America. It's to make sure their yachts and mansions and "way of life" go uninterrupted while the rest of America suffers and struggles to pay the bills. Let the rich suffer for once. Let them pay for the bailout. We are spending 400 million dollars a day on the war in Iraq. Let them end the war immediately and save us all another half-trillion dollars!

I have to stop writing this and you have to stop reading it. They are staging a financial coup this morning in our country. They are hoping Congress will act fast before they stop to think, before we have a chance to stop them ourselves. So stop reading this and do something -- NOW! Here's what you can do immediately:

1. Call or e-mail Senator Obama. Tell him he does not need to be sitting there trying to help prop up Bush and Cheney and the mess they've made. Tell him we know he has the smarts to slow this thing down and figure out what's the best route to take. Tell him the rich have to pay for whatever help is offered. Use the leverage we have now to insist on a moratorium on home foreclosures, to insist on a move to universal health coverage, and tell him that we the people need to be in charge of the economic decisions that affect our lives, not the barons of Wall Street.

2. Take to the streets. Participate in one of the hundreds of quickly-called demonstrations that are taking place all over the country (especially those near Wall Street and DC).

3. Call your Representative in Congress and your Senators. Tell them what you told Senator Obama. Click here to find their numbers.

When you screw up in life, there is hell to pay. Each and every one of you reading this knows that basic lesson and has paid the consequences of your actions at some point. In this great democracy, we cannot let there be one set of rules for the vast majority of hard-working citizens, and another set of rules for the elite, who, when they screw up, are handed one more gift on a silver platter. No more! Not again!
Yours,
Michael Moore
MMFlint@aol.com
MichaelMoore.com
P.S. Having read further the details of this bailout bill, you need to know you are being lied to. They talk about how they will prevent golden parachutes. It says NOTHING about what these executives and fat cats will make in SALARY. According to Rep. Brad Sherman of California, these top managers will continue to receive million-dollar-a-month paychecks under this new bill. There is no direct ownership given to the American people for the money being handed over. Foreign banks and investors will be allowed to receive billion-dollar handouts. A large chunk of this $700 billion is going to be given directly to Chinese and Middle Eastern banks. There is NO guarantee of ever seeing that money again.

P.P.S. From talking to people I know in DC, they say the reason so many Dems are behind this is because Wall Street this weekend put a gun to their heads and said either turn over the $700 billion or the first thing we'll start blowing up are the pension funds and 401(k)s of your middle class constituents. The Dems are scared they may make good on their threat. But this is not the time to back down or act like the typical Democrat we have witnessed for the last eight years. The Dems handed a stolen election over to Bush. The Dems gave Bush the votes he needed to invade a sovereign country. Once they took over Congress in 2007, they refused to pull the plug on the war. And now they have been cowered into being accomplices in the crime of the century. You have to call them now and say "NO!" If we let them do this, just imagine how hard it will be to get anything good done when President Obama is in the White House. THESE DEMOCRATS ARE ONLY AS STRONG AS THE BACKBONE WE GIVE THEM. CALL CONGRESS NOW."
And on that note, I have nothing else to add.
Later,
xo