I have over one hundred of the coolest photos ever courtesy of
The Adrian Belew Power Trio
and I don't even know where to begin trying to decide which ones to put up here.
So first, as promised, here are some pics of rehearsal in
The Queen's
Julie's room. I had a hell of a time picking out the most interesting, so I'm not sure if these capture just how big her room is, but yep, she has two sofas in there which I did see in one I'm not posting due to poor quality.
Adrian Belew, Eddie Jobson, Tony Levin, Pat Mastelotto, and Eric Slick hashing out what will be incredible versions of Larks' Tongue in Aspic and Red. Notice that Eric is playing the trash can and Pat is playing the bed. Nice!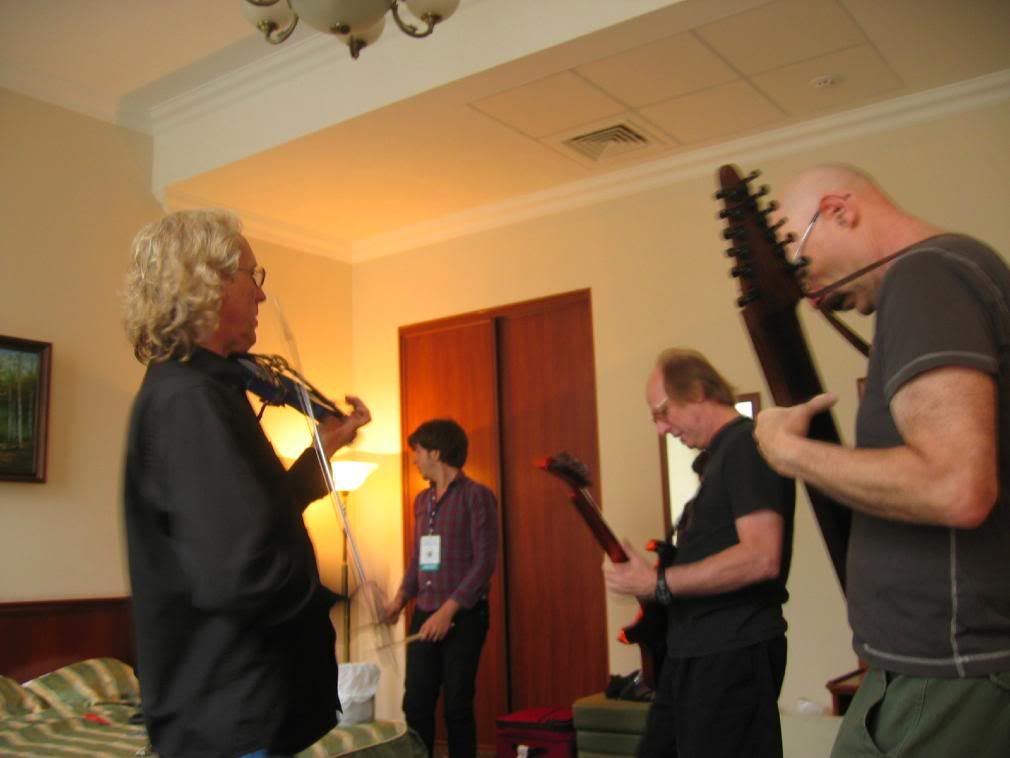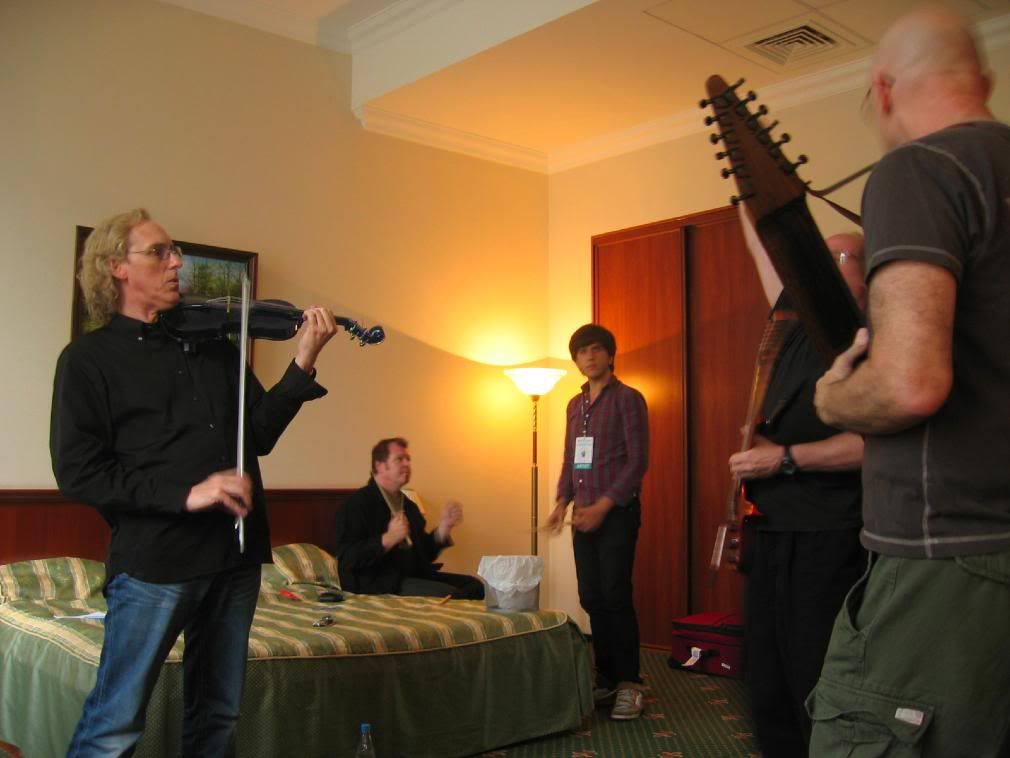 So how do I know the songs were amazing? Because I am the luckiest woman in the world. My daughter Skyped me during that portion of the show with her microphone and Gary and I got to hear both Larks' Tongue in Aspic and Red in full, as it was happening, and not only did we have the chills, I had tears running down my face. It was INSANE! Eric and Pat on double drums, Tony on bass, Eddie on violin, and the spectacular Adrian Belew on guitar. It was a religious experience.
Please oh please oh please let someone have recorded this concert for a professional DVD/CD.
Who am I kidding? I'd kill for a crappy You Tube.
So anyway, after the show, which Julie said was FABULOUS -- she said the Adrian Belew Power Trio were amazing -- we got to hear Julie, Eric, and Adrian talk to us via Skype, too, but I couldn't respond because it was early in the morning here and I didn't make that run for an iMic yet.
"Hi, Mom," said Julie. "Wasn't that great?" (Julie knew I didn't have a working mic so we also e-mailed while she spoke to me and I answered her that way when I realized, d'oh, that was all I had to do but half the time I forgot and answered her out loud like a total dolt)
"Dad and I are crying," I shouted as aforesaid to no one but Gary and me.
"Adrian! My mom and Dad are here - they listened to the whole thing on the computer!"
Adrian: "Hi Robin, Hi Gary! We miss you and wish you were here in Russia! More importantly, we wish you spoke Russian," he laughed.
Gary and I are such dorks, we're yelling back at the top of our lungs answering him even though we knew full well he couldn't hear us.
"Hi, Ade! We miss you, too!"
Oy, we are hopeless.
Adrian: "Hey, Eric was just in King Crimson!"
Us: "We know! We heard!"
More like mentally challenged.
Now even the dog is looking at us like we are crazy...it was as if he knew we were talking to no one but an unresponsive, mic-less computer, too. Oh why oh why didn't I run out and buy a mic this morning? But truthfully, their show was 10:00 a.m. our time and stores do not open until 10:00 a.m. here and had we gone, we would have missed everything and then I would have had to kill myself.
I haven't heard about the encore yet, which was the Beatles' All You Need is Love, but the festival has a photo up on their
website
and I'm not sure if it's Eric front row second from the left or not but it sure looks like him:
I can't tell and it's my own son. What do you think? I guess I'll wait to hear from Eric and he'll confirm it - I do know he has a dark shirt like that; it's his stance and haircut...but I'm not positive. He said the trio was planning on dancing during the grand finale which really made me smile but who knows how it all panned out...when I talked to Julie last, the ABPT show and surprise Crimfest had just ended and they were off in search of something to eat before said grand finale.
I will say that after the Crimsonians did Larks Tongue and Red and left the stage, I clearly heard Julie tell Tony "that was awesome" and Tony replied, "Thanks, you're awesome, too" (Ha ha, we think that's what we heard but just in case we didn't, Julie, we apologize in advance for being insane though admit it, that's why you love us) but then we definitely heard Julie giggle and say "We'll do Thela in Moscow on Wednesday," and Tony agreed, which makes sense, since Tony, Julie, Pat, Eric, and Ade performed it brilliantly in Quebec this summer.
Let's see, what else. I dunno, my brain is still fried from witnessing that show this morning...it was that thrilling. So while I wait to hear from them, assuming that happens, let me share some of the fabulous tourist photos Julie uploaded to my site today.
Here's that wacky trio, who could star in their own version of a Hard Days Night...you have no idea. Or maybe you do. xo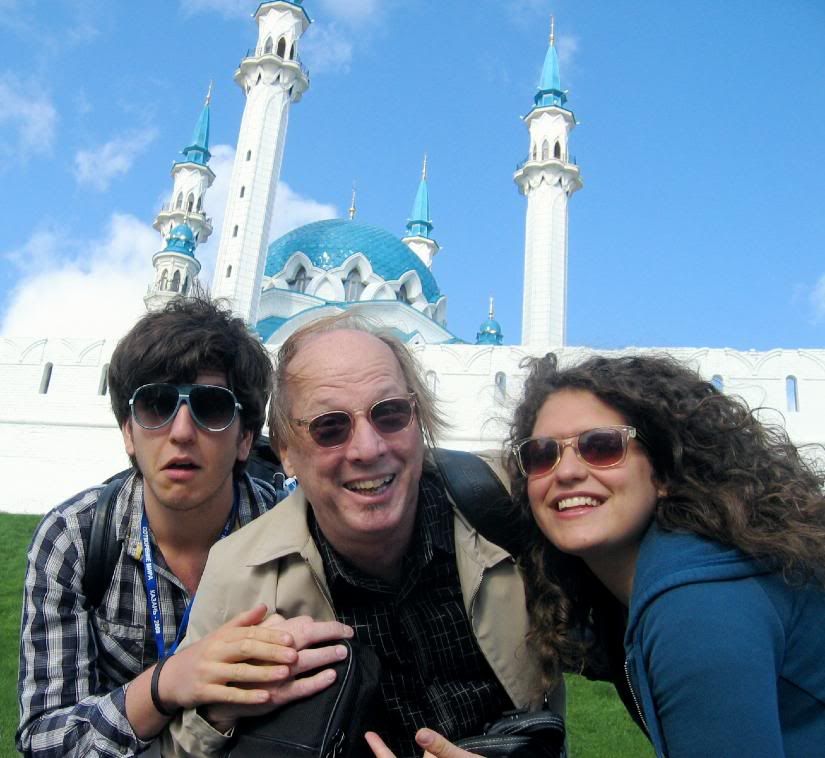 Julie and Eric with their obligatory photo for the gushing parents and said parents thank you very much, guys:
Julie posing under an advertisement for a Russian radio station: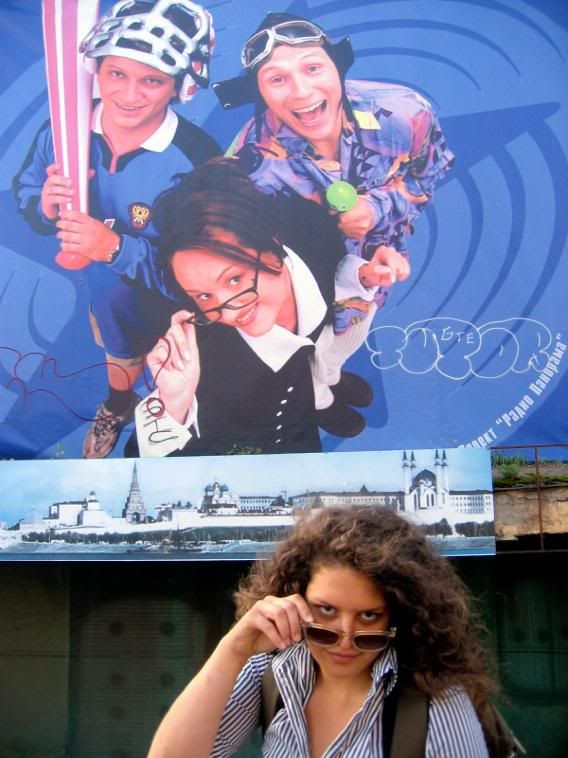 Eric on the tour bus, which has some pretty interesting seat covers, huh. Nice photography, Jules. Love it.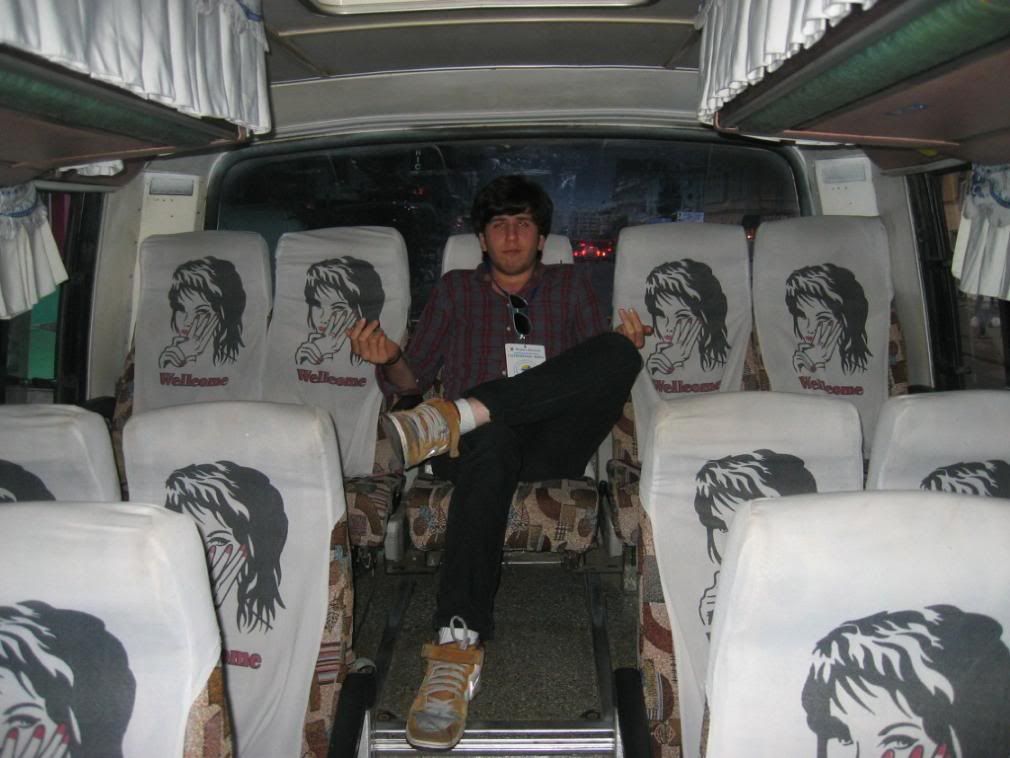 Look! Julie is not only the Crimson Queen, she's Peter Pan!
Isn't this crazy? It looks more like Disneyland than Russia:
Ha ha - Ade is either feeling the after effects of the twenty-seven hour flight or would that be flights of vodka?
Vegetarian Eric Slick standing in front of his worst nightmare:
Two best friends and band mates...it doesn't get much better:
Wow. I'm actually putting up two posts in one day. I hope I have something left for tomorrow!
I'm guessing yes.
Later,
xo