So yesterday was my birthday, and it was awesome.
Via my email were the best cards ever from Adrian Belew's tribe - the first one is from the fabulous Rena Fay and the second photo and graphic, which said Happy Birthday though I could not capture the words in my photobucket site, are from Mike Inman: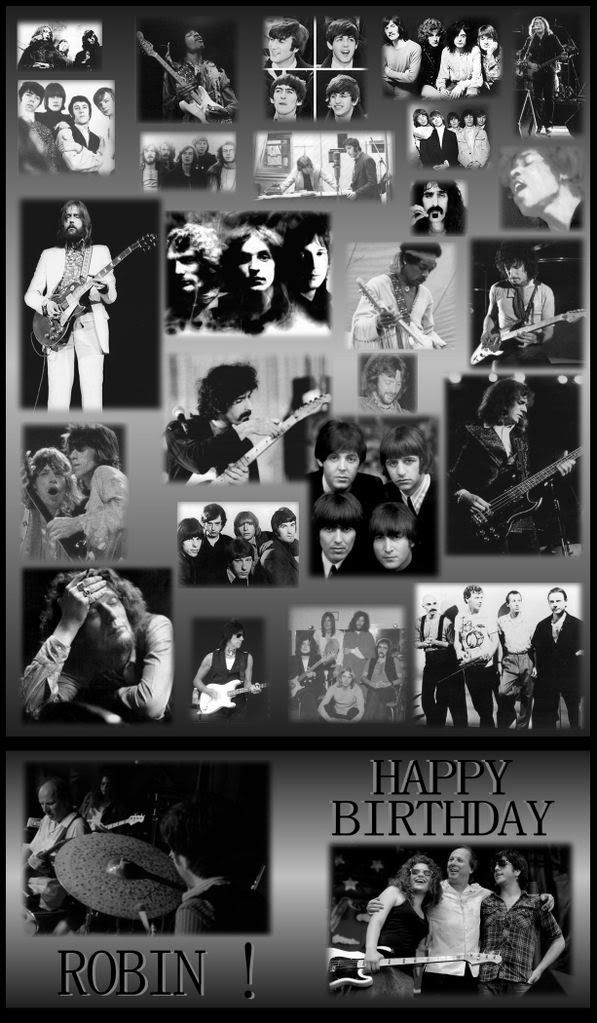 Such talented people, but then again, who wouldn't expect that of Adrian's fans?
My family was incredible as well. The day started off with brunch at the restaurant where Julie is a server in between gigs as a bass playing superstar...she brought me poached eggs over crab, shrimp, and asparagus swimming in hollandaise sauce...mmmm...and a spicy Bloody Mary. I
stumbled
walked home from there and Gary was upstairs, installing a new bathroom sink (yay!) Eric made me an incredibly funny card that I wish I could post here but it's too personal -- trust me, though, that man is not only a genius but extremely artistically talented -- and then they presented me with a very generous gift certificate to a techie's dream...The Apple Store! So right now I'm undecided if I should use it toward new laptop or...I dunno...the possibilities are endless.
I honestly thought, because I told them I am the woman who has everything, that they wouldn't bother with presents this year (yes, I know, I am an idiot) so I figured I'd treat myself to a few things so family, if you are reading this, here is our new living room lamp, which will be arriving in a few days...hahahahaha...hope you like it but I know you will and for those of you who have seen my house, you will know that this fits in perfectly and it takes one of those great new energy saving lasts for fifteen years bulbs that I now have all over my house (and this one can handle a 150 watt bulb though I think that's a little much)
But naturally my favorite gift was this one, which was designed especially for me (and my new laptop) by
Satchel Studios
. Recognize the artwork?
How freaking cool is that! I have my kids' album cover, original Adrian Belew art, on my messenger bag. It's so gorgeous in person - the pic doesn't even begin to do it justice and there's even two special compartments for my cell phone and iPod.
I actually had two birthday dinners - one with the family on Saturday night - three cheese homemade ravioli dressed with a roasted garlic olive oil, peas, fresh tomatoes, and mushrooms (to die for), an arugula salad, and lemon tart for dessert, but for the actual event, I had my favorite (I hope my doctor isn't reading this) - buffalo chicken and home fried potatoes -- and an hour or two later, triple chocolate mousse birthday cake.
I'm pissed I forgot to take the usual food porn photos but I was so hungry both nights that eating took precedent, though the ravioli in particular will be a meal we'll be repeating within the next few weeks so I'll try to remember to take a few shots then.
You realize I have to fast the rest of this week or exist mainly on lettuce leaves but it was so, so worth it.
Meanwhile, life is about to get very busy again. Next week Julie and Eric leave for Russia and to play in front of 100,000 people in Kazan with Tony Levin, Pat Mastelotto, Patti Smith, Keith Emerson...arghhh....I'm so excited for them...and then basically as soon as they return they are heading down to Nashville to start rehearsing/recording the new studio album with Adrian. It's going to be all freshly written material for those of you who lamented the lack of same at last weeks' fabbo King Crimson shows - just incredible, amazing stuff from the bits and pieces I've heard so far though those of you who witnessed the 2008 summer tour got a taste when you heard the superb, almost otherworldly song "E"...and hmmm...I just noticed there are a few new You Tubes up of the trio from Teaneck, New Jersey in June which, while just some partial bits, are very good quality so I feel the need to post them:
And then basically, after they return from Nashville, we take a family vacation the last two weeks of September at our house right on the beach...even Monty dog comes...well wait, the whole vacation is based around him (ha) since we go off-season when he's allowed on the beach and who am I kidding, our lives are based around him, period, since he first joined our family ten years ago and we wouldn't have it any other way.
Then after that, it's Europe for a month - my lucky kids and Ade get to go everywhere from Switzerland to Spain...wait...here's the whole list...and the "tba" for October 16 may turn out to be Poland...we'll know in a few days:
ADRIAN BELEW POWER TRIO
FALL 2008 - EUROPE
AUGUST
30 Kazan Russia Open Air Festival
SEPTEMBER
03 Moscow Russia B1 Club (King Crimson Festival featuring Adrian Belew and his Power Trio, Tony Levin, Pat Mastelotto, Eddie Jobson, Trey Gunn, Marco Minnemann...and more!)
OCTOBER
15 WED Budapest Hungary
16 THU tba
18 SAT Lugano Switzerland Auditorium, Radio Svizzera
20 MON San Sebastien Spain
21 TUES Barcelona Spain
23 THU Milano Italia Blue note
24 FRI Woergl Austria Komma
25 SAT Vevey Switzerland Rocking-Chair
27 MON Aschaffenburg Germany Club Colos-Saal
28 TUES Groningen Netherlands De Oosterpoort
29 WED Den Haag Netherlands Paard Van Troje
31 FRI Zurich Switzerland Moods Im Schiffbau
NOVEMBER
01 SAT Schwerin Germany Der Speicher
02 SUN Muenster Germany Hotjazzclub
03 MON Leverkusen Germany Forum Leverkusen, Jazztage
By the way, I just realized something. Last night when the family sang Happy Birthday to me and I made a wish...ha ha - you'll never guess what I wished for...think it involved Adrian, Julie and Eric?...the dog usually joins in, barking hysterically with a crazed look in his eye. Last night he didn't do it and I just figured out why. It was because since it was my birthday, I didn't sing! Oh my God, this just validates something the kids have told me for years...I'm gonna cry. They say I am absolutely, unequivacably the worst off-pitch, off-key singer they have ever heard, despite my gut/soul wrenching version of Natural Woman (performed best in the shower, of course, when no one is listening)...and I swore they were just teasing me; that I really do have a lovely singing voice. But but but...the dog didn't bark like he was losing his mind last night. Oh no...
Anyway, Happy Birthday to me, I'm another year older, another year wiser (not, but what's a little white lie among friends), and I truly, truly, truly love my family.
Later,
xo