...you don't know how lucky you are, boy.
Oh. Sorry. I told you - any opportunity to sing a Beatle song.
But just how lucky are my kids...
So, yes, Adrian, Julie and Eric are having an absolutely amazing time in Russia. Lucky for me, tour manager
Andre Cholmondeley
has been providing me with all the juicy details and some fantastic photos.
Here's the
Adrian Belew Power Trio
at the airport in Russia.
According to an email I got from Eric, it was, including layovers and connecting flights, a twenty-seven hour trip. But look at Ade. He's such a kid. It's so awesome to see him ham it up. He's always smiling ear to ear around Eric and Julie and Ade told me something that really choked me up. He's got a goofy, messing-around pic of the three of them as the wallpaper on his laptop and whenever he needs a smile, he looks at it. Isn't that the coolest thing ever? Ha ha, well, it is to me - but then again, I am their mother.
So I was thrilled hearing from Eric, but I got an even better email from Andre. He gave me the gossip. Here is the edited version - sorry, some stuff is too juicy and personal to share.
Oh, I love my life. Anyway, here's Andre:
"
Yes -- Today I'm in Kazan, Russia with Adrian Belew and his Power Trio--

Our first gig is Saturday, August 30. The bill includes....Keith Emerson Band, Eddie Jobson, Tony Levin, Trey Gunn, Pat Mastelotto, Patti Smith, Fairport Convention etc.....crazy! Can't wait to be at soundchecks/rehearsals...

Highlights---so far......listening all the way from Moscow to Kazan (90 minute flight) in (tiny) plane...(yikes)....on my iPod, to live ELP....and sneaking a glance or two at a sleeping KEITH EMERSON across the aisle, three rows back! Priceless! How can I EVER forget that shit!?!? During 'Take a Pebble' I had to pause to go piss. (Insert kidney stone joke here). When I came out of the bathroom, there was Keith waiting. I said hi real quick, he said hi and smiled, no real intros till today -- we were all at the check in line together yesterday, he and band, (including Marc Bonilla), Trey Gunn (playing in KTU) was also there...

Keith Emerson has been my favorite keyboard player since I discovered TRILOGY at about age 13 or 14. Other than that --- it's Eddie Jobson. The first UK album...inhuman. It's tough to find better keys performance ANYWHERE, next would be maybe Don Preston, Herbie, Chick,....George Duke and Wakeman further down the list. I have ELP's "Trilogy" on an average almost once a month since 1978.....have seen ELP, ELPowell, and two solo Keith gigs. I love him, especially his PIANO work. Karn Evil...absolute masterpiece, desert-island stuff.

So yeah. Listening to Tarkus while Keith naps across the aisle. Silly...but priceless.

And of course having some great talks with Eddie Jobson already - I freaked him out as we were all on line in Atlanta waiting to fly here -- before he had seen Ade or the band, I walked by singing his early 80s semi-hit "Turn It Over"

It blew his mind pretty well. I had met Eddie at a Bruford/Moraz gig 20 years ago, but now then I introduced myself as a professional (and secretly nerd-fanboy). Then Ade walked up to the line and they had a great reunion. They had met once years ago.....Crimson & Zappa alumni (!!) but have never played together. This will be the first time and I will document it with pictures and in my silly little prog-jackass head. Prog-Heaven!! Prog-Heaven!!!

Last night -- after 30 some hours of traveling and living in airports.....got real fucked up with the Belew band, and Trey and his girlfriend. Jesus Christ. Russian bartenders can pour some damn drinks. Great gear-nerd chat with Trey -- -about where he is going with his NEW Warr guitars...will be horizontal, like a pedal steel. (A la how he plays it in the King Crimson video on the song "Construction of Light". Trey is super cool, I'm a big fan of his "molybdenum'CD and the KC years of course........he chuckled knowingly about the Fripp "Audience-Blocking-Wall-Of-Gear".

Very memorable evening. Last time I was getting fucked up in a hotel bar it was in July/Quebec...... with Tim Alexander and Les Claypool......hours after having drinks with Tony Levin!
(Note from our author...sigh...I was there, too...why the hell am I not in Russia now? Oh my God, it sounds like I'm missing the experience of a lifetime)
...Today checking out KAZAN -- very historic city -- google it! The gig is the 30th, next day we ride up the fucking VOLGA RIVER with the Mayor (the REAL one, not me) -- on a boat-party, that will be sick -- I believe most of the above people will be there....
Oh my god. My kids get to go on a cruise with these guys, too? Arghhh....
Here's a couple photos of the trio at sound check:
Here's a cool canal: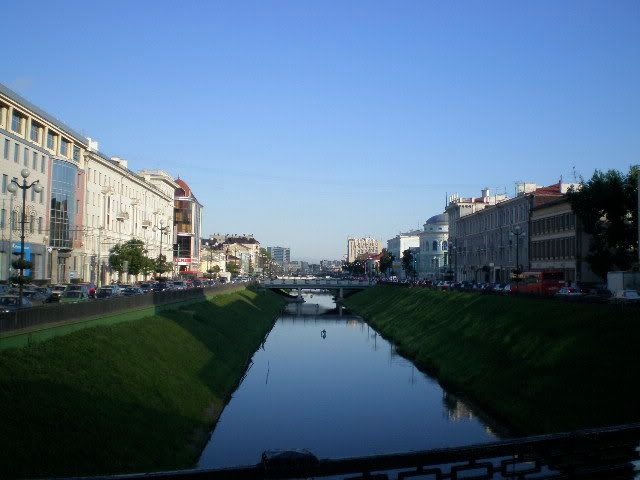 And last but not least, Keith Emerson's tech guys, one of whom is also named Keith and has been his/ELP's sound engineer, mixing his stuff since 1994 as well as something like six Beach Boy albums including their hit, Kokomo: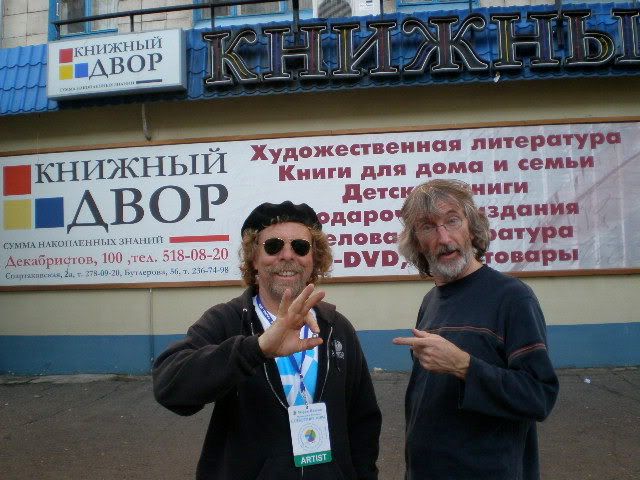 Okay, Andre, next I'm counting on you for some Eddie/Trey/Keith/Pat/Patti and most of all Adrian Belew Power Trio photos, okay? And um, don't forget my fan girl crush: Tony Levin.
(Oh, I'm kidding)
(I really have one for Keith...shhh...don't tell anyone)
But I did wake up to a sweet message from Julie instructing me to begin using skype to communicate with her. She added the following P.S.:
"If for some reason I'm not on, it's because soundcheck went long or we ended up jamming with Eddie Jobson, Tony, and Pat. That would be a good enough excuse I hope!"
Um, yeah, Julie. For sure.
Later,
xo