Ha ha - I'm so enamored with the title of my last post I had to use it again, even if it doesn't quite make as much sense here...or maybe it does...
That would be
Julie Slick
,
Andre Cholmondeley
, and
Keith Emerson
.
And here's Julie at the after-party jam with
Pat Mastelotto
on drums, (I can't identify the other musicians but I'm sure someone will tell me) where, as Tony Levin says in his
diary
:
"Quite a festival yesterday here in Tatarstan. (And quite a party afterwards! A hundred musicians in a large club with a stage to jam on and free-flowing vodka...")
(Which probably explains why I did not hear further from Julie and Eric yesterday after that wonderful Skyped listen to the Crimfest on stage)
And here's Julie once again, apparently auditioning for a role as mannequin in a Russian mall:
By the way, Tony added some amazing photos of the festival to his site while I was asleep last night - he estimates there were well over 100,000 people in the audience. How freaking cool is that? Here's the link to
Tony's photos
...you can really see the magnitude of the crowd...it's mind blowing!
Here are a few shots of the
Adrian Belew Power trio
just prior to taking the stage and in the second one, yes, Eric is pretending to be on his ever-present cell phone: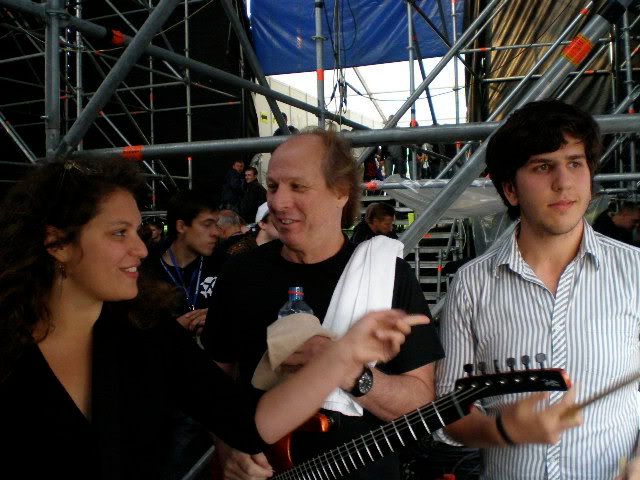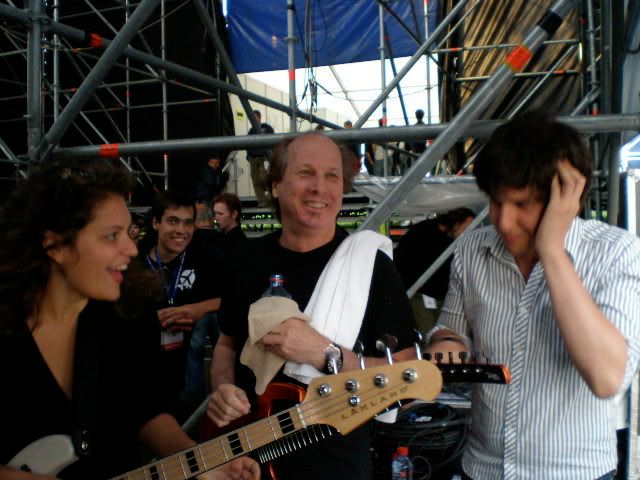 And as usual, Julie and Eric unwinding pre-show - Eric warming up on his drum pad and Julie probably getting ready to listen to a recording of one of their prior shows...or...instant messaging with her boyfriend: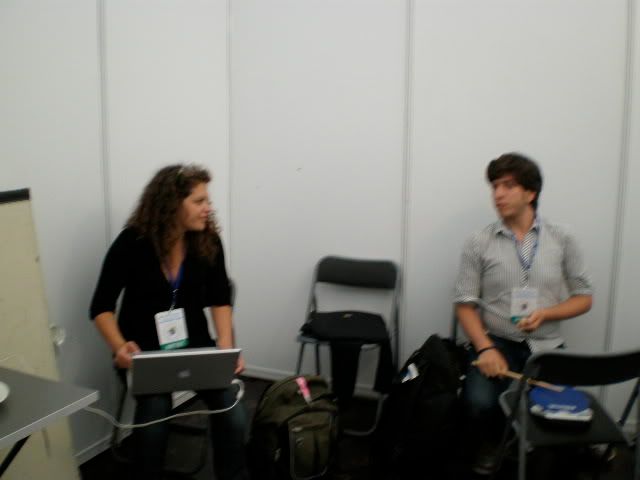 The following captions are from my emails with Andre. Ha ha...just reminded me of the film
"My Dinner with Andre"
. I'm thinking I'll have to write a new memoir called "My emails with Andre" because let me tell you, over the past several years they have been classic and well worthy of publication!
So without further ado, here's Andre:
"Remember that since the last Jethro Tull tour he did in 1980 or 1981, Eddie Jobson had not been on stage other than that one Tull/Bach tribute show in 1985 and with Fairport Convention a little while earlier this day."

"They have not seen each other since Fripp, Belew et al were on a bill in Germany with Tull in the mid eighties. Adrian remembered the EXACT venue and some wacky art there. The photo below was taken not long ago -- like ninety minutes ago, I guess. I had just done a shot of black vodka with Peggy, Ade and the techs from KTU (Trey's band) -- super cool new friends from Finland. New place to visit and play and new friends to chill with when there.

Dave Pegg. Bass Extraordinaire. Fairport Convention. Jethro Tull."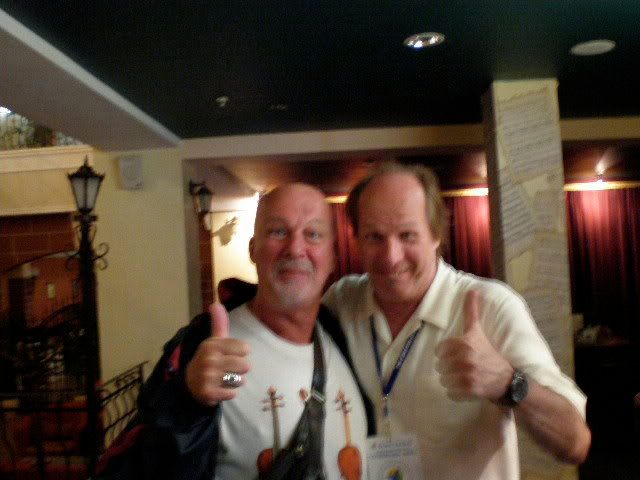 "

Julie rockin', a pyramid, and the masses Of Kazan Russia"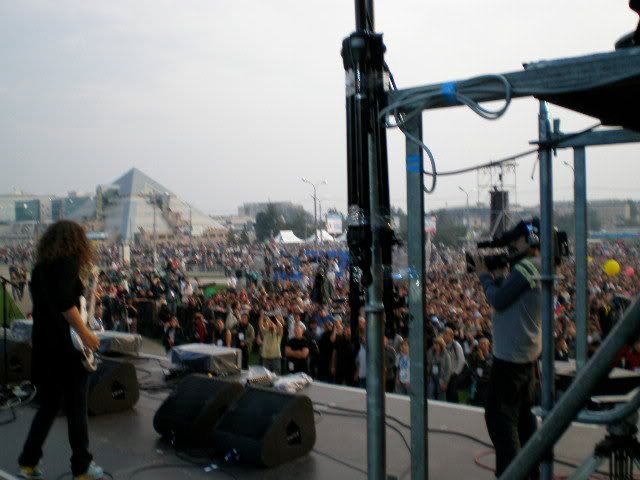 "So they had three stages, really - the music never stopped for more than one minute. You can see the active stage on the right... that's where the Adrian Belew Power Trio played...where the stage juts out. They would have the announcers between sets, and maybe a solo performer or some rappers, anyone who didn't need space or setup time. The stage on the far left of this -- you can see the green screen -- they would lower a screen on either main stage while we were setting up.

Man oh man. Some lightning setups I had to pull off on this one! You have just minutes, maybe twenty, while the other band played. With the crew rushing around of course, to set up your backline. Clockwork. We kicked ass. One of the BEST crews I've ever worked with. Two words -- the Dutch.

My bad luck? Our setup time was during the Keith Emerson set! FUCK! Well, I HEARD it! And I did catch like 1.5 songs. But during "Lucky Man", something seemed to be wrong with the modular moog... NO SOUND came out! Fortunately About half-way through, those classic sounds got going...it was cool...we have all been there...40 years old synths can be moody at times..."
So I'm thinking right about now, it's almost 5:00 p.m. in Russia and the whole musical gang is now partying on a boat with the Mayor on the Volga River (which Google just told me is the largest river in Europe!) and assuming the vodka is flowing there as well, I'm not sure if I'm going to get anymore updates today or not, though Andre did promise and ha ha, I'll probably be getting some dandy ones from all of the, um, inebriated crew if I'm lucky so I'll be back with more as soon as I am in possession of the same. Cool? Cool!
Oh. One final thing. As it turns out, that was not a photo of Eric in the grand finale, but a pic of Patti Smith's bass player, Tony Shanahan. (D'oh, did I not see the bass in that photo?)
He's an old pal of Andre's and here's what he had to say about that:
"
For weeks I was psyched to shock him (Tony Shanahan) half to death by showing up at their room. He had no idea I was here! I ran into Patti, Lenny, no one knew where Tony was "He's around" they all said. "I need it to be a surprise," I said.

Later, Tony Levin came out of their room and I said "Tony, is Shanahan in there" TLev replied, "Sure! Hey Tony, Andre is looking for you." Around the corner or the door I hear a puzzled, confused Shanahan say "Andre?" He came and and we laughed and bear hugged. Tony is the the "sweetest guy in the world" top ten. I'm so happy Julie and Eric got to meet him...and Eric jammed with him later at the hotel after party!

So, while we were catching up , I introduced Tony to Eddie Jobson. It turns out (of course) Tony was a huge fan - LOVES Roxy Music...so they have a great chat-- next thing I know, Eddie is gonna sit in with Patti Smith band....as did Tony Levin!

Unreal!

They did "Smells Like Teen Spirit" and "People have the Power".

Their "Teen Spirit" is taken at half-speed, very elegiac, acoustic --lovely version!

..."Because the Night" was great -- of course "Dancing Barefoot" was a highlight.

But doing my little part to cause a joyous musical collaboration between people whose vinyl I wore out back in my lonely teenage room was one of the more special memories I'll carry outta this place."
And on that note...
Wait! ETA ALERT! Here's are You Tubes, Part I and II, of the Grand Finale from the festival yesterday!
Eddie Jobson fans are gonna love this. And Ade looks like he's having an absolute blast!
Later,
xo