I'm so psyched.
Tomorrow in the wee hours of the morning, Julie, Eric and I are taking trains, planes, and automobiles to Canada for the July leg of the summer
Adrian Belew Power Trio
tour.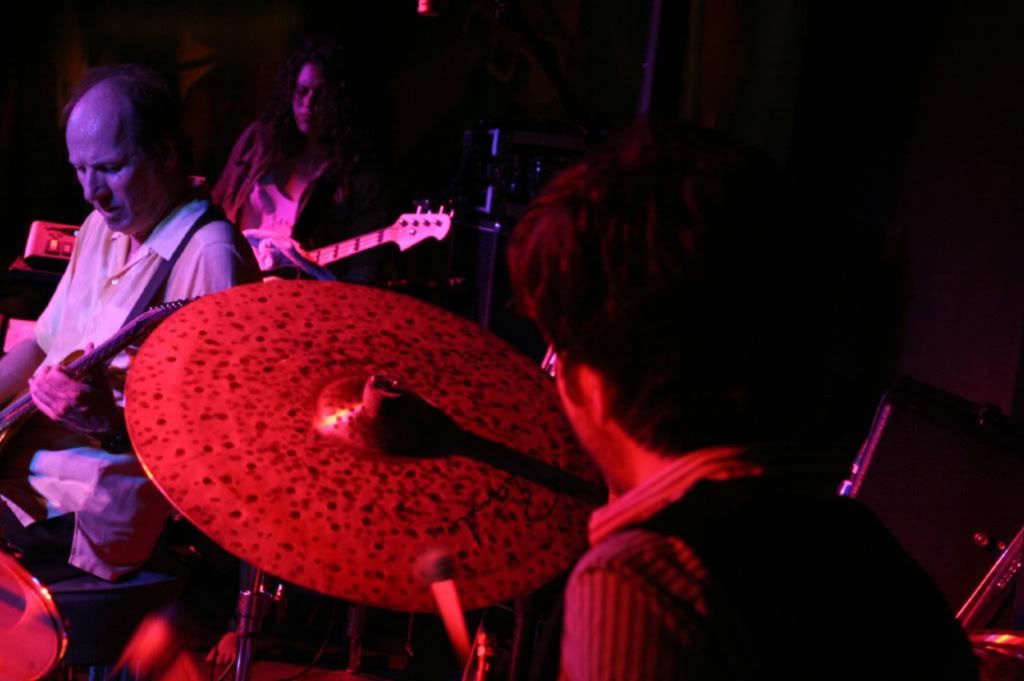 Photo by Gary Slick, June, 2008
But first things first. On the right hand side of my blog, directly under "About Me", you'll see a little icon which says "JPG" with a photo of Julie and the word "vote". Please click on it and, well, vote.
Wait. I learned that if you use Internet Explorer as your browser, you might not see the right hand side of my blog. So let me make it easy for you and put the link here, too.
Vote!
This is a photograph Gary took of Julie during the last tour and it's entered in a contest as well as up for consideration to be published in Issue 18 of JPG Magazine, which issue will have the theme "On Stage". So if you would be so kind...we thank you very much.
Also, I just learned that Phaze, the publisher of my first four books, is offering a special promotion tomorrow - 20% off if you enter the secret code. So here is my
author link
and when you go to check out, enter the following promotion code: FIREWORKS08...and you'll get a nice little discount. I can't wait to tell you about my new publisher but their website is undergoing renovations - it looks amazing so far - and I want to wait until it's officially finished before putting up a link. But if you can't wait for that, tune in around 11:00 a.m. today to
Blog Talk Radio
, where I will be hanging with the fabulous
Stella Price
. Here's her announcement for the event:
"I will will be talking about my trip to Scotland and regaling you all with tales of yachting, adventuring, shopping and of course, the reason why I went, Audra's wedding! Also, she'll have some amazing guests calling in and chatting in the chat room who will be giving away some fantastic stuff! They include:

Cat Johnson
Bianca D'Arc
Rowan West
Tilly Greene
Robin Slick
Jacquelyn Frank
Selena Illirya
Kayleigh Jamison

And many others that will just happen to pop in! And Ill be giving away a stunning 24k gold plated Scottish Thistle bookmark, and Winners choice of our print books! You can also expect goodies from Bianca D'Arc, Jacquelyn Frank, Tilly Greene and Many many more!

Both the Chat room and the call in lines will be open for this event so make sure you stop in, and hear all about the misery, the wonder and the insanity that was my trip over the pond! Hope to see you there!"
So yeah, I'll probably call in around 11:00 a.m. but probably cannot hang around too long because I have to do wash, pack, and run some errands before my trip but you can be sure with that group of authors, it will be a blast.
Anyway, how excited am I. It's been over a year since I last tagged along for more than a day or two on tour with the trio but this time I'll be there from July 5 at the show in
Ottawa
to
Quebec
July 6-8 and ending, for me, on
July 11 in New York City
with a stop in
Boston
on July 10. (The tour continues on in Pittsburgh and Kentucky but I have another way cool "obligation" on July 12 which I'll discuss in a separate post) I will have both camera and laptop with me so in theory, I'll be blogging the whole time but just in case I'm too wiped out or without internet service, you may not be hearing from me again until my return. But I know me - when I get excited, I have to write it all down, so even if it means begging to use a hotel computer...well, anyway, I'll give it my best shot.
Here's how the
Quebec City Summer Music Festival
is advertising Friends of Crimson and yeah, yeah, I know already told you this, but they are opening for freaking Primus. (Shouldn't it be the other way around, she wondered? Ha.)
Friends of Crimson King (California Guitar Trio, Tony Levin, Pat Mastelotto, Adrian Belew Power Trio)
July 8th, 2008, 20:30
Scène Bell
"It's a meeting at the summit for these musicians who, at some point in their career, were members of the legendary prog group King Crimson.

The musical program will showcase the great songs of KC, as revisited by the California Guitar Trio, Tony Levin, Pat Mastelotto, Adrian Belew and the Power Trio, rounded off with pieces from each performer's personal repertoire"
God, I have the chills, and I partially know the set list as well as a couple of "might also happen" rumors so I'm even more crazed.
I've never been to Canada, either, so I'm stoked about that, too, along with the fact that Julie tells me last year when the trio played this very same festival, they discovered the world's best french fries with curry sauce at a little cafe nearby and she's tortured me with that for the past twelve months. Guess where I'm heading first when we hit Quebec on July 6?
Tonight Julie and Gary are making a joint bon voyage dinner for all of us (Gary is staying home with the dog on this tour, darn it) and I'm sure I'll be taking a few photos of that and posting them before we leave tomorrow (though our first train is at 5:00 a.m. so I'm not promising and didn't I say at the top of this post you might not be hearing from me again until after July 11? Ha! As if.)...anyway, we are having three types of homemade ravioli - three cheese, eggplant/cheese, and broccoli rabe/cheese with three different sauces, all of which have a roasted garlic/olive oil base because we want to keep at least that part of the meal light. One will have fresh peas; the other chopped heirloom tomatoes, and the third is a Julie surprise. On the side will be baguettes, salad, and God knows what else...I'm guessing she'll do berries for dessert again but I'll campaign for something more decadent...I know, I will offer to buy something other than twist top wine if Julie caves and lets me have something chocolate or full of gooey nuts and whipped cream. Though Julie tells me - and I'm not sure I believe her so I'll hit Google - that twist top is the "new" good wine. Huh? She's kidding, right? Hang on...must open another window now and check.
I should have known. She is correct.
That's my Julie.
Yeah, so we're boarding a train at dawn which takes us to New York City, then another train which takes us to Syracuse, where we are meeting up with Adrian and Andre and driving across the Canadian border with all of the gear...and we'll be spending the evening of the fourth of July in a place other than America, which is a first for me, that's for sure.
And finally, because the last couple of posts focused on Julie, here's a great photo of Eric taken this past weekend at a rock festival where he played with, I think, at least four different bands - Jen Foster, thanks for the link to your photobucket site - I knew if I checked I'd find something new there!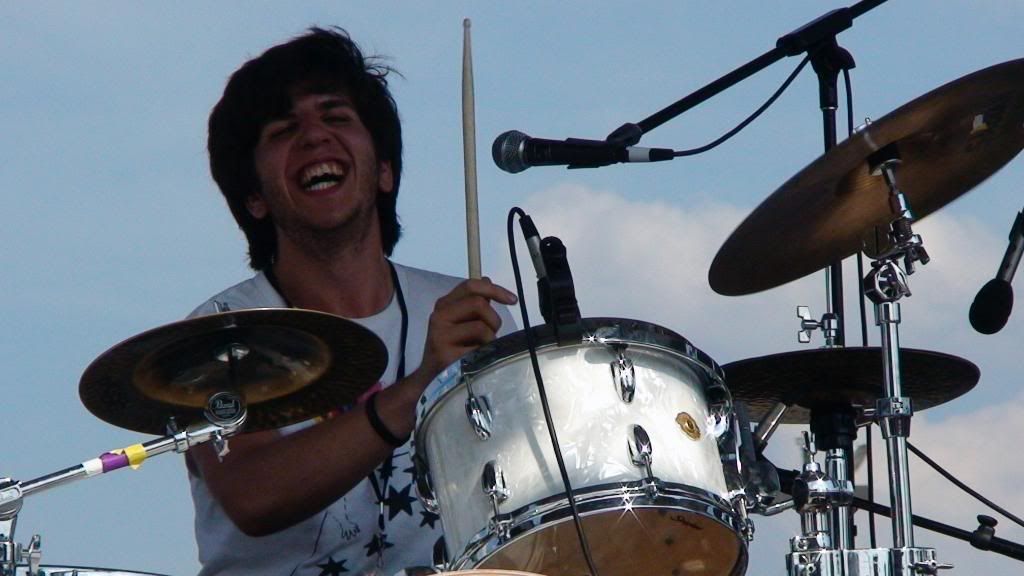 Think Eric looks like he's having a good time? Nah...
Enjoy the long weekend, everyone!
Later, (or not)
xo