So as I started to say in Part I, nothing prepared me for the beauty that is Quebec City. I wanted to weep when I got there, though that could also possibly be from the fact that we arrived absolutely starving mid-afternoon, a mere two hours before soundcheck and four hours before the show at 7:30 p.m...and the fact that the entire city is made up of straight up and down hills which I swear are really mountains. More on that in a minute. First, once again we were put up in a five star hotel, and this time for three days as the trio was performing both on July 6 on their own and on July 8 on the main stage with Friends of Crimson King, opening for Primus. When I opened the door to my room, I gasped at how wonderful it was, but I almost had a seizure when I saw the view from my window:
Is that incredible or what? You should have seen it at night, all lit up. I tried to take a photo but it came out kind of blurry. Oh well. You'll just have to trust me...it was about as good as it gets.
Anyway, as I said, we were starving and had a small window of opportunity in which to eat. Since Julie, Eric, and Adrian played this very same festival last year, all I've been hearing for the past twelve months is how much they love this little bistro they discovered there called the Victor Cafe...and Julie, knowing my weakness for hand cut french fries with curry dipping sauce on the side, had teased me mercilessly that they were the best she'd ever had and couldn't wait for me to try them. So she "allowed" me to indulge without giving me the usual "Mom please eat healthy" speech beforehand.
Here's a few photos from our lunch, with Matt sipping a most pleasant beer he'd never had before and me closing my eyes in ecstasy when I tasted my first french fry. For the record, Julie had a salad (sigh...) and vegetarian burger made of brazil nuts and spinach (to die for, actually), Matt had a burger, and I had a fresh salmon filet sandwich on a home made brioche. I could seriously eat at that cafe every day for the rest of my life: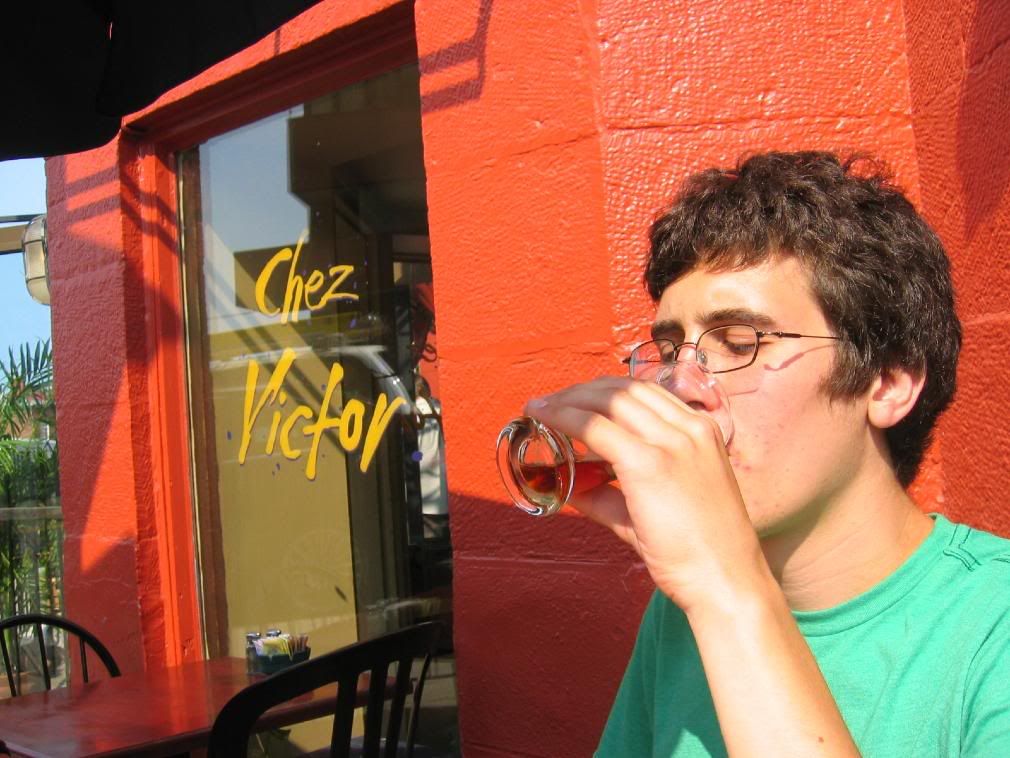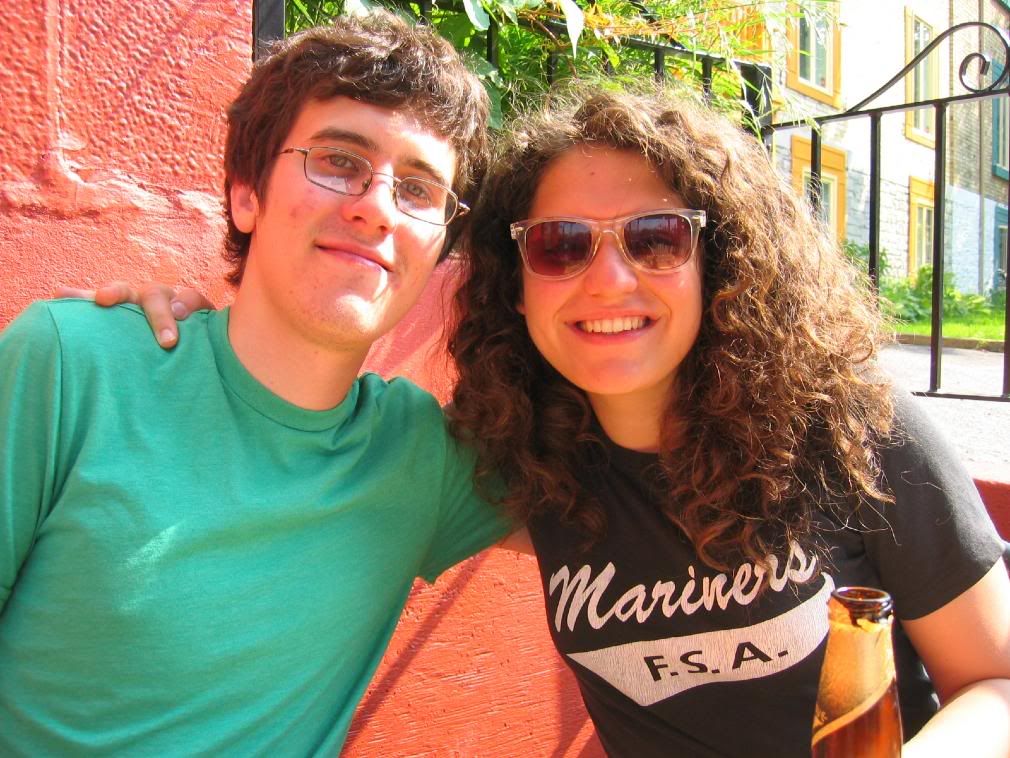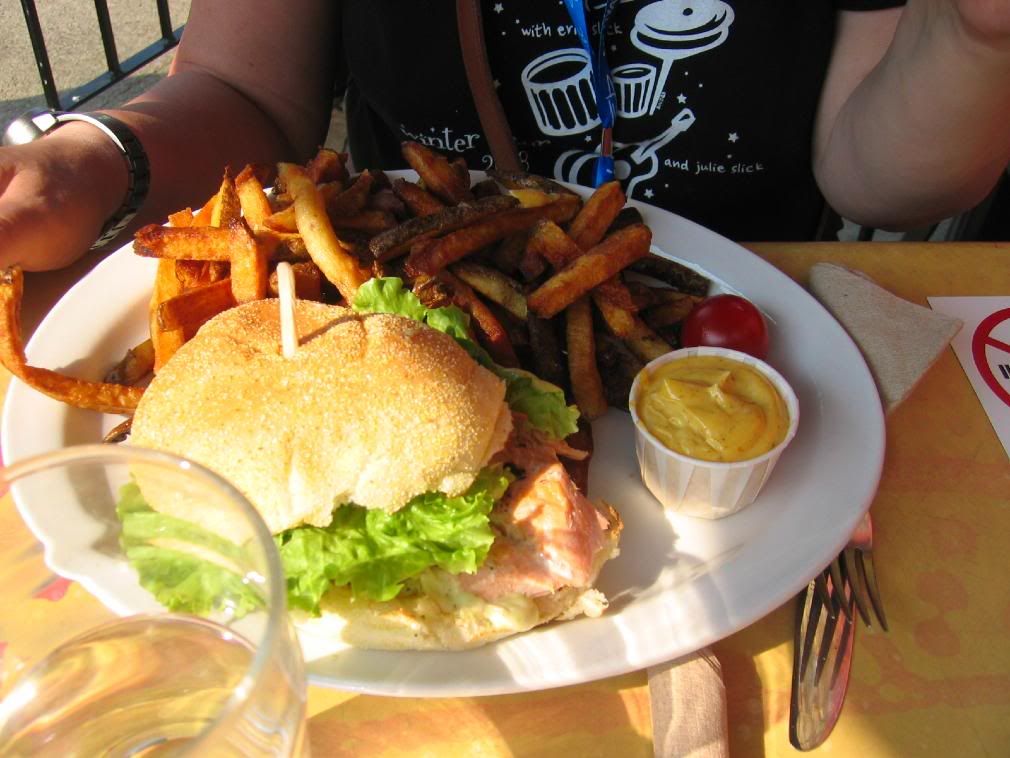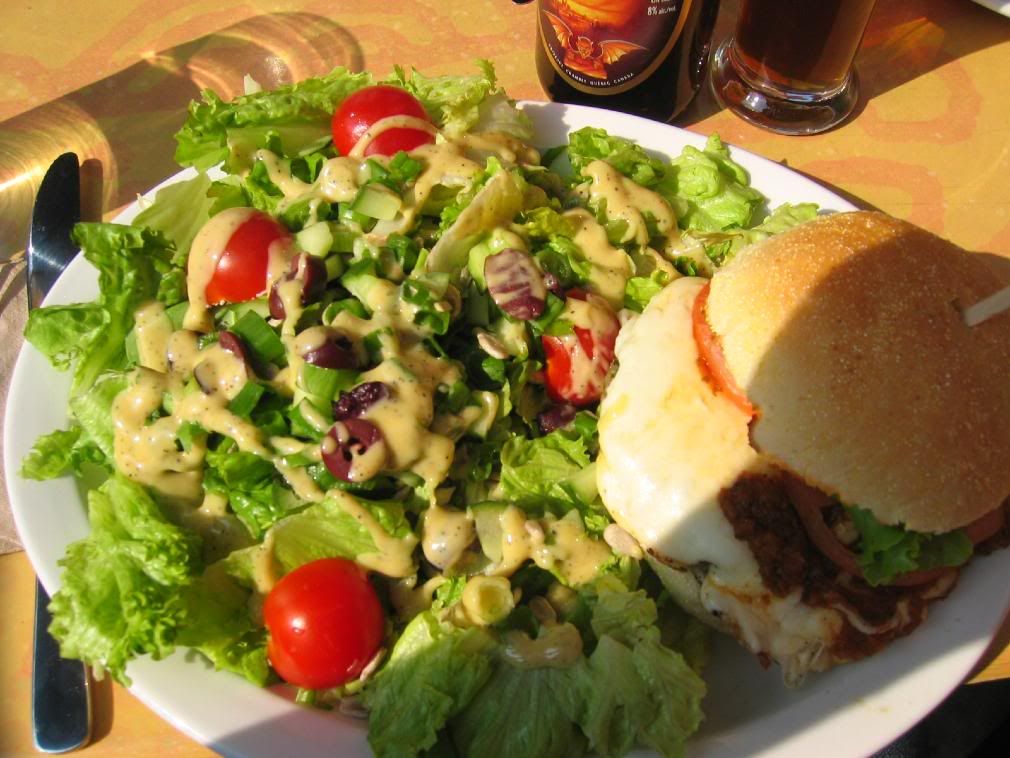 By the way, notice what I am wearing? That's a custom designed t-shirt by one of Ade's most rabid fans and someone who has become a good friend - Rena Faye, a/k/a Tickledrop - her blog is a link on the right hand side here: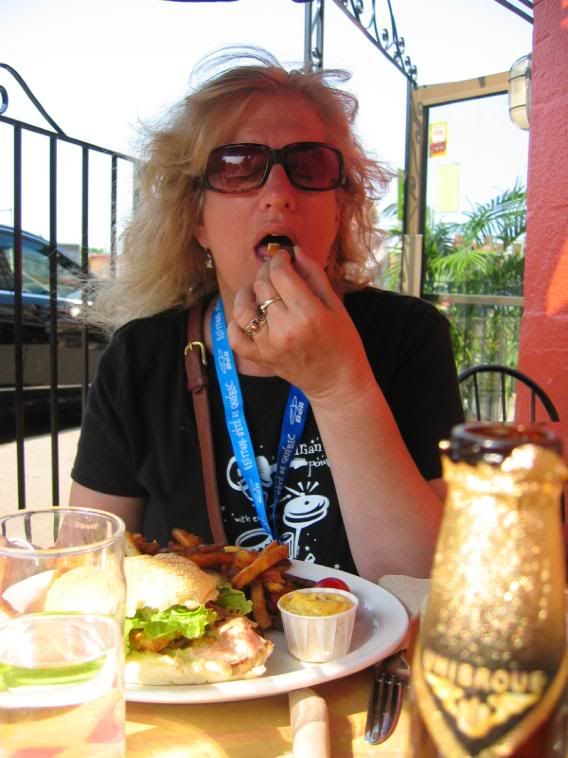 So the only problem with lunch was that to get there, we literally walked down a hill that was so steep I was out of breath at the bottom...and that fact...coupled with the ninety degree heat, made me totally paranoid that I'd never be able to climb up the damn thing on the way home. I'm not kidding, I've never seen hills like that in my life...what the hell do they do in the winter there when it snows? And as we sat at the cafe, we all remarked how young and absolutely gorgeous everyone in Quebec City is. Our table was a people watching delight. Oh sure, I thought, no wonder everyone here looks that way. No one over forty is still alive after years of those climbs...either that or they flee to flatter ground. I literally worried half way through lunch that I'd never make it back until I noticed that there was actually a fire rescue station directly across the street, a fact which I made Julie take notice of in case I passed out on the way home.
I would later climb up and down that hill over a dozen times over the next three days, dub it the "Hill of Death"...and then find out on our very last evening there at 3:00 a.m. that I could have taken the elevator in the parking garage at the foot of said hill which went directly to our hotel lobby. Oh well. By the end of the three days, I was in much better shape, I could ace the hill without feeling like I was going into cardiac arrest, I had new muscles in my calves or is that calfs, and when I got back to Philadelphia was actually stunned to weigh myself and see I'd lost three pounds! So let me get this straight. I can live in Quebec, eat french fries and buttery pastries and crepes every day and still rapidly lose weight? Oh oh oh...I am soooo there.
The streets were loaded with unique shops, bakeries, galleries...I'm almost in tears writing this because I want to go back like...tomorrow...but can't. I returned to my hotel and collapsed in my king sized bed complete with piles of golden silk pillows and took deep cleansing breaths while Julie, Eric, and Ade headed to sound check. I had my own personal driver to take me to the festival when it was time. Yes, I shouted to myself "Thank God Thank God Thank God I do not have to walk up any more hills to get there" but like I said, by day three I was in much better shape.
Anyway, the driver took me right to the backstage area, where there were trailers stocked with alcohol, soda, cold water, and all kinds of cool snacks as per each individual band's riders. We were right next to
Zappa Plays Zappa
who were going on directly after us, and here's a photo of their brilliant drummer, Joe Travers, hamming it up with the equally brilliant Eric Slick. Thanks, Joe, for graciously posing for groupie Mom: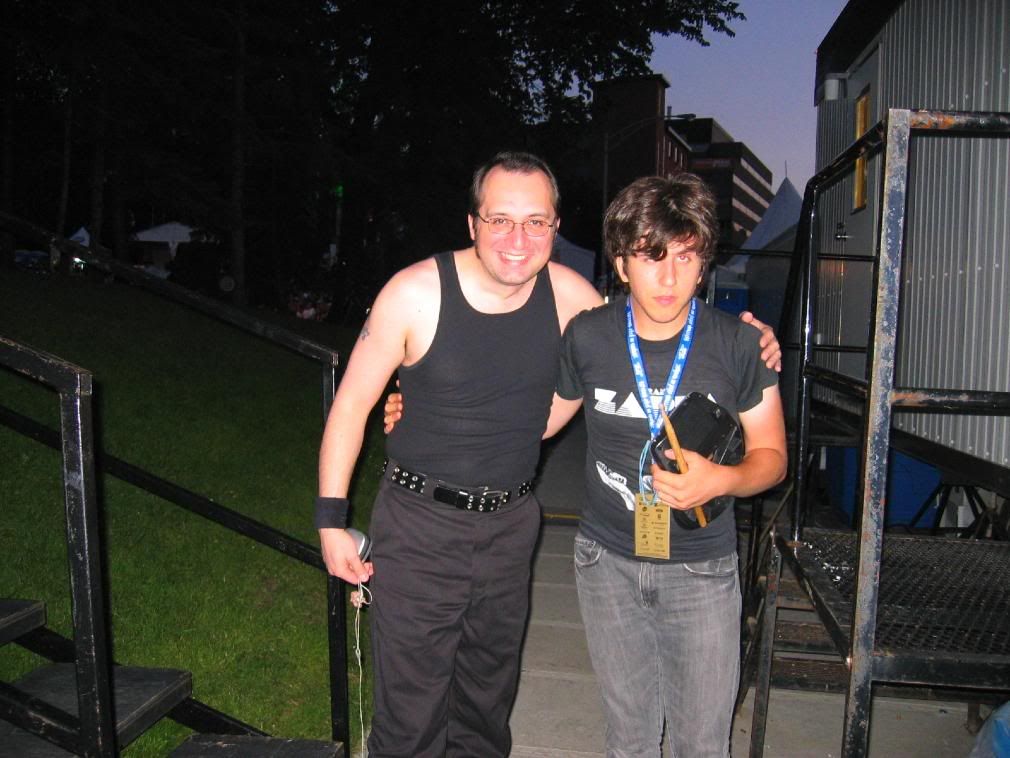 Zappa Plays Zappa invited Ade to do a cameo during their set - he recreated his Bob Dylan role during the song
"Flakes"
, even wearing the original hat he wore in
"Baby Snakes"
, and I don't think there was a dry eye in the house. I took this photo of Ade in our trailer prior to his performance...wish I had been closer to the stage to take a pic while he was performing but we had an awesome spot in the VIP area...great for listening but hell if you don't have a zoom lens.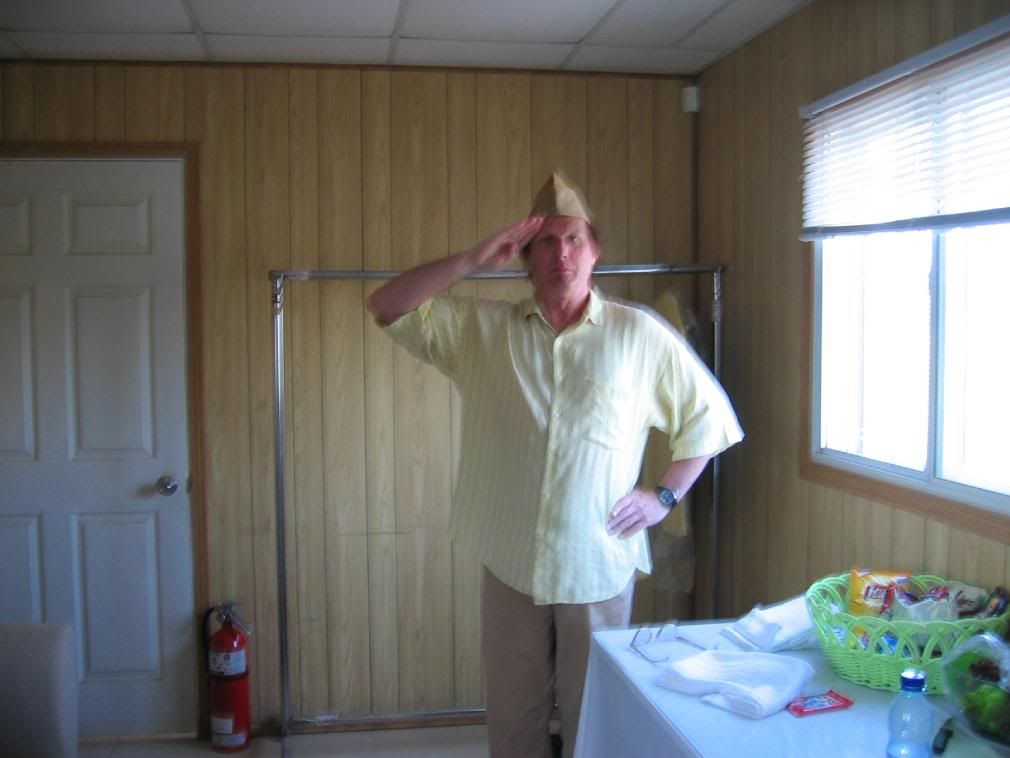 But I digress. It was time for the trio to take the stage first and they fucking killed it. Here's a few shots of the show, but again, I was not standing in a great spot for photography and could hardly get Eric at all but hey hey hey, take a look at the size of this crowd. And if you think that looks like a lot of people, wait until I post a pic of the audience two nights later when the trio and Friends of Crimson King opened for
Primus
on the main stage: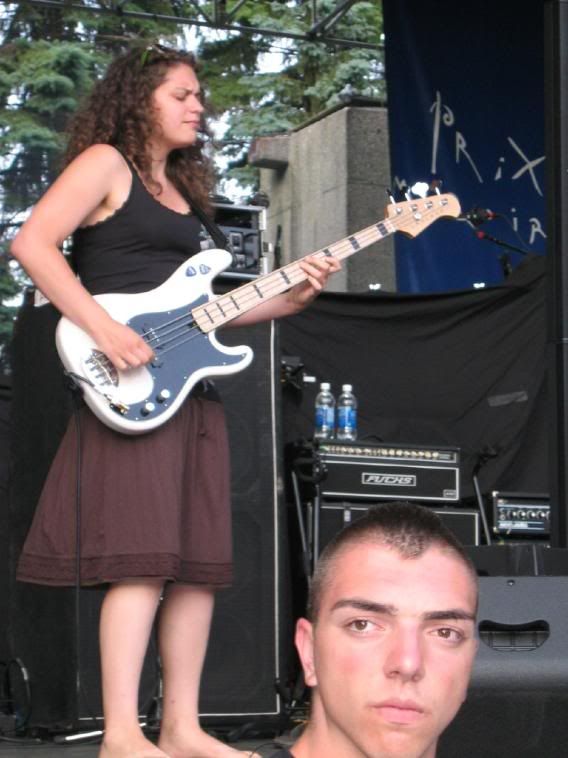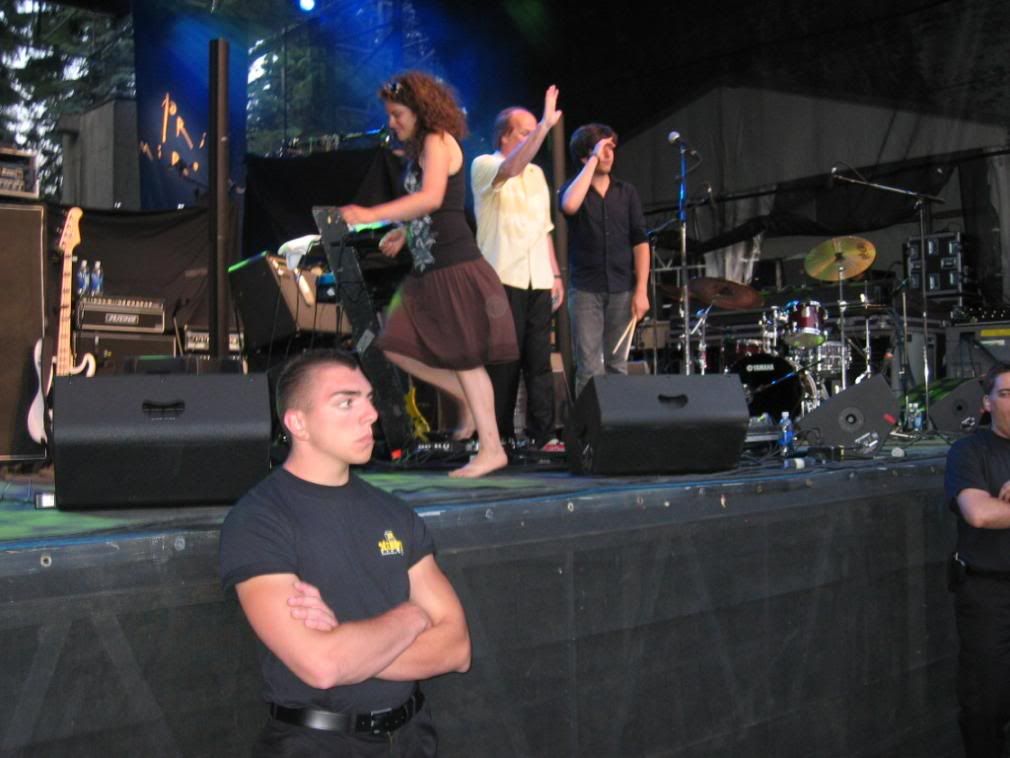 The show was a triumph and as I've already written, we stayed around afterwards so that Ade could perform Flakes with Zappa Plays Zappa. We grooved to the music some more and then, exhausted but exhilarated, headed back to our hotel where in the lobby we bumped into the band members the trio would be playing with on Tuesday - the legendary
Tony Levin
and the
California Guitar Trio
.
I'd already met Paul, Bert, and Hideyo when the trio played with them in March but it was the first time I'd ever met Tony. I tried so hard not to be a fan girl but it was damn near impossible and then we started talking about the upcoming tour in Russia (where this same group of people will also be performing August 30 with Keith Emerson and Patti Smith and Pat Mastelotto and Trey Gunn and Eddie Jobson...oh god...I can't take it; I want to stow away in their suitcases)...anyway, it turns out that Tony and I share similar Russian ancestry and next thing I know he's telling me about a book he read on the subject...he said "Write down your address, I'll mail it to you" and the whole time my heart is fucking beating in my ears...but not once did I fall to my knees and gasp "You know, you were one of the first concerts Julie and Eric saw when they were six and seven - we took them to see you and Peter Gabriel in 1993 at the old Philadelphia Spectrum and even at that age, they were mesmerized and you are one of Julie's heroes and one of mine in a big way..." Nope, I didn't say it, I just smiled serenely and acted like I have conversations with someone of his stature every day...sort of what I do with Adrian even though it's two years already that my kids have played in his band...I still wake up every morning pinching myself saying "Can this really be true or is it the world's best dream?"
It should be noted that Tony says in his own blog that he arrived in Canada two days early just so he could check out the Adrian Belew Power Trio's Sunday concert. Did he like them? Ha ha - I think so!
So we're hanging out in the lobby for quite a while - it was around midnight I guess; next thing I know Tony is gone but Tyler, sound man extraordinare for the California Guitar Trio, says "Party's in Tony's room!" and everyone headed there but I felt funny hanging out with all that testosterone as the apparent only female in the group because in the meantime, the guys from Zappa Plays Zappa came in and invited Julie and Eric out for drinks and it would have been weird if I'd tagged along with them, too, so I ended up dejectedly going to bed, fantasizing about all the fun I was missing.
Truth to tell, I was exhausted anyway, and I think I pretty much fell asleep as soon as my head hit the pillow. Plus, I had already been up and down those damn hills a couple of more times.
The next day was our day off and I had a date with Eric to meet that morning for pastries at this incredible bakery the trio had discovered last year as well...I was sure after partying into the wee hours with the ZPZ guys Eric would cancel on me but he's a real trooper and at 11:00 a.m. promptly he called my room and arranged to meet me in the lobby. Back down the Hill of Death we went, but alas the bakery was closed! Or so we thought - as Julie would later tell us when we bumped into her and Matt, there were two bakeries and the one we wanted was in fact already filling the street with aromas of wonder and delight - but Eric and I, deciding to make lemonade out of lemons, headed straight back to the Victor Cafe for more french fries with curry sauce. Yay! So by the time we found Julie and Matt and learned the bakery was open, we were already full.
We wandered up and down (and I do mean that literally) the cobblestone streets, in and out of shops, having the best time ever. Adrian is friendly with
The Ventures
, who invited us to stand on the stage when they performed at the festival that night. We also learned that
The Wailers
, who were the original back-up band for
Bob Marley
, would be on stage immediately following them so Oh My God, I got to stand stageside for both bands. It was fucking surreal.
Here are a couple shots of The Ventures and their set list...again, I apologize for the poor quality but I think I was shaking from head to toe from their absolutely stellar performance: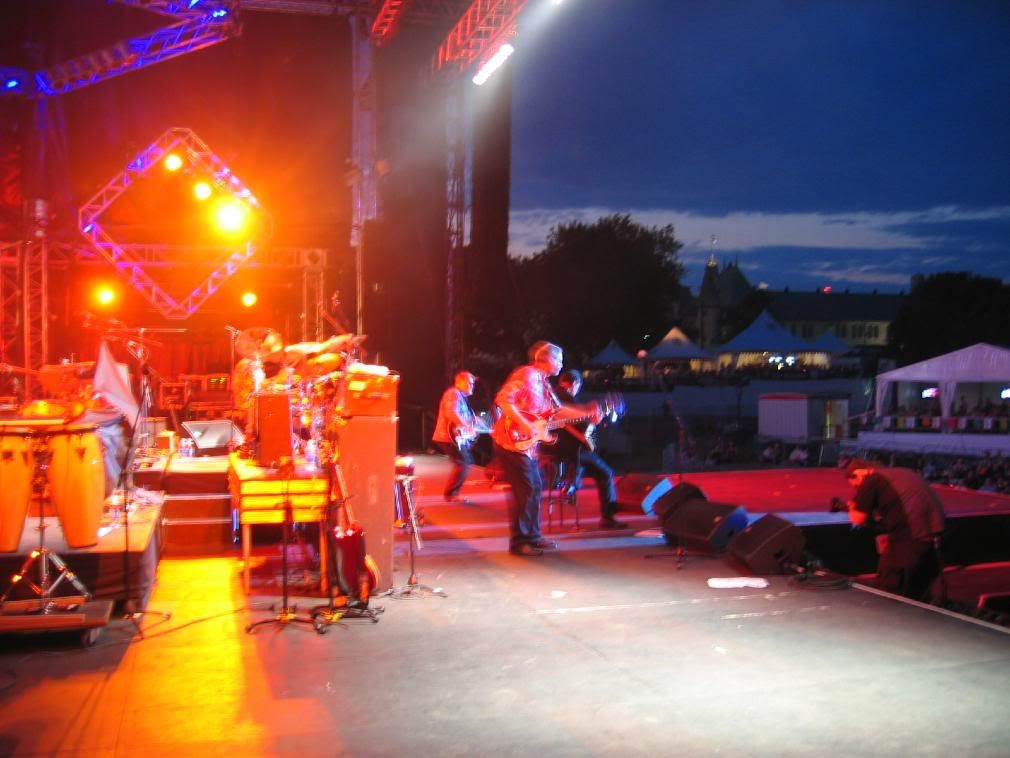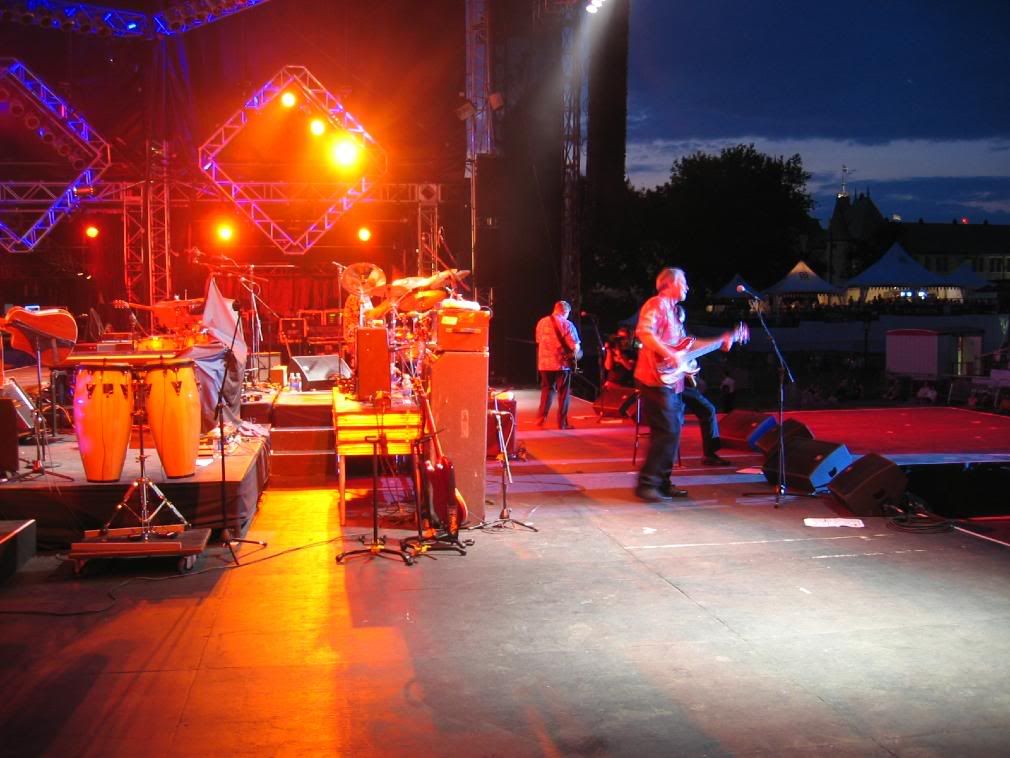 This photo was taken of the crowds on the street watching The Wailers. I wish I had a better camera for this - you had to see it to believe it. Concert goers were given badges with tiny red blinking lights as their "tickets" and they were all standing atop this castle, watching the show from above...all you could see were those flickering, twinkling scarlet stars...it was insanely beautiful:
And in the background, The Wailers were performing I Shot the Sheriff, Jammin', No Woman No Cry...holy crap, I'm still shaking from the experience.
Oh, I forgot something. The "place to be" during the festival was a fabulous restaurant located right in the heart of things called
Le Capitole
. At Tony Levin's advice, we had dinner there (artichoke fritters, scallops, steak for Ade and Matt...and yep, Limoncello!) and it would be where we'd end up hanging out for drinks every night as well. Gorgeous building, great food...sob...I want to be there right now in the worst way...
But the night was not over yet and we decided to hit the hotel bar and see if anything was happening since all of the over two hundred bands booked for the festival were staying there and we were bound to bump into someone.
No sooner did we walk in and order drinks when we recognized
Tim Alexander
, drummer for Primus, having a solitary drink of wine. Naturally, we invited him to join us and this time, Eric had to refrain from being the fan boy...when he was fourteen years old his world revolved around that band...but you know, the only dork in the crowd was me and out of respect to Eric, I bit my tongue and just listened. And then, in walked
Les Claypool
, bassist for Primus and the man whose parts Julie had to learn when she joined the Adrian Belew Power Trio as he appeared on Ade's solo CDs.
This is where it gets funny. So here I am, sitting at a table with all of these rock and roll legends - Tim has a bandanna tied around his head, Les has jet black Prince Valiant hair and a goatee and was wearing a leather cap and a big silver cross around his neck...total rock stars...and Ade and these guys start discussing their wives and kids.
"Oh, my wife couldn't make it because our kids our in dance camp," says Ade. "They are so funny - my girls never just enter a room - they are also gymnasts so every time I look up they come somersaulting/cartwheeling in, one after the other...this weekend they had a recital..."
"My wife and kids are here," said Les. "But I know what you mean about the camp thing. My kids go to circus camp. My wife didn't warn me in advance and I go to the recital and there's my young daughter, way up in the air, swinging from a trapeze. I went white...but hey, she did great...I just nearly had a heart attack, that's all."
I was so fucking fascinated...here's this uber rock star, scary looking, talking about his daughter and camp and being frightened at the thought of her on a trapeze. Again, totally freaking surreal.
We sat for quite a while sipping our drinks until the bartender politely told us last call...I guess it was 1:00 or 2:00 a.m....and the best was yet to come, for the next evening would be the night we'd all been waiting for...Adrian, Julie and Eric performing with Friends of the Crimson King. But there was more. They invited Les Claypool to join Tony Levin and Julie Slick on bass during "thela hun ginjeet".
So. Are you following this? I was going to watch my son do double drums with
Pat Mastelotto
and my daughter trade off bass solos with Les and Tony.
I could not believe it. I still don't believe it, even though I watched it with my own eyes.
Anyway, we stumbled up to bed, determined to get a good night's sleep but Eric, the world's biggest sweetheart, said to me "Hey, Mom, want to meet for those pastries tomorrow morning?"
So we did. We got up early and had fresh, hot out of the oven obscenely oozing with butter croissants overflowing with chocolate and almonds. But hey, we walked back up the Hill of Death afterwards so no damage done (in case my doctor -- a very nice man who treats me for high blood pressure and cholesterol -- is reading this).
Adrian, Eric and Julie headed for what would be their only rehearsal for the show...meaning, they had to get on stage with Tony and Pat and Les and the California Guitar Trio for the very first time in front of a crowd estimated at 60,000 people. Paul, the brilliant guitarist from the California Guitar Trio who brainstormed the whole Friends of Crimson King event had the entire set worked out...Tony and Pat would join the CG Trio for their set; Ade would come out during their last song and solo; then Julie and Eric would take the stage and do a half hour set; then Tony and Pat would join them for Elephant Talk (Julie left the stage for that but Eric and Pat did double drums and the California Guitar Trio joined in as well), then Julie came back on to end the show with Les and Tony for "Thela".
Here is a wonderful video of the aforesaid Elephant Talk. I know I am prejudiced, but Eric is fucking phenomenal in this clip.
Friends of Crimson King
:
I'm going to post some amazing photos of the show next, but a couple of things first. When Les Claypool took the stage, he was dressed as Elvis, wig and all. Eric almost lost it, laughing. Right after the show, Tony smiled from ear to ear and said "Great job, Julie"...I know, because I was standing on the side of the stage (crying, of course) and everyone hugged and grinned and were basically thrilled with the performance, practically saying in unison "Same set next month in Russia?" Russia, where they will play in front of 100,000 people. I know I've already talked about that in a prior post, but I will have much more on that and some other cool touring scheduled for the rest of 2008 which is totally blowing me away. I also wanted to mention that Tony and the California Guitar Trio all did fantastic write-ups on the event on their respective websites. To see what Tony had to say, go
here
. He's got a great photo of Les as Elvis on his blog and bleh, also one of me which has me determined never to eat another french fry again. (Not) And yeah, you can tell by the photos of the crowd, they drove 60,000 people into ecstasy. To get the California Guitar Trio's take on the experience, you can read Paul Richard's diary
here
(scroll down to July 8 but it's pretty interesting reading his entry of July 14, too) and Bert Lam's diary
here
(again, scroll if you want but he's got cool stuff posted after the fact as well).
Okay, then, here are some of my photos. I especially love the one of Tony smiling at Julie...have I mentioned my fan girl crush on him? Ha ha - oh, I'm kidding, but he is absolutely one of the coolest people I've ever met, other than Adrian of course.
First up, a shot of our trailer: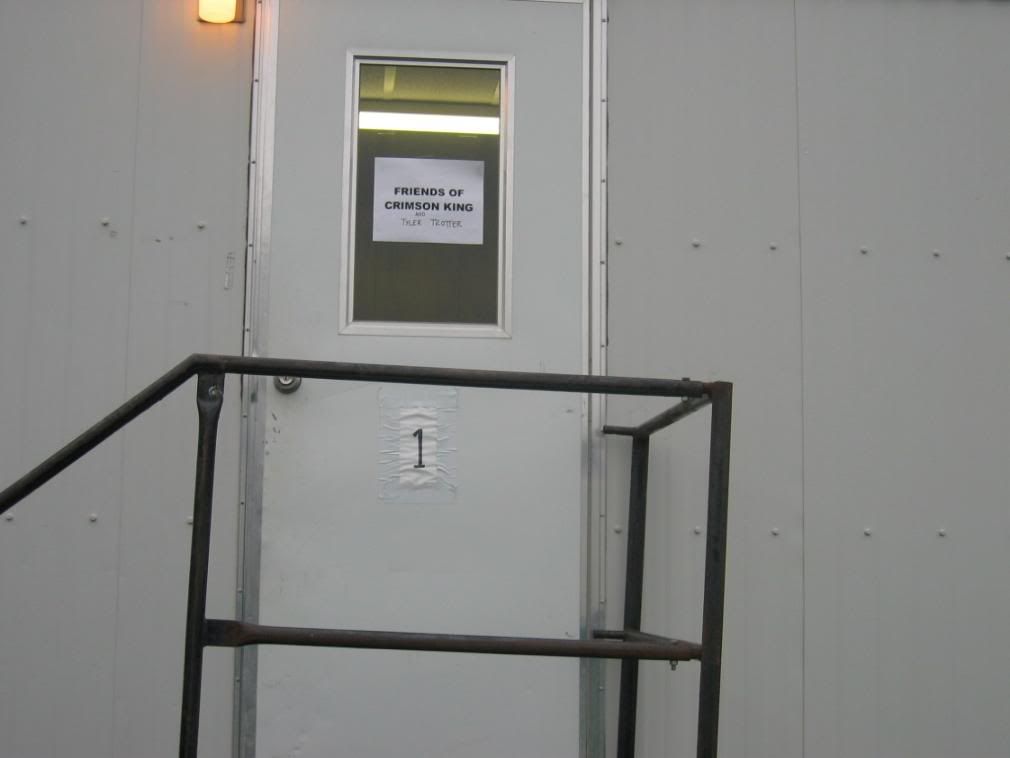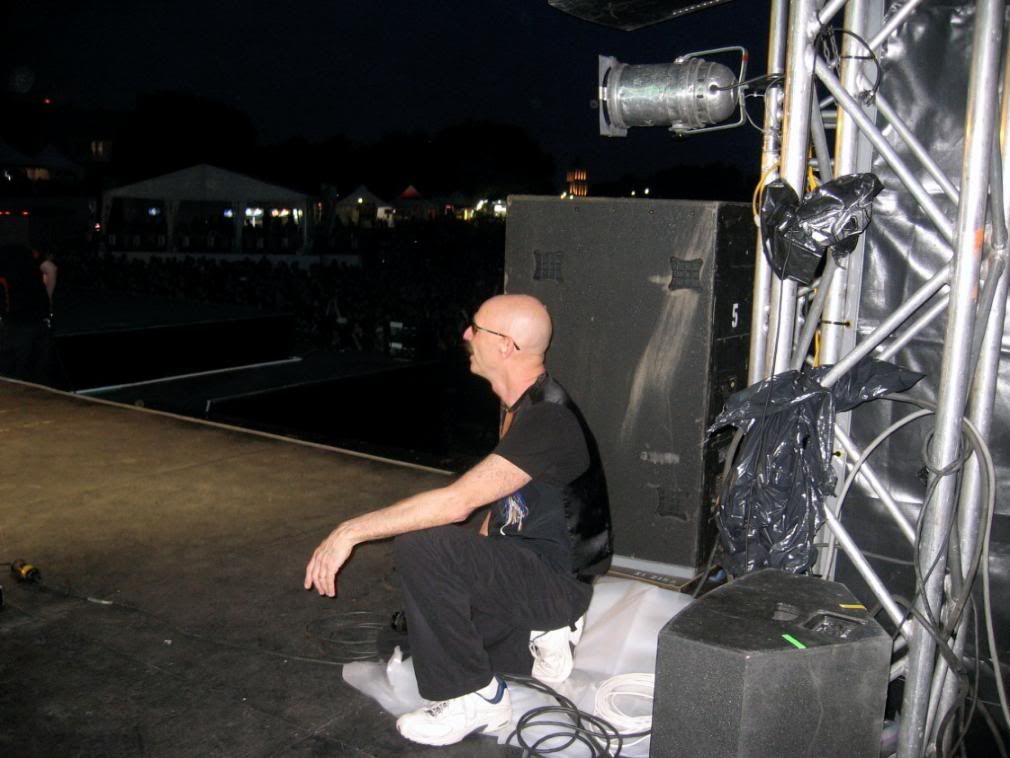 Tony, watching the trio intently from the side of the stage and then taking their photograph: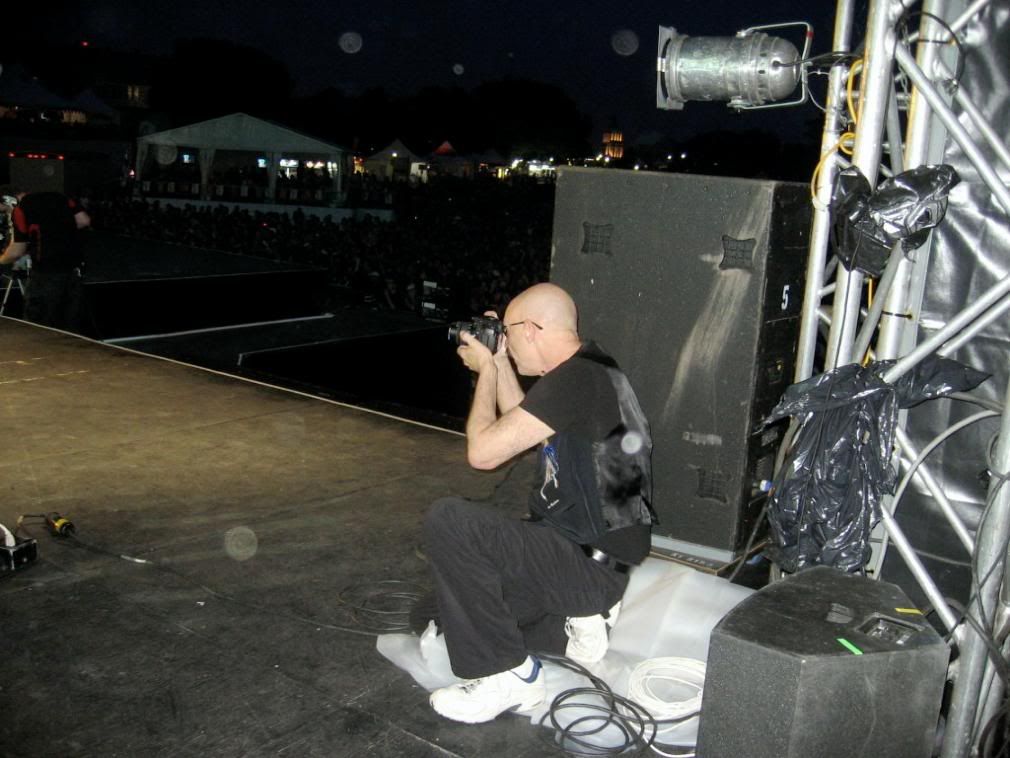 Tony, Les, and Julie trading bass licks on Thela: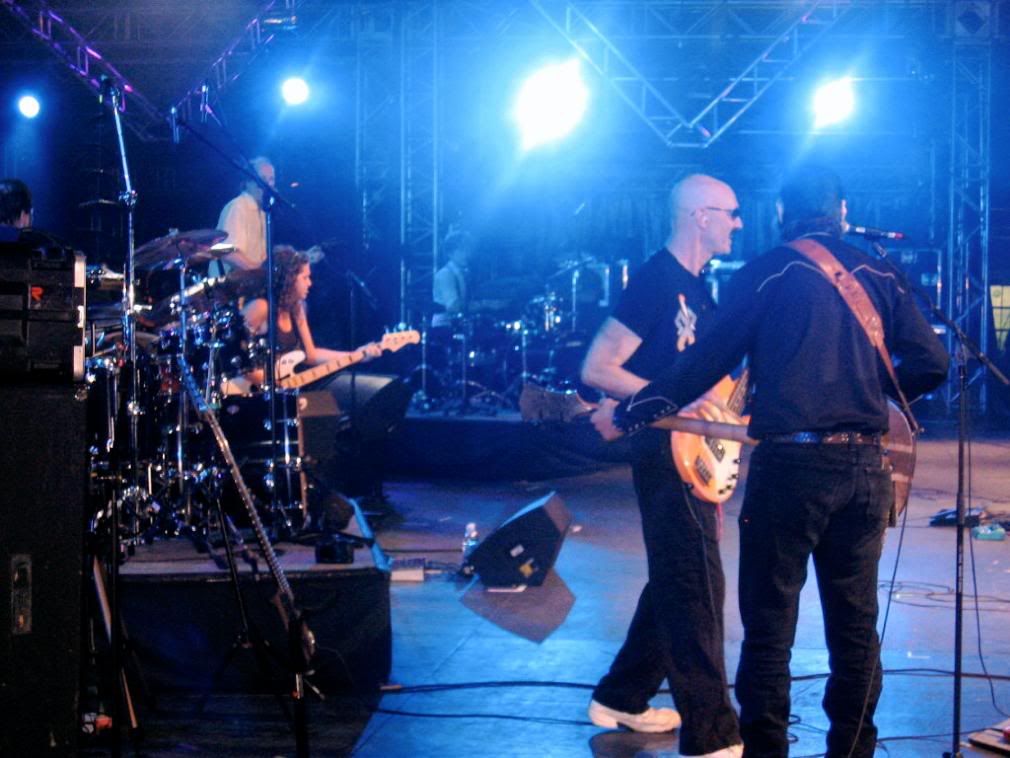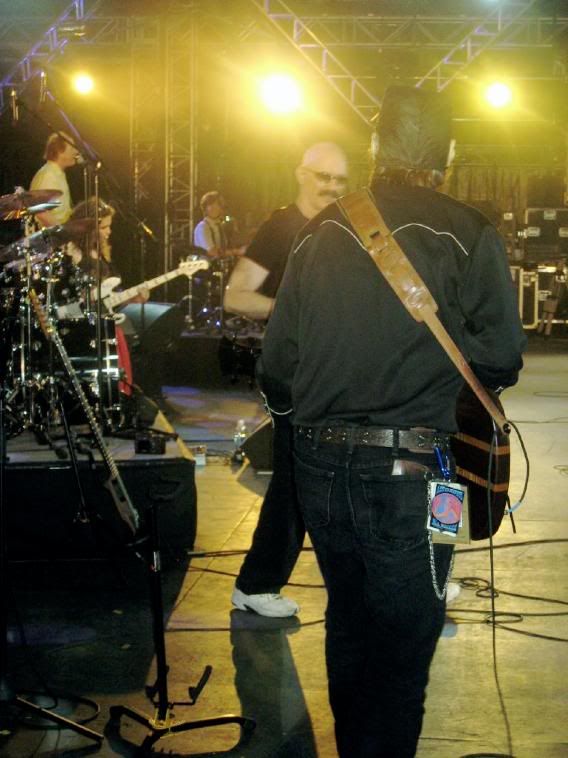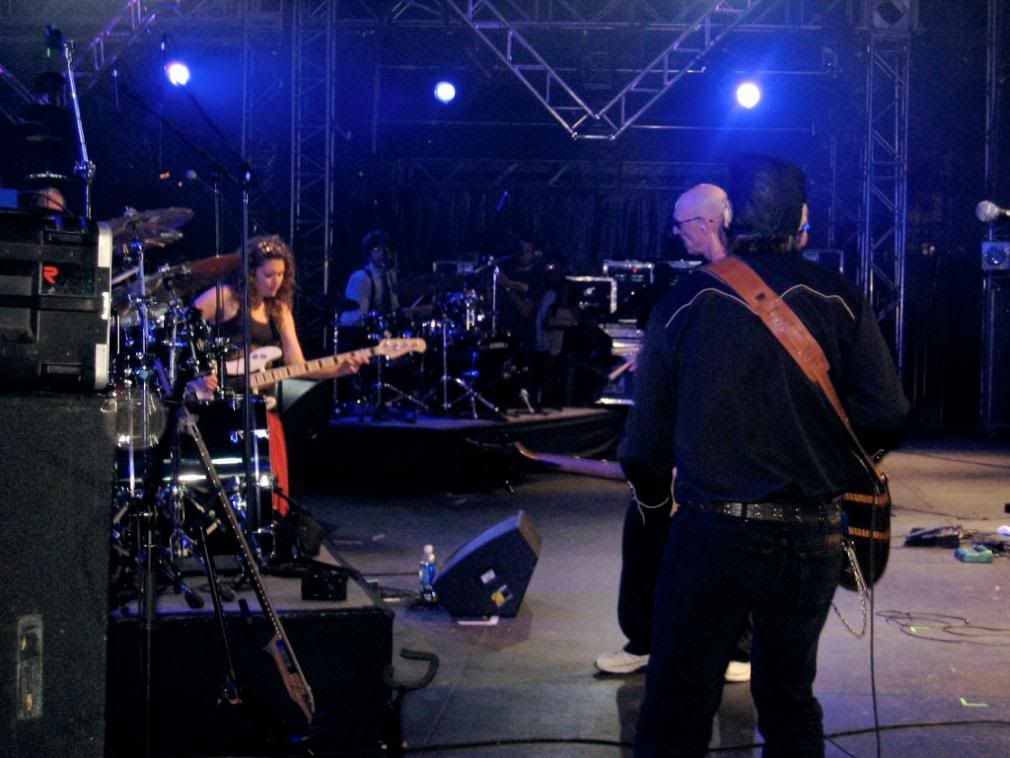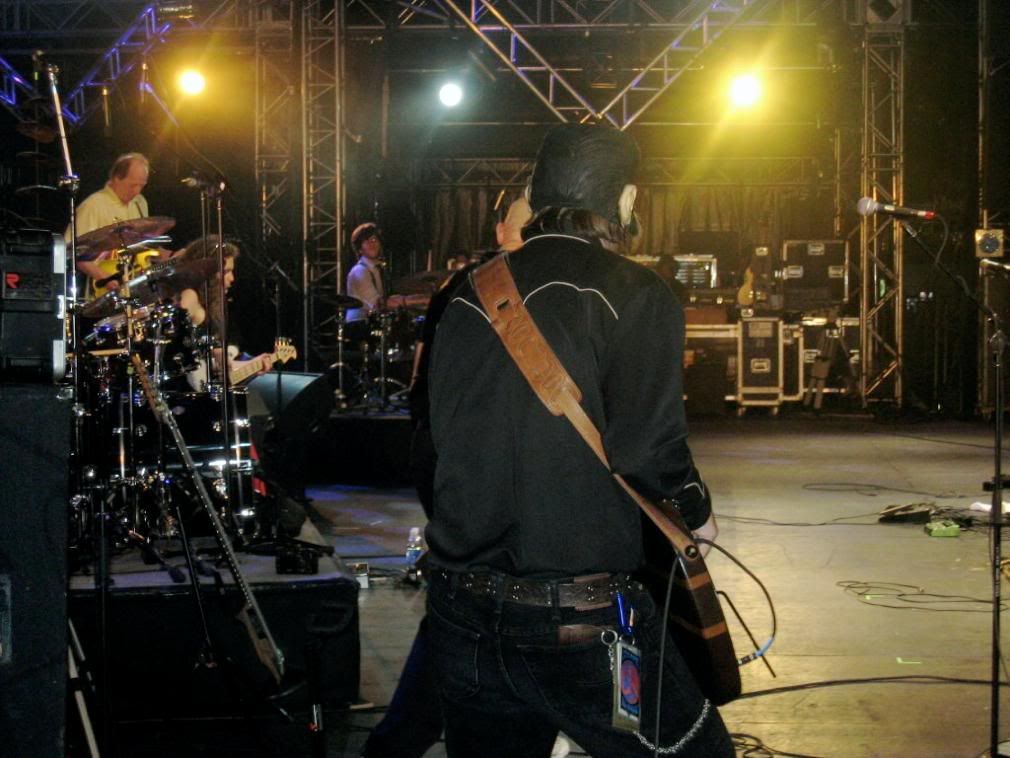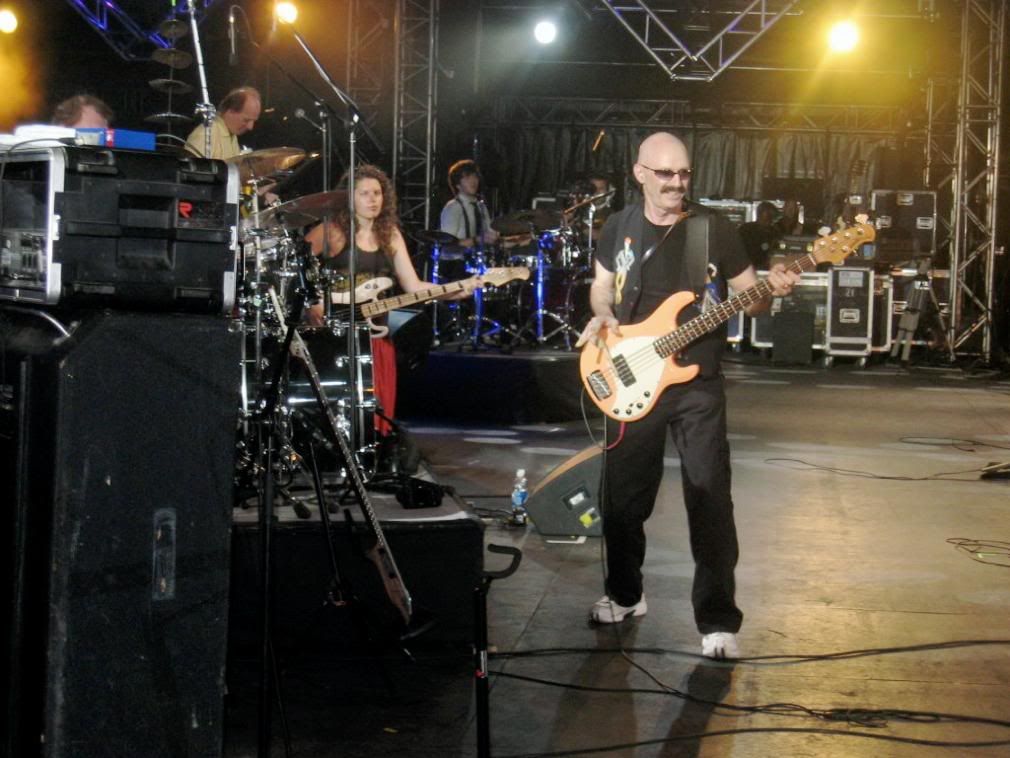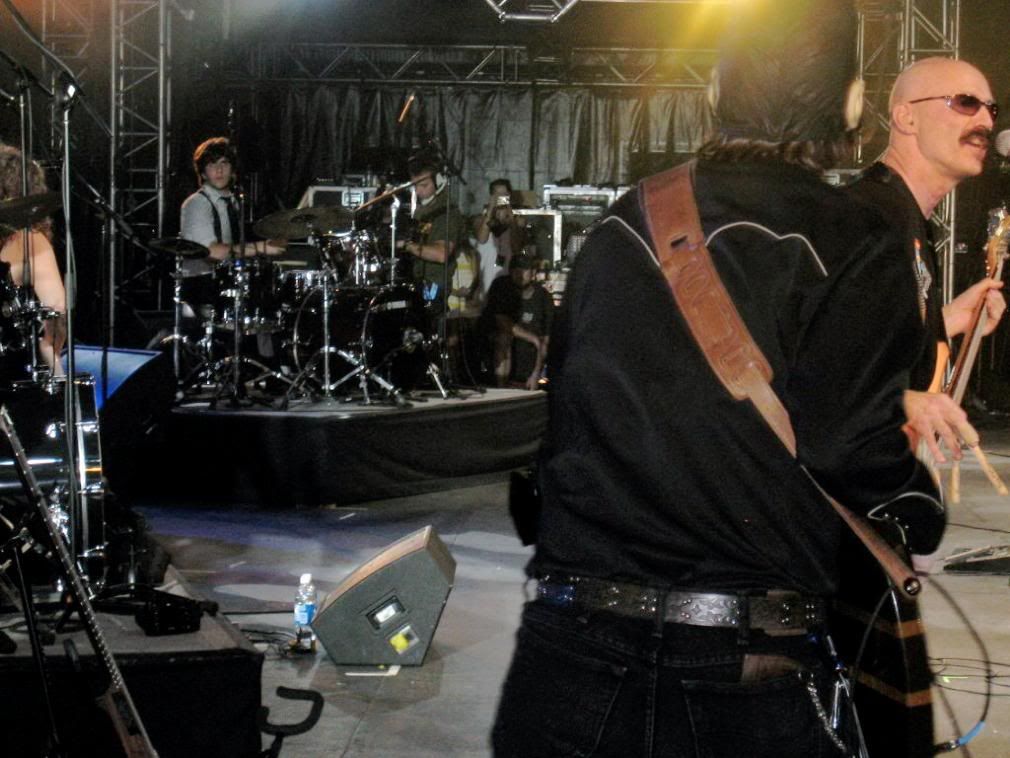 In the pic below, you'll see Pat Mastelotto who regrettably I could not photograph that well from my vantage point on the stage but man, Pat and Eric are a combo to be reckoned with...everyone agreed that their playing style was the perfect compliment to one another and Pat had some incredibly nice things to say about my son though I did not get to talk to him that much and again, look at Tony's face while he talks to Julie after that triumphant performance of Thela...it was magic: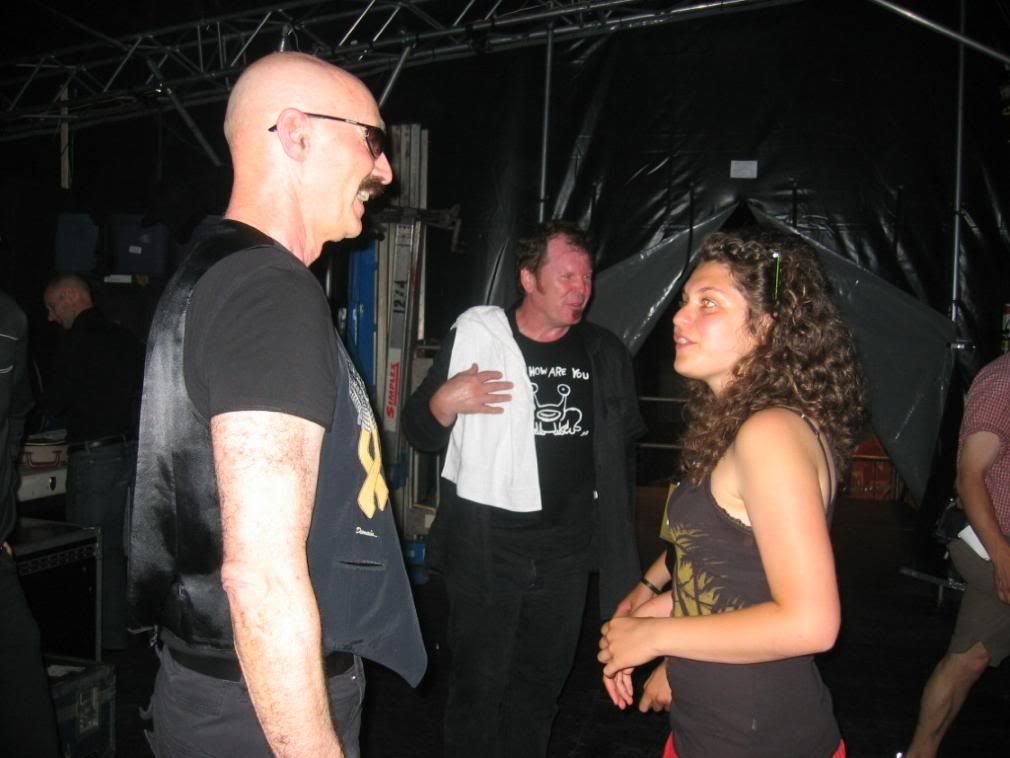 I did not get good photos of the California Guitar Trio nor any good shots of Eric and Pat double drumming as I was too busy watching and listening and again, was not in the best spot for taking pics but both Tony and the CGT have most excellent photos on their site as do various fans who posted on
Flickr
, just click on that link and type in the names of the various band members and you'll find a wealth of great stuff.
Think that was it for the night? Think again. After the most amazing concert of my life, we all headed back to Le Capitole, this time being joined by Canadian legend
Kevin Parent
and his girlfriend Zoe (who pretty much only spoke French but Julie, who is wonder woman and also speaks French fluently, managed to converse with her throughout the evening)...Kevin in fact performed with Tony, Pat, and the CGT on Saturday night. The restaurant pushed four or five tables together. To my left was Tony Levin and to his left was Kevin Parent...directly opposite from us sat Zoe, Julie, Matt and Adrian, then to my right was the entire California Guitar Trio and their entourage including wives, soundmen, etc., Pat Mastelotto and his wife, Eric, a bunch of people I did not know who were part of said entourage...anyway, we talked and talked about everything from gourmet cooking to exotic places we'd been to music (of course) while Eric held court at the other end of the table, cracking everyone up, and it was almost 3:00 a.m. by the time we um, loped out of there. She's going to kill me for telling you this but it was pretty funny...at the end of the evening Julie accidentally spilled her glass of Cabernet Sauvignon all over poor Tony Levin but he was not only gracious, when she practically rushed out of the restaurant dying of embarrassment -- Matt and Ade had already called it a night and returned to the hotel an hour before -- he accompanied her home up the Hill of Death while I, along with the others, entered the just discovered way too late elevator...I seriously do not think I would have made it up the hill in my current condition so thank God I found it existed, even if said discovery was three days too late)...the whole time saying to myself Do I believe this? Do I believe this whole fucking experience? Am I the luckiest person in the universe or what?
No, actually, Julie and Eric Slick are the two luckiest people in the universe - they get to do this all over again next month in Russia and again with Adrian in Europe in October and November and well, I'll be sitting right here, blogging about it from afar.
Oh..one final thing. The Friends of Crimson King got an awesome review in the French Canadian newspaper,
Le Soleil
. I translated it to the best of my ability (which isn't much) so here it is...maybe Julie, when she gets home, or one of my readers from France can do a better job:

"FRIENDS OF KING CRIMSON

Far from being the only trio in the limelight yesterday, Primus was preceded on stage of the Friends of King Crimson, a supergroup consisting of the California Guitar Trio, refreshing Adrian Belew Power Trio and a rhythm section the groove deemed implacable trained Tony Levin (bass) and no less respected Pat Mastelotto (drums).

After a rather cautious start, which saw the CG3 +2 open walking with his guitar playing very placed, influenced by Robert Fripp (King Crimson), then the feverish Adrian Belew Power Trio take over the provision has concluded Elephant Talk about an inspiration, courtesy of drummers Mastelotto and Erick Slick, bassist Tony Levin and the stick guitarist Adrian Belew. As if this were not enough, all this beautiful world was then joined by bass Les Claypool (Primus) and Julie Slick to create a genuine festival rhythmic! Astounding!"
Okay, this is now the world's longest blogpost. Luckily, the next day, Wednesday, was another day off, but we had a seven hour drive to Boston facing us for the trio's show at Harper's Ferry on Thursday night. I think I'd better make that Part III.
Later,
xo