So I'm back home after ten days of probably the best time I've ever had in my entire life...and it even culminated in an absolutely fantastic surprise - I got to read a
story
for a future NPR Radio broadcast at the
KGB Bar
in New York City on Saturday, July 12, 2008 and I just received an email that the movie based on my short story Daddy Left Me Alone with God has been accepted for its 5th film festival - and this time in the United States! The film has been screened so far at festivals in the UK and South Africa and now you can catch it at the
Indie Fest USA
in Anaheim, California. Here's the
schedule
...it looks like "my movie" will be shown on Wednesday, August 13 at 5:00 p.m. in Theater 12. Yay!
But enough about me. It's time for the moment you've all been waiting for...my week on tour with the
Adrian Belew Power Trio
. First stop: July 4, 2008 in Ottawa, Ontario and how wonderfully weird to be in another country during Independence Day but things being what they are in the U.S. right now...*snort*...what independence, eh?...though I admit I did miss the fireworks and Gary and his traditional 4th of July barbecue.
I fell instantly in love with Canada. I'm serious. I would move there tomorrow if I could. The people are so warm and friendly and liberal; the architecture magnificent, and oh boy do they hate President Bush...even though it's Canada, there were Elect Obama posters everywhere. We arrived a day early so we could take in the sights, and here's what we stumbled upon a mere couple of blocks from our hotel: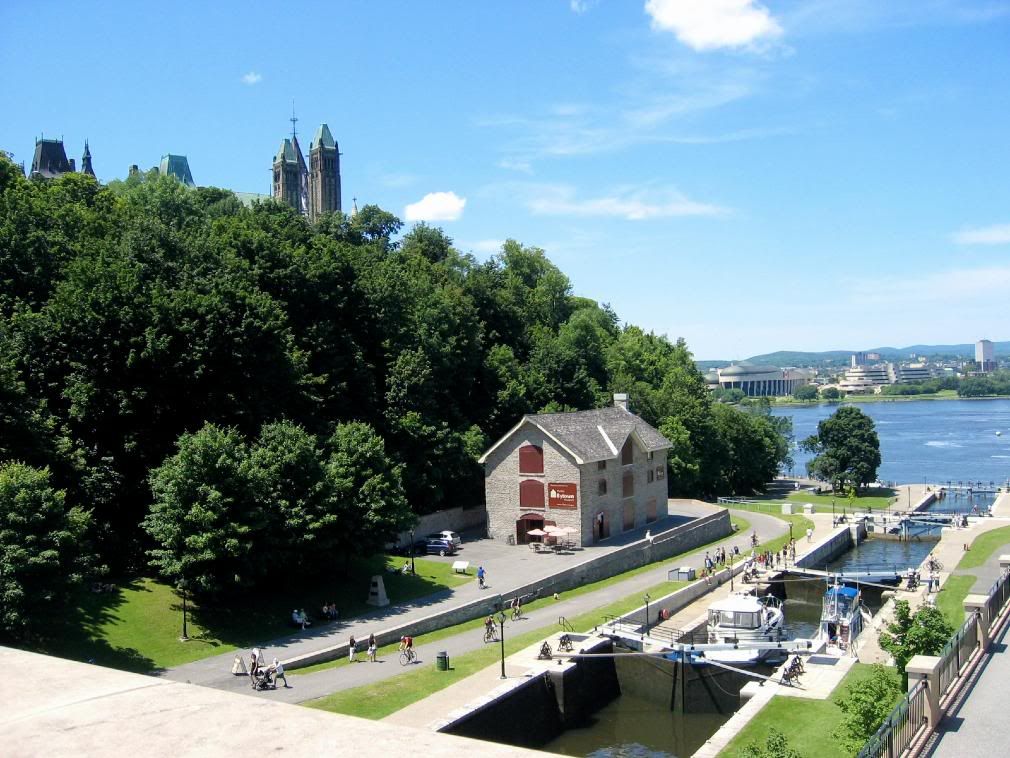 Naturally this beautiful backdrop called for some family photographs...luckily everyone indulged me.
Here's the group shot...okay, maybe if you look at his face, Eric wasn't so happy playing the role of tourist but he's a good guy and did it anyway: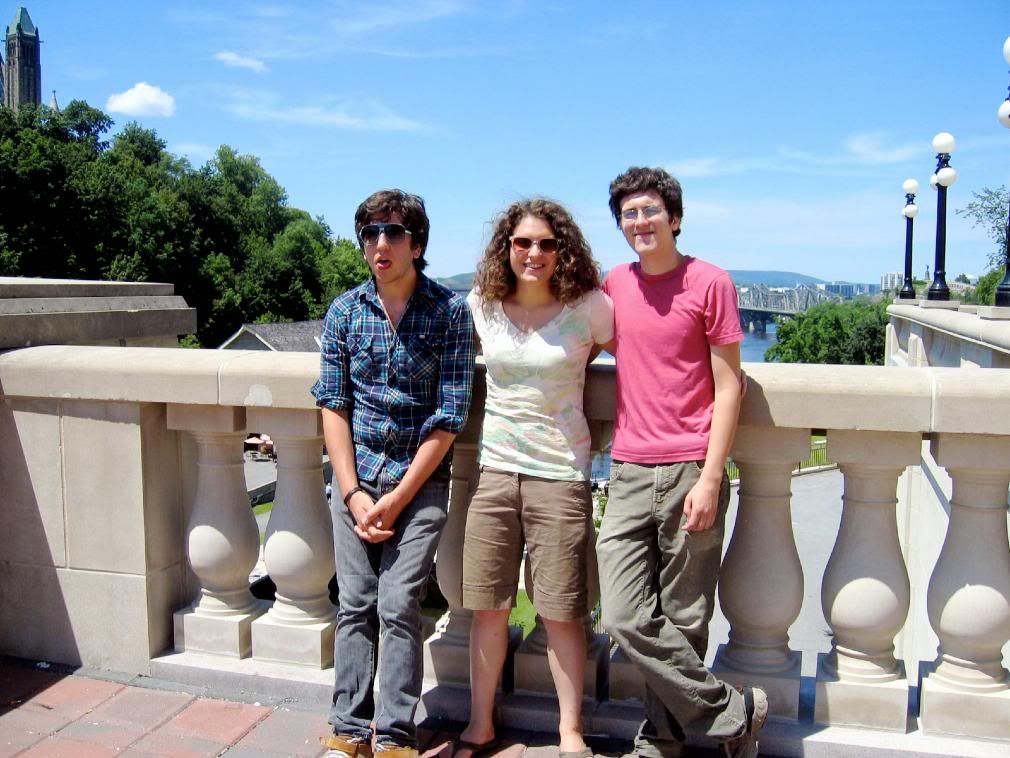 The lovely Julie and handsome significant other, Matt, who accompanied us the first six days of the tour:
If the rest of the group had to suffer, then so did I...God, I am really the most unphotogenic person in the universe but oh who cares...have a look at that fantastic building in the background instead: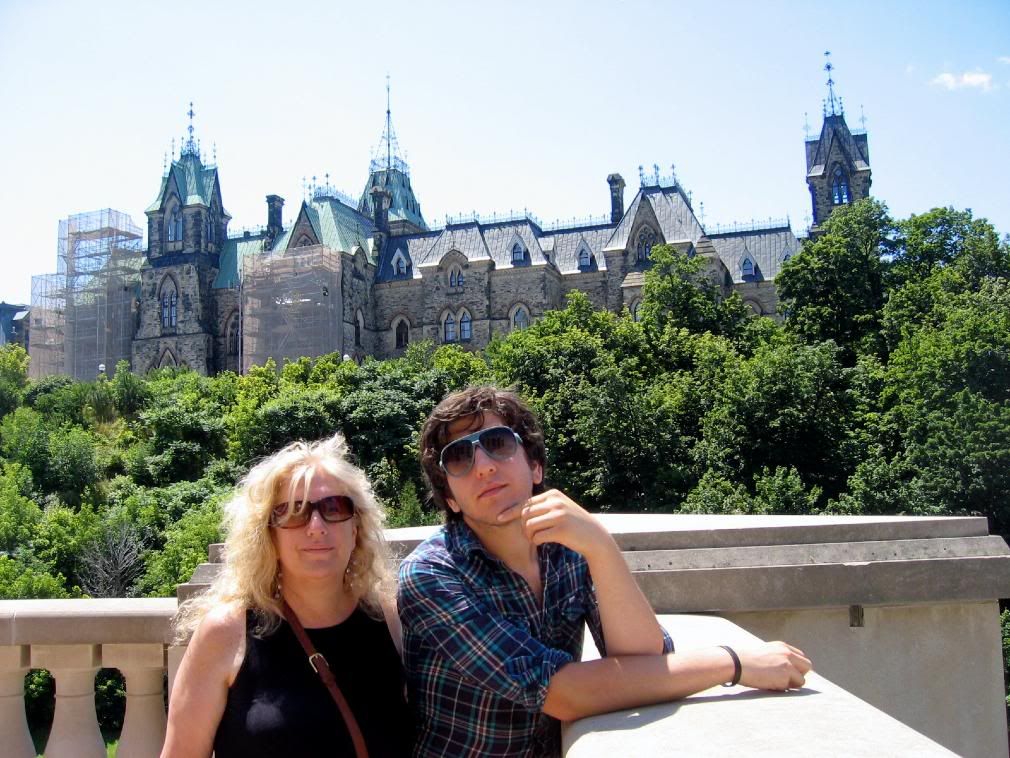 We wandered around with Adrian later, looking for a good place to eat. Trouble was, we found way too many restaurants...each with a better menu than the next but with the festival in town, many had hour long waits and we were starving! Luckily, we found an awesome Italian restaurant (naturally I can't remember the name) with exposed brick walls and brick oven pizza and fresh fish and pasta dishes. The wine flowed; Julie had an insane artichoke salad, Adrian had fish with a side of white asparagus; I started off with mussels soaked in Grappa and then ended up splitting a pizza with Eric...unbelievable. And then when we finished our meal, Adrian introduced us to our first taste of
Limoncello
. We ordered a round and it kind of became the after dinner drink of the tour...we were so mellow when we left that restaurant and so happy...as Ade has said repeatedly and it never tires me to hear it over and over again...his favorite part of touring other than the music is his band and his/their families enjoying a meal together.
Let me tell you, having a meal with Adrian is one of the best experiences of my life, too. He is so full of interesting stories...I mean, the man has a thirty year career and you'll be sitting there chewing on a piece of bread when he'll come out with an amazing story about traveling with David Bowie or King Crimson or Frank Zappa...just mind boggling stuff. That man needs to write a book some day, that is for sure. My jaw just kind of drops half the time when he speaks...oh how I adore him.
The next morning, July 5, 2008, was festival day, but sound check wasn't until an hour or two before the show at 7:00 p.m. so we had all day to explore. Actually, now that I think about it, those pics I posted above were taken then...but I wanted to show you Ottawa before I launched into my spiel and I have a ton of photos of the show itself to put up next. Anyway, we wandered back into town in search of a good place to have lunch and landed in a little cafe which served a lot of vegetarian items and homemade quiche and salads and had the display case of pastry to die for -- Julie said no, don't do it, Mom, eat healthy -- so I did but all bets were off when we got to Quebec City...more on that later.
After we ate we walked by stands which were equivalent to a huge outdoor farmers' market in the U.S. but also includes handmade crafts, soaps, candles, leather goods...arghh...I could have spent thousands of dollars in that spot alone. Julie sulked at all the incredible and unusual fresh produce...I have a feeling once she is rich and even more famous she's going to insist on staying in private villas with full gourmet kitchens when she travels because she was really chomping at the bit to buy stuff and cook for us. She groaned every time we passed boxes overflowing with ruby red fresh raspberries and blackberries and perfect organic baby carrots...so did I, imagining the meal she would have prepared if she were able.
We calmed her down and headed back to the hotel to get ready for the festival. While I'm on the subject of food, these festivals have catering tents for the stars and really go out of their way for vegetarians. There were chick pea casseroles, spinach with cheese, fresh fruit, quinoa with steamed veggies...just awesome stuff.
And now for the music. The trio ruled. Right before they went on stage, a fan who wasn't familiar with them, standing behind me and um, a little inebriated after being at the festival and drinking in the hot sun all day, asked me "Why do they call it a Power Trio?"
"You'll see," I replied.
He fell back down on his blanket. I was standing in front of him.
"Am I blocking your view?" I asked. "Not that it matters...trust me...you'll be standing up the minute they play their first note and you won't sit down again."
"I doubt that," he slurred.
I rolled my eyes, knowingly, and didn't say another word.
The trio took the stage...and it was a fairly large stage, so how I managed to get them all in this photo, I have no idea. Luckily there was also a large movie screen to the left so everyone got to see: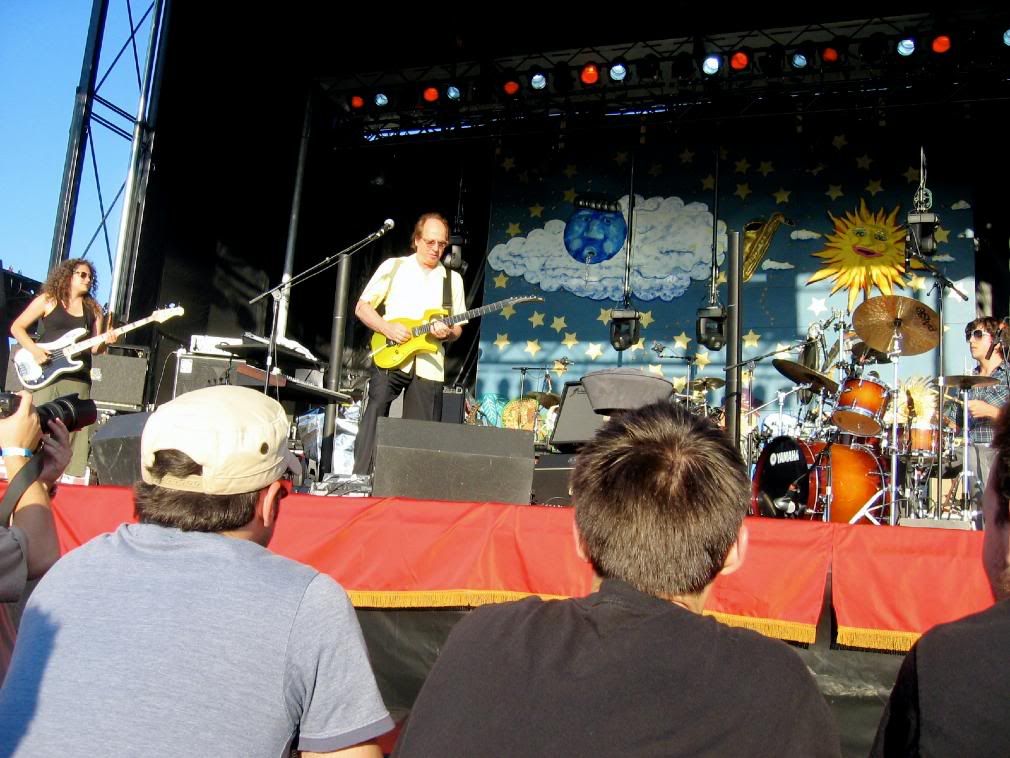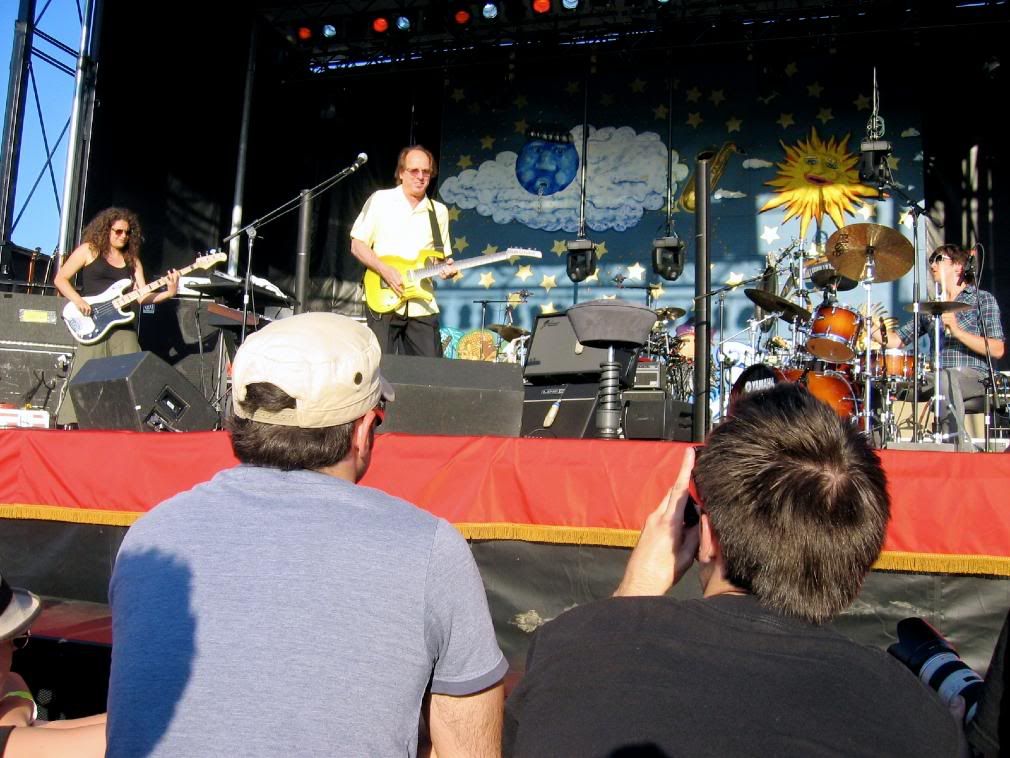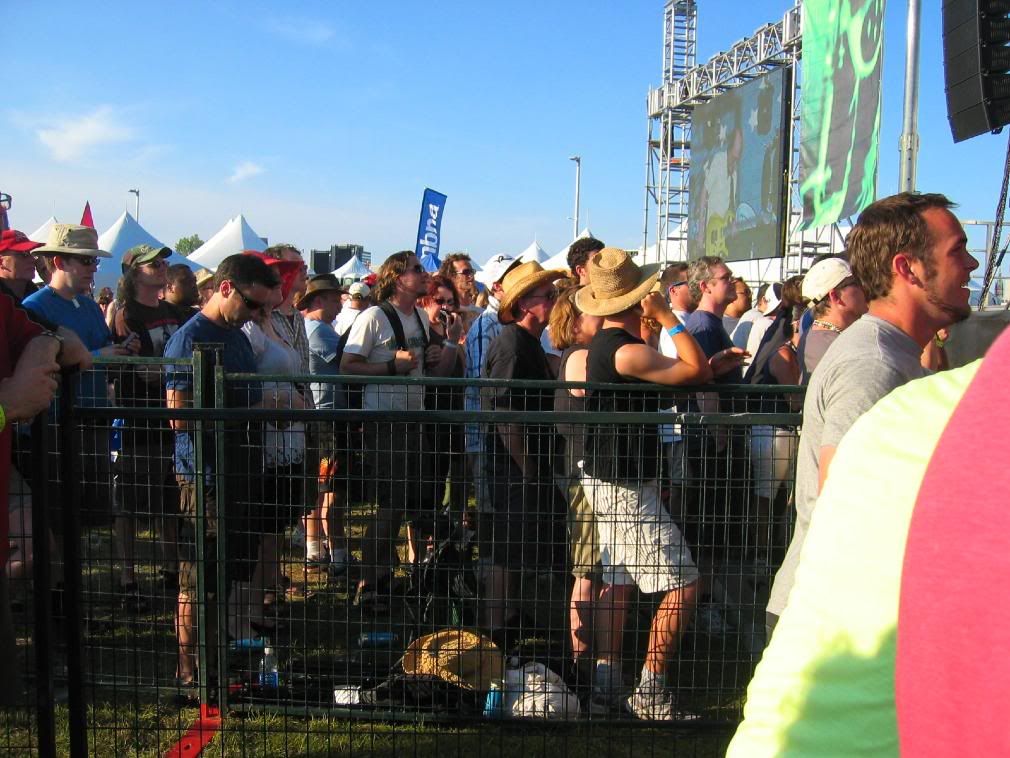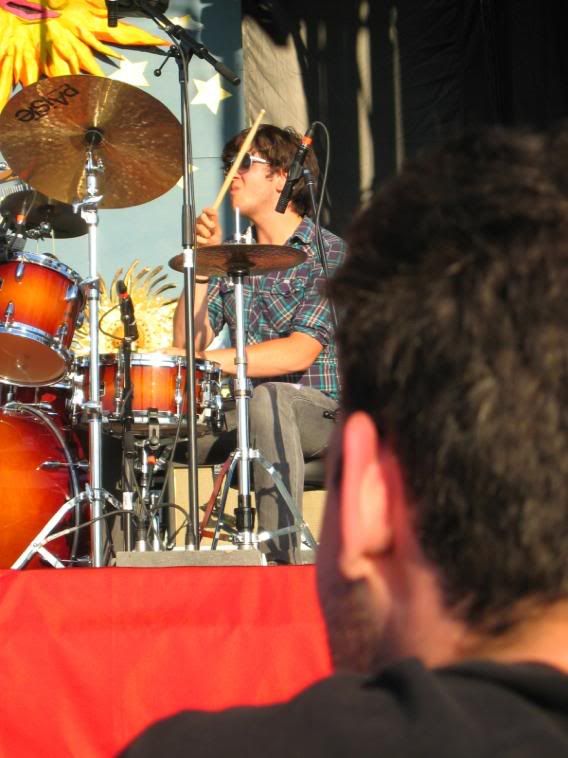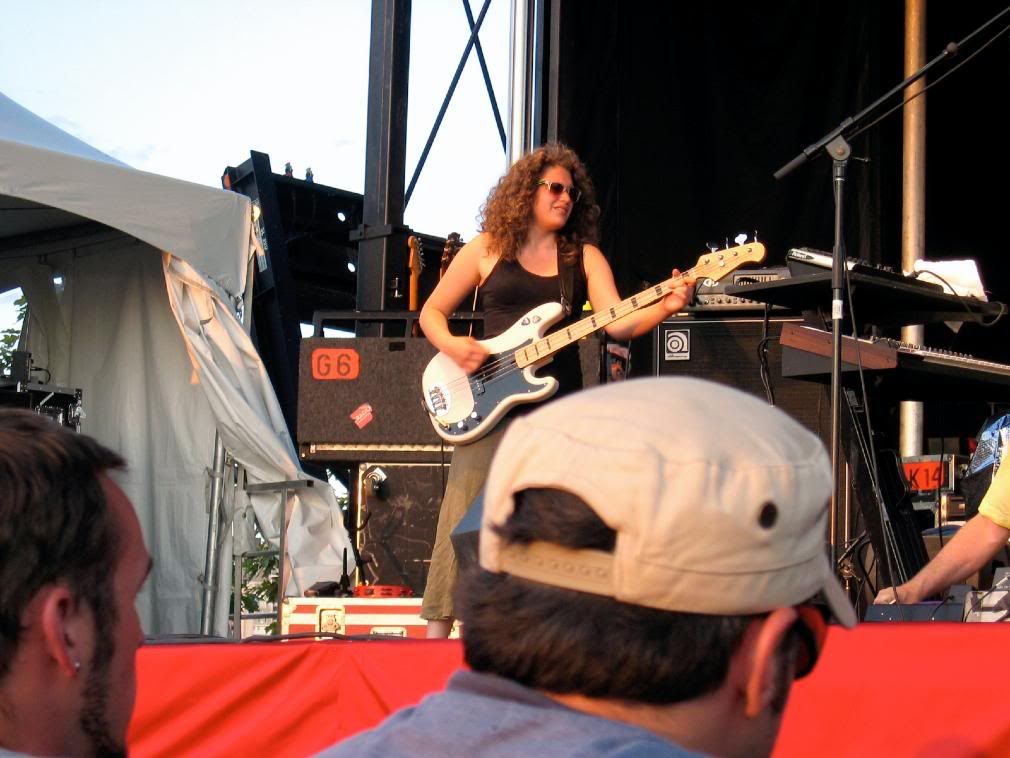 You know the fan I spoke to - the one who asked why was it called a Power Trio? The entire concert, yep, he was on his feet screaming and he kept grabbing my arm shouting "I understand! I understand! They are fucking amazing! Long live the Power Trio!"
It was hilarious but um, I did warn him in advance.
There were thousands and thousands of people in the audience and the festival was actually down by the river so the trio played during one of the most magnificent sunsets ever: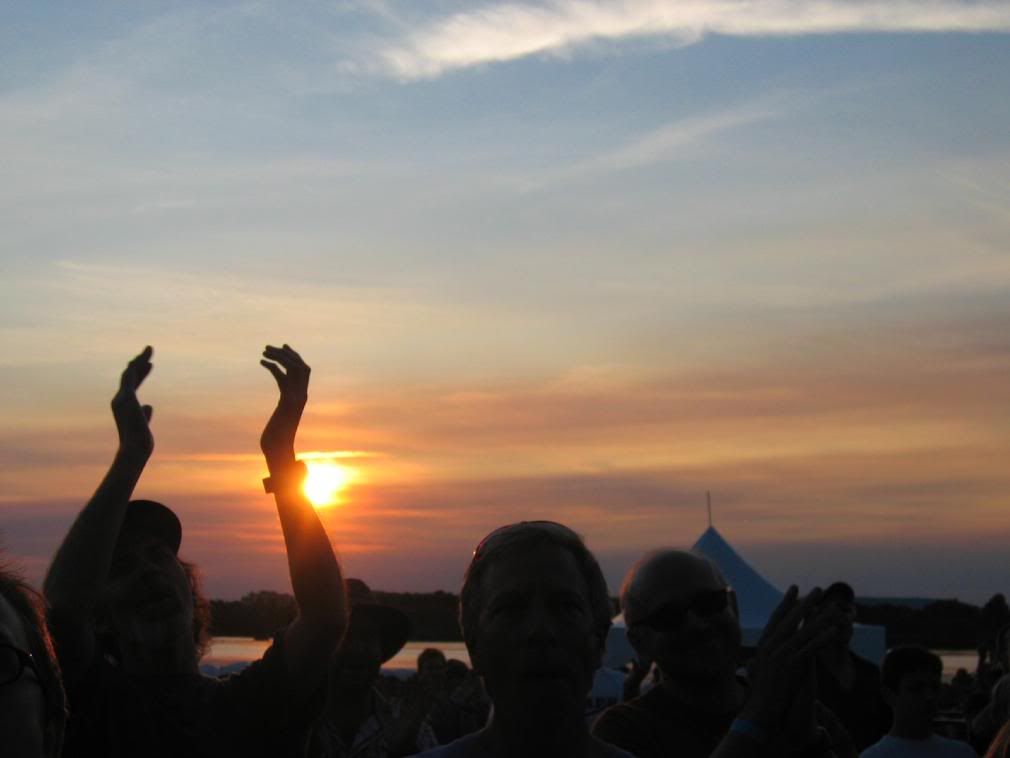 The customary final bow:
Fans screamed and cheered after the trio left the stage...I promised them that the band would return and sign autographs in around fifteen minutes and I guess everyone believed me because they stayed while I chatted them up and took their photos...and when Ade, Julie and Eric came out of their trailer armed with Sharpies the crowd roared appreciatively: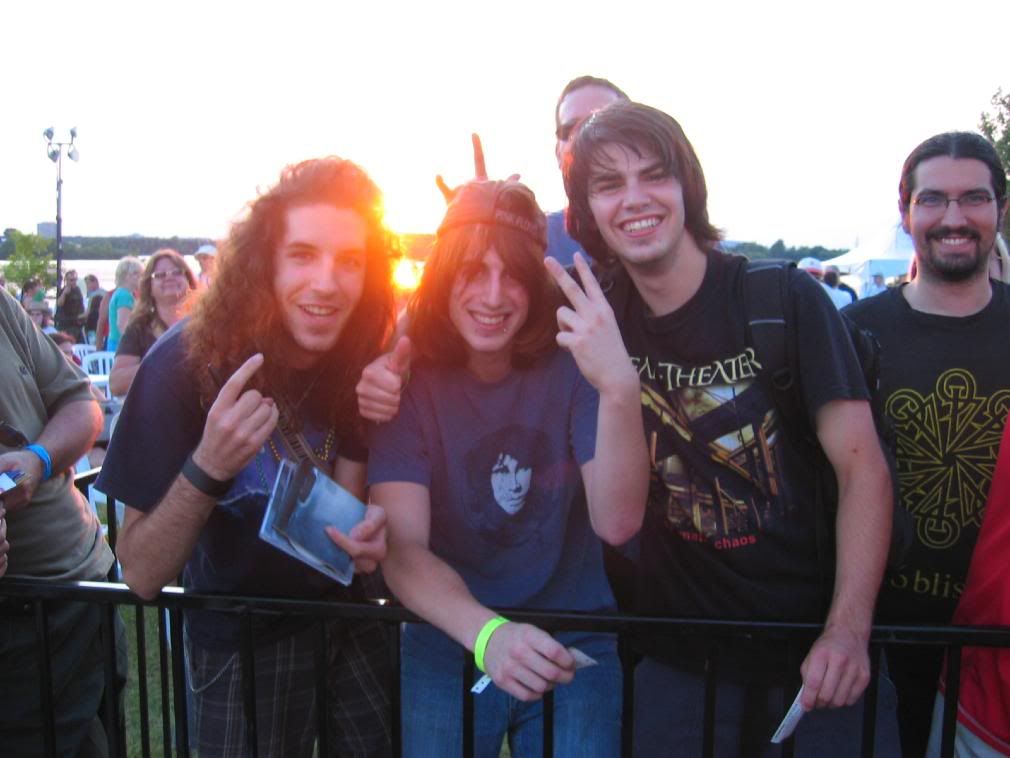 I'm trying to figure out how I am in this photo but I have a vague memory of switching cameras with a fan...by that point I had a glass of wine or seven but yeah, there I am, taking a pic of the band signing: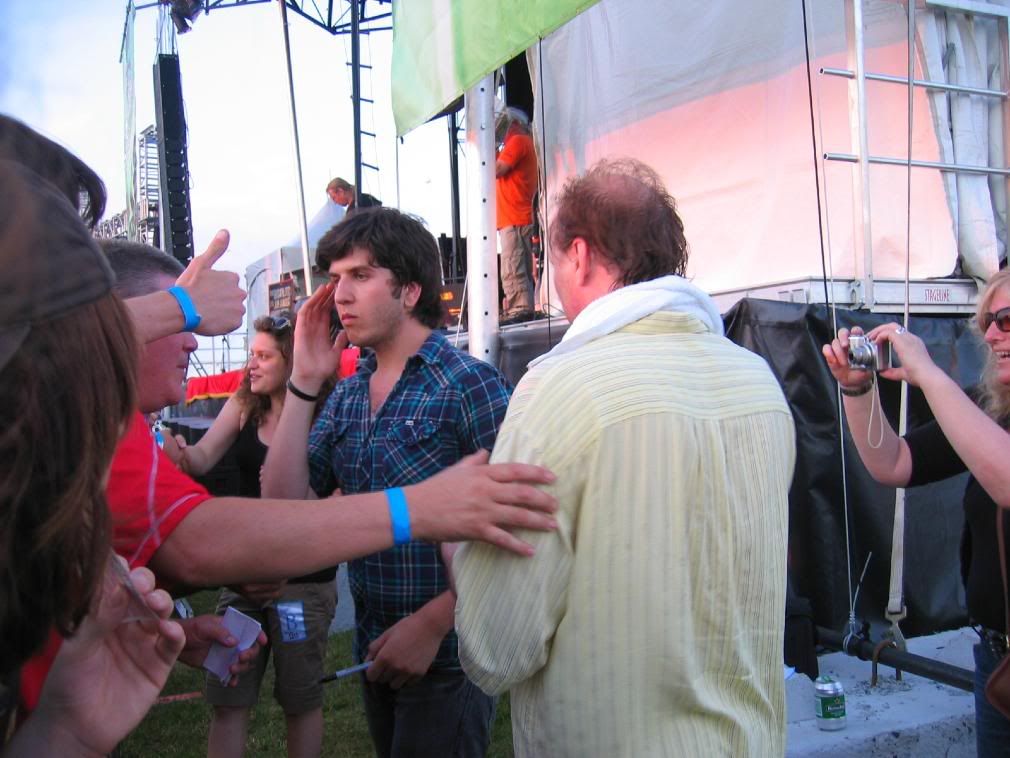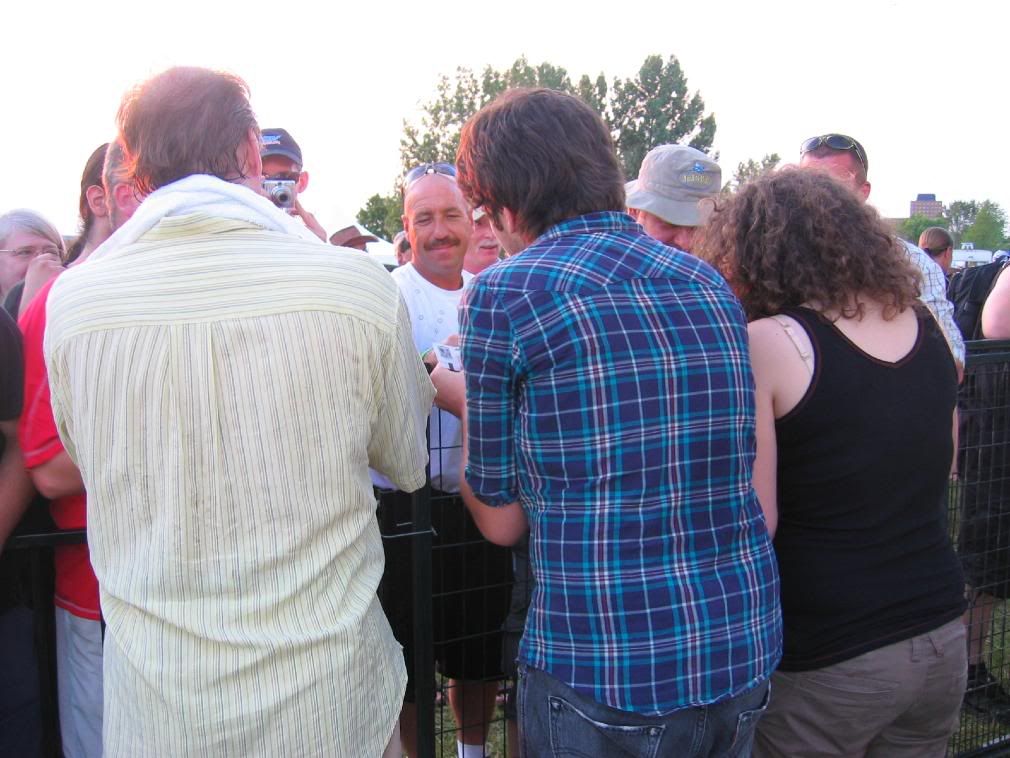 They might not have had a limo, but here's how the band was transported to an official autograph tent across the field...Matt and I were so jealous there was no room for us...neither of us had any idea we apparently had a life long dream to be driven in a golf cart (ha) but hey, at least it was another cool photo op:
So how was the music itself? It was so damn awe-inspiring...one of the top ten shows ever...and if you don't believe me, you can listen to the entire concert right
here!
(Click on "Audio" and scroll down to where it says "Adrian Belew - Performance, Cisco Ottawa Bluesfest, 2008" and then click on "listen"). Look, I would not steer you wrong here. You really need to listen to this show...it's over an hour long, recorded live and raw, and it will give you the chills. If anyone has any difficulty accessing it, email me and I'll give you more detailed instructions but if you merely click on "listen" and have iTunes or Windows Media, etc. you'll be fine.
Also, here is a terrific You Tube of the trio performing Ampersand that night:
Okay, knowing blogger the way I do, I've probably exceeded the maximum photo thing so I should probably make Quebec a separate post due to all the cool photos and film I have from those shows...anyway, let me wrap this up by saying at the end of the evening, we found ourselves back at the hotel bar (The Marriott - these festivals do not skimp on quality for their performers, that is for sure), which, oddly enough, was mobbed with little kids at midnight eating pizza -- we would later learn they were a champion lacrosse team or something but it was still weird to be sitting in a bar with youngsters and I cannot say I enjoyed that experience...we were hoping to end the evening with another round of Limoncellos but alas the bar didn't have much in the way of cocktails...Ade and I took a walk on the wild side and ordered something called a caramel apple martini which we promptly sent back after one nauseating sip after we made simultaneous "Eww" faces and acknowledged that when in Rome do as the Romans so we broke down and had a beer which neither of us exactly love that late at night but it was better than nothing. After just a few sips we headed ecstatic and exhausted to our respective rooms...the drive from Ottawa to Quebec City the next day would be around five hours and there was no day off in between so maybe in retrospect it was a good thing the bar was not exactly a comfort zone...anyway, nothing would prepare me for the magnificence which awaited us...stay tuned for Part II...Quebec City...quite possibly the best three days of my life.
Later,
xo