Hey, want to see a great drum solo? Check out Eric Slick here!
And that of course was Eric with the
Adrian Belew Power Trio
performing "Young Lions" in June of 2008.
Ahhh...very enjoyable.
So I never did wrap up my final day on tour with the band but life kind of got in the way and while New York was an unbelievable show, I'm still missing Canada A LOT and it will take much to top the shows there.
Okay, where did I leave you last? Oh, right. So the band played Boston to a small enthusiastic crowd on Thursday night, July 10, and the next morning we had a five hour drive ahead of us to New York for a concert on a boat. Well, five hours if you don't count New York traffic...once again, we were in the car for over seven hours...it actually took us longer to get from one end of New York to another than it did to drive through Connecticut. Ugh...and then we hit rush hour traffic on a Friday night in the summer...we were seriously hyperventilating by the time we got there and just in time for sound check.
You know a post from me would not be complete if I didn't mention food and one of the few things we liked about our hotel in Boston was that it was blocks away from one of the best diners ever called
The Breakfast Club
. Man, it so totally rocked - an old time chef who made eighty different kinds of eggs before your eyes, deftly cracking them in one hand effortlessly and whipping them into a frenzy with the other. And oh god, the home fries...sigh....well, now you know the real reason why we were late getting into New York.
Look who showed up for said sound check and concert...in case you do not recognize him, that would be
Omar Hakim
, drummer for David Bowie, Sting...anyway, he was blown away by the trio, as was another attendee visiting from France,
Richard Pinhas
.
Here's Omar with his significant other whose name I forget (sorry!)hamming it up with Julie and Eric: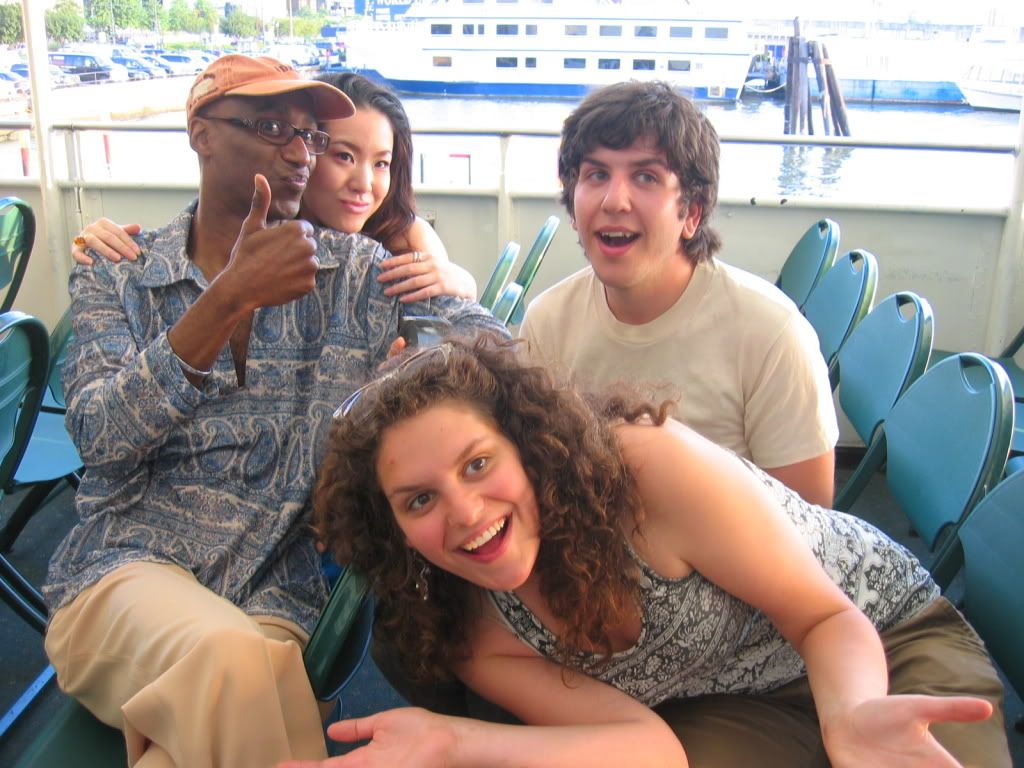 Richard Pinhas, whose image I lifted from Google: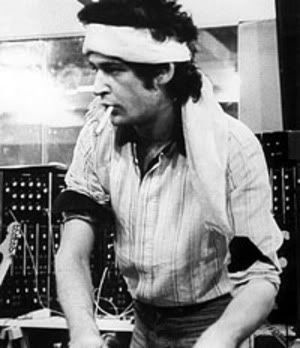 Richard, in fact, approached Eric after the show and then met him the following week for lunch in Philadelphia - they are going to do a project together in 2009 so that's way cool, huh.
The boat had room for five hundred people and I swear there were more like one thousand five hundred hot and sweaty humans crammed on board - you couldn't even walk out to the deck it was so jammed but it was amazing! Here's a few photographs courtesy of Gary Slick...he had a camera malfunction thanks to an over-enthusiastic fan grabbing his arm and knocking the settings out of whack, but oh well, you get the idea: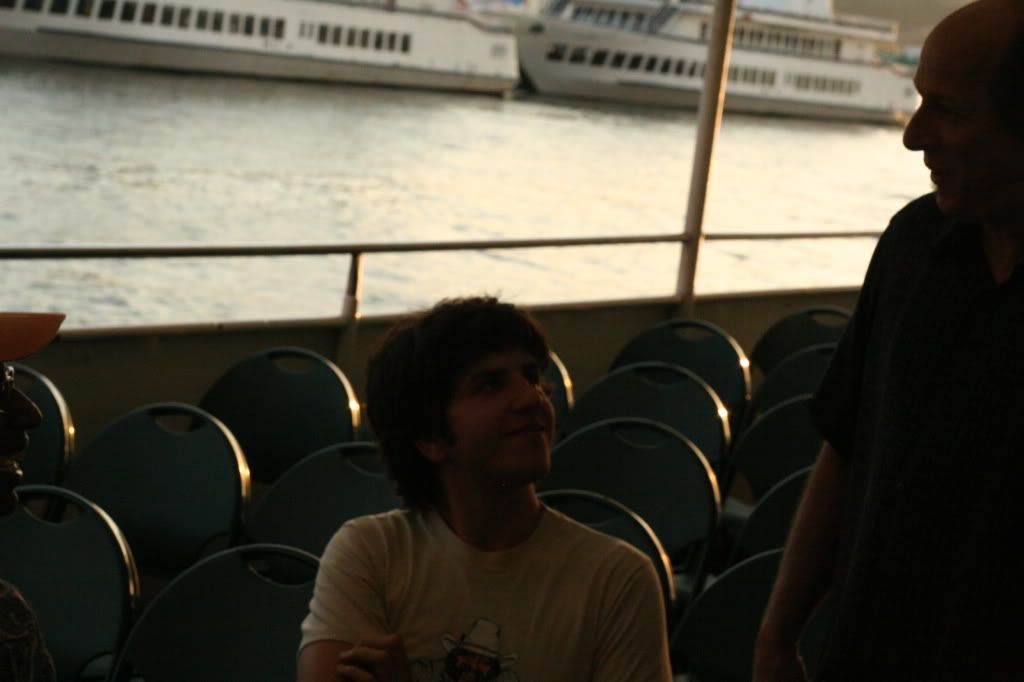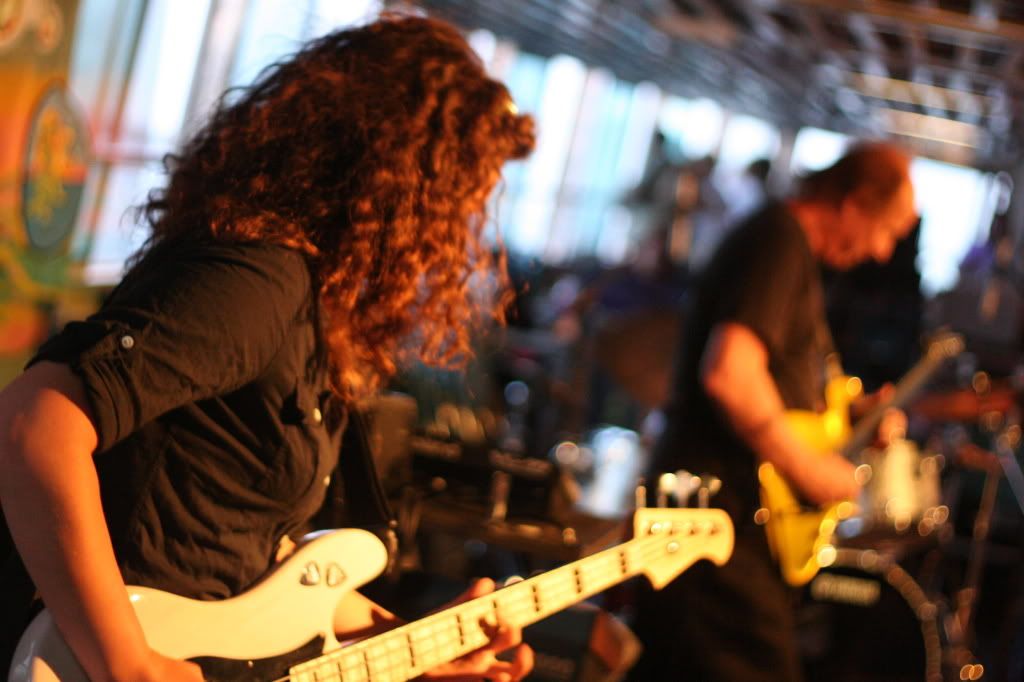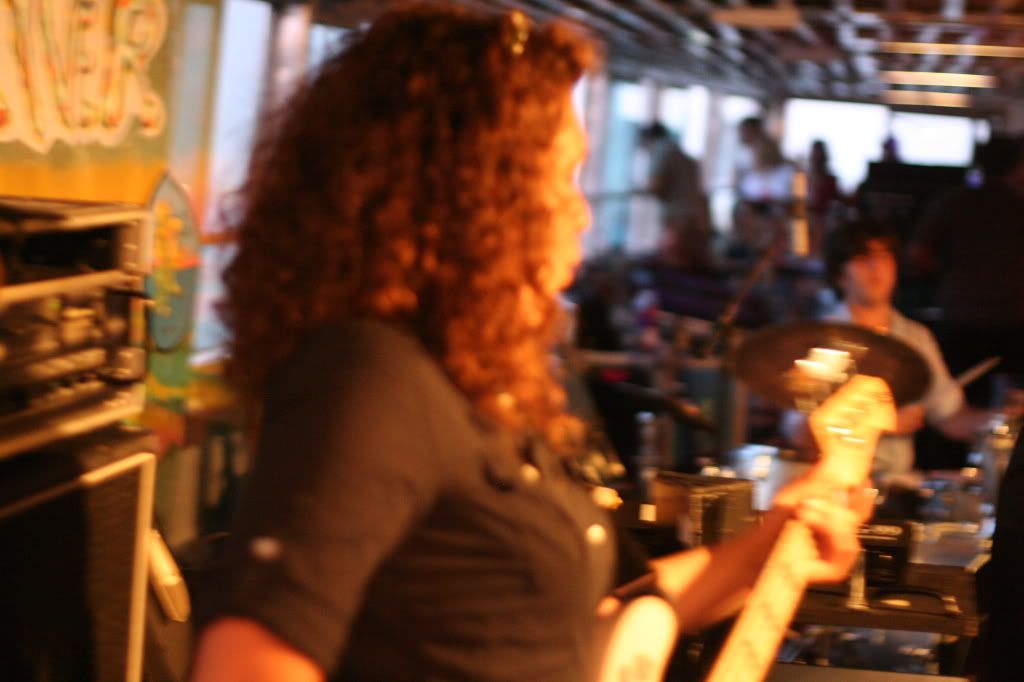 You had to be there - watching the sun go down over the river, hearing that incredible music...wow...what a way to end my leg of the trip, even if it wasn't Canada...sigh...
After the show, the trio headed for their final two performances - Saturday night in Pittsburgh and Sunday night in Kentucky, but I headed home only to return to New York the following evening to do a reading...the one I linked in my post below.
Speaking of links, yesterday I also mentioned my "memoir" up at Smith Magazine...last night I got an email from one of the editors there which really made my evening:
Hey Robin,

Check it out--I enjoyed your submission and featured it on SMITH.
(we're working out some bugs in the feature page, so despite that your story is a recent post, it's on the second page of features, here.

Best,
--
Lisa L. Kirchner
associate editor
Actually, overnight they must have worked out the "bugs" because my story is now on page one and the very first entry of "Features". Yay!
ETA: Wow! Even better - I'm featured on the front page of the
magazine itself!
I know I have other stuff to talk about but right now I'm kind of brain dead...it's only 7:00 a.m. here in Philadelphia and it's already like a hundred degrees and incredibly humid and oh joy, today is trash and recycling day so I've been busy carting nasty bags in and out of the house...more information than I am sure you all want or need, so...
Later,
xo