The Adrian Belew Power Trio has a couple of days off until their show Wednesday night in North Carolina, and they are currently on holiday in a very cool undisclosed location. But in the meantime, this very wonderful review of their Friday night show was published in
Creative Loafing:
Belew Friday
June 2nd, 2008 by Leilani in News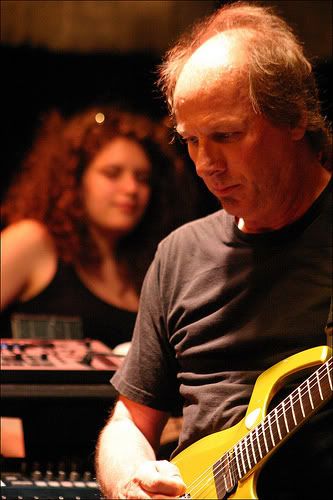 Photo by Phil Bardi


This Friday night, I had the pleasure of seeing the Adrian Belew Trio play dynamic, jazz-infused electro rock for the second time in less than a year.

And they blew my mind. Again. "Well, looks like this is going to be a very different show than the one at State Theatre," prog rock guitarist/vocalist Belew commented near the beginning of the first set to a lively crowd of a few hundred fans at Skipper's Smokehouse. Not that the show at the State last August was lacking in vigor – it was most assuredly a great time, but the Belew fans seemed more almost standoffish in their enjoyment of his music, whereas at Skipper's, they made their appreciation well-known with much boisterous clapping, whooping and rowdy shouts of approval, not to mention some actual dancing.

And the band was definitely deserving of the enthusiasm. Belew brought his usual good humor and animated showmanship to the stage, and was great fun to watch with brother-and-sister rhythm section/Philadelphia School of Rock alumni Eric and Julie Slick, who provided strong support; Julie, with her fluff of dark curly hair, long hippie skirt, and bare feet, came off as cool and collected with self-assured bass thumping and expert finger work, while Eric supplied moments of John Bonham genius.

Belew really got into what he was doing, a unique and refreshing change from the normal prog rock stone face that so many of his peers employ. And as I remarked in my write up of the show, Belew wasn't just the frontman but a vibrant force who owned his music. He knew when to take control with face-melting licks, when the time was right for improvisation, and when he needed to add psychedelic texture to his sizzling sonic landscape. He wasn't just content to play his songs, but to lead his band to new horizons of aggressive improvisation, to become completely enmeshed in the fresh and appealing sounds they created together.

I talked this show up to all my friends, pimped it in every place it could possibly be pimped, and left the show satisfied that it lived up to my hype.
*******
Well, that was nice. And here's
another,
complete with photos.
I just talked with Julie - they are having an absolute blast and are currently on the hunt for some gelato.
Sob...I'm so jealous.
Later,
xo